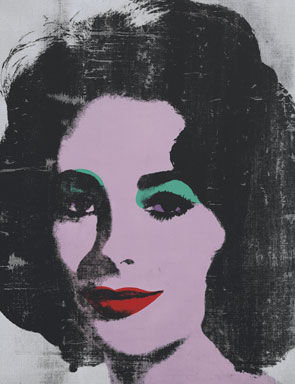 Andy Warhol, Silver Liz, stamped with the artist's signature and further annotated by Frederick Hughes (on the overlap) synthetic polymer paint, silkscreen inks and spray paint on linen, 39.7/8 x 39.3/8in. (101.5 x 99.7cm.) Executed in 1963. Estimate: £6,000,000 - 8,000,000. Photo: Christie's Images Ltd 2010
LONDON.- Christie's announced that they will offer an icon of Pop Art – Silver Liz by Andy Warhol (1928-1987) - at the Post-War and Contemporary Art Evening Auction on 30 June 2010. Unseen in public for over 20 years, the work was executed in 1963 and is one of only 2 paintings to depict the celebrated actress and Hollywood icon with her legendary violet eyes. Painted the year that she became the first $1 million actress, it is expected to realise £6 million to £8 million.

The evening auction will offer 63 lots with a pre-sale estimate of £40,590,000 to £57,640,000, and will also present a core group by the YBAs, including 3 works shown at the renowned Sensation exhibition, as well as important paintings, sculptures and installations by Roy Lichtenstein, Andreas Gursky, Gerhard Richter, Jeff Koons, Alexander Calder, Jean-Michel Basquiat and Alighiero Boetti, among others.

Francis Outred, Head of Post-War and Contemporary Art, Christie's Europe: "This rare portrait of 'Liz', which is one of only two to show the screen legend with her violet eyes, has been unseen in public since 1989, and we are thrilled to be able to present it to a public audience in London alongside works by other leading artists of the past 60 years, from Gerhard Richter and Alexander Calder to Jeff Koons and Andreas Gursky. Andy Warhol is arguably the most influential artist of the Post War years, and his work continues to draw increasing levels of global interest and produce strong results at auction. Reflecting the global nature of contemporary life is another stellar work - 'Mappa' by Alighiero Boetti – which is a museum quality piece from the series which both predicted and depicted this trend."

Further highlights: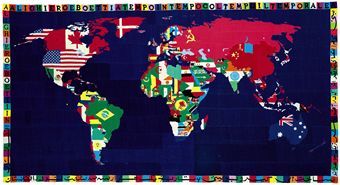 Alighiero Boetti (1940-1994) Mappa, embroidered tapestry, 45 5/8 x 85½in. (116 x 217cm.) Executed in 1989. Estimate: £900,000 - £1,200,000. Photo: Christie's Images Ltd 2010
- Mappa, 1989, by Alighiero Boetti (1940-1994) is an exceptional work of art from the celebrated series by the artist which predicted the power of globalization. Like all truly great and enduring works of art, Alighiero Boetti's Mappe – the trans-global collaborative series of embroidered world maps that he made in partnership with village Afghan women weavers are works that have proven to be far ahead of their time. This profound series of holistic and temporal geopolitical tapestries are now widely recognised as being not only among the artist's most important creations but also as fascinatingly accurate predictions of the constantly shifting sands of today's geopolitical world. The work to be offered at Christie's is an exceptional example – one of only 3 examples in which he used a dark background for the ocean (one of which is in the Museum of Modern Art in New York). Over 2 metres in length, it is offered at auction for the first time and is expected to realise £900,000 to £1,200,000.

An inscription on the border of the work in Farsi reads 'Of One Essence is the Human Race, Thusly has Creation put the Base'. These are the first lines of one of best known poems by the famous medieval Persian poet Sa'di'. These are lines which adorn the Hall of Nations in the United Nations building in New York. On this Mappa these lines are accompanied by a repetitive and expanding phrase in Italian of Boetti's devising that reads 'A tempo in tempo col tempo il temporalea' (in time, on time, with time, the temporal). In contrast to the message of unity in the quotation from Sa'di this phrase refers to the constant flux and change of the world and to what is perhaps the central concept of Boetti's entire oeuvre and the effective author of these 'open works'; time. Reflective of both a dialogue and an exchange between East and West as well as of the constantly changing patterns of the world, the Mappe seemed to embody what was then, in the immediate wake of the Cold War, a newly emerging sense of the world as a more holistic, interactive and intercommunicative entity. In the last few years, amidst the radical change, expanding fields and ever-increasing march of globalisation, these radiant and ultimately optimistic images of the political world-map as a unity and diversity held in a state of perpetual flux, now seem more than ever to stand as prophetic icons of the fluid, fast-track and perpetually-changing global era of the 21st century.
Glenn Brown (b. 1966) Dalí-Christ (after Soft Construction with Boiled Beans: Premonition of Civil War 1936 by Salvador Dalí) By kind permission of the Gala-Salvador Dalí Foundation, Spain, signed, titled and dated 'Glenn Brown Dali-Christ 1992' (on the reverse), oil on canvas, 108 x 72in. (274.3 x 183cm.) Painted in 1992. Estimate: £700,000 - £1,000,000. Photo: Christie's Images Ltd 2010
- A group of 8 works by the YBAs (Young British Artists), all of which are offered from different vendors, includes 3 works exhibited at Charles Saatchi's Sensation exhibition at the Royal Academy in 1997. This exhibition, which was sponsored by Christie's, was the catalyst which exposed the new generation of British talent to an eager audience, launching the international careers of a number of now celebrated artists including Damien Hirst, Tracey Emin, the Chapman Brothers and Glenn Brown. Shown at the exhibition, and now to be offered at Christie's, are Dalí-Christ (after 'Soft Construction with Boiled Beans: Premonition of Civil War' 1936 by Salvador Dalí) By kind permission of the Gala- Salvador Dalí Foundation, Spain, 1992, the most important work by Glenn Brown (b.1966) to be offered at auction (estimate: £700,000 to £1,000,000); Ubermensch, 1995, by Jake and Dinos Chapman (b. 1966 and b. 1962), a sculpture depicting the scientist Stephen Hawking (estimate: £250,000 to £350,000); and Fuck Face, 1994, a fiberglass and resin sculpture by the same artists (estimate: £30,000 to £40,000).

With its breathtaking scale, incredible attention to detail and extraordinary conceptual premise, Glenn Brown's Dalí-Christ (after 'Soft Construction with Boiled Beans: Premonition of Civil War' 1936 by Salvador Dalí) By kind permission of the Gala-Salvador Dalí Foundation, Spain is an iconic work of Young British Art. As the title implies, this work is based on one of the masterpieces of the Spanish Surrealist, Salvador Dalí. His famous Soft Construction with Boiled Beans (Premonition of Civil War) from 1936 is now in the collection of the Philadelphia Museum of Art, and is one of the most recognised of Dalí's pictures. By taking Dalí's original and painting it on a new, vast scale that dwarfs the one metre by one metre original, and by stretching it vertically, Brown has augmented that torment.

An acknowledged masterpiece of the Young British Art generation, Jake and Dinos Chapman's Übermensch has been exhibited throughout the world at most of the major surveys of this groundbreaking movement. Like much of the greatest work from this movement, Übermensch lifts realism to a new level and uses the shocking reality of its depiction to ask important questions about the nature of our existence and the society that surrounds us. Towering above the viewer, Stephen Hawking, one of the great intellectual brains of our time, is raised high on a pedestal surveying all around him. However, what quickly becomes clear is that the pedestal is a rocky crag, and Hawking's wheelchair is perched perilously close to the edge, with one wheel dangling off.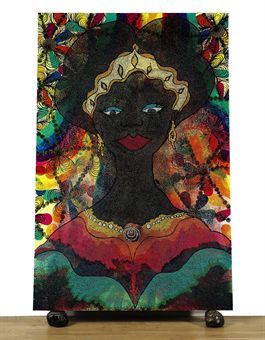 Chris Ofili (b. 1968) Orgena, signed twice and dated 'CHRIS OFILI 1998' (on the overlap); signed twice, titled and dated '"Orgena" CHRIS OFILI 1998' (on the stretcher) acrylic, oil, polyester resin, glitter, map pins and elephant dung on linen, 71¾ x 47¾in. (182.4 x 121.4cm.) Executed in 1998. Estimate: £700,000 - £1,000,000. Photo: Christie's Images Ltd 2010
- Three works by Alexander Calder (1898-1976) include Two Fish Tales, 1975, a monumental spectacle of movement and form over two and a half meters at its widest point which is expected to realise £1.2 million to £1.8 million.
Matthew Day Jackson (b. 1974) Phoenix (Peace Eagle), enamel, scorched wood, faux bricks, yarn, leather, mother of pearl inlay and glass eyes on panel? 96¼ x 144½in. (244.5 x 367cm.) Executed in 2005. Estimate: 200,000 - £300,000. Photo: Christie's Images Ltd 2010
- In February 2010, Bucky by Matthew Day Jackson (b.1974) was the first work by the artist to be offered at an evening auction where it sold for £601,250 against an estimate of £30,000 to £40,000. In June, the auction will offer the artist's Phoenix (Peace Eagle) with an estimate of £200,000 to £300,000. At the artist's first solo show in 2005 in New York, Frieze magazine wrote of the work: 'The show's most emblematic work was the large panel Phoenix (Peace Eagle). Made of oddball ingredients such as scorched wood, faux bricks, glued-on yarn and worked leather, it depicts a cartoonish turkey vulture, bright wings unfurled, standing atop a pile of rubble beneath a night sky studded with eyes instead of stars...his political references are most effective when they give way to a wonderfully weird formal alchemy. But his beautiful surrogate for the regal bald eagle, a vulture that cleans the earth by removing carrion, seems pitch-perfect.'
- Orgena, 1998, by Chris Ofili (b.1968) is a glorious celebration of African Womanhood bathed in rich golden glitter and droplets of paint in a rainbow of colours (estimate: £700,000 to £1,000,000). With her almost symmetrical head and torso, wide-open eyes and large scarlet red lips, she is beauty personified. Executed in 1998 for his Turner Prize winning exhibition at the Tate, Orgena was a central part of the exhibition, which included No Woman No Cry now in the Tate collection, and which was a benchmark in British art. This was not only the first time since 1985 that a painter had won the Turner Prize, but Chris Ofili also became the first black person to be decorated with this honour.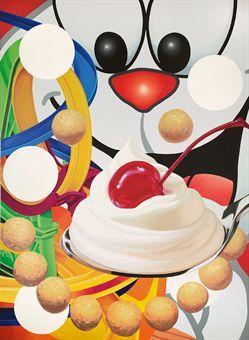 Jeff Koons (b. 1955) Loopy, oil on canvas, 108 x 79in. (274.3 x 200.7cm.) Painted in 1999. Estimate: £2,500,000 - £3,500,000. Photo: Christie's Images Ltd 2010
- Loopy, 1999, by Jeff Koons (b. 1955) is a painting showing childhood motifs from the artist's Easyfun series. It is offered at auction for the first time with an estimate of £2.5 million to £3.5 million. Koons is often influenced by the sights, sounds and experiences of his childhood, and is quoted as stating: 'Childhood's important to me, and it's when I first came into contact with art. This happened when I was around four of five. One of the greatest pleasures I remember is looking at a cereal box. It's a kind of sexual experience at that age because of the milk. You've been weaned off your mother, and you're eating cereal with milk, and visually you can't get tired of the box. I mean, you sit there, and you look at the front, and you look at the back. Then maybe the next day you pull out that box again, and you're just still amazed by it; you never tire of the amazement. You know, all of life is like that or can be like that. It's just about being able to find amazement in things. I think it's easy for people to feel connected to that situation of not tiring of looking at something over and over again, and not feeling any sense of boredom
Gerhard Richter (b. 1932) Porträt Schniewind, signed and dated 'Richter 64' (on the reverse of the centre canvas), oil on canvas, in three parts, each: 27½ x 21 7/8in. (69.8 x 55.5cm.), overall: 83½ x 22½in. (212 x 57.1cm.) (including frame) Painted in 1964. Estimate: £1,000,000 - £1,500,000. Photo: Christie's Images Ltd 2010
- Portrait Schniewind, 1964, is one of three works by Gerhard Richter (b.1932) to be offered at the sale, and is a three-part portrait of the collector Willy Schniewind executed with paint in the artist's photo-realist style (estimate: £1 million to £1.5 million). With its kaleidoscope of rich grey tones, this is the earliest painting of one of his most important early collectors and patrons. Consisting of three canvases stacked vertically, it mimics the passport-style photographs dispensed by instant photo booths located in most shopping centres and train stations. The only triptych in a series of three portraits Richter painted of Willy Schniewind, Porträt Schniewind is an early example of a group of works that Richter began in 1964 of dealers, collectors and people he knew from the art world in Düsseldorf. His subject, Willy Schniewind, was a prominent industrialist and big-game hunter. He was also a major art collector, owning a diverse range of works by artists including Georges Braque and Roy Lichtenstein.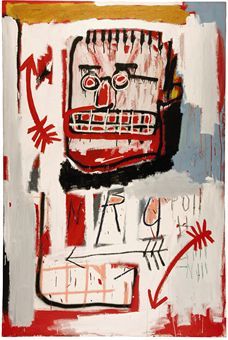 Jean-Michel Basquiat (1960-1988) Untitled, signed, inscribed and dated 'Jean-Michel Basquiat NYC 82' (on the reverse), acrylic and oil on canvas, 72 x 42in. (182.9 x 106.7cm.) Painted in 1982. Estimate: £2,500,000 - £3,500,000. Photo: Christie's Images Ltd 2010
- Untitled, 1982, by Jean-Michel Basquiat (1960-1988) is a vibrant portrait executed at the peak of the artist's career, and is expected to realise £2.5 million to £3.5 million. This coincides with the first major European Retrospective on the artist which is taking place at the Beyeler Foundation in Basel until September 2010. Painted in 1982, the year that Jean Michel Basquiat first arrived on the international art stage as the new, enigmatic and much-talked-about wunderkind of New York contemporary art, this startlingly expressive image serves as an icon of the intense mixture of fear and exultation that the twenty-two year-old Basquiat was undergoing at this time. In an interview with The New York Times Magazine in 1985, Basquiat summarized his creative peak of 1982 by saying ''I had some money, (...) I made the best paintings ever.'
Andreas Gursky (b. 1955) Pyongyang II, signed 'Andreas Gursky' (on a label affixed to the reverse) chromogenic coupler print face-mounted to Plexiglas in artist's frame, in two parts, each (overall): 81 3/8x 101¾in. (206.7 x 258.7cm.) each image: 72 5/8 x 93 1/8in. (184.6 x 236.6cm.) Executed in 2007, this work is number six from an edition of six. Estimate: £900,000 - £1,200,000. Photo: Christie's Images Ltd 2010
- Pyongyang II, 2007, by Andreas Gursky (b.1955) is a diptych photograph showing the festival celebrations surrounding the birthday of Kim Jong- Il, the leader of North Korea. One of his most accomplished creations, it is expected to realise £900,000 to £1,200,000. The grand, panoramic scale and spectacle of Pyongyang II makes it one of his most accomplished photographic conceptions, illustrating one of the most impressive human spectacles of the modern world. The only diptych from a series of five photographs Gursky produced of his trip to North Korea in 2007, it's a characteristically intricate depiction of the highly choreographed performances which mark the official start of the Arirang Festival each spring. Pyongyang's Arirang Festival, held once a year to celebrate the birthday of North Korea's founder Kim Il-sung, begins with mass games that include more than 50,000 people taking part in tightly choreographed performances. These take place against a backdrop of 30,000 schoolchildren who each flip a series of coloured cards in perfect unison to produce a myriad of images that changes as the performance proceeds. Gursky captures the moment these giant images change from depicting the doves of peace to displaying the guns of war, not by the push of a computer button but at the hands of the thousands upon thousands of individuals who make up this ominous mass of humanity. In front of this breathtaking display the massed ranks of the North Korean army perform their manoeuvres with frightening efficiency, their order, precision and stillness make it seem like they are toy soldiers who have been lined up meticulously by a child. Gursky's photographs describe, in panoramic dimensions, the incongruity of the brilliant colours and smiling faces of the performers within the controlled, totalitarian nature of the event.
Alexander Calder (1898-1976) Two Fish Tails, signed with the artist's monogram and dated 'CA 75' (on the largest red element) hanging mobile: painted sheet metal and wire, 76 3/8 x 94½in. (194 x 240cm.) Executed in 1975. Estimate: 1,200,000 - £1,800,000. Photo: Christie's Images Ltd 2010