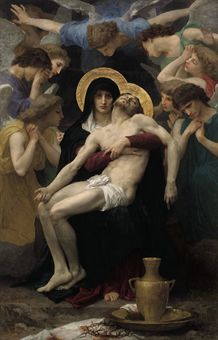 William Adolphe Bouguereau (La Rochelle 1825-1905) Pietà. Photo: Christie's Images Ltd 2010
signed and dated 'W. BOUGUEREAU 1876' (lower center) and inscribed on the vase 'IN MEMORIAM DILECTI MEI FILII GEORGII DIE XIX JULII ANNO MDCCCLXXV', oil on canvas, 90½ x 58¾ in. (222.9 x 149.2 cm.) Estimate $1,500,000 - $2,500,000 Price Realized $2,770,500
Provenance: Sold by the artist to Prince Demidoff 29 July 1876 (30,000 francs).
Sedelmeyer sale, 1877 (18,000 francs).
with Goupil & Cie., Paris.
Private collection, Spain, until circa 1941.
Albert Benamou, Paris.
with Stuart Pivar, New York, until 1982.
Sylvester Stallone, Los Angeles.
with Stuart Pivar, New York.
Anonymous sale; Sotheby's, New York, 24 October 1996, lot 130.
with Hirschl & Adler Galleries, New York.
Parrish Collection, Texas.
Property from a Private American Collection
Literature: V. de Swarte, Lettres sur le Salon de 1876, Paris, 1876, p. 40. Goupil & Cie, ed., Salon de 1876: Réproductions des principaux ouvrages accompagnées de sonnets par Adrien Dézamy, Paris, 1876, pl. II.
E. About,'Le Salon de 1876', La République de Montpellier, 30 May 1876.
M. Vachon, 'Avant Le Salon', La France, 1876, 'The Pietà was executed in two months; it is a real tour de force.'
M. Proth, Voyage au pays des peintres, Salon de 1876, Paris, 1876, pp. 35-36.
J. Prouvaise, 'Le Salon de 1876', La République des Lettres, Paris, 1876, p. 178.
C. Yriarte, 'Salon de 1876', Gazette des Beaux-Arts, series 2, vol. 13, 1876, pp. 707, 712.
C. Vendryès, Dictionnaire illustré des Beaux-Arts, Paris, 1885, p. 53.
G. Marc, Les Beaux Arts en Auvergne et à Paris, Paris, 1889, p. 79.
Franqueville, William Bouguereau, Paris, 1895, p. 370.
M. Vachon, W. Bouguereau, Paris, 1900, p. 152.
J. Doucet, Les peintres francais, Paris, n.d., p. 164.
L. d'Argencourt and M.S. Walker, William Bouguereau, 1984, pp. 198-199, no. 68.
Borghi & Co., New York, William-Adolphe Bouguereau, "l'Art pompier", 1991, pp. 9-10, 32, 33, 70.
M.S. Walker, William Bouguereau: A Summary Catalogue of the Paintings, New York, 1991, p. 70.
F. Wissman, Bouguereau, San Francisco, 1996, pp. 74-75.
Exhibited: Paris, Salon de 1876, no. 240.
Paris, Exposition Universelle, 1878, no. 97.
Düsseldorf, Städtische Kunsthalle, Der Sehende. Das Sichtbare. Das Sehen, 1982.
Paris, Musée du Petit Palais, William Bouguereau, 9 February-6 May 1984, no. 68; also, Montreal, Museum of Fine Arts, 22 June-23 September 1984 and Hartford, Wadsworth Atheneum, 27 October 1984-13 January 1985.
New York, Borghi & Co., William-Adolphe Bouguereau, 'l'Art pompier', 14 November 1991-7 January 1992, s.n. (catalogue by R. Rosenblum).
Hastings on Hudson, Newington Cropsey Foundation, Virtue, Truth and the Glorious Infinity: Select Works of William A. Bouguereau, 1999.
Dallas Museum of Art, on loan.
San Francisco, Legion of Honor Museum, on loan.
Notes: Upon its exhibition at the Paris Salon of 1876, William Bouguereau's monumental Pietà received unanimous praise from critics for its sincere emotion and poignant devotion (Doucet, Les peintres français, Paris, n.d., p. 164). More than a century later, the painting remains one of the most moving interpretations of, not only the Life of Christ, but of man's personal tragedy as well. The immediate inspiration for Pietà came not from Bouguereau's devout Christianity, but from the painful loss of his eldest son Georges who died on July 19, 1875 at the age of sixteen. After spending several months overwhelmed by grief, Bouguereau sought to lift his spirits by fully immersing himself in his art. For several weeks, he considered compositions that would permit him the fullest expression of his feelings while simultaneously commemorating his son's life and passing. His sketchbooks from this period show a flurry of excited and even angry passages, with dozens of drawings that illustrate his slow and deliberate plan to paint his version of a Pietà. After what must have been an uninterrupted period of compulsive work, Bouguereau appears to have completed this magnum opus in only two months (M. Vachon, 'Avant le Salon', La France, March 20, 1876).

Rendered on a grand scale, Bouguereau's Pietà depicts its timeless subject with individualized figures who elicit an emotional response from the viewer. Like the many angels who appear in images of the Lamentation throughout art history, Bouguereau's are demonstrative in their expressions of grief. By presenting the angels surrounding Mary and Christ as distinct individuals, however, Bouguereau creates a particularly compelling image that serves to personalize the story of the Life of Christ. Similarly, Mary, with her arresting gaze, appears foremost as a devastated mother of a mortal son rather than the Holy Virgin. The lifeless yet elegant body of Christ that she clutches in her arms shares many affinities with arguably the most famous Pietà in history-Michelangelo's sculptural version in Saint Peter's in Rome. In addition to the similar positioning of the torso and arms, in both works, Christ's head falls backwards, yet the viewer is still able to look into his face, allowing for a greater personal connection between the mortal and the divine. Bouguereau may have seen Michelangelo's Pietà during his many years in Rome where he competed for and won the Prix de Rome in 1850. By the 1870s, Bouguereau would have been able to study the famous sculpture in photographic reproductions as well, as affordable prints of well-known works of art were by then circulating widely throughout Europe (F. Wissman, Bouguereau, 1996, p. 74). Indeed, a photograph of the artist in his studio shows a reproduction of Michelangelo's Pietà hanging on the wall behind him (fig. 1).

Bouguereau's dedication to a sharp-focused realism has led to the artist's enduring popularity and more recently to critical praise. In Pietà, his "academic wizardry of drawing and perspective", as Robert Rosenblum termed it, is on full view. From the stunning foreshortening of the angel above to the gleaming gold bowl and vase below, Pietà is a tour-de-force of the artist's skill. Indeed, such exquisite details led Rosenblum to exclaim, "So intensely material and gravity-bound are the sacred still-life objects in the foreground-one could prick oneself on this crown of thorns!" (R. Rosenblum, William-Adolphe Bouguereau, l'Art pompier, New York, 1991, p. 9).

Bouguereau's Pietà displays at once grandeur, beauty and a noble restraint from the maudlin emotionalism seen in many works by lesser hands. A tribute to passionate parental love overwhelmed by despair, Pietà nevertheless retains its gravity and dignity thereby occupying a singular place in art history.

We are grateful to Fred Ross for his assistance in preparing this catalogue entry. This painting is due to be listed in the forthcoming William Bouguereau catalogue raisonné written by Damien Bartoli with Fred Ross, the Bouguereau Committee and the Art Renewal Center.
NEW YORK, NY.- Christie's New York sale of Old Masters & 19th Century Art featuring Select Works from the Salander-O'Reilly Galleries on June 9 achieved $11,749,750/£8,103,276/€9,791,458 with sell-through rates of 60% by lot, 78% by value.

The top lot of the sale was William Bouguereau's Pietà, painted in 1876, which sold for $2,770,500/£1,910,690/€2,308,750 – the second highest price at auction for this artist. This exceptional painting was purchased by a new collector to the field and directly underbid by a collector of Old Master paintings.

Nicholas Hall, International Co-Head, and Ben Hall, Head of Department, for Old Masters & 19th Century Art commented: "The market for Old Masters and 19th Century Art continued to rebound this week at Christie's, with our mid-season sale achieving an $11.7 million result that is nearly double that of last June's sale. A spirited round of bidding preceded the sale of our top lot, Bouguereau's 1876 masterpiece Pietà, which sold for $2.77 million – the 2nd highest price for this artist at auction. We are also pleased to have achieved the top price for an Old Master painting this season with the sale of Pieter Brueghel II's Autumn for $866,500. The afternoon sale session devoted to select works from the Salander O'Reilly Galleries realized $2 million, with strong results for works from the studio of El Greco and the studio of Sir Anthony Van Dyck."

James Hastie, Head of 19th Century Art further remarked, "We are delighted with the exceptional price achieved for Bouguereau's Pietà,, a museum-quality work of great importance and rarity. It is important to note that the winning bidder for this work was a new collector to the field, while the direct underbidder was a prominent collector of Old Masters paintings. This further illustrates the trend of cross-buying in this field and underscores the appeal of our newly amalgamated category for Old Master & 19th Century Art at Christie's. We now look forward to our major London Evening Sale in this category to be held July 6."