Conch Pearl & Diamond Necklace.
This glorious necklace glows with approximately 21.50 carats of diamonds and seven extremely rare and desireable conch pearls ranging in size from 3mm to 34mm. Price: $150,000
Conch pearls are produced by the Queen Conch mollusk primarily found in the warm waters of the Caribbean. Unlike traditional pearls, conch pearls cannot be cultured, thus they are all natural and unique. Because only one in 10,000 conchs produce a pearl, with only 10 percent of those being gem quality, these incredible pearls are exceptionally rare and valuable. And, because conch pearls can vary widely in color, finding and matching them for a necklace such as this is exceptionally difficult. This necklace, with its seven salmon-colored pearls, exhibits the very finest qualities of the conch pearl. Necklace is crafted in platinum.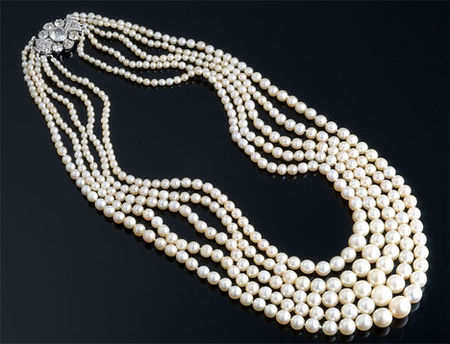 Mutli-Strand Natural Pearl Necklace
Five Strands "Natural-Saltwater" (GIA) D=2.50cts app Platinum (16") Price: $135,000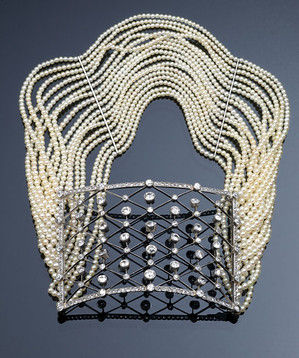 Antique Natural Pearl Choker Necklace
D=12.00cts app Platinum (14" x 53mm) Price: $76,000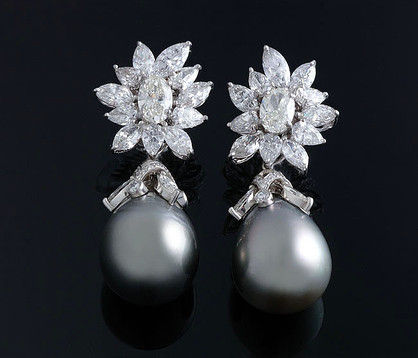 Tahitian Pearl & Diamond Earrings
Suspended in platinum set with pavé diamonds, two resplendent Tahitian pearls weighing an amazing 65.63 total carats balance the brilliance of 11.49 carats of diamonds in these magnificent earrings. Prized for their luminous coloring, pearls hailing from the warm waters of the South Pacific are among the most beautiful in the world. These lovely pearls are GIA-certified. Price: $70,000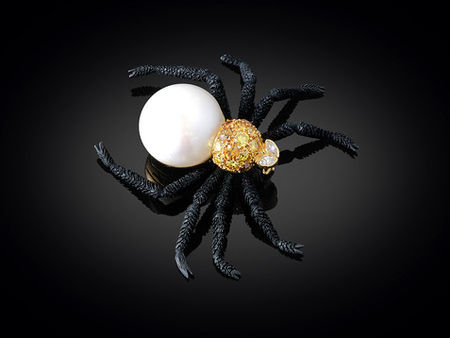 Natural Pearl & Colored Diamond Spider Brooch
This whimsical spider brooch is amazing in its realism, set with a 17.30mm white pearl body and approximately 2.00 carats of colored and white diamonds. The detailed legs are crafted of 18K gold with a black rhodium finish, and the entire pin is set in 18K gold. The pearl is GIA certified to be a Natural Freshwater pearl. Price: $50,000
M.S. Rau Antiques 630 Royal Street New Orleans, LA 70130 USA - 866-349-0705 - 504-523-5660 - www.rauantiques.com