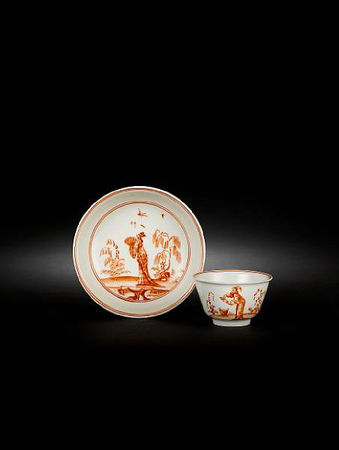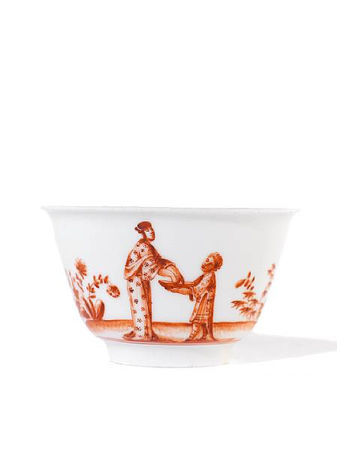 A very rare Meissen teabowl and saucer, circa 1723. photo Bonhams
Painted in iron-red camaieu, probably by J.G. Höroldt, with chinoiserie figures flanked by bushes and flowers with insects and birds overhead, within concentric double-line borders, the well of the teabowl with a circular landscape scene after a Chinese original depicting a fisherman, the saucer: 12.7cm diam.; the teabowl: 4.5cm high, incised / inside footrim of teabowl and x to saucer (2) Sold for £24,000
Provenance: The Property of a Lady, Christie's London, 28 June 1976, lots 142 (teabowl) and 139 (saucer);
Acquired in 1989

Literature: Hoffmeister 1999, I, no. 12

Exhibited: Hamburg, Museum für Kunst und Gewerbe, 1999-2009

From a very rare, early service painted in iron-red, of which the teapot, slop bowl, three beakers and saucers and three teabowls and saucers were sold by Christie's London, 28 June 1976, lots 138-143, and two other beakers and saucers were sold by Sotheby's London, 7 November 1972, lots 145 and 146. An additional teabowl was sold at Christie's London, 5 July 2004, lot 13. Höroldt is recorded as having decorated a service in red as early as 1720 (Pietsch 1996, p. 38), though the present example can be dated to around 1723 because the teapot bears the K.P.M. mark. Several pieces from the service were exhibited in Dresden in 1996 (Pietsch 1996, nos. 7-12), when the decoration was attributed in part to Höroldt himself. A beaker and saucer and a teabowl and saucer are in the Carabelli Collection (Pietsch 2000, nos. 2-3) and the slop bowl is in the collection of Jeffrey Tate and Klaus Kuhlemann, London. Another beaker and saucer from the service is in the Arnhold Collection, New York (Cassidy-Geiger 2008, no. 74), and the beaker and saucer from the Hoffmeister Collection was sold in these Rooms, 25 November 2009, lot 2.
Bonhams. The Hoffmeister Collection of Meissen Porcelain Part Two, 26 May 2010. New Bond Street www.bonhams.com