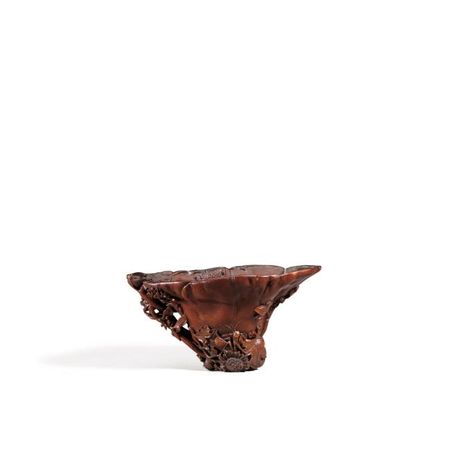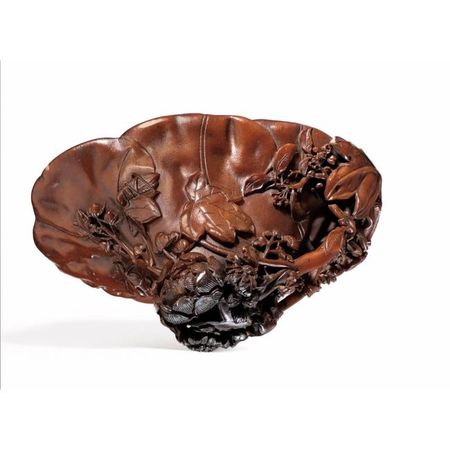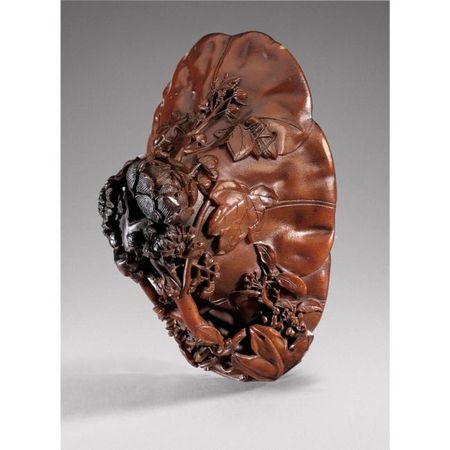 Coupe libatoire en corne de rhinocéros sculptée. Chine, Dynastie Qing, XVII-XVIIIE siècles. photo Sotheby's

en forme d'une grande feuille de lotus entourée d'une variété de fleurs finement sculptées, les tiges et leurs feuillages formant l'anse, une grosse pivoine se détachant de la base, une mante-religieuse et un grillon émergeant de l'amas végétal, la corne d'une belle couleur caramel ambré évoluant vers le brun au centre et à l'extrémité du pied. 9,3 x 17,2 cm, 3 11/16 x 6 3/4 in. Est. 30,000—40,000 EUR Lot Sold 528,750 EUR

PROVENANCE: Collection particulière européenne

NOTE: Cups with mantis design are rare, for another rhinoceros libation cup with lotus and mantis, see Thomas Fok, Connoisseurship of Rhinoceros Horn Carving in China, Hong Kong 1999, p. 167, pl. 117.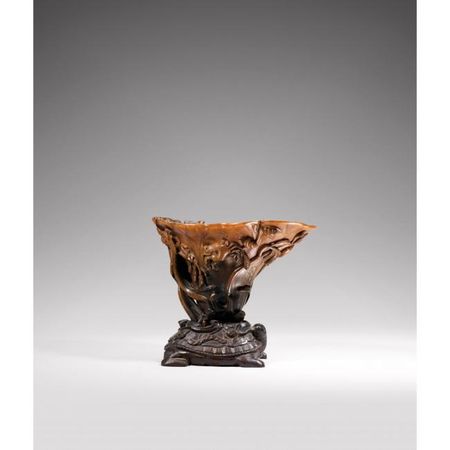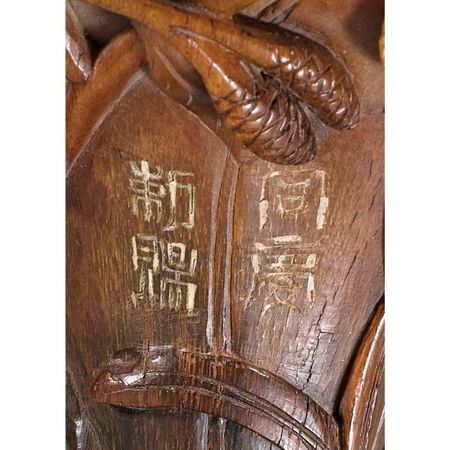 Coupe libatoire en corne de rhinocéros sculptée. Chine, dynastie Qing, fin XVIIE / début XVIIIE siècle. photo Sotheby's
11,6 x 17,5 cm, 4 9/16 x 6 7/8 in. Est. 30,000—40,000 EUR Lot Sold 444,750 EUR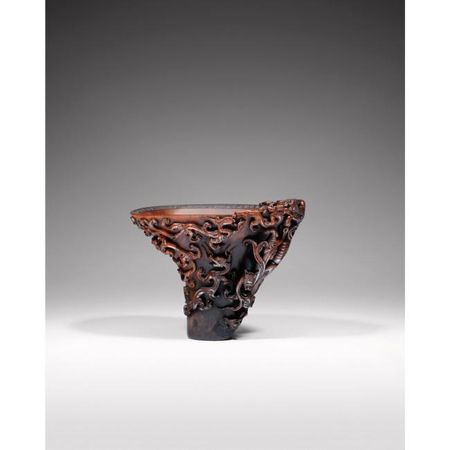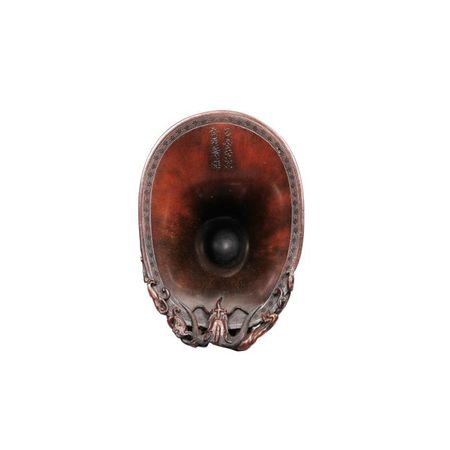 Coupe libatoire en corne de rhinocéros sculptée. photo Sotheby's
12,5 x 16,7 cm, 4 15/16 x 6 9/16 in. Est. 30,000—40,000 EUR Lot Sold 300,750 EUR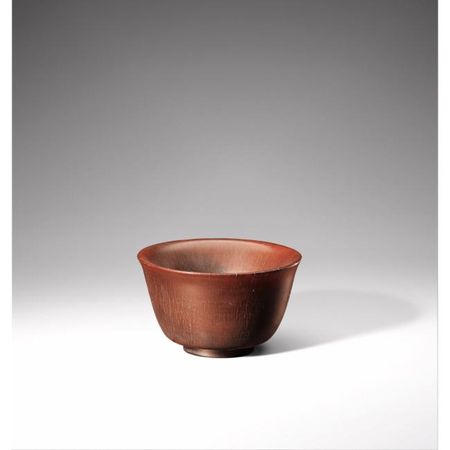 Rare coupe libatoire en corne de rhinocéros sculptée. Chine, dynastie Qing, XVIIIE siècle. photo Sotheby's
8,2 x 13,7 cm, 3 1/4 x 5 3/8 in. diam. Est. 60,000—80,000 EUR Lot Sold 288,750 EUR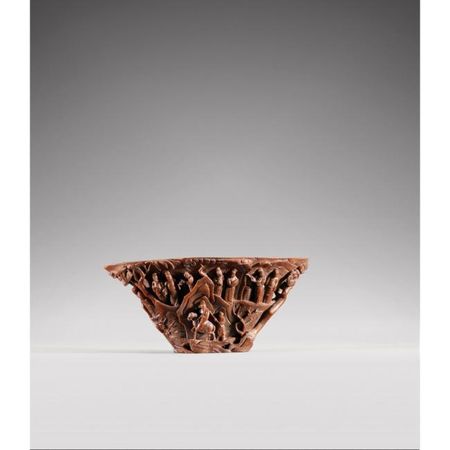 Coupe libatoire en corne de rhinocéros sculptée. Chine, dynastie Qing, époque Kangxi (1662-1722). photo Sotheby's
8 x 17,8 cm, 3 1/8 x 7 in. Est. 20,000—30,000 EUR. Lot Sold 240,750 EUR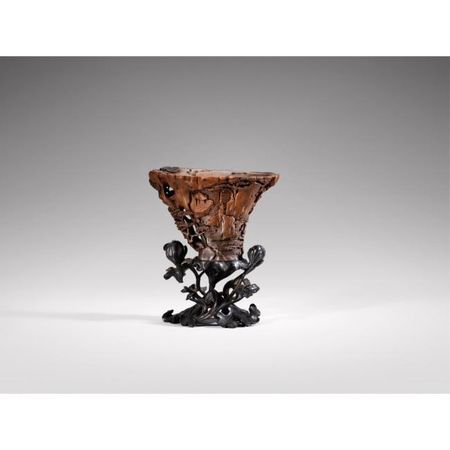 Coupe libatoire en corne de rhinocéros sculptée. Chine, dynastie Qing, époque Kangxi (1662-1722). photo Sotheby's
9,4 x 13,5 cm (hors socle), 3 11/16 x 5 5/16 in. (without stand) - Est. 30,000—40,000 EUR Lot Sold 180,750 EUR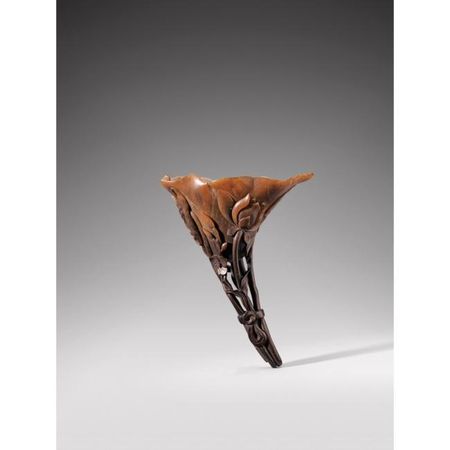 Coupe libatoire en corne de rhinocéros sculptée. Chine, dynastie Qing, XVIIIE siècle. photo Sotheby's
19,5 x 13,7 cm, 7 5/8 x 5 3/8 in. Est. 30,000—40,000 EUR Lot Sold 156,750 EUR
Sotheby's. Asian Art. 09 Jun 10. Paris www.sothebys.com