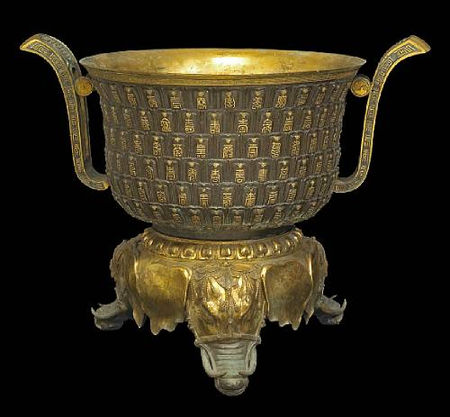 A two-foot high Qianlong Period gilt bronze censer sold for US$1,386,000. Photo: Courtesy Bonhams & Butterfields
SAN FRANCISCO, CA.- An anonymous Asian art collector paid more than $1.38-million on Tuesday for a two-foot high Qianlong Period gilt bronze censer – sold during the $4.7-million Asian Art auction held at Bonhams & Butterfields in San Francisco.

The 250-year old censer was described by the auctioneers as "fine and rare;" its bell-form bowl is decorated overall with rows of bronze lotus petals above a base of three gilt bronze elephant heads. Bidding opened at $40,000 with private collectors and Asian art dealers pushing the value far beyond the million-dollar mark, ultimately the censer hammered at $1.2-million, the final sale price: $1,386,000. The censer came from the private collection of Corinthian Studios in Washington State and its owners the late Bob Kongsli and Vern Halcomb.

Another top work of Asian art sold Tuesday was last seen at auction in San Francisco in November of 2002. An 18th/19th century rhinoceros horn raft cup brought $56,000 at Bonhams in 2002 - it sold Tuesday for $182,000. Just over ten-inches long, the cup is carved as a log boat, the well-hollowed out vessel fashioned with bird-form awnings sheltering a wizened immortal, Zhang Qian, piloting his deep brown-toned raft. It was sold in Bonhams and Butterfields, Fine Asian Works of Art 5 November 2002, Lot 5376 et come by repute, from ex collection Dimitri Emannuel Gran, Shanghai, New York and San Francisco.
A Rare Rhinoceros Horn Raft Cup, 18th-19th Century, 10 1/2 inches (26.8 cm) long, sold for $182,000. Photo: Courtesy Bonhams & Butterfields.
"The strength of the Chinese art market was dynamically apparent in all areas of collecting in today's auction," explained Bonhams' VP and Asian art department director Dessa Goddard late Tuesday evening. "Fresh objects of Chinese taste are an irresistible magnet, drawing our international buyers to flock to bid at auction".

Competitive bidding pushed values of additional lots above their estimates. Another Qianlong Period lot, a fine greenish white jade plaque carved with a continuous elaborate landscape on the front and back, brought $79,300. A large huanghuali clothing rack, 18th century, featured carved dragon heads and excited multiple international telephone bidders, selling for $134,000. The very next lot offered during the 370-lot auction was a huanghuali and mixed wood altar table, late Qing/Republic Period, which sold after highly competitive bids for $230,000. Within the sale's porcelains, a massive 19th century blue and white porcelain jardinière painted with depictions of lion dogs riding waves around its exterior walls brought $103,700.

The auction comprised bronze work, ceramics and pottery, paintings, screens, snuff bottles, textiles, furniture and decorations stemming from private collections, estates and institutions.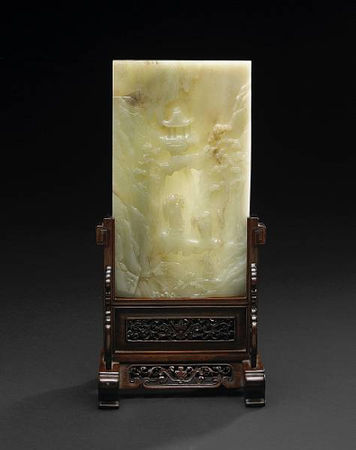 A fine pale greenish white jade plaque. Qianlong Period sold for $79,300. Photo: Courtesy Bonhams & Butterfields.
The thick rectangular surface elegantly carved with a continuous landscape on the front and back, showing a scholar standing in a grotto holding a peach branch with an attendant presenting an offering to him, the figures surrounded by towering pines, rocky promontories and supporting a small pavilion by a cascading waterfall, the scene reversed by two cranes standing beneath a grove of pines growing near steep cliffs finely carved in multiple layers into the pale greenish white stone which bears small patches of brown flecks, carved wood stand; 9 3/4 x 5 5/8in (24.8 x 14.3cm)
A large huanghuali clothing rack, Yijia, 18th Century, sold for $134,000. Photo: Courtesy Bonhams & Butterfields.
The square beaded posts joined to a horizontal toprail with dragon-headed terminals supported by elaborate corner spandrels over a large openwork panel of geometric medallions with dragon centers over a plain beaded rail and shoe feet incorporating chi dragons. 70 1/2 x 76 1/2 x 22 3/4in 179.2 x 194.4 x 57.8cm)
A huanghuali and mixed wood altar table. Late Qing/Republic Period. Sold for $230,000. Photo: Courtesy Bonhams & Butterfields.
The rectangular two-board top with up-turned ends and thumb-print edge butted to a shaped apron and ruyi-headed spandrels, supported by splayed legs housing an openwork ruyi-headed panel. 33 1/2 x 72 3/4 x 18 1/2in (85 x 184.8 x 46.9cm)