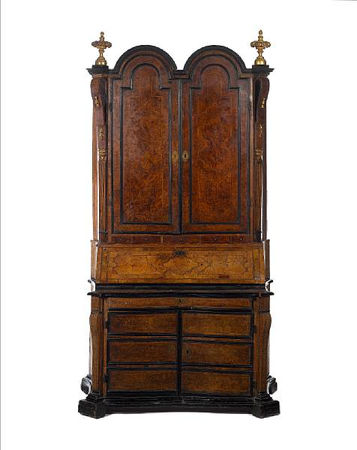 A rare pair of North Italian 18th century bureau-cabinets. Photo: Bonhams.
LONDON.- A pair of rare North Italian 18th century bureau-cabinets from Palazzo Costaguti on Piazza Mattei in Rome are to be sold as part of the Fine Continental Furniture, Sculpture and Works of Art sale on 7 July 2010. These fine examples of bureau-cabinets have been veneered in burr walnut and highlighted with parcel-gilt carved elements. They have attracted a pre-sale estimate of £50,000 – 70,000.

Palazzo Costaguti starred in Anthony Minghella's 1999 film, The Talented Mr Ripley, as the building that housed Ripley's (Matt Damon) apartment.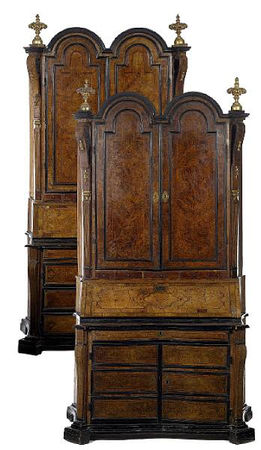 A rare pair of North Italian second-quarter 18th century parcel-gilt, walnut, burr-walnut, olivewood, ebonised and parquetry double-domed bureau-cabinets. Photo: Bonhams.
each with a double-arched pediment, surmounted to the angles by a waisted finial, the pair of cupboard doors inlaid to the front with geometrical bands, the interior centred by an inlaid star, the interior fitted with adjustable shelves, the fluted angles surmounted by a volute with carved foliate garlands, flanked by spreading sides, above five small drawers, the bureau fitted with a hinged slant top inlaid to the interior with a further star, above a long frieze drawer and a pair of cupboard doors simulating drawers, the interior with further adjustable shelves, the spreading sides with similarly inlaid decorated panels, on a shaped base and stepped bracket feet, 147cm wide, 76cm deep, 264cm high (57.5" wide, 29.5" deep, 103.5" high). (2) - Estimate: £50,000 - 80,000
Provenance: From the Palazzo Costaguti, Piazza Mattei, Rome.

Built in the first half of the 16th century, the Palazzo Costaguti belonged to Constantino Patrizi, treasurer to Pope Paul III.
Upon his death in 1578, the palace was sold to Ascanio and Propero Costaguti who commissioned the architect Carlo Lambardi to carry out renovations.
The Costaguti counted amongst them two important Cardinals: Vincenzo (1611-1660) and his half-brother Giovanni Battista (1636-1708), who were the bankers to Pope Urban VIII Barberini and then subsequently to Innocent X Pamphilj.
Both Vincenzo and Giovanni Battista were patrons to the many artists who worked on the decoration of their palace and who went on to produce works for the Basilica of Saint Peter's.
The palace is of particular interest for the decoration of the suite of rooms on the piano nobile with work carried out by some of the most significant artists active in Rome at the end of the 16th and beginning of the 17th centuries, such as Francesco Albani, Domenichino, Pomarancio, Pierfrancesco Mola, Nicolas Poussin, Gaspar Dughet, Giovanni Lanfranco, Agostino Tassi and the Cavalier d'Arpino.

Deriving its form from the Anglo-Dutch repertory, the bureau-cabinet very soon became the most important piece of furniture in the palaces of the ancient Venetian aristocracy and the rich merchants. Although they were meant to cut a bellafigura on the best wall of a salon, these pieces were supposed to be functional too. While the bureaux cabinets commissioned for the suburban villas were often lacquered or decorated in arte povera to simulate lacquer, the finest examples which are found in the most important palaces were veneered in burr walnut which was highlighted with parcel-gilt carved elements and sometimes engraved mirrors. Sometimes these bureaux-cabinets have cupboards on each side, making their size quite monumental. Unfortunately, due to a lack of documentary evidence, very few names of cabinet-makers, carvers and gilders survive to enable an attribution to a particular maker to be made.
Highlights also include a French 18th century Louis XIV red velvet rest from Château Hérivaux in Luzarches, France, expected to fetch £20,000 – 30,000; a Piedmontese 18th century commode, which furnished Kensington Palace when lived in by the late Prince George, Duke of Kent, estimated at £20,000 – 30,000; and a set of six North Italian 19th century chairs from the Schloss Derneburg monastery in Germany, which was acquired by artist Georg Baselitz in 1975, estimated at £10,000 – 15,000.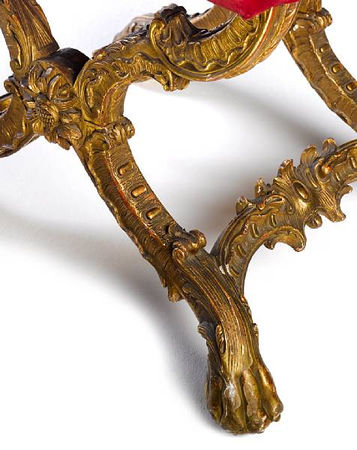 A French 18th century Louis XIV gilt walnut tabouret pliant. Photo: Bonhams.
together with a late 19th century copy en suite
the red velvet upholstered rectangular rest above scrolled 'X'-shaped supports with foliage centered by a sun-flower head, with shell-cartouche scrolled side stretchers, on paw and ball feet, 70cm wide, 51cm deep, 55cm high (27.5" wide, 20" deep, 21.5" high). (2) - Estimate: £20,000 - 30,000
Provenance: Château Hérivaux, Luzarches, France.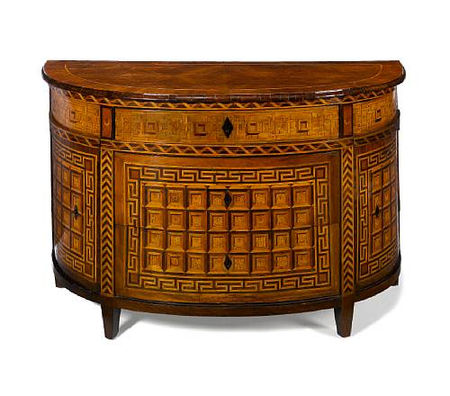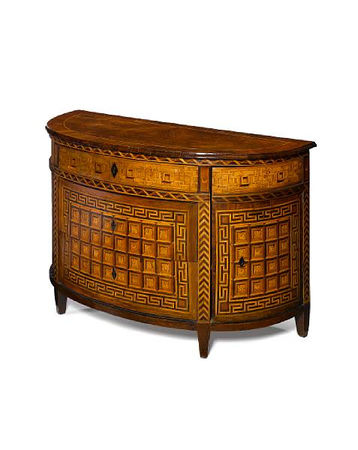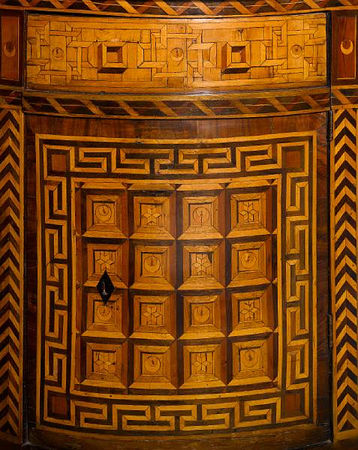 A Fine Piedmontese 18th century walnut and fruitwood marquetry demi-lune commode. Photo: Bonhams.
the serpentine top above a frieze-drawer and two long drawers decorated sans-traverses with inlays of geometrical pattern, moon-crescents and stars, flanked to each side by a cupboard door, the interior fitted with two shelves, on small square tapering feet, 135cm wide, 58cm deep, 82.5cm high (53" wide, 22.5" deep, 32" high). Estimate: £20,000 - 30,000
Provenance: By repute, purchased from the late Prince George, Duke of Kent, Kensington Palace, by Sir Seymour Egerton, Eaton Square
Thence by descent in the family
Lent to Peter Maitland, Abbey House, Witchampton, Dorset
Present vendor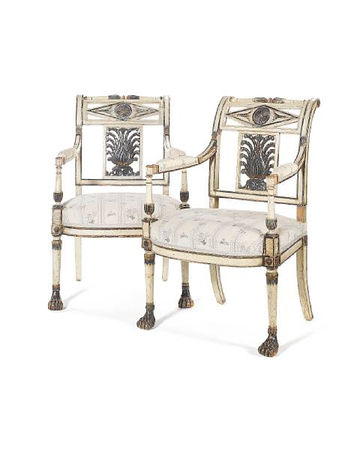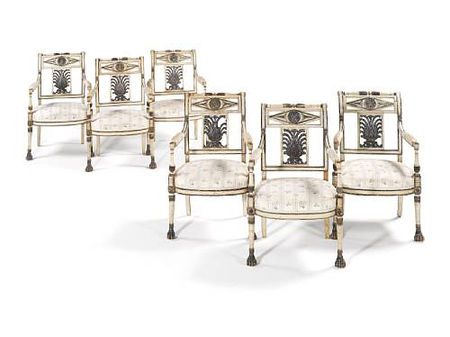 A set of six North Italian early 19th century Directoire white painted chairs. Photo: Bonhams.
each with outscrolled baluster backrail, above a pierced back centred by a carved acanthus, the padded armrests on baluster supports, the serpentine seat on monopodiae columnar legs to the front and sabre legs to the back, each covered with cream-ground floral cotton upholstery, (6) Estimate: £10,000 - 15,000
Provenance: Schloss Derneburg Castle, Germany.