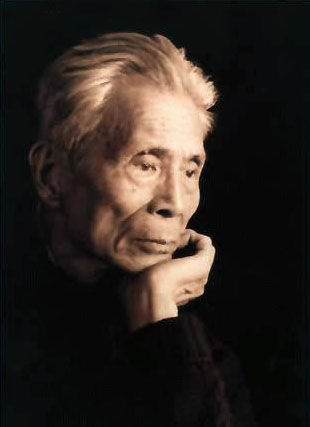 Wu Guanzhong 吴冠中 , born on August 29, 1919 in Yixing, Jiangsu Province, China.
BEIJING (AP).- Wu Guanzhong, known as one of the fathers of modern Chinese art for combining western and Chinese elements in black and white oil paintings, has died. He was 90.

He died in Beijing on Friday.

"He was an inspiration for many Chinese artists, even to this day and one of the most important forces in modern Chinese art," Tan Ping, vice president of the Central Academy of Fine Arts in Beijing, said in an interview with the Associated Press on Monday. "This is a very sad loss for the art world."

Born in China's eastern province of Jiangsu in 1919, Wu left to study western painting at the Ecole Nationale Superieure des Beaux-arts in Paris in 1947. He returned to China in 1950 to teach at Tsinghua University and the Central Academy of Fine Arts. He later became known for integrating traditional Chinese ink brush techniques with a contemporary western flair in both ink and oil paintings of landscapes, architecture, animals and people.

Wu's works have become very valuable in recent years. Earlier this month, his oil painting from 1974 depicting the Yangtze River sold for $8.4 million at a Beijing auction.

Despite selling his works for millions, Wu also wanted the public to enjoy his art, his son Wu Keyu was cited as saying by the official Xinhua News Agency. Wu Keyu said that was why his father insisted on donating his best works to public museums instead of selling them.

In 2008, Wu Guanzhong donated 113 oil and ink paintings valued at $53 million to the Singapore Art Museum. Just shortly before his death, Wu donated five pieces to the Hong Kong Museum of Art, bringing to 52 his total contribution of works to the museum, Xinhua said.

Internationally, Wu gained attention in 1992 by becoming the first living Chinese artist to exhibit at the British Museum and was recognized by the French Ministry of Culture for his accomplishments in 1991. Copyright © 2010 The Associated Press. All rights reserved.
Wu Guanzhong, Kites Seen Again 又见风筝, 2003, Oil on canvas, 61 x 46cm, National Heritage Board collection. Singapore Art Museum
BEIJING (CHINE) [29.06.10] – Le peintre Wu Guanzhong, considéré comme l'un des plus grands maîtres de la peinture chinoise moderne et contemporaine, est mort à Pékin à l'âge de 90 ans.
L'artiste Wu Guanzhong, une des figures les plus importantes de l'art chinois du XXe siècle, considéré comme l'un des fondateurs de la peinture contemporaine chinoise, est décédé à l'âge de 90 ans, a-t-on appris de l'agence presse Xinhua.

Né en 1919 dans la province du Jiangsu (est), Wu Guanzhong part étudier la peinture occidentale en France en 1947 à l'Ecole Nationale supérieure des Beaux-Arts de Paris. Alors que la plupart de ses contemporains restent en Occident, Wu décide de retourner en Chine où il enseigne à l'Académie des Beaux-Arts de Pékin et dans d'autres institutions comme l'Université de Tsinghua. En 1972, en pleine Révolution culturelle (1966-1976), l'artiste est envoyé en camp de travail. Il se remet à peindre à la fin de celle-ci, mais ne fera l'objet d'une première exposition qu'en 1978, à l'âge de 59 ans. En 1992, il est le premier artiste chinois exposé de son vivant au British Museum de Londres.

Son œuvre se caractérise par une innovation artistique permanente alliant maîtrise des techniques occidentales, culture et art traditionnel chinois. En témoignent ses nombreux paysages associant peinture à l'huile à l'encre de Chine. Ses œuvres, très prisées par les collectionneurs, ont atteint des records lors de nombreuses ventes aux enchères. En 2009, certaines de ses peintures ont été vendues pour quelques 37,7 millions de dollars.

L'artiste est également connu pour ses nombreux dons aux musées publics et autres institutions. Il a donné une centaine de tableaux au Hong Kong Museum of Art, dont la collection s'est enrichie de cinq nouvelles œuvres juste avant sa mort. En 2008, le Musée d'art national de Singapour reçoit 113 œuvres. Un don estimé à 53 millions de dollars, soit environ 43 millions d'euros. Et en 2009, Wu Guanzhong fait un don de 66 toiles au musée d'art de Shangaï.

De renommée internationale, Wu a reçu de nombreuses distinctions. En 1991, il est fait officier de l'Ordre des Arts et des Lettres par le ministre de la Culture, Jack Lang. En 2002, il est le premier artiste chinois à recevoir la Médaille des Arts et des Lettres de l'Académie des Beaux-Arts.

Depuis le 26 mars dernier et jusqu'au 29 août prochain, le Hong Kong Museum of Art lui consacre une exposition intitulée « Lofty Integrity : Donation of Works by Wu Guanzhong » qui a déjà attirée plus de 90 000 visiteurs. www.artclair.com
Wu Guanzhong, Cranes in Dance, 2002, Ink and colour on paper, 67x 135 cm
Wu Guanzhong, Pomegranate, 1992, Ink and colour on paper, 69x 138 cm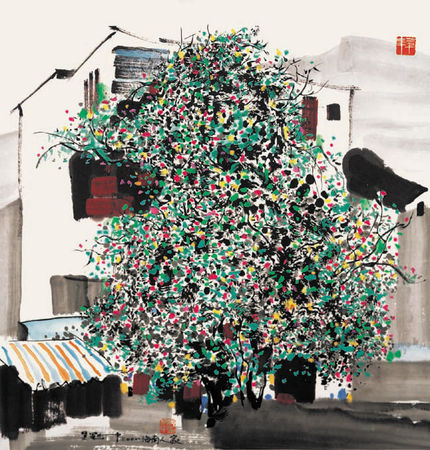 Wu Guanzhong, Households in Hainan, 2001, Ink and colour on paper, 68x 68.4 cm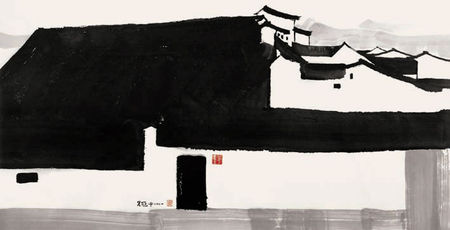 Wu Guanzhong, Old Residence, 2001, Ink and colour on paper, 68x 136.5 cm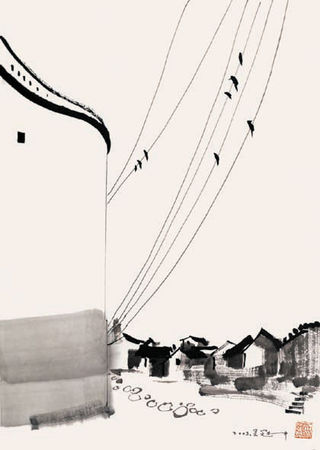 Wu Guanzhong, Composing Music in the Air, 2003, Ink and colour on paper, 69x 48 cm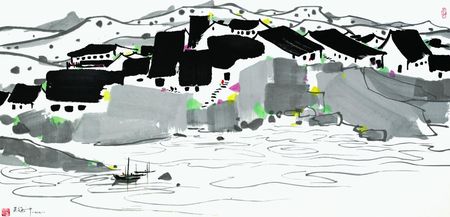 Wu Guanzhong, Riverside Village, 1991, Ink and colour on paper, 69x 138 cm
Wu Guanzhong, Wilderness, 2000, Ink and colour on paper, 40x 48 cm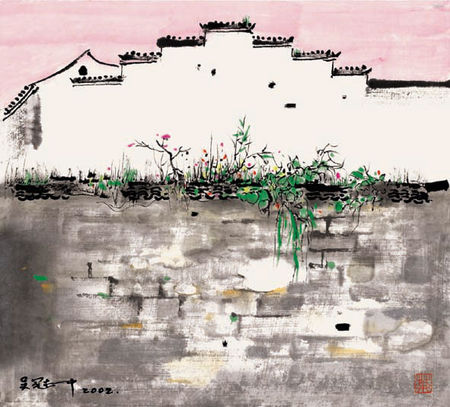 Wu Guanzhong, Weeds on the Top of Wall, 2002, Ink and colour on paper, 45 x 48 cm
Wu Guanzhong, Red Leaves on Fragrant Hills, 2001, Ink and colour on paper, 48x 45 cm