LONDON.- The Post-War and Contemporary Evening Auction took place this evening at Christie's and realised £45,640,200 /$68,642,861/ €56,091,806, selling 84% by lot and 85% by value.

"We curated this sale very carefully, offering a diverse range of works that were exciting and fresh, had great energy, and were of excellent quality. As a result, the market responded with real enthusiasm" said Francis Outred, Head of Post-War and Contemporary Art, Christie's Europe. "The signature work in the sale was arguably Mappa by Boetti; it acted as a symbol as a global audience competed for international artists and achieved £1.8 million, double its low estimate. Younger artists shone alongside the established names and the results demonstrate a continued desire to acquire Post-War and Contemporary Art."

The top price was paid for Silver Liz, 1963, by Andy Warhol (1928-1987), one of only two paintings by the artist to depict the celebrated actress and Hollywood icon with her legendary violet eyes. It sold to an anonymous bidder for £6,762,150 / $10,168,920/€3,354,248. Further highlights of the evening included Loopy, 1999, by Jeff Koons (b. 1955), showing childhood motifs from the artist's Easyfun series, which sold for £3,401,250/$5,115,480/€4,180,136 (estimate: £2.5 million to £3.5 million), a record for a painting by the artist.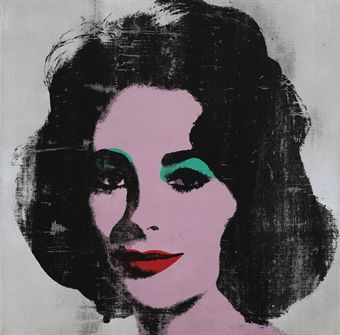 Andy Warhol (1928-1987) Silver Liz. Photo: Christie's Images Ltd., 2010
stamped twice with the artist's signature (on the overlap) synthetic polymer paint, silkscreen inks and spray enamel on linen, 39 7/8 x 39 3/8in. (101.5 x 99.7cm.) Executed in 1963. Estimate £6,000,000 - £8,000,000 Price Realized £6,761,250.
Provenance: Gagosian Gallery, New York.
Acquired from the above by the present owner in 1988.
Literature: G. Frei and N. Printz (eds.), The Andy Warhol Catalogue Raisonné of Paintings and Sculptures 1964-1969, vol. 1, New York 2002, no. 445 (illustrated in colour, p. 398).
Notes: As an icon of Pop Art and one of Andy Warhol's original 'Ferus-type' Silver Liz works of 1963 this shimmering example is one of only two paintings in which the artist highlights her legendary violet eyes. Executed at a time when she had just become the world's first million-dollar actress, and Warhol's star itself was arriving, this was a true meeting of the cultural giants of their time. Taylor's unusual eye colour has captured the imagination of her legions of fans and helped to establish her reputation as one of the most beautiful screen goddesses of all time. Interestingly, the unique colour of her eyes, which originated in an unusual genetic condition, would have been hidden from the audiences of her early black and white films. But with the introduction of colour cinematography the true nature of her appearance was revealed and it added to her almost mythical status in the glamorous world of Hollywood. As a window onto the soul, the eyes have long been an important way of trying to decipher someone's true personality. Warhol's decision to pay special attention to her eyes in this way makes this canvas stand out as one of his most personal works in which he was trying to establish a direct relationship with the actress and a true connection to her soul. With this particular Silver Liz, Warhol produces a glamorous and very individual portrait that has become one of most iconic images he ever produced.

Painted for Warhol's now famous show at the Ferus Gallery in Los Angeles in October 1963, his Silver Liz series was exhibited in the same exhibition as his silver canvases of Elvis Presley. The combination of a legendary rock and roll star and a goddess of the silver-screen proved to be intoxicating. Both stars were at the height of their fame; Elvis had returned after his stint in the US Army and Liz Taylor had just become the first $1million actress for her role alongside Richard Burton in Cleopatra. Painted before he embarked on his Liz paintings, Warhol's Elvis pictures were screened onto a canvas that hand been painted silver. However, by the time he produced Silver Liz Warhol had refined the process and started to spray paint the canvases silver as he preferred the smoother finish the spray paint gave him.

At the time Silver Liz was painted Taylor was at the height of her fame and her appearance in countless newspapers and magazines led to Warhol developing an almost childlike infatuation with the actress. The resulting canvas is the ultimate example of Warhol's artistic genius at a time when he was at the pinnacle of his career. It combines his obsession with celebrity with an early example of his silkscreen process to produce an image which shimmers with Taylor's renowned beauty and also encapsulates some of his early ideas about the artificiality of fame.

Searching for a way of exploring his ideas about art, celebrity and popular culture Warhol had developed his silkscreen process in 1962. He appreciated the instant electricity and underlying artificiality it generated; the inky superimpositions of the photoderived screens and the vivid colours epitomised Pop with their brand-like distinctness. Onto the silver surface of the canvas Warhol made an impression in black ink to establish the areas where the secondary colours would go. These colours: acra violet for the face and neck, phthalo green for the eye shadow, purple for the eyes and cadmium red for the lips were then painted on by hand. Once the purple eyes had been added, a second impression would have been made to match the first as closely as possible.

As with much of Warhol's work, colour was one of his most important considerations and his choice of silver as the dominant colour for his portraits of Liz Taylor was partly inspired by the aesthetic possibilities it offered him and in part by its references to contemporary culture. He first began using silver in 1963, the year Silver Liz was painted and most of his silver canvases were produced during a brief burst of activity between April and July of that year. Silver was the colour of Hollywood glamour and the silver screen, an association that would have meant a lot to Warhol who spent the happiest moments of his childhood in Depression-era Pittsburgh at his local cinema watching his favourite film stars on the big screen. Warhol was also captivated by the associations the colour had with pop culture. In contrast to gold and its links with the ancient world and old fashioned luxury he thought silver had far more potential for his work. The fleeting nature of fame and the ethereal quality of cinema made a portrait of Liz Taylor an ideal subject for Warhol to use for his silkscreening process. The physical qualities inherent in the process also represent some of Warhol's ideas about celebrity. Some intended effects, especially the thin, striated areas of paint insinuate a physical dissolution that evokes a fleeting presence, indicating the transience of fame: 'The silkscreened image, reproduced whole, has the character of an involuntary imprint. It is a memorial in the sense that it resembles memory - sometimes vividly present, sometimes elusive, always open to embellishment as well as loss' (T. Crow, 'Saturday Disasters: Trace and Reference in Early Warhol', After the Party: Andy Warhol Works 1956- 1986, exh. cat., Irish Museum of Modern Art, Dublin, 1997, p. 22). Warhol's link between fame and nostalgia is the very basis of these works, which are often generated from old photographs: the one used to create present work, for example, is a publicity photograph from 1950, which predates the painting by some thirteen years. When Warhol painted Silver Liz the actress was at the pinnacle of her career. Her career started at the age of nine when she starred in her first film There's One Born Every Minute but her breakthrough moment came in 1944 with release of MGM's National Velvet, which grossed over $4million dollars at the box office. This was not first of Warhol's work to include Liz Taylor. She first appeared in one of his tabloid paintings, Daily News, a painting documenting her catastrophic illness of 1961. She resurfaced in allusion only, in The Men in Her Life, a work based on a 1957 photograph, which included both her current husband, Mike Todd, and her future one, Eddie Fisher. Most often, however, Warhol was obsessed with Liz as Hollywood starlet: he multiplied images of her characters in National Velvet and Cleopatra. Decades after his obsessive repetition of her image, he eventually befriended Taylor. While in Rome in 1973, Warhol even made a cameo appearance in The Driver's Seat, a film in which Taylor was starring.

Created at approximately the same time as his depictions of electric chairs and car crashes, Warhol's full-face images of Marilyn, Jackie, and Liz followed on the heels of deaths and disasters in all three of his subjects' lives: Taylor's catastrophic illness in 1961, Monroe's suicide in August 1962, and John F. Kennedy's assassination in November 1963. Warhol's early images of Taylor were directly tied to the collapse that interrupted the filming of Cleopatra, referenced in both Daily News and Blue Liz as Cleopatra.

Silver Liz stands out as a shining example of one of Warhol's most important series. It encapsulates his most important ideas about fame and celebrity into one single canvas and in taking the unusual step of highlighting her legendary violet eyes he turns this canvas from a mere image into an intensely personal portrait of a star that he adored. Nearly fifty years after its creation it remains an enduring icon of American culture and a symbol of feminine beauty and most of all, a lasting symbol of the importance and power of Andy Warhol's art.
Mappa, 1989, by Alighiero Boetti (1940-1994), an exceptional work of art from the celebrated series by the artist which predicted the power of globalization, sold for a new auction record for the artist at £1,833,250 $2,757,208/ € 2,253,064 (estimate: £900,000-1,200,000).
Alighiero Boetti (1940-1994) Mappa. Photo: Christie's Images Ltd., 2010
embroidered tapestry, 45 5/8 x 85½in. (116 x 217cm.) Executed in 1989. Estimate £900,000 - £1,200,000 Price Realized £1,833,250
Provenance: Alessandro Seno, Milan.
Barbara Gladstone Gallery, New York.
Acquired from the above by the present owner.
Exhibited: New York, Barbara Gladstone Gallery, Alighiero e Boetti, November 2009-January 2010
Notes: This work is registered in the Archivio Alighiero Boetti, Rome, under no. 4937.

'Of One Essence is the Human Race,
Thusly has Creation put the Base.'
(Sa'di as quoted in Farsi in the border of the present work,
13th Century, translated by Iraj Barishi)

Executed in 1989, this work is a unique and particularly poignant example of the extraordinary Mappe series. The radiant deep-blue sea makes it an extremely rare example in this series with a dark blue background, alongside the Mappa in the collection of the Museum of Modern Art, New York, which has a black background. In addition, the twin inscriptions on this Mappa - articulating the East-West dialogue between Boetti, in Rome and the Afghan weavers at this time living in exile from their homeland in Peshawar - reflect powerfully on the central meaning of the series as a whole. Its Farsi inscription reads, 'Of One Essence is the Human Race, Thusly has Creation put the Base'. These are the first lines of one of best-known poems by the famous medieval Persian poet Sa'di'. These are lines of poetry not only known across the entire Persian-speaking world but which, on account of their articulate expression of the inherent unity of the world, also adorn the Hall of Nations in the United Nations building in New York. On this Mappa these lines are accompanied by a repetitive and expanding phrase in Italian of Boetti's devising that reads, A tempo in tempo col tempo il temporalea (in time, on time, with time, the temporal). In contrast to the message of unity in the quotation from Sa'di this phrase refers to the constant flux and change of the world and to what is perhaps the central concept of Boetti's entire oeuvre and the effective author of these 'open works'; Time.

Reflective of both a dialogue and an exchange between East and West as well as of the constantly changing patterns of the world, the Mappe seemed to embody what was then, in the immediate wake of the Cold War, a newly emerging sense of the world as a more holistic, interactive and intercommunicative entity. In the last few years, amidst the radical change, expanding fields and ever-increasing march of globalisation, these radiant and ultimately optimistic images of the political world-map as a unity and diversity held in a state of perpetual flux, now seem more than ever to stand as prophetic icons of the fluid, fast-track and perpetually-changing global era of the 21st century. In a similar way too, Boetti himself has also now emerged from his own time as one of a handful of pioneers in the field of both Conceptual Art and Arte Povera to be seen more universally as a prophetic spirit whose quiet wisdom, simple yet expansive aesthetic and inclusive and collaborative working practice have established him as one of the first and finest practitioners of a truly global art.
Like all truly great and enduring works of art, Alighiero Boetti's Mappe - the trans-global collaborative series of embroidered world d world maps that he made in partnership with village Afghan women weavers are works that have proven to be far ahead of their time. This profound series of holistic and temporal geo-political tapestries are now widely recognised as being not only among the artist's most important creations but also as fascinatingly accurate predictions of the creations but also as fascinatingly accurate predictions of the constantly shifting sands of today's geo-political world.

'For me the work of the embroidered Mappa' Boetti famously said, is the 'ultimate in beauty. For that work I did nothing, chose nothing, in the sense that: the world is made as it is, not as I designed it, the flags are those that exist, and I did not design them; in short, I did absolutely nothing; when the basic idea, the concept, emerges everything else requires no choosing.' (Alighiero e Boetti, 1974, quoted in Alberto Boatto, Alighiero & Boetti, Ravenna, 1984, p. 122). Boetti's flowing phrase, A tempo in tempo col tempo il temporalea refers to the fact that the Mappe unlike any supposedly fixed representations of the world, and this would include Jasper Johns' 1960s paintings of maps for example, are merely frozen images of the fluid passage of time. In the context of time, and therefore of course, human history too, form is not fixed but also fluid. This concept of flux which underpins all the Mappe can be seen most clearly from the fact the Mappe originally evolved from a work entitled 'Twelve forms from June '67 Onwards' that presented the outlines of twelve countries in a state of political crisis or military conflict at this time. 'What interested me in these drawings' Boetti remarked, was the fact that these outlines 'were not spawned by my imagination, but prompted by artillery attacks, air raids and diplomatic negotiations.' (Alighiero Boetti quoted in Alighiero Boetti, exh. cat., Frankfurt Am Main, 1998 p. 65). First, in his blueprint-like drawing Political Planisphere and ultimately in the embroidered Mappe, Boetti expanded this concept to include the whole world and the constantly changing passage of human history as it seems to write itself across it. Creating painstakingly handcrafted embroidered images that depict the political world map at a specific moment in time but which are themselves made over a long period (between one and two years in most cases and sometimes longer), and which, with their segregated divisions, are also reflective of the even longer span of human history, the Mappe become a powerful graphic expression of humanity's temporal relationship with and divided concept of the world. Images of time and of the unpredictable history of man, the Mappe are also collectively, if also inadvertently specifically expressive too of the turbulent history of Afghanistan between the years 1971 and 1994 when they were created. Of the many changing flags representing Afghanistan, this Mappa for example, displays the second flag of the 'Republic of Afghanistan' used by the country between 1987 and 1989. Dating from 1989 it in fact records the last period of the Communistbacked presidency of Dr Najibullah who was appealing to the United Nations at this time for help before the taking of Kabul by the US-backed Mujahedin.

One of a series of Mappe made by refugees from the Afghan war with whom Boetti had re-established contact when they resettled over the border in Peshawar, the manner and location of this work's manufacture is another important reflection on the fluid nature of man-made lines and borders that these works aim to express. The Mappe were made in order to 'erase the distance between Rome and Kabul' Boetti wrote revealingly on the border of one of his Mappa. In these works, the artist's innate sense of the inherent unity and diversity of all things and of the Heraclitan and Sufi principle of an intrinsic 'ordine e disordine' (order and disorder) lying at the heart of all existence was transcribed and extended into a real East-West cultural and commercial dialogue and exchange. After the creation of the concept of the Mappe in his Political Planisphere, the next logical expansion of this concept of a unified world divided into colourful abstract parts, was to fuse those divisions and transcend their artifice by actually physically crossing those borders in the form of travel and cultural interchange.

Boetti first visited Afghanistan in 1971, and on his second visit later that year established his 'One' hotel in Kabul and commissioned the first of what would become an ongoing and continuous series of Mappe. In this way, as in his postal works and years before telecommunications and the creation of the internet would shrink the world, Boetti was beginning to expand his unified and global concept of art and humanity through the mechanisms of trade and
information exchange that were already extant. In the commissioning of the production of his Mappe from local women weavers for example, Boetti effectively opened a new commercial East-West dialogue not based on exploitative trade but on a spirit of cross-cultural collaboration that ultimately had an important influence for both Afghanistan and Europe. Among the first artists not only to have his work manufactured by assistants but also in the non-mechanised archaic and folk art handicraft tradition of a 'Third World' country, the Mappe represent a bridging of the modern and the ancient worlds as much as they do a crossing of the traditional East-West divide. At the same time, in Afghanistan, Boetti's commissioning of the Mappe eventually had the effect of reinvigorating the ancient weaving tradition in Afghanistan that had been dying out.

The importance of this trans-global cross-cultural dialogue in the Mappe is often asserted in these works through the twinned messages, inscriptions and titles written in Italian and Farsi that Boetti chose to use as the border or frame of the Mappe. Using phrases split into their own individual letters and set on a differently coloured background in the manner of his Arazzo, these statements not only established a cross-cultural sense of unity and diversity but also pointed to the same inherent unity and diversity existing within the properties of words and language. The twinned messages about time and the interconnectedness of all humanity on this Mappa make it one of the most appropriate and articulate expressions of this concept in all of the series. In addition to this, another key feature of these works is their hand-made quality and the many accidental errors, mistakes and inaccuracies that these works often include.

A particularly interesting feature of this Mappa in this respect too, is that here, the written instructions indicating the colours of each country's flags has been inadvertently incorporated by its makers into the woven design of each flag. While all the Mappe are individual works, unique in colour, dimension and twinned inscription, this work includes an additional element to make it unique, personal and individual. 'Through his simple gestures' one critic has written of Boetti's Mappe, he 'brought to light hidden structures, presenting them as if anew'. (Luca Cerizza, Alighiero e Boetti. Mappa, London 2008, p. 23). In an interesting parallel of this aspect of his work and as an accidental extension of Boetti's own conceptual practice, here, one of his own supposedly hidden instructions has been allowed to become an overt, open and integrated part of his iconic concept of the world map as a graphic illustration of the principle of 'ordine e disordine' in action.
Roy Lichtenstein's Collage for Nude with Red Shirt sold above the pre-sale estimate of £600,000-800,000 for £2,729,250/$4,104,792/€3,354,248. The work really excited the audience and bidders took it to a new record price for a work on paper by the artist.
Roy Lichtenstein (1923-1997) Collage for Nude with Red Shirt. Photo: Christie's Images Ltd., 2010
signed and dated 'Rf Lichtenstein '95' (on the reverse) acrylic on paper collage, printed paper collage, tape, marker and graphite on card, sheet size: 47¼ x 40¼in. (120 x 102cm.) image only: 39 1/8 x 32½in. (99.5 x 82.5cm.) Executed in 1995. Estimate £600,000 - £800,000 Price Realized £2,729,250
Provenance: Leo Castelli Gallery, New York.
Galerie Beyeler, Basel.
Acquired from the above by the present owner in 1998.
Exhibited: Zurich, Galerie Art Focus, Roy Lichtenstein, March-May 1997 (illustrated in colour, on the cover).
Notes: With its beautifully conceived composition, bold colors, and meticulous and playful manipulation of the collage technique, Roy Lichtenstein's Collage for Nude with Red Shirt, stands as an impressive example of the artist's late work. This fully realized collage represents not only a culmination in the artist's practice of sourcing imagery from American Pop Culture and combining it with the most traditional themes of academic art, but highlights Lichtenstein's witty conceptual genius and innovative emphasis on process. What makes this scene so intriguing is not so much the gorgeous elegance of the central figure but the presence of the twist of hair to the left side of the composition which only becomes apparent upon close inspection and gives rise to the realization of the presence of a second figure in the scene.

For Collage for Nude with Red Shirt, the artist draws inspiration from a specific frame in the December 1967 issue of Secret Hearts. Compositionally, Lichtenstein has modernized and uncluttered the scene, stripped the central figure of her lace slip, reduced the second figure in the frame to an abstracted curve along the left edge of the board and reinterpreted the depiction in his distinctive Pop Art style. Now clearly a bedroom scene, the viewer takes on a voyeuristic role as we peer into a narrative evocative of the boudoir scenes of the late 19th and 20th Centuries. With her arched eyebrows, long eyelashes and luscious red lips, Lichtenstein's confident subject takes on a Femme Fatale persona.

The nude is a recurring element in Lichtenstein's work of the 1990's. Populating his later works with sultry and seductive nude protagonists, the artist parodies the time-honored art-historical theme of the female figure as subject matter. By borrowing compositions from source materials, and rendering the subjects overtly naked, Lichtenstein mischievously undermines the more static and abstract embodiments of feminine beauty that appear throughout the history of art - Courbet, Manet, Degas and Toulouse-Lautrec come to mind.

For Lichtenstein, the process was just as important, if not more, than his elected subject matter. As the artist himself stated in 1995, 'My use of evenly repeated dots and diagonal lines and uninflected color areas suggest that my work is right where it is, definitely not a window into the world the enlargement of these comic book devices make obvious that we take for reality configurations that are very abstract I do this partly because I don't think the importance of the art has anything to do with the importance of the subject matter. I think importance resides more in the unity of the composition and in the inventiveness of perception' (quoted in Roy Lichtenstein Beginning to End, Fundacin Juan March, Madrid, 2007, p. 128). The layered composition of Collage for Nude with Red Shirt, we gain rare insight into the intricate compositional technique employed in the artist's studio. Masterfully utilizing photographic tape for the hard black outlines and layering printed-paper collage elements with hand painted paper and even incorporating marker and graphite, Lichtenstein breaks down the common notion of seeing into abstracted elements, which together result in a realistic depiction. This highly exact methodology heightens the two dimensionality of the work, while resulting in machine-like and
effortlessly fresh depiction reminiscent of mass produced newsprint - outwardly devoid of the artist's hand. Lichtenstein delivers a meticulous work thoroughly executed and fully realized in its composition.

Throughout his oeuvre, Lichtenstein time and time again challenged the boundaries of rigid art-historical stereotypes while maintaining his idiosyncratic world view. Collage for Nude with Red Shirt is an outstanding representation of Roy Lichtenstein's innovative artistic vision simultaneously combining an awareness of the history of art, and a deliberate visual duality contrasting abstraction and realistic depiction.
Works by younger generation artists also performed well including US World Studies II by Jules de Balincourt (b. 1972) which opened the sale and quickly sold for a world auction record price of £277,250 /$416,984/€340,740 (estimate: £40,000-60,000).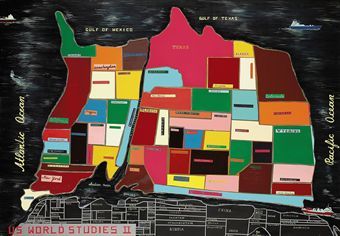 Jules de Balincourt (b. 1972) US World Studies II. Photo: Christie's Images Ltd., 2010
titled 'US WORLD STUDIES II' (lower left) oil and enamel on panel, 48 x 68 1/8in. (122 x 173cm.) Painted in 2005. Estimate £40,000 - £60,000 Price Realized £277,250
Provenance: Zach Feuer Gallery, New York.
Acquired from the above by the present owner.
Literature: USA Today New American Art from The Saatchi Gallery, exh. cat., London, Royal Academy of Arts, 2006 (illustrated in colour, pp. 36-37).
Exhibited: New York, Zach Feuer Gallery, Jules de Balincourt: This Is Our Town , March-April 2005.
Notes: Jules de Balincourts US World Studies II is a colourful critique of the superpower culture in an age of rapid political change. In his own unique and biting style de Balincourt redraws the familiar map of the United States to produce a work which questions the notions of geographical power and political influence. Updating the traditions laid down in Jasper Johns' 1961 masterpiece Map, de Balincourt inverts the familiar geographical outline of the US geographical and rearranges the mainland States into a jumbled mixture of familiar names in unfamiliar locations. Florida finds itself relocated to the interior and California moves from the west coast to the Atlantic seaboard. The tension inherent in US World Studies II is derived from taking the familiar cartography of the school textbook and combining it with the realities of modern global politics. By inverting his colourful map of the United States and surrounding it with the ominous dark masses of other countries and empty oceans, de Balincourt is clearly playing with the idea of a so-called 'established world order' in this rapidly changing post 9/11 world.

Born in France in 1972 and now living and working in Brooklyn, New York, de Balincourt is a member of a generation for whom arbitrary geo-political borders are becoming increasingly irrelevant. In addition depicting the arbitrariness of national borders, de Balincourt is also trying to demolish artistic boundaries by combining a range of different artistic styles ranging from pop art and graffiti to American folk art to produce a work that questions the idea of national identity. Through his faux-naïf style US World Studies II is a humorous comment on contemporary notion of identity politics and politicians' desperation to cling onto it at all costs.
A group of works by the YBAs (Young British Artists), all offered from different vendors, included three works exhibited at the Sensation exhibition at the Royal Academy in 1997. Highlights included Glenn Brown's (b.1966) Dalí-Christ (after 'Soft Construction with Boiled Beans: Premonition of Civil War' 1936 by Salvador Dalí) By kind permission of the Gala-Salvador Dalí Foundation, Spain, an iconic work of Young British Art which sold for a new auction record of £1,441,250 /$2,167,640/€1,771,296 (estimate: £700,000 to £1 million); Jake and Dinos Chapman's (b.1966 and 1962) Übermensch, which has been exhibited throughout the world at most of the major surveys of this groundbreaking movement, sold for a record £241,250/$362,840/€296,496 (estimate: £250,000-350,000); and Orgena, 1998, by Chris Ofili (b.1968), a glorious celebration of African Womanhood bathed in rich golden glitter and droplets of paint in a rainbow of colours, which also realised an auction record of £1,889,250/$2,841,432/€2,321,888 (estimate: £700,000-1,000,000).
Glenn Brown (b. 1966) Dalí-Christ (after Soft Construction with Boiled Beans: Premonition of Civil War 1936 by Salvador Dalí) By kind permission of the Gala-Salvador Dalí Foundation, Spain. Photo: Christie's Images Ltd., 2010
signed, titled and dated 'Glenn Brown Dali-Christ 1992' (on the reverse) oil on canvas, 108 x 72in. (274.3 x 183cm.) Painted in 1992. Estimate £700,000 - £1,000,000 Price Realized £1,441,250.
Provenance: Todd Gallery, London.
Saatchi Collection, London.
Private Collection, New York.
Acquired from the above by the present owner.
Literature: S. Morgan, "Confessions of a Body Snatcher", in Frieze International Art Magazine, issue 12, October 1993, pp. 52-55 (illustrated, p. 55).
S. Kent, Shark Infested Waters - The Saatchi Collection of British Art in the 90s, London 1994 (illustrated in colour, p. 113).
R. Timms, A. Bradley and V. Hayward (eds.), Young British Art - The Saatchi Decade, London 1999 (illustrated in colour, p. 96).
P. Elis, 100 - The Work that Changed British Art, London 2003, no. 18 (illustrated in colour, p. 43).
Glenn Brown, exh. cat., London, Serpentine Gallery, September-November 2004 (installation view illustrated in colour, p. 101).
Exhibited: London, Serpentine Gallery, Here and Now, 1994.
London, Saatchi Gallery, Young British Artists V, September-December 1995 (illustrated, p. 1).
London, Queen's Hall Arts Centre, Glenn Brown, 1996, no. 3 (illustrated in colour, p. 23 and installation view illustrated in colour, p. 9).
London, The Royal Academy of Arts, Sensation Young British Artist from the Saatchi Collection, September-December 1997 (illustrated in colour, p. 60). This exhibition later travelled to Berlin, Hamburger Bahnhof, September 1998-January 1999 and New York, Brooklyn Museum of Art, October 1999-January 2000.
Liverpool, Tate Liverpool, Glenn Brown, February-May 2009 (illustrated in colour, p. 75). This exhibition later travelled to Turin, Fondazione Sandretto Re Rebaudengo, May-October 2009.
Notes: With its breathtaking scale, incredible attention to detail and extraordinary conceptual premise, Dalí-Christ (after Soft Construction with Boiled Beans: Premonition of Civil War 1936 by Salvador Dalí) By kind permission of the Gala-Salvador Dalí Foundation, Spain is an iconic work of Young British Art, which featured in several of the major shows of the movement including the seminal Sensation exhibition at the Royal Academy in 1997. When it was included in the Here and Now exhibition at the Serpentine Gallery in 1994, it instantly caused a controversy when the estate of Salvador Dalí sued for copyright infringement, resulting in the removal of Brown's pictures from the show. This issue, which was later resolved, highlighted the cuttingedge methods and methodology that Brown used in his paintings. Looking at the sheer scale of this work, it is incredible to think of the bravura of the artist, years before his first one-man exhibition, creating something so revolutionary on a scale so colossal.

As the title implies, this work is based on one of the masterpieces of the Spanish Surrealist, Salvador Dalí. His famous Soft Construction with Boiled Beans (Premonition of Civil War) from 1936 is now in the collection of the Philadelphia Museum of Art, and is one of the most recognised of Dalí's pictures. By taking Dalí's original and painting it on a new, vast scale that dwarfs the one metre by one metre original, and by stretching it vertically, Brown has augmented that torment. In its gargantuan reincarnation in the present work, the horror of the original has been transformed into something more religious, as the two central interlinked bodies are stretched to take on this vast crucifixion like form on the new epic scale, hence the title.

Dalí had begun planning Soft Construction with Boiled Beans (Premonition of Civil War) as early as 1934, before the start of the Civil War, and changed the title retrospectively to make himself seem more prescient. However, there is no doubting the ferocious anxiety that fuels this image of writhing torment. Dalí himself described the original as: 'a vast human body breaking out into monstrous excrescences of arms and legs tearing at one another in a delirium of autostrangulation. As a background to this architecture of frenzied flesh devoured by a narcissistic and biological cataclysm, I painted a geological landscape, that had been uselessly revolutionised for thousands of years, congealed in its 'normal course.' The soft structure of that great mass of flesh in civil war I embellished with a few boiled beans, for one could not imagine swallowing all that unconscious meat without the presence (however uninspiring) of some mealy and melancholy vegetable' (S. Dalí, quoted in D. Ades, Dalí: The Centenary Retrospective, exh. cat., Venice & Philadelphia 2005, p. 262).

Paradoxically, the meticulous working methods with which Brown has created Dalí-Christ (after Soft Construction with Boiled Beans: Premonition of Civil War 1936 by Salvador Dalí) By kind permission of the Gala-Salvador Dalí Foundation, Spain jar with the angst that pulses at the centre of Dalí's work. Using a super-enlarged Photo-Realist painterly approach to a xerox-copy of the original painting, Brown meticulously maps out the detail of the original in a completely new form whilst emphasising the change in focus which has occurred throughout the composition. Taking advantage of the new scope for freedom presented by the vast surface of his canvas, Brown has added details and textures to many areas, heightening the crispness and sharpness of various areas and blurring others. The sky is more vivid and the mangled and tormented forms that dominate the composition have been granted a new, tactile texture through the heightened veining and marbling, best demonstrated in the glistening viscera hanging on the right. The details here have taken on a hallucinatory hyper-precision, leaping out with exaggerated focus, anticipating the psychedelic swirls of Brown's more recent paintings after Fragonard. Here, one of the feet has been deliberately left as though unfinished, an incredibly rare manoeuvre in Brown's work that brings the viewer's attention to the artifice of the entire process of appropriation that is under way. Another forceful reminder remains in the form of the white border shown around the image in the present work: this is the brazen proof of Brown's own act of pictorial cannibalism, appropriately echoing the theme of the painting that he has cannibalised and perhaps recognising the influence of Gerhard Richter, whose 'photo-paintings' of the 1960s emphasized their origins in popular press. Whilst Richter is clearly an inspiration, the paintings could not be further apart in their execution or intention.

At the same time, the fact that Brown has made it into a much more vertical image, taking the square format and extending it upwards, means that the torture that dominates the composition has become reminiscent of a Crucifixion, with the vertical and horizontal 'beams' of the body forming a cross. In this way, the pain visible in the facial features of this self-eviscerating figure recalls that of Christ, hence the title. Brown has appropriated, transformed and in fact augmented Dalí's original. There is a jarring contrast between the crisp, deliberately flat picture surface and the tortuous, writhing forms depicted in Dalí's original. Brown avoids painting alla prima, instead keeping the different areas of colour separate, allowing him to retain that sense of crisp perfection so in evidence in the surface of the work.

By basing his work on reproductions, Brown deliberately keeps a distance from the original intentions of the artist whose work he has used as his springboard. That sense of removal is key: Brown is not merely regurgitating his predecessors' works, but is instead creating something that is distinctly his own. The fact that he does this while using the pictures of Fragonard, Appel, Dalí or Auerbach as a starting point is almost moot: his pictures are recognisable as the works of Glenn Brown in an instant. In this sense, the anguished martyrdom of the present work becomes all the more appropriate a motif. Thus, in terms of subject matter and technique, this painting perfectly demonstrates Brown's statement that, 'I'm attracted to the Gothic notion of a figure trapped somewhere between the psyche of the model, the artist, the photographer, the printing process and me' (G. Brown, quoted in S. Kent, Shark-Infested Waters: The Saatchi Collection of British Art in the 90s, London 1994, p. 10).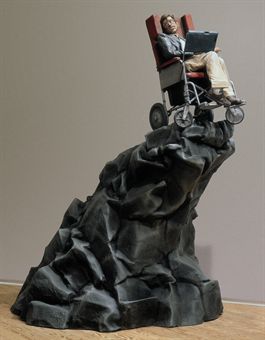 Jake and Dinos Chapman (b. 1966 and b. 1962) Übermensch. Photo: Christie's Images Ltd., 2010
fibreglass, resin, paint, rhinestone, wig and glasses, 144 x 72 x 72in. (366 x 183 x 183cm.) Executed in 1995.
Provenance: Victoria Miro Gallery, London.
Saatchi Collection, London.
Anon. sale, Christie's London, 8 December 1998, lot 130.
Literature: J. Kastner, "Brilliant?", in Art Monthly, December 1995-January 1996, pp. 10-15 (illustrated, p. 14).
P. Johnson, "British exhibit knows attitude, some brilliance", in Houston Chronicle, February 1996 (illustrated, p. 6).
S. Dewan, "England's Edge", in Houston Press, 21 March 1996 (illustrated, p. 35).
Unholy Libel Dinos & Jake Chapman, exh. cat., New York, Gagosian Gallery, 1997 (illustrated in colour, p. 137 and detail illustrated in colour, p. 136).
J. Stallabrass, High Art Lite - British Art in the 1990s, London 1999, (illustrated, p. 146).
R. Timms, A. Bradley and V. Hayward (eds.), Young British Art - The Saatchi decade, London 1999, (illustrated in colour, p. 247).
Jake & Dinos Chapman: The Marriage of Reason and Squalor, El matrimonio de la razón y la miseria, exh. cat., Malaga, CAC Centro de Arte Contemporáneo, 2004 (illustrated in colour, p. 19).
D. Barret, Jake and Dinos Chapman (New Art Up-close), London 2007 (illustrated in colour, p. 25).
C. Grunenberg and T. Barson (eds.), Jake and Dinos Chapman: Bad Art for Bad People, exh. cat., Liverpool, Tate Liverpool, 2006 (detail illustrated in colour, p. 68, installation view illustrated in colour, p. 140.)
Exhibited: Minneapolis, Walker Art Center, Brilliant! New Art from London, October 1995-January 1996. This exhibition later travelled to Houston, Contemporary Arts Museum, February-April 1996.
London, Institute of Contemporary Arts, Chapmanworld, May-July 1996 (illustrated in colour, unpaged). This exhibition later travelled to Graz, Kunstverein, November-December 1996 and Berlin, Kunst-Werke, January-March 1997.
London, The Royal Academy of Arts, Sensation Young British Artist From The Saatchi Collection, September-December 1997 (illustrated in colour, p. 66).
Copenhagen, ARKEN Museum for Moderne Kunst, MAN-Body in Art from 1950 to 2000, September 2000-January 2001.
Groninger, Groninger Museum, Enjoy More: Jake and Dinos Chapman, October 2002-January 2003.
Avignon, Collection Lambert, Coollustre, May-September 2003.
Liverpool, Tate Liverpool, Mike Kelley: The Uncanny, February-May 2004. This exhibition later travelled to Vienna, MUMOK, Museum Moderner Kunst Stiftung Ludwig, July-October 2004.
Guangzhou, Guangdong Museum of Art, Afterschock: Contemporary British Art 1990-2006, December 2006-February 2007. This exhibition later travelled to Beijing, Capital Museum, March-May 2007.
Notes: An acknowledged masterpiece of the Young British Art generation, Übermensch has been exhibited throughout the world at most of the major surveys of this groundbreaking movement. Like much of the greatest work from this movement, Übermensch lifts realism to a new level and uses the shocking reality of its depiction to ask important questions about the nature of our existence and the society that surrounds us. Towering above the viewer, Stephen Hawking, one of the great intellectual brains of our time, is raised high on a pedestal surveying all around him. However, what quickly becomes clear is that the pedestal is a rocky crag, and Hawking's wheelchair is perched perilously close to the edge, with one wheel dangling off. The metaphor is devastating and direct, this man who is so wholly in control of his own thoughts that he has transformed our understanding of the origin of our world, cannot control his own physical mobility. Raised on high, we can worship this intellectual god, but he is about to fall off the precipice. Further intellectual depth is added here by the title of the work: the Übermensch was a concept developed by Frederic Nietzsche in his 1883 book Thus Spoke Zarathustra. Literally translated as Overman or more commonly Superman, Nietzsche proposed a new generation of man able to live entirely within the confines of the Earth, avoiding any recourse to the spiritual beliefs endorsed by Christianity. Nietzsche criticised those who took solace in the spiritual salvation promised in the afterlife, and instead encouraged people to become masters of their own destiny, to live life to the full, to experience, explore and even exploit the Earth. This was encapsulated in his concept of the 'Death of God.' These ideas had come to Nietzsche while he had been walking in Switzerland, where he had been inspired by the sight of a gigantic, towering, pyramidal rock. Here, it seems, this rock has been re-created with the Superman of our times, Stephen Hawking atop.

Executed in fibreglass, the supreme technical skill brings him alive, photo-realistically, with the figure of Hawking himself appearing as if by magic at the summit, his face animated by the paste jewels that glitter among his teeth. He appears as a visionary, elevated way above the surrounding viewers, a traveller of the mind poised like Caspar David Friedrich's Wanderer above his own sea of mist. The Chapmans themselves referred to this sculpture showing him, 'with his saucepan grin, staring into the teleological distance' (Chapman Brothers, quoted in A. Searle, 'Visual Arts: faces to watch in the art world', Independent, 18 July 1995, reproduced at www.independent.co.uk). This is a monument to the great thinker, to the man whose imperfect body contrasts so markedly with his perfect mind, a tribute to this contemporary Übermensch. As has been much discussed over the years, the body of this Scientific genius was tragically dominated by his motor neurone disease which gradually took over his body after he arrived at Cambridge in the 1960s. Despite the severe handicap, he set himself the task of attempting to explain the beginnings of the earth not to be a 'big bang' as proposed by certain religions, but in fact to have a wholly explicable basis in the science of Physics, as explained in his ground-breaking and much celebrated book, A Brief History of Time. This thesis had origins in those of Charles Darwin and his proposals for the Origins of the Species as being wholly explicable by science and nature and not by the intervention of some higher being, a text which was written just before Thus Spoke Zarathustra, in the 1850s. The Chapmans had made their name in the early 1990s with a series of sculptures who were evolutionarily challenged, bastardised bodies who were arguably products of our cosmetically-enhanced times but also embodied the Brothers' proposition for the next stage of our evolution.

Übermensch, like all those other works, explores one of the most consistent themes in the Chapman brothers' work, the concept of 'perfect and imperfect bodies,' taking the idea of evolution and twisting it to their own purposes. In a sense, all of these works reflect on Mankind's position as perceived from the perspective of the modern age. The solace offered by Charles Darwin's theory that humankind was the result of permutation after permutation, that it was an evolved pinnacle, has here been thrown into question: after all, one wonders what purpose these new adaptations serve. And of course Hawking's own theories and his explanations of the nature of the Universe made so accessible and popular in his 1988 best-seller A Brief History of Time make such concerns about the nature of mankind seem almost absurd when seen from a cosmic perspective. Our fleeting lives on our far-flung planet are incidental.

As was the case with Hawking's appearance in Fucking Hell, Dinos and Jake Chapman's other great sculpture where he is sitting on a tropical island surrounded by prospective carnal pleasures in the form of mutated, double-headed bikini-clad women, the Chapmans have invoked their own dark humour to lend Übermensch greater impact. The absurd eyrie upon which Hawking's wheelchair sits is ridiculous, indeed perilous. One wonders how he gained this perilous summit: his pedestal clearly doubles as a predicament. Regarding their deliberate pushing of the boundaries of taste as a weapon in their artistic arsenal, the brothers have explained that their sculptures 'achieve the position of reducing the viewer to a state of absolute moral panic... they're completely troublesome objects' (D. and J. Chapman, quoted in D. Fogle, 'A Scatological Aesthetics for the Tired of Seeing', Chapmanworld: Dinos and Jake Chapman, exh. cat., London 1996, n.p.). This is certainly the case in Übermensch, which ultimately strongarms the viewer into finding humour in a place that we know should be wrong. Even the rhinestone teeth, lending their ritzy glamour to the celebrity scientist, add a dark and bitter twist of irony to this image. Yet it is through this manoeuvre that the Chapman brothers may be encouraging their viewers to become Supermen in their own rights, following another of Nietzsche's precepts: 'Laughter means: being schadenfroh but with a good conscience.'

Thus with sculptures such as Übermensch, the Chapman Brothers have taken the history of sculpture to a different level. Throughout their career they have moved between different mediums in order to adapt their ideas and thoughts to the correct visual form, each time excelling technically with the use of the medium. Here in the medium of fibreglass, we find an immaculately rendered image of Stephen Hawking which becomes a treatise on the way we live today. The sculpture provokes us, meaning that it is not only its physical, formal attributes to which we respond, but also our own reactions, which are thrown into the light by this extreme vision. Übermensch reflects our own deepest darkest beliefs whilst also challenging them with a staggering intellectual depth. In a world where the appearance of God is being challenged on a daily basis and his position in people's lives has been taken by 'celebrity' worship, the Chapmans ask questions about the guidance we are receiving today and the fundamental boundaries of our morals and ethics, and they do so with extraordinary sculptural dexterity.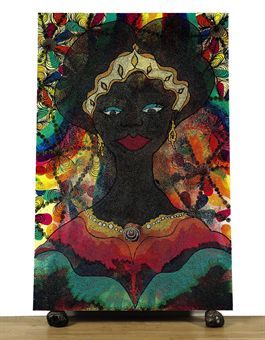 Chris Ofili (b. 1968) Orgena. Photo: Christie's Images Ltd., 2010
signed twice and dated 'CHRIS OFILI 1998' (on the overlap); signed twice, titled and dated '"Orgena" CHRIS OFILI 1998' (on the stretcher) acrylic, oil, polyester resin, glitter, map pins and elephant dung on linen, 71¾ x 47¾in. (182.4 x 121.4cm.) Executed in 1998. Estimate£700,000 - £1,000,000 Price Realized £1,889,250
Provenance: Victoria and Warren Miro Collection, London.
Acquired from the above by the present owner in 2000.
Literature: D. Adjaye, P. Doig, O. Enwezor, T. Golden & K. Walker, Chris Ofili, New York 2009 (illustrated in colour, p. 71).
Exhibited: London, Tate Gallery, The Turner Prize 1998, October 1998-January 1999, no. 16.
Cologne, Museum Ludwig, Kunst-Welten Im Dialog, Von Gauguin Zur Globalen Gegenwart, November 1999-March 2000, no. 334 (illustrated in colour, p. 466).
Notes: Bathed in rich golden glitter and droplets of paint in a rainbow of colours, Chris Ofili's Orgena is a glorious celebration of African Womanhood. With her almost symmetrical head and torso, wide-open eyes and large scarlet red lips, she is beauty personified. Executed in 1998 for his Turner Prize winning exhibition at the Tate, Orgena was a central part of the exhibition, which included No Woman No Cry now in the Tate collection, and which was a benchmark in British art. This was not only the first time since 1985 that a painter had won the Turner Prize, but Chris Ofili also became the first black person to be decorated with this honour. He was nominated for his retrospective exhibition which had toured Britain the previous year and the work he had showed in Sensation, the major exhibition of Young British Art at the Royal Academy the previous year. Critics noted the totally new approach to painting that he was taking with the extraordinary layering of surfaces incorporating mixed media of paint, resin, paper collage, glitter, map pins and, of course, elephant dung to express new ideas about the possibilities of paint, but also to use these mediums to directly confront complex political issues. The notoriety and fame he had achieved as a result of these exhibitions brought greater exposure and analysis of his work in the press and he felt that the exhibition at the Tate gave him an opportunity to directly confront issues of Blackness, head on.

Orgena means 'A Negro' backwards and the exhibition of this with No Woman No Cry touched on some of the major issues which were and still are touching a raw nerve in Britain. The strong symbolism, both physically and metaphorically, of tears shed after the death of the teenager Stephen Lawrence, stabbed to death by a racist gang of white youths in a south London street in 1993, which famously feature heavily in No Woman No Cry, is also present in Orgena. The rich colours, the ornate African dress, the complex patterning that fills the canvas all celebrate the richness of Ofili's cultural background and attest to the fact that Ofili's ideas about art had begun to shift and develop in a different direction.

The two works also share the usage of sequential cut-out photocopies of Blaze 1 or Primitive Blaze by Bridget Riley. Peppered throughout the background to create a constellation of forms around the head of Orgena, Ofili has here adapted tiny versions of the painting to create a geometric tempo to the composition. The use of her works could also be significant in that she was a trailblazer herself. The first woman artist to win the grand prize at Venice in 1968, she laid the ground for many female artists who have come since. These works are amongst her most iconic works and typically adopt her renowned form of 'Op Art' to bedazzling effect, mesmerizing the viewer with the simplicity of their circular optical effect. In her seminal 1984 essay 'The Pleasures of Sight' Riley describes the sense of visual excitement she is trying to capture in her work, an essence which so perfectly applies to Ofili's work too. 'The pleasures of sight have one characteristic in common - they take you by surprise. They are sudden, swift and unexpected. If ones tries to prolong them, recapture them or bring them about willfully they are lost.' (B. Riley quoted by P. Moorhouse, 'A Dialogue with Sensation: The Art of Bridget Riley', Bridget Riley, London 2003, p. 11). Orgena is abundant with these 'pleasures of sight'. Vibrant colours, exquisite detail and a cornucopia of hidden elements which only reveal themselves to you as a reward for close inspection combine to create a work of infinite possibilities and bountiful beauty.

Orgena pulsates with energy and acoustic rhythm; the curvaceous outline of the woman's head and body, the high notes of her cherry red lips and sapphire blue shadowed eyes combine with the psychedelic waves of colour that sing from the surface of the canvas. The importance of rhythm in Ofili's study trip he made to Zimbabwe in 1992. During his stay he paid a visit to see the prehistoric San cave paintings in the Matobo Hills. He noticed that in addition to the representational paintings of figures and animals the walls were marked by areas covered with dots. The explanation he was given was that it was believed to have been done by someone who did not go out on the hunt but stayed behind and worked in the cave, 'I imagined them painting this great wall of optical, shimmering dots to the rhythm of chants and drumbeats, all of which got condensed into each dot.' (C. Ofili as quoted by A Searle, 'Going through the motions', The Independent, 27th December 1994).

Orgena fits in the pantheon of Ofili's greatest female portraits, alongside Blossom Foxy Roxy and No Woman, No Cry, these works all share luscious and curvaceous shapes, lovingly traced with Ofili's deft hand. They also share an extraordinary build-up of media, as is beautifully exemplified here. Close attention to the surface, shows an extraordinary underlayer of detailed draughtsmanship to create the gorgeous forms filled with paint, followed by the careful application of the paper collage featuring Bridget Riley's work, then the dense application of clear resin followed by the careful dripping of individual thick dots of paint across the whole of the body, the showering of golden glitter onto the surface and finally, the piece de resistance the application of a dung ball as her necklace decorated with map pins. Much has been made of Ofili's stay in Berlin in the early 1990s and his attendant interest in the art of Sigmar Polke and here we can see a similar 'alchemical' approach to the process of painting taken to extraordinary new and exacting lengths. At the same time, Ofili liberates each of the elements within the composition and allows them to float and dance across the surface of the painting.

However, this flirtation was to be restricted to a relatively few number of canvases. In 1998 he was awarded Britain's prestigious Turner Prize for contemporary art. The announcement was greeted by much media debate in Britain's notoriously harsh tabloid press about the value of his art, given its distinctive mix of animal dung, religious iconography and questions of black identity at a particularly difficult time for race relations in the U.K. But even these events did not prepare Ofili for the storm of controversy that would surround the opening of the notorious Sensation exhibition at the Brooklyn Museum in 1999.The inclusion of the artist's The Holy Virgin Mary became the subject of a vitriolic public debate and the painting so infuriated the city's Mayor, Rudy Giuliani, that he tried to remove public funding from the museum unless the director "came to his senses" (R. Giuliani quoted by J. Nesbitt, 'Beginnings', Chris Ofili, exh. cat., London 2010, p. 17).

Painted just months before the controversy erupted, the frank, naïve appearance of Orgena has a warm immediacy. The painting becomes an advocate for racial harmony and ties into an all-inclusiveness that has become more and more apparent in Ofili's work. These values extend to the elephant dung in his paintings, to the deliberate yet aggressive celebration of other forms of beauty, in short to taking the rough with the smooth, the beautiful with the ugly, the good with the evil.
Azulejões-Cacho & Arabesco Dormindo (Tiles-Bunch and Sleeping Arabesque) by Adriana Varejão (b.1964) was the first of the artist's works to be offered at a Post-War and Contemporary Evening auction. It realised £169,250/$254,250/€208,008 against a pre-sale estimate of £70,000-100,000.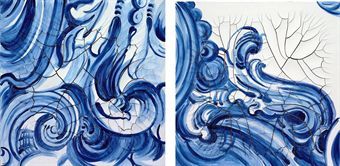 Adriana Varejão (b. 1964) Azulejões-Cacho & Arabesco Dormindo (Tiles-Bunch and Sleeping Arabesque). Photo: Christie's Images Ltd., 2010
titled 'Azulejões-Cacho & Arabesco Dormindo' (on the reverse of the left canvas); signed, titled and dated 'Azulejões-Cacho & Arabesco Dormindo A. varejão 2005' (on the reverse of the right canvas) oil on plaster on canvas, in two parts, each: 43 3/8 x 43 3/8in. (110 x 110cm.) Executed in 2005. Estimate £70,000 - £100,000 Price Realized £169,250
Provenance: Galeria Fortes Vilaça, São Paulo.
Acquired from the above by the present owner in 2005.
Artist records were established this evening for Jules de Balincourt; Alighiero Boetti; Glenn Brown; Chapman Brothers; Chris Ofili, a painting by Jeff Koons and a work on paper by Roy Lichtenstein.

Buyer breakdown (by lot / by origin) were 58% Europe with UK, 30% Americas and 4% Asia, 5% Other. The Post-War and Contemporary Art day sale continues tomorrow morning at Christie's King Street.