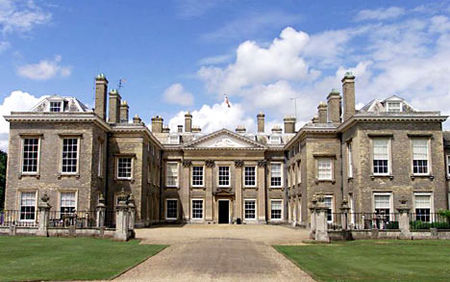 Althorp House.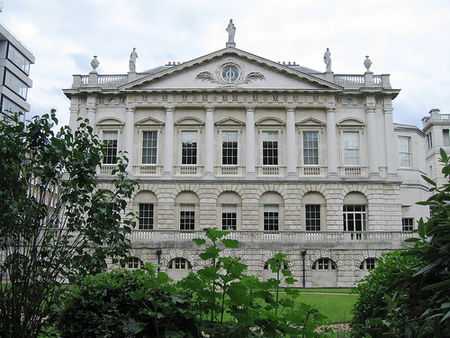 Spencer House. photo www.flickr.com
LONDON.- A selection of works of art from Althorp and Spencer House (the historic London home of the Spencer family) is to be offered on 6, 7 and 8 July at Christie's King Street and South Kensington salerooms, with individual estimates from £200 to £12 million.

The sale previews are open to the public from Saturday 3 July, and offer the chance to see masterpieces by Rubens and Guercino, as well as selected contents from the attics and store rooms at Althorp and arguably the most important group of aristocratic 19th century horse-drawn family carriages that remains in existence.
The Spencer Collection

The picture collection at Althorp is of exceptional interest for a number of reasons, and represents the cumulative achievement of a family with an unusually consistent record of both patronage and collecting. There are notable strengths in the fields of seventeenth-century portraiture, with the prodigious van Dyck double-portrait and the remarkable group of Lelys, and in the sequence of portraits by Reynolds. As the masterpieces by Rubens and Guercino catalogued below demonstrate, the collection of old master pictures was equally remarkable. Despite relatively recent sales, this will continue to retain a number of pictures of the highest distinction, preserving something of that balance between these and family portraits which was evidently a characteristic of the collection from the time of the first major collector of the family, Robert Spencer, 2nd Earl of Sunderland (1641-1702). He, unlike many of his contemporaries, seems to have concentrated his possessions at Althorp, rather than in a London residence, and Althorp is thus, with Petworth, Wilton and Burghley, one of the handful of great houses in which a major collection formed in the seventeenth century survives, at least in part, in its intended setting. Moreover, because the underlying structure of the house has not been substantially altered, successive stages in the deployment of the picture collection can be followed.

The 2nd Earl, who had succeeded his father, Henry Spencer, for whom the earldom was created in 1642, attained his majority in 1662. His interest in pictures would seem to have come from the family of his mother, Lady Dorothy Sidney, daughter of Robert, 2nd Earl of Leicester and his wife Dorothy, daughter of Henry Percy, 9th Earl of Northumberland and sister of Henry, 10th Earl of Northumberland (1602-1668), who was a leading patron of Van Dyck and an outstanding collector. Lady Sunderland's brother Philip, 3rd Earl of Leicester (1619-1698) was one of the most energetic collectors of the age, and as Lord Lisle an active participant at the sale of the collection of King Charles I: Lord Leicester's taste set the pattern, for example, of that of his nephew-by-marriage, the 1st Duke of Devonshire. The 2nd Earl in his youth must thus have known both Northumberland House and Leicester House, the picture collections of both of which not only survived the Civil War, but were actually augmented as a direct result of this. His familiarity with these collections helps to explain the high standards set by Sunderland's own acquisitions. At Althorp the Earl's taste can still be sensed not only in the Picture Gallery, but elsewhere in the survivors from his collection of Old Masters.

Sunderland's successor, the 3rd Earl, married Lady Anne Churchill, whose parents, John, 1st Duke of Marlborough and his formidable wife, Sarah, were both outstanding collectors of pictures. With such grandparents it is hardly surprising that two of the 3rd Earl's sons were interested in the visual arts. Charles, who succeeded his brother as 5th Earl in 1729 and became 3rd Duke of Marlborough on the death of his aunt in 1733, continued to live at Althorp until he inherited Blenheim on the death of his grandmother in 1744. During this period he commissioned what was arguably the finest series of Venetian views by Canaletto. Keenly interested in racing, he also ordered a series of portraits of his horses from John Wootton: these, like the Canalettos, were kept at Langley Park, his house in Buckinghamshire. But the 5th Earl's years at Althorp did make one significant contribution to the collection there, for it was he who enlisted Wootton to supply the series of canvasses for the Hall in about 1734.

The Duke's younger brother, the Hon. John Spencer, to whom Althorp reverted in 1744, was their grandmother's chosen heir and two documents are eloquent of his attitude to the pictures he inherited. A list of 1742 records the pictures which Spencer scheduled for mortgage. Presumably both for reasons of family piety and because the great portraits were in a house still controlled by his brother, these were excluded. But the list does include many of the more important old masters that were in three of the key rooms at Althorp at the time of Spencer's death in 1746: the Eating Room, the Green Room and the Picture Closet. This suggests that many of the other rooms were little changed during Spencer's two-year residence, and thus that the hang recorded in his posthumous inventory, compiled by the painter George Knapton--whose ambitious portrait of Spencer and his son is dated 1745--may in large part have preserved the 2nd Earl's dispositions. There were 62 portraits in the Gallery, including a number by European masters, and substantial numbers of old masters both on the Great Staircase--where Knapton began his circuit--and in the Great Dining Room. Many of the pictures Spencer inherited from Sarah, Duchess of Marlborough, including the Hondecoeter with its pendant by Snyders, and the Anguisciola self-portrait, remained in her house at Wimbledon. The Anguisciola had been purchased by the Duchess in 1726 at the sale of the Duke's close friend and associate, William, 1st Earl Cadogan.

It has been suggested that the notable collection of old master drawings, largely sold at auction in 1811, was also inherited from the Duchess; but it seems more probable that this was formed by the Hon. John Spencer: an inventory of 1756 compiled by Knapton records his ownership. The collection was particularly strong in works by Italian Seicento masters, and the consistent calibre of the traceable components of this, identified by three variants of his collector's mark, testifies to the discipline with which this was assembled.

Spencer's eponymous son, subsequently 1st Viscount Spencer (1761) and 1st Earl Spencer (1734-1783), was evidently very interested in the picture collection he inherited. The inventory of 1750 documents a pattern of subtle rearrangements and substitutions, for which the Earl's mother or trustees may prove to have been responsible. The 1st Earl will always be associated with Sir Joshua Reynolds, of whom he was a discriminating patron. The outstanding group of portraits by the artist which he commissioned will have necessitated a sequence of adjustments to the picture hang in the house. The finest of the old master pictures which the 1st Earl purchased were bought, however, not for Althorp but for Spencer House, where James 'Athenian' Stuart was employed between 1759 and 1765 to create some of the most modish and intellectually refined neo-classical interiors of their time in Europe. The major Guercino of King David was among the works acquired specifically for Spencer House, and its discrete classicism was perfectly in key with the opulent yet restrained decoration of the house. The canvas and its pendant were acquired by the Earl through the agency of Gavin Hamilton, the Scottish-born painter based in Rome who was himself one of the major champions of academic neo-classicism and clearly had a perfect understanding of his patron's requirements.

The 1st Earl's marriage to Georgiana Poyntz eventually, through the marriage of her great-niece to her grandson, brought a signal masterpiece to the collection, the whole-length portrait of her brother, William Poyntz, which is perhaps the most arresting picture of its type of the early maturity of Reynolds' most significant rival, Gainsborough.

Henry Holland's thorough but structurally remarkably tactful remodelling of Althorp in 1787-9 for George John, 2nd Earl Spencer (1758-1834) would inevitably have led to significant rearrangements within the collection, even if additional portraits had not needed to be accommodated. The 1802 inventory suggests the care with which Lord Spencer redeployed his pictures. Of the old masters many of those deemed valuable enough to mortgage in 1742 were marshalled in the Eating Room and the Drawing Room. The Snyders of the Bust of Circe with animals and flowers, which had been in the former in 1746, was joined very appropriately by the Hondecoeter Farmyard and the Snyders Stag Hunt, framed as a pair, which had in 1746 been at Wimbledon. More old masters were in the Library. The more recent portraits were placed in the family rooms--Lord Spencer had the Batoni of his mother and portraits of his wife, the beautiful Lavinia Bingham, and members of her family, leavened by an Italian Bacchanal, in his Dressing Room--while the majority of the earlier eighteenth-century portraits, as well as some by Lely, were marshalled on the Great Stairs. The major seventeenth-century portraits, as before, were in the Picture Gallery, as was the Knapton of the Hon. John Spencer and his son. Previously a number of miscellaneous old master portraits had been in the room. The arrangement was now almost completely changed. Van Dyck's Apostles were brought into the Gallery, but the most significant addition was undoubtedly the remarkable Rubens of the Emperor Charles V, cautiously listed as of the painter's school, which was evidently placed as an overdoor--although the possibility that this is the portrait of 'Count Aromberg' given to the artist and listed in the room in 1746 cannot absolutely be excluded. The 1802 list also implies the personal tastes of the 2nd Earl's mother, who lived on until 1814. In her Bedroom, with the Reynolds of her daughter, Georgiana, Duchess of Devonshire (Huntingdon Collection), a portrait of her mother, Mrs. Poyntz, and the Slaughter of her husband as a child, were fourteen old masters, mostly of religious subjects, while Read's pastels of her son and daughter were in her Dressing Room.

The 2nd Earl was a prodigious collector of books. Given the number of pictures both at Althorp and Spencer House, buying more was a lesser priority. Despite the formidable number of portraits he had inherited, the earl, as his probable acquisition of Rubens's Portrait of a commander indicates, was ready to acquire more. Lord and Lady Spencer's connection with Quintin Crauford, a discriminating collector who was at the heart of the British community in Paris, led to the acquisition of a group of distinguished French portraits at his posthumous sale of 1820. Among these the remarkable canvas of Claude de Lorraine, duc de Chevreuse by the younger Pourbus was by far the most spectacular. Three years earlier the fine Philippe de Champaigne identified as Robert Arnauld d'Andilly is said to have been bought at Christie's in the sale of the duc d'Alberg, who had lost most of his German inheritance as a result of his adherence to Napoleon. The 2nd Earl's outstanding individual purchase was made in the Netherlands: the Rembrandt of the artist's son, Titus, which was to be sold in 1915 and is now in the Norton Simon Museum of Art, Pasadena.

The Spencers' fourth son, Frederick, 4th Earl Spencer, added a few other French portraits to the collection. From the perspective of the picture collection at Althorp it is unfortunate that the 4th Earl was a man of his times. In 1847 he sold a masterpiece that evidently was too explicit for contemporary taste, Bronzino's Venus, Cupid, Folly and Time, now in the National Gallery, privately through Christie's: among the pictures mortgaged in 1742, this had evidently been admired by the 2nd Earl, who presented a copy of it to Admiral Duncan after his great victory at Camperdown in 1797. Neither of the 4th Earl's sons, John Poyntz or Charles Robert, respectively 5th and 6th Earls Spencer, was particularly interested in pictures. The latter married Margaret, daughter of Edward Baring, 1st Lord Revelstoke, whose family has an unmatched record as picture collectors between the late eighteenth and the mid-nineteenth centuries.

It is thus not surprising that their son, Albert Edward John, 7th Earl Spencer (1892-1975) had a deep and scholarly interest in the remarkable collections he inherited. With the 8th Earl of Ilchester, whom he followed as President of the Walpole Society, and the 28th Earl of Crawford, he was one of the outstanding patrician connoisseurs of his generation. Heavy death duties when he inherited in 1922 necessitated the sale of a handful of pictures, most notably Holbein's King Henry VIII, now in the Thyssen-Bornemisza Museum in Madrid, which in Sir Francis Watson's words was 'a cause of deep distress' to him. But Lord Spencer worthily maintained what is by any standard a consistently distinguished sequence of portraits and added no fewer than seventeen earlier family portraits from the Chichester collection at Stanmer in 1967. Lord Spencer also made possible the preparation of the late Kenneth Garlick's A Catalogue of Pictures at Althorp, published by the Walpole Society in 1976.

After the death of the 7th Earl in 1975, three portraits by van Dyck were surrendered in lieu of Capital Transfer Tax, passing to the National Gallery, to the Tate, and to the Fitzwilliam Museum, Cambridge. Subsequent sales took a heavy toll on the holding of old master pictures which had since the 2nd Earl of Sunderland's time been a significant presence at Althorp, matching the portrait sequence for which the collection is rightly celebrated. But despite losses the collection still has a remarkable range and depth, as the present picture hang brings out so well.

• The OLD MASTERS AND 19TH CENTURY ART EVENING SALE on 6 July at King Street will offer two masterpieces from the Spencer Collections; A Commander being armed for Battle by Sir Peter Paul Rubens (1577-1640) (estimate: £8 million to £12 million) and King David, by Giovanni Francesco Barbieri, Il Guercino (1591-1666) (estimate: £5 million to £8 million).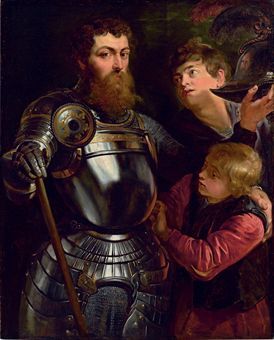 Sir Peter Paul Rubens (Siegen, Westphalia 1577-1640 Antwerp) Portrait of a commander, three-quarter-length, being dressed for battle, oil on panel, 48¼ x 38 3/8 in. (122.6 x 98.2 cm.). Property from the Spencer Collections. Estimate £8,000,000 - £12,000,000. Photo: Christie's Images Ltd., 2010
Provenance: (Possibly) Cornelis van der Geest (1577-1638), the successful spice merchant and Maecenas, and on display by 1628 in the Huis de Keizer, Mattenstraat, Antwerp, backing on to the Werf on the Scheldt; his main heirs were Cornelis de Licht, Cornelis Hecx and Adriaan Radmaecker.
(Possibly) John Drummond, 1st Earl of Melfort (c. 1650-1715), the Jacobite statesman and collector, created 1st Duke of Melfort or Duc de Melfort (1692/1701), by whom acquired after his exile to France in 1688, and hung either in his apartment in the Château de Saint Germain or later, in Paris, in the Hôtel de Soissons, or his house in the rue des Petits Augustins, and by inheritance to his wife,
(Possibly) Euphemia, Duchess of Melfort (died 1743), by whom possibly sold or given with five other pictures, after the 1st Duke's death, to (Possibly) Philippe, Duc d'Orléans, Regent of France (1674-1723), at the Palais Royal, Paris, where catalogued by Dubois de Saint-Gelais as by Jacob Jordaens, 'Un Homme Armé Peint sur bois, haut de trois pieds huit pouces, large de trois pieds [118.8 x 97.2 cm.], fig. de grandeur naturelle. Il est jusqu'aux genoux armé de toutes piéces, tenant un Bâton de Commandant, aiant le bras gauche apuié sur un page. Un jeune homme qui est à côté de lui porte son casque. Le fond du tableau est brun' (Stryienski states that it was one of a group of eight pictures brought by Orléans from Melfort in 1707 for 40,000 livres), and by descent to
(Possibly) Louis-Philippe-Joseph, Duc d'Orléans (1747-1793), and listed in the Palais Royal in the inventories of 1724 and 1785, made after the deaths of the Regent and Louis-Philippe, Duc d'Orléans, valued at 320 and 1500 livres respectively, until acquired by
(Possibly) Thomas More Slade, acting on behalf of a syndicate consisting of George, Lord Kinnaird, William Morland and Mr. Hammersley, 1792, having previously been listed as part of the consignment of northern school paintings destined for sale in England by J.B. Le Brun as 'Jacques Jordaens un homme armé à coté de lui est et un homme qui tient son casque'.
(Possibly) offered for sale in The Orléans Gallery, exhibited in the Great Rooms late The Royal Academy, no. 125 Pall Mall, London, April 1793, lot 112, as 'Portrait of the Duke of Alva by Rubens' (sold for £80 to an unidentified purchaser).
(Possibly) with Michael Bryan (1757-1821), connoisseur and dealer; sale, Michael Bryan, London, 27 April [= 1st day] 1796, lot 103, as 'The Duke of Alva in armour, attended by his Pages -- painted in the finest manner of that great master -- from the Orleans collection'; Peter Coxe, Burrell and Foster, London, 'at Mr. Bryan's celebrated gallery in London', 18 May [=2nd day] 1798, lot 38, as 'Rubens The Duke of Alva arming, attended by his pages, painted in the best manner of that great master - from the Orléans collection' (sold for 37 gns. to an unidentified purchaser).
George Spencer, 2nd Earl Spencer (1758-1834), at Althorp, Northamptonshire, by 1802, when listed, as part of a group of pictures hung in the 'Picture Gallery over the door from the Anti Chamber': 'Charles Vth School of Rubens'; listed by Dibdin in 1822 as in the '5th Apartment left hand side of the Great Staircase', as 'Portrait of Charles V, Emperor, and King of Spain - School of Rubens'; by 1836 it was in the Long Library (no. 331); in 1851, it was catalogued as School of Pourbus, and by descent to the present owner.
Literature: G. Brice, Description de la Ville de Paris, 1713 (6th ed.), pp. 168-70.
[J.] Richardson Senior and Junior, An Account of the Statues Bas-Reliefs, Drawings and Pictures in Italy etc, 1722, p. 21.
Dubois de Saint-Gelais, Description des Tableaux du Palais Royal, 1727, p. 206.
Catalogue of the Pictures of Althorp made in November 1802, printed in Garlick, see below, p. 121.
T. Dibden, Aedes Althorpianae... 1822, p. 225.
Catalogue of the Pictures at Althorp House... 1836, p. 26, no. 331 G. Waagen, Works of Art and Artists in England, 1, 1838, Appendix B, p. 338, as 'Jacob Jordaens, The Portrait of the Duke of Alba'.
Catalogue of the Pictures at Althorp House...1851, no. 211.
V. Champier and G. Roger Sandoz, Le Palais Royal, 1, 1900, p. 520. C. Stryienski, La Galerie du Régent, Philippe Duc d'Orléans, 1913, pp. 12-3 & p. 189, no. 487.
J. Canova, Paris Bordon, 1964, p. 79 & fig. 116 (under Harewood House, now in The Metropolitan Museum of Art).
J. Müller Hofstede, 'Rubens und Tizian: Das Bild Karls V', Müncher Jahrbuch der Bildenden Kunst, XVIII, 1967, p. 64, fig. 33, pp. 70 and 92, no. 146.
K. Garlick, 'A Catalogue of Pictures at Althorp', The Walpole Society, 45, 1974-76, 1976, p. 74, no. 572 (211).
F. Baudouin, Pietro Paulo Rubens, 1977, pp. 294 & 296.
J.S. Held, The Oil Sketches of Peter Paul Rubens, A Critical Catalogue, 1, 1980, under no. 269 (date of the Kassel picture).
J.S. Held, The Collections of the Detroit Institute of Arts, Flemish & German Paintings of the 17th Century, 1982, pp. 84-5 and pp. 94-102.
A. Lowenthal et al. (eds.), Rubens and his Circle Studies by Julius S. Held, 1982, p. 61, no. 29.
R.A. d'Hulst & M. Vandenven, Corpus Rubenianum Ludwig Burchard, III, The Old Testament, 1989, under no. 45.
M. Jaffé, Rubens, Catalogo Completo, 1989, under no. 208.
M. Daz Padrón & M. Royo-Villanova, David Teniers, Jan Brueghel y Los Gabinetes de Pinturas, Museo del Prado, 1992, p. 210, no. 11, under no. 26.
E. Corp, 'Melfort 'A Jacobite Connoisseur'', History Today, 45, October 1995, pp. 40-6.
K. Renger and C. Denk, Flämische Malerei des Barock, 2002, no. 997 (date of the Münich picture).
P.C. Sutton, catalogue of the exhibition, Drawn by the Brush - Oil sketches by Peter Paul Rubens, 2004, p. 87, under no. 1, (entry by M.E. Wieseman).
Exhibited: London, Thomas Agnew & Sons, An Exhibition of Pictures from the Althorp Collection, 1947, no. 41.
Notes: Rubens painted this powerful and psychologically complex image of leadership and military duty around 1612-1614, the very moment that he was enjoying the public triumph that accompanied the unveiling of his great triptychs, The Elevation of the Cross and The Deposition (Antwerp Cathedral), which stamped his genius on a generation of Flemish artists. He depicts a determined 'Knight in Arms' whose bearing and demeanour express an uncompromising commitment to his duty as warrior and leader. Later in his own life, Rubens was to act as a man of peace, but here in his early maturity in Antwerp, without recourse to allegory, he appears to celebrate the concept of the just war or crusade.

The curly haired, amply bearded man, identifiable as a commander by the long baton or staff on which his hand rests, is being dressed in his armour. The gilt or latten borders to his defences are evidence of his high status. He wears a mail shirt - brilliantly evoked by Rubens's brush - and his own right arm and shoulder are already fully protected by the pauldron, vambrace, fingered gauntlet and besagew. These elements have yet to be fitted to the other arm and shoulder, as the blond-haired page bends to secure the backplate to the breastplate. The plumed morion displayed by the dark-haired page will be fitted last.

The armour appears to be Milanese; its style suggests a date of manufacture in the second quarter of the sixteenth century. The absence of a lance-rest on the breastplate and of an haute-piece at the shoulder suggests that foot rather than mounted combat was anticipated. The choice of a morion, which would leave the face unprotected, could imply that the commander was being arrayed to lead a parade of infantry.

Rubens brings to his emblematic depiction of a warrior and his pages not only the bravura brushwork, inventive design and masterly drawing for which he was already widely admired, but a compelling psychological insight into his characters. The two young servants are realized in a virtuoso choreography of foreshortening in which one bends forward and tips into the light as the other reaches up and dips back, away from the light source, his lower face and hand daringly defined by shadows cast from his master's helmet. Yet, as dazzling as are Rubens's painterly pyrotechnics, the sensitivity with which he characterizes the boys is equally impressive: their eager, excited engagement in their work and admiring, almost starry-eyed devotion to their master is conveyed with memorable economy.

Amid the action, the Commander, encased in his metal carapace, is straight-backed and strong, a model of bravery and dedication, but not devoid of tender feeling: the gentleness with which his ungloved left hand rests on the shoulder of the much younger page makes for a poignant gesture of avuncular affection. His unblinking gaze engages the observer directly, but his furrowed brow suggests a melancholy and hard-won understanding of the horrors of battle as much as it does an unyielding determination to fight when called on to do so. Indeed, Julius Held speculated (in a view not widely shared) that the subject of the picture could as easily be interpreted as the warrior removing his armour following a battlefield victory as preparation for the battle to come. 'If this is so,' Held observed, 'the work would be related to one of the most pervasive themes in Rubens' art, the recognition of the heroism required by war but also of the greater glory gained by laying aside the tools of combat for the sake of peace ("swords into plowshares").'

The first certain reference to the picture is in the 1802 Althorp inventory, printed by Kenneth Garlick, when it was described as from the School of Rubens. Following an attribution in 1851 to the School of Pourbus, it was not until the 1947 exhibition of pictures from Althorp at Agnew's that a full attribution to Rubens was advanced. This was accepted by Garlick in his catalogue of the Althorp collection published in 1976, by Frans Baudouin in 1977, and R.-A. d'Hulst M. Vandenven in 1989. The attribution had earlier been accepted by Justus Müller Hofstede, who chose, however to concentrate on another rendering which was to be acquired by the Detroit Institute of Arts in 1979 and whose authenticity had been espoused by Michael Jaffé. However in 1982, Julius Held convincingly demoted the Detroit version, by relegating its status to a studio work, and strenuously advocated the superiority and autograph status of the painting at Althorp (his endorsement of an oil sketch for the head also in Detroit has however not found favour). More recently Rubens's authorship of the painting has been fully supported by Hans Vlieghe.

Held first proposed a date of execution of about 1615. Because of the stylistic connection with Rubens's two paintings of the Virtuous Hero crowned by Victory at Münich and Kassel, a date a little earlier, of circa 1613-14, as Renger has proposed for the former picture, or even 1612-13 as Held himself proposed for the latter, seems acceptable.
Dr. Jilleen Nadolny and Dr. Nicholas Eastaugh, of Art Access and Research (UK) Ltd., have recently complied an X-radiography and Infra-red Imaging Report (available for inspection). The report finds characteristics or idiosyncrasies in the physical make-up of the painting that are to be expected of Rubens working at about this time. These include the markedly streaky imprimatura directly applied with diagonal strokes over a white-coloured ground, with areas where it has run revealed in x-radiographs, to the absence of underdrawing and the relatively inconsiderable pentimenti, which nevertheless emphasise Rubens's attentive engagement with the creative process. These are detected in the outline of the morion, in the dark-haired youth's proper left eye, and in the shadow created by the morion on the lower area of his face and neck, (perhaps) in the position of the neck and shoulders of the other page and in the highlights of the belt buckle on the outside hip of the armour to the left of the baton, which have been suppressed.

The painting's support is made up of four planks of oak, vertically aligned. The oak is from the Baltic region; dendrochronological analysis of three of the planks permits a dating for use of the support from about 1600 (Report by Ian Tyers of Dendrochronological Consultancy Ltd., available for inspection). The upper and lower edges of the panel have been bevelled.

The dominant physiognomy of the main protagonist seems too idealised for it to be considered an actual portrait of an individual (he has wrongly been identified as the Emperor Charles V and, perhaps, as the Duke of Alva); but the type seems not to have appeared again in Rubens's oeuvre. In contrast the page holding the morion must have depended on a favourite head study. It was first used in the Crowning of Thorns, painted for the Roman church of Santa Croce in the Gerusalemme in 1601/2, and it has shown that Rubens was to refer back to the study on at least four further occasions. The model for the head of the other boy seems to have been used for the putto awarding the fasces in the Virtuous Hero Crowned by Victory at Kassel; he also appears as the spectator by the column in the Brussels Woman taken in Adultery. Both appear in the Judgment of Solomon in the Prado.

That the anonymous commander is clad in Italian armour dating from the first decades of the previous century suggests that Rubens was consciously evoking the fabled military culture, and artistic heritage, of the Italian Renaissance. Müller Hofstede has shown that for the pose of the commander, Rubens may have recalled that in Titian's Portrait of Francesco Maria della Rovere, Duke of Urbino in the Uffizi. There Titian included references to the Duke's authority and rule, but here significantly are lacking any allusions to the commander's authority, unless such are the baton or staff and the rich decoration of the armour. The subject is rather unusual, although there are prototypes showing warriors accompanied by their pages.

The most influential example is a tiny Venetian panel painting from the first decade of the sixteenth century depicting a man in armour being dressed for battle by a page, known through many replicas. The original seems to be lost but it may have been an early work by Titian, as Roberto Longhi and Everett Fahy have both proposed. The best-known version of the composition, now in Castle Howard, Yorkshire, was catalogued as a portrait of Gaston de Foix by Giorgione when it was in the Orléans collection in the eighteenth century, where it retained its currency with generations of artists who studied it assiduously. (The French history painter, Antoine Coypel, for example, copied it at least three times.) Despite the greater scale and robust energy of Rubens's masterpiece, its mood of somber anticipation, intense but contained emotion, and gentle intimacy between the warrior and his young servants is strikingly reminiscent of this modest predecessor.

Most closely related is a picture by Paris Bordone in the Metropolitan Museum of Art, where a page fixes the Christian commander's arm defence while another stands nearby with the helmet; soldiers are massed in the distance. Whether it was this picture which directly inspired Rubens, who integrated the main elements of the composition, or whether both pictures depended on a common literary source - perhaps Homeric or Virgilian - is an open question.

An ability to portray the metallic hue of body armour and the intricacy of its fittings still constituted an important element in an artist's portfolio. Rubens early demonstrated that he had mastered it in his Equestrian Portrait of the Duke of Lerma of 1603. Here his mastery is again evident, particularly in the foreshortened gauntlet against the arm and the light reflected there and on the breastplate. Rubens has also playfully included the reflected face of the main protagonist in the morion; he here participated in a Netherlandish tradition of which he would have been well aware, and which stretched back to Jan van Eyck. The reflection is handled in a manner like that adopted by Rubens to portray the soldiers in the doorway to the chamber in which Samson's hair is cut, in the slightly earlier Samson and Delilah in the National Gallery, London.

The early provenance of the Althorp picture remains hypothetical and it is, of course, complicated by the existence of the Detroit version which is inferior in its execution but identical in nearly every other way. The provenance proposed above was accepted by Held with some reservation in 1982 and by Matias Díaz Padrón/Mercedes Royo-Villanova ten years later. There are differences between it and the painting recorded by Willem van Haecht in his 1628 depiction of The Art Cabinet of Cornelis van der Geest (Rubenshuis, Antwerp) in which the staff or baton is shown resting on a table or ledge. Again while the size and support correspond, it is by no means certain that the picture was part of the Orléans collection at the Palais Royal in the following century. No engraving of it appears in Couch's engraved volume of the Northern Schools in the Orléans collection. But what is most likely to have been the unused working prototype for the print shows differences in the hair of both the main protagonist and the elder page.

Nevertheless it may well seem more than a coincidence that a picture which was offered in the Orléans sale in London in 1793 as by Rubens and thought to depict the Duke of Alva, and again in the Bryan sale of 1798 should have turned out to be so similar to one described as of Charles V by the 'School of Rubens' three years later at Althorp. For this reason the Orléans provenance is suggested above.

The attribution to Jordaens seems first to have been advanced by Dubois de Saint-Gelais in his 1727 catalogue of the pictures in the Palais Royal. There he was fully appreciative of Jordaens's particular genius; nevertheless, the picture catalogued by him was one that six years earlier had been greatly admired by Jonathan Richardson Junior when he visited the Palais Royal on his way to Italy. It was then described as by Rubens. Richardson included it in his account of the pictures: 'Portrait of a Man in Armour, Great as Titian Rubens' [this name placed in the margin to identify the artist].

The 2nd Earl Spencer (1758-1834) was famous for creating the greatest private library in Europe (it became the principal collection of the John Rylands Library in Manchester). But he also seems to have particularly admired portraits of powerful figures, as it is known that he bought the magnificent, full-length Portrait of Claude de Lorraine, Duc de Chevreuse by Frans Pourbus the Younger in 1820, a fitting juxtaposition to the present work.• THE ALTHORP ATTIC SALE: INCLUDING THE SPENCER CARRIAGES, will be offered on 7th and 8th July 2010 at Christie's South Kensington, and will offer arguably the most important group of aristocratic 19th century horse-drawn family carriages that remains in existence, as well as coronation chairs, Coachmen's livery, Butler's trays, riding whips and saddles, kitchen copper jelly moulds and several centuries of textiles – with estimates from £200 to £80,000.
Francesco Barbieri, il Guercino (Cento 1591-1666 Bologna) King David, inscribed 'GLORIOSA DICTA SVNT DE TE CIVITAS DEI. PSALM.S 86.' (lower right, on the tablet held by David), oil on canvas, 88 x 67 in. (223.5 x 170.2 cm.) in a George III carved and gilt-gesso frame designed by James 'Athenian' Stuart for Spencer House and possibly carved by Thomas Vardy, circa 1768, carved with lotus and acanthus buds, egg and dart and an outer palmette band, and with a cavetto moulded, foliate, beaded and egg and dart edge, 101½ x 80¼ x 4¾ in. (258 x 204 x 12 cm.). Property from the Spencer Collections. Estimate £5,000,000 - £8,000,000. Photo: Christie's Images Ltd., 2010
Provenance: Painted for Giuseppe Locatelli, Cesena, in 1651, with The Samian Sybil, and by descent to the
Marchesi Locatelli, Cesena, from whom acquired in 1768 by
Gavin Hamilton (1723-1798), painter, archaeologist and dealer, on behalf of
John Spencer, 1st Earl Spencer (1734-1783), at Spencer House, St. James's Place, London, in the Great Room, and by descent at Spencer House and at Althorp House, Northamptonshire, in the Great Dining Room and subsequently in the Marlborough Room.
Literature: G.F. Barbieri, il Guercino, letters of 22 and 27 April and 10 May 1651, cited in Salerno, op. cit. infra, p. 353, and in Mahon, 1991, op. cit. infra, p. 348.
G.F. Barbieri, il Guercino, Libro dei conti, MS, Biblioteca Comunale dell'Archiginnasio di Bologna, inv. no. B 331, p. 41 recto, conto 442, 'Adi 16. Maggio, 1651 - Dal Ill:mo Sig:r Gioseppe Locatteli si è riceuto a bon Conto del quadro, del Proffetta Dauide, doble di Italia n:o 45- che fanno, di questa Moneta L 666- che sono duca:ni n:o 133 L 1- Scudi : n:o 166 L2-', p. 41 verso, as being a pair to The Samian Sibyl and p. 79 recto, 'per il pagamento del quadro del Dauide profeta, fatto, al Sig:re Lucatelo, per Cesena riceuto [Ducatoni] 133 L1: L666-: [Scudi] 166 L 2-'.
Count C.C. Malvasia, Felsina pittrice: Vite de' pittori bolognesi, Bologna, 1678, II, p. 378; G. Zanotti, ed., Bologna, 1841, II, pp. 269 and 332, 'Un Davide Profeta al sig. Giosefo Locatelli, e una Sibilla all'istesso'.
G. Hamilton, letters dated 4 May 1768 and subsequently, MSS, British Library (formerly Althorp, Northamptonshire), Add. 75686, Althorp Papers, vol. CCCLXXXVI.
J.A. Calvi, Notizie della vita, e delle opera del cavaliere Gioan Francesco Barbieri ditto il Guercino da Cento Bologna, 1808, p. 128; reprinted in G. Zanotti, ed., op. cit., p. 332.
G. Atti, Intorno alla vita...di Gianfrancesco Barbieri, Rome, 1861, p. 110.
E.K. Waterhouse, A short history of Althorp and the Spencer family, Northampton, 1949, under 'The Pictures'.
E.K. Waterhouse, 'The British Contribution to the Neo-Classical style in Painting', Proceedings of the British Academy, XL, 1954. p. 73.
Il seicento europeo: realismo, classicismo, barocco, exhibition catalogue, Palazzo delle esposizioni, Rome, 1956, p. 137, under no. 25.
Art treasures centenary: European old masters, exhibition catalogue, Royal Academy of Arts, London, 1960, pp. 151-2, under no. 386.
D. Irwin, 'Gavin Hamilton: Archaeologist, painter and dealer', The Art Bulletin, XLIV, 2, June 1962, p. 101 and 101n.113.
D. Mahon, Il Guercino: Catalogo critico dei dipinti, exhibition catalogue, Palazzo dell'Archiginnasio, Bologna, 1968, p. 196, under no. 90; anastatic reprint, Bologna, 1991, p. 348.
G. and A. Neerman, eds., Disegni bolognesi del XVI al XVIII secolo, exhibition catalogue, Bologna and London, 1968, p. 25, under no. 35.
D. Mahon, Il Guercino, Giovanni Francesco Barbieri: Catalogo critico dei disegni, exhibition catalogue, Palazzo dell'Archiginnasio, Bologna, 1969, p. 225, under no. 256.
Thomas Agnew & Sons Ltd., England and the Seicento: a loan exhibition of Bolognese paintings from British collections, exhibition catalogue, London, 1973, under no. 37 (text by C. Whitfield).
O. Pieraccini in La Piè, 1975, no. 4 (July-August), pp. 151-4.
K.J. Garlick, 'A catalogue of the pictures at Althorp', The Walpole Society, LXV, 1976, pp. xiv and 34, no. 251 and under no. 250, pl. 26.
D. Mahon in Nell'età di Correggio e dei Carracci: pittura in Emilia dei secoli XVI e XVII, exhibition catalogue, Pinacoteca nazionale e Academia di Belle arti, Museo civico archeologico, Bologna, 1986, pp. 475-6 and 476n.1, under no. 167.
D. Mahon in The Age of Correggio and the Carracci: Emilian painting of the sixteenth and seventeenth centuries, exhibition catalogue, National Gallery of Art, Washington, D.C., and Metropolitan Museum of Art, New York, 1986, (translated by R.E. Wolf et al.), pp. 475-6 and 476n.1, under no. 167.
L. Salerno and D. Mahon, I dipinti del Guercino, Rome, 1988, no. 283, pp. 352-3, illustrated.
M. Helston and T. Henry, Guercino in Britain: Paintings from British collections, London, 1991, no. 29, pp. 58 and 60-1.
F. Russell, 'Guercino and England', in M. Helston and T. Henry, op. cit., pp. 5-6.
D. Mahon, ed., Giovanni Francesco Barbieri, il Guercino, 1591-1666, exhibition catalogue, Museo Civico Archeologico, Bologna; Pinacoteca Civica e Chiesa del Rosario, Cento; Schirn Kunsthalle, Frankfurt am Main; and National Gallery of Art, Washington, D.C.; Bologna, 1991, pp. 348-350, under no. 134.
D. Stone, Guercino: Catalogo complete dei dipinti, Florence, 1991, p. 27, no. 270.
J. Friedman, Spencer House: Chronicle of a great London mansion, London, 1993, pp. 41, 41n.57, 154 and 254-5, fig. 227, illustrated in situ in the Great Room, Spencer House.
J. Stourton, '(2) John Spencer', in J. Turner, ed., The Dictionary of Art, London, XXIX, 1996, p. 351.
G. Finaldi and M. Kitson, eds., Discovering the Italian baroque: The Denis Mahon Collection, exhibition catalogue, London, 1997, p. 110, fig. 34.
B. Ghelfi, ed., with D. Mahon, Il libro dei conti del Guercino, 1629-1666, Venice, 1997, pp. 153-4, 225 and 255n.8, nos. 442 and 447.
J. Ingamells, A dictionary of British and Irish travellers in Italy, 1701-1800, compiled from the Brinsley Ford Archive, New Haven and London, 1997, pp. 883 and 884n.21.
Earl Spencer, Althorp: The story of an English house, New York, 1999, pp. 83 and 107, illustrated in situ in the Great Dining Room and the Marlborough Room at Althorp.
Earl Spencer, The Spencers: A personal history of an English family, New York, 2000, pp. 115-6.
A. Ziefer, 'Guercino', in A. Norbert and M. Steppes, eds., Saur Allgemeines Künstler-Lexikon: Die Bildenden Künstler aller Zeiten und Völker, Leipzig, LXIV, 2009, p. 438.
Notes: Guercino's King David, one of the most important of the artist's late works, is a superlative example both of the technical excellence that made him one of the leading exponents of the Bolognese school, and of the inventive powers that imbue so many of his paintings with a rich and nuanced set of associations, ideas and symbolism. In an exceptional state of preservation, its paint layer retaining all of its original subtlety of touch and structure, King David occupies a special place in the history of collecting, inextricably linked to the story of Spencer House, one of the key monuments of the Greek Revival in eighteenth-century Britain.

Giovanni Francesco Barbieri, il Guercino

Giovanni Francesco Barbieri, nicknamed 'il Guercino', was born in 1591. His birthplace of Cento, near Bologna, was a small town with no significant prior artistic tradition, and Guercino was largely self-taught. His natural gifts soon came to the notice of the earlier generation of Bolognese artists, including the aged Ludovico Carracci, who extolled the rising young artist in a letter of 1617. Over the next decades Guercino was to become celebrated as one of the greatest painters of his day. His works were highly sought-after, and he is known to have turned down offers from King Charles I of England, King Louis XIII of France and possibly King Philip IV of Spain (who may have sent Velázquez as his agent), to leave Italy and become a court painter in their respective capitals. Instead, it seems that Guercino was always perfectly happy where he was. Apart from an important, formative trip to Rome early in his career (in the years 1621-1623), he spent his whole life in his native Cento or in nearby Bologna, to which he moved in 1642. He painted prolifically, producing sophisticated, beautiful works combining the contemplative naturalism of Bolognese classicism with dramatic effects at times akin to those introduced into Roman painting by Caravaggio. Guercino's early works are distinguished by bold, saturated colouring, large-scale figures and dynamic compositions. In his late works, the compositional tension becomes more subdued, and his attention turns towards an understated elegance of forms and harmony of palette; in his output of the 1650s, including the present King David, Ellis K. Waterhouse saw the attainment of 'a mastery of tender and tranquil colour' (Italian Baroque Painting, London, 1962, p. 115).

A prophet and two sibyls: The story of the commission

The genesis of King David lies in an important commission from the nobleman Giuseppe Locatelli of Cesena, the story of which is recorded by Guercino's early biographers and is one of the most interesting anecdotes about the artist's interaction with his patrons. In early 1651, Giuseppe Locatelli commissioned a pair of pictures from Guercino: the King David and a pendant work, which was to show one of the sibyls, legendary prophetesses of the classical tradition. King David was finished by late April or early May 1651, as recorded in letters from Guercino to Locatelli's agent (dated 22 and 27 April and 10 May, loc. cit.). which note that he would be sending the prophet as soon as the varnish had dried, but that he was still at work on the sibyl, somewhat delayed by the arrival of a prestigious commission from the Duke of Modena (the Madonna and Child with the Patron Saints of Modena, now in the Louvre, Paris). We can assume that King David had reached Cesena by 16 May 1651, the date on which Guercino's Libro dei conti, or account book, records a payment of 166 scudi (loc. cit.; fig. 1). Clearly, Locatelli was satisfied with the first of his pictures. While its pair, the sibyl, was nearing completion in Guercino's Bolognese studio, the artist received a visit from Prince Mattias de' Medici (1613-1667), brother of Grand Duke Ferdinando II of Tuscany, who was so smitten with the sibyl intended for Locatelli that he soon offered to buy it. No record survives of the negotiations that must have taken place as Guercino was faced with the prospect of being unable to deliver the second half of Locatelli's commission, having already made note of his progress on the sibyl in letters to Locatelli's agent, but the entry for 26 May in the Libro dei conti records that Prince Mattias eventually paid 237 scudi for the privilege of commandeering the second painting from the unsuspecting Locatelli. This original pendant to King David was identified as The Cumaean Sibyl by Guercino's addition of an inscription similar to that in King David, and is thought to have spent the better part of the next two centuries in Florence. It is now in the collection of Sir Denis Mahon, on loan to the National Gallery, London (fig. 2).

Having split the pairing between King David and its first companion, Guercino now had the task of honouring the original commission: he still had to provide Locatelli with the promised sibyl. As Helston and Henry aptly put it in 1991, 'It is a testament to Guercino's originality and honesty that he did not in these circumstances merely produce two identical versions of the same composition' (loc. cit.). Instead, Guercino painted an entirely new sibyl, of a colour scheme, dimensions and scale to match King David and the original sibyl, but of an entirely different composition (fig. 3; The Samian Sibyl, Althorp, Northamptonshire). This sibyl was delivered to Locatelli by 7 October 1651, the date on which payment is recorded in the Libro dei conti, almost five full months after Locatelli had received the prophet. The pair remained in the possession of the Marchesi Locatelli until 1768, when Gavin Hamilton successfully negotiated their sale to the 1st Earl Spencer under further eventful circumstances, as described below.

The Symbolism of King David

King David is a recurrent protagonist in Guercino's work. Most often he appears in depictions of the exploits of his youth, for example in the dramatic Saul attempting the murder of David (Rome, Galleria Nazionale d'Arte Antica). The depiction of David in the present picture, however, departs from these precedents, in which he is almost invariably shown as a beardless young man. Instead, it deploys a specific set of attributes to emphasise that this is the sage David of his later years - no longer merely a heroic shepherd, he is David the King and Prophet. The bearded figure, wearing a turban, crown and ermine-lined mantle and holding a sceptre, sits on a carved throne by a draped table, a single column in the background, echoing a standard formula for royal and princely portraits of the Baroque era. The stone slab which David seems to support with effortless ease is carved with an inscription in Roman lettering, like an epigraph unearthed in the ruins of an ancient monument: 'GLORIOSA DICTA SVNT DE TE CIVITAS DEI. PSALM.S 86.' This line is the third line of one of the Psalms, the series of poetic prayers traditionally attributed to David, and interpreted as foretelling the coming of the Messiah:

The foundations thereof are the holy mountains:
The Lord loves the gates of Sion above all the tabernacles of Jacob.
Glorious things are said of you, O city of God!

Numbered 86 in Greek and Latin translations of the Old Testament (87 in the Hebrew Torah and Protestant Bibles), this psalm would have been immediately familiar to Guercino's audience. By his inclusion of this line in the picture, Guercino underscores the prophetic theme of this image of King David. The richly-attired king looks down toward the inscribed tablet he holds, musing on the words of his own prophecy; despite his monumental physical presence, David himself is withdrawn, contemplating the truths of his divinely-inspired utterance with a calm, stoic understanding of its inevitability, and a humble knowledge of his role as an intermediary between the realms of the divine and the mortal.

Further symbolism becomes apparent by virtue of King David's pairing with a sibyl, as opposed to another Old Testament prophet. The second pendant to King David, that which was finally delivered to Locatelli, bears an inscription identifying it as The Samian Sibyl. It is unclear whether this reflects Locatelli's original specifications - Michael Kitson and Gabrieli Finaldi argue that it may have made 'little difference to Locatelli whether the King David was paired with a Cumaean or a Samian Sibyl', but note 'that it is also possible that Locatelli may have wanted a Samian Sibyl from the beginning' (loc. cit.). The pairing between an Old Testament prophet and a sibyl was an unusual choice in the Seicento, but finds precedents in Cinquecento painting and in an earlier typological tradition dating from the Middle Ages. The Sibyls were semi-historical figures mentioned in classical texts as prophetesses of the pre-Christian, pagan tradition, often associated with a specific sacred site such as the oracle at Delphi or the cave at Cumae, near Naples. Later tradition specified that there were either twelve or seven chief sibyls, including the Samian, the Cumaean, the Delphic, the Libyan, the Cimmerian, the Persian and others scattered across the known world. According to tradition, the Sibyls recorded their prophecies in books, most of which had been lost; but some of their specific prophecies were alluded to in classical texts, and the early Christian Fathers, especially Saint Augustine of Hippo, interpreted their maxims as foretelling the coming of Christ. The Samian Sibyl was believed to have foretold that Christ would be born in Bethlehem - the 'City of David' in which the future king had lived as a shepherd. The pairing can thus also be read as an allusion to the Nativity - the birth of Christ in the house of David, in Bethlehem as prophesied by the Samian Sibyl.

During the decades immediately before the High Renaissance, the notion that the Sibyls had foreseen the coming of Christ became an argument in favour of the validity of pagan classical learning as a whole. As worthy counterparts of the Hebrew prophets, the Sibyls formed a feminine cohort of seers to complement the patriarchal Old Testament lineage. At the dawn of the Cinquecento, they were depicted by some of the most celebrated painters of the High Renaissance, including Perugino, Raphael, and, above all, Michelangelo, whose frescoes for the Sistine Chapel ceiling are famously decorated with alternating prophets and sibyls. Guercino would have seen the Sistine Chapel ceiling during his Roman sojourn in 1621-1623, and Michelangelo's towering example could not have failed to be in his mind as he worked on Locatelli's pair. Like Michelangelo's prophets and sibyls, Guercino's possess a sculptural monumentality, each set into a large, spare space which they dominate with their presence, their well-proportioned bodies arranged with a dynamic sense of stilled movement, though Guercino's pair speak with a tranquillity and a detachment all their own.

Pentiments and Drawings

The excellent condition in which King David has survived allows for a full appreciation of Guercino's painting technique. One or two pentimenti indicate changes that he made during the execution of the picture: there is an adjustment to the lower edge of the stone tablet, and the entirety of the strip of golden cloth across David's shoulders and chest would seem to have been added by the artist at a later stage in the picture's development. The small number of changes at the painting stage suggests that the pose and composition must have been carefully worked out in preliminary drawings, although none that can be specifically linked to this picture have been traced. The structure of David's head, gently inclined towards the stone tablet, recalls that which Guercino used for God the Father in numerous paintings and related drawings (for example, see D. Mahon and N. Turner, The Drawings of Guercino in the Collection of Her Majesty the Queen at Windsor Castle, Cambridge, 1989, no. 189).

Worthy of special notice is a red chalk drawing by Guercino depicting a middle-aged, bearded man looking down and to the right, buried in his thoughts (see fig. 4; Christie's, New York, 11 January 1994, lot 203). Usually linked to Guercino's bust-length The Prophet Isaiah (see Salerno, no. 255; Christie's, New York, 31 May 1989, lot 80), the drawing may actually be closer to King David. Although it is like Isaiah in that the figure is shown bare-headed, lacking David's elaborate turban and crown, the angled shoulders, the tilt of the head and its locks of flowing hair, distinctly separate from the hair of the beard, resemble the arrangement of David's head more closely than that in Isaiah.

The Spencers: Love and Art

By some accounts, John, 1st Earl Spencer was the richest man in Britain (fig. 5). The son of the Hon. 'Jack' Spencer, a notorious bon vivant, John Spencer inherited his fortune at the age of twelve, and already before attaining the majority required to direct it he showed precocious signs of knowing exactly how he wanted to spend his money, often in very imaginative ways. With such a vast fortune in the wings, Spencer had no need to forge a marital alliance for financial gain. Instead, he married for love, taking the young Georgiana Poyntz as his bride (fig. 6). After a thrilling courtship which is documented by Georgiana's surviving letters, the two were wed in a secret marriage on John Spencer's 21st birthday. Once the wedding was revealed to the world at large, the Spencers travelled to London in style, where they were received by the dowager Princess of Wales and King George II, and where they themselves received, by some counts, 600 well-wishers in the first week. As the most fashionable couple in town, the newlyweds could expect to do a considerable amount of entertaining, and it was partly with this in mind that John Spencer set about building a lavish new townhouse. Spencer House (fig. 7) was conceived both as an expression of the 21-year-old Spencer's newly attained independence and, perhaps more importantly, as a tribute to his new wife. The house also became an exercise of Spencer's passion for antiquity and its neo-classical resurrection. The 1750s, when work on the site began, belong to the height of the Greek Revival period; Spencer's architects and architectural advisors were all connected to the influential Society of Dilettanti, an elite club of patrons and artists who sought to promote and disseminate the classical culture they had encountered on the Grand Tour. One of these was the painter, archaeologist, architect and designer James 'Athenian' Stuart, who would also play in important part in the story of King David.

In order to acquire masterpieces to decorate the walls of Spencer House, Lord Spencer cultivated a network of trusted agents and advisors spread across Europe, acting on his behalf in the acquisition of works from some of the richest collections formed over the preceding centuries. One of these advisors was the Scottish painter, archaeologist and dealer Gavin Hamilton, who had been established in Rome in 1748, where he was well-placed to advise British Grand Tourists on what to see on their travels in Italy - and what to take home. The Spencers met Hamilton on their tour to Italy in 1763-1764, possibly on the recommendation of 'Athenian' Stuart, an old friend of Hamilton's, now back in London completing the decoration to Spencer House. Hamilton acted as a guide to the Spencers, conducting Lady Spencer, for example, through the collections at the Palazzo Barberini, where she was greatly taken by the antique statuary. In 1765, not long after their return to England, the Spencers commissioned a painting from Hamilton, the subject of which was to be Agrippina with the ashes of Germanicus (Althorp, Northamptonshire). It has been argued that part of the motivation for the commission was as 'a sort of douceur to secure Hamilton's services' on the more important matter of acquiring capital Old Masters fit to grace the walls of the Great Room at Spencer House (Waterhouse, 1954, loc. cit.). This became Hamilton's mission over the next several years, as he travelled across Italy seeking out one after another potential acquisition. His letters to Lady Spencer document a number of attempts to secure big pictures serving all of the criteria of 'our purpose[:] size subject & preservation' (21 May 1766), attempts often plagued with difficulties - intrigues on the part of locals anxious not to lose their altarpieces, disagreements over prices, even delays due to export license applications. Hamilton travelled with an Italian artist, Ricciolini, who was at the ready to paint a copy of any picture that Hamilton bought for the Spencers, should this smooth the way for its acquisition with the prior owners. More than a year later, Hamilton had yet to secure a large picture by a major artist for Spencer House, writing 'something must be done now that I have engaged to serve my Lord, or I am resolved never to see England more, your Ladyship can non [sic] imagine the anxiety of mind I have, least I should appear careless in executing my Lord's commission' (11 April 1767). Finally, after nearly another year of frustration, Hamilton triumphed - and it had been well worth his patience and the wait. On 4 May 1768 he wrote of having 'at last found at Cesena two pictures of Guercino in every respect agreeable to my Lord Spencer's commission'. These works were 'painted in his last & most pleasing manner, viz. in the style of the Circumcision at Bologna or the Sibyl at the Capitol; one represents a King David, the other a Sibyl'. Hamilton lost no time in securing the pictures and shipping them to London:

As the pictures are in perfect preservation I have ordered a large roller to be made with a case in which they will remain suspended, after they are well secured with wax-cloth, canvass, etc. I propose to send them to Pesaro upon a stacino made with a network of cords to prevent any damage by jolting; from Pesaro I shall see them set out in the same manner for Civita Vecchia by the Furlo, so that by avoiding Rome, we shall save time, trouble and expense.

Knowing that the Spencers were also very anxious about having their pictures framed well - Lady Spencer had earlier written to stress 'My Lord would not have a frame made at Rome as it must be framed in the same Manner as the Pictures among which it will be placed here' (28 June 1766) - Hamilton sent the Spencers the precise dimensions of the two canvasses, 'so that no time may be lost in ordering the frame'--'When they are strained upon the stretching frame I would advise nailing a very thick slip of wood around the picture that nothing may be lost in the rabbit [rebate] of the frame, this ought to be mentioned to the framemaker' (4 May 1768). Indeed, the way the pictures were to be framed was of key importance. Stuart had designed the Great Room, which also served as the ballroom at Spencer House, specifically for the display of Spencer's Old Masters, hanging the walls with red damask, and the frame of the present picture was specially designed by Stuart to match the mouldings of the doorcases and window surrounds he had also designed for the room.
• THE ALTHORP ATTIC SALE: INCLUDING THE SPENCER CARRIAGES, will be offered on 7th and 8th July 2010 at Christie's South Kensington, and will offer arguably the most important group of aristocratic 19th century horse-drawn family carriages that remains in existence, as well as coronation chairs, Coachmen's livery, Butler's trays, riding whips and saddles, kitchen copper jelly moulds and several centuries of textiles – with estimates from £200 to £80,000.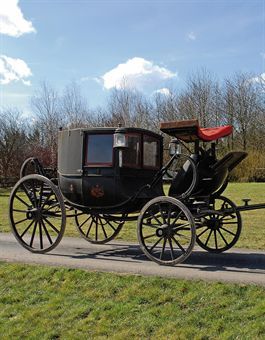 A George IV black-japanned and livery-painted state chariot by Barker and Co., London, second quarter 19th century. Photo: Christie's Images Ltd., 2010
The rectangular body with two half-glazed doors with later coats-of-arms, with divided front window, the roof applied with four silvered brass coronets and the sides with six silvered brass crests with coronet and garter motto, with silvered door handles in the form of coronets flanked by feathers and acanthus scrolls, each side of the interior with triple folding mounting-steps and two forward-facing seats, the entire buttoned interior lined with padua red silk and hammer cloth, with small rear-view window, the black and red-painted frame with large C-spring suspension, the coachman's high seat with removable dished red baize-covered seat with fringed hangings and leather-covered footwell, with iron-rimmed spoked wooden wheels, with pole and two team bars, marked on each wheel hub 'BARKER & CO CHANDOS ST', the front with two cylindrical glazed carriage lanterns (one with damaged spring stem), the rear with four tasselled padua red sash hand-holds and a rounded rectangular black stand between the springs, losses and overall cracking to the decoration, the seats re-covered
87 in. (221 cm.) high; 74 in. (189 cm.) wide; 165 in. (420 cm.) long, without pole
Rear wheels 51 in. (130 cm.) diameter
Front wheels 40 in. (102 cm.) diameter
Together with four sets of harness
Notes: The later arms on the doors are those Spencer accoll with Spencer impaling Baring for Charles, 6th Earl Spencer, K.G., (1857-1922) and his wife Margaret (d.1906), daughter of Edward, 1st Baron Revelstoke, whom he married in 1887. These arms were possibly applied for the coronation of King George V on 22 June 1911, at which Earl Spencer presided as Lord Chamberlain.
• THE SPENCER HOUSE SALE will take place at King Street on 8 July 2010 and will offer an important selection of furniture, works of art and porcelain formerly from Spencer House, the London town house of the Spencer family until 1924 (which is still owned by the family, but is leased to tenants) which has been housed until recently at Althorp.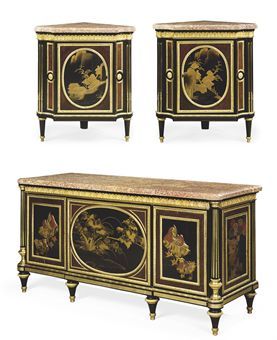 A Louis XVI ormolu-mounted ebony and japanese black and gold lacquer and vernis martin commode and pair of encoignures by Claude-Charles Saunier, circa 1785-90, supplied in 1791 by Dominique Daguerre. Estimate £2,500,000 - £4,000,000. Photo: Christie's Images Ltd., 2010
The commode Of tripartite form with later rectangular breakfront brocatelle d'Espagne marble top with eared corners and moulded edge above a berried and leaf tip-cast frieze and three door panels hinged to open as a single door to the left and the central and right hand panels double-hinged to open to the right, enclosing two long adjustable shelves, the central door decorated with an oval lacquer panel depicting an exotic flowering branch, the rectangular flanking panels each depicting an exotic duck and duckling, each within leaf-tip cast borders and reserves decorated in imitation of nashiji, the sides similarly decorated with rectangular panels depicting flowering branches, the angles with fluted column pilasters with vase-shaped bases, above a stepped plinth with ribbon-tied reed edges and set with reeded panels, above turned tapering legs with reeded collars and terminating in toupie feet, originally with white marble top;
the pair of encoignures similarly each with a later brocatelle d'Espagne marble top above a berried and leaf-tip cast frieze above a door centred by an oval panel depicting exotic villages in mountainous landscapes, within leaf-tip cast borders with nashiji reserves, the concave sides with similarly-bordered nashiji panels centred by foliate rosettes, the rounded uprights with husk-filled fluting above turned tapering legs headed by egg-and-dart collars and terminating in foliate cast toupie feet, each stamped 'C.C.SAUNIER' and 'JME' and numbered '49' in black paint, formerly with white marble tops, one marble marked 'A2' in black crayon
The commode: 35¾ in. (91 cm.) high; 74½ in. (189 cm.) wide; 24¾ in. (63 cm.) deep;
The encoignures: 37½ in. (95 cm.) high; 33½ in. (85 cm.) wide (3)
Provenance: The encoignures: Almost certainly Pauline-Sophie, comtesse d'Albert (b. after 1748 - d. 1788), sold 11 August 1788, lot 80, where probably acquired by Dominique Daguerre.

Supplied together with the commode in March 1791 by Daguerre to George 2nd Earl Spencer (1758-1834) for Althorp, Northamptonshire and thence by descent.
Literature: Schedule of Furniture at Althorp 1814-1819, 'No. 68 - Drawing Room - ... Japan'd Cabinet with Marble Slab... 2 Japan'd Cabinets with small Marble Slabs'
H. Avray Tipping, 'Althorp, II', Country Life, 18 June 1921, p. 767-8, figs. 5 and 7 (illustrated in situ in the Red Drawing Room)
Albert Edward John, 7th Earl Spencer (1892-1975), Althorp, Furniture, Vol. I, circa 1937 and later, 'A pair of black and gold lacquer Encoignures fluted at the angles; oval panels in centre decorated with buildings and trees; ormolu foliated frieze; chased mouldings to panels; tapering feet; white marble slabs. Stamped C.C. Saunier.
An oblong commode en suite with fluted pillars on tapering feet; panels decorated with plants and birds.
Purchased of Daguerre et Cie de Paris in March 1791.
"Une grande commode en laque. sterlin 100".
"Deux coins idem. 52".'
F.J.B. Watson, Louis XVI Furniture, London, 1960, p. 79
C. Hussey, 'Althorp, Northamptonshire', Country Life, 19 May 1960, p. 1188 (illustrated in situ in the Yellow Drawing Room)
P. Thornton and J. Hardy, 'The Spencer Furniture at Althorp, Section III: Lady Spencer's furniture from Spencer House and the furnishings provided for Althorp by Henry Holland', Apollo, 1968, p. 270, figs. 16 and 17 (the commode erroneously said to be stamped by Saunier) and pp. 266-277
Alexandre Pradère, Les Ebénistes Français de Louis XIV à la Révolution, 1989, pp. 364-369
T. Wolvesperges, Le Meuble Français en Laque au XVIIIe Siècle, Brussels, 2000, pp. 85, 209 and 212
Notes: This magnificent suite of furniture, conceived for a grand drawing-room, is veneered with exquisite and precious seventeenth-century Japanese lacquer and set with beautifully chased gilt-bronze mounts. It has long been celebrated as one of the most splendid demonstrations of Anglo-French taste of the years around 1790 - towards an 'English Louis XVI' in the words of Sir Hugh Roberts - a brief period during which the artistic inter-relationship between the two countries was perhaps more intense than ever before or after.

THE DELIVERY BY DAGUERRE

The earliest mention of these encoignures is almost certainly in the catalogue of a sale 'après le décès de la marquise d'Albert', on 11 August 1788, at her hôtel in the rue Cassette, which lists a pair of encoignures described as:

'80. Deux encoignures en lacque avec panneaux à château, sujets de branchanges, & oiseaux. Ils sont richement garnis de sabots, moulures & autres ornemens en bronze. Les dessus en marbre brèche violette. Hauteur totale 36 pouces [97 cm.], profondeur 21 pouces [56.7 cm.]

The encoignures had probably been a purchase from Daguerre a few years earlier, and it is not surpising that he seized this opportunity to buy them back in order to re-sell them at a later date. Very little is known of the comtesse or her collections other than that she had inherited from her father Marie-Charles, duc de Luynes, in 1771, and subsequently from her mother in 1782. She was chanoinesse de Remiremont, evidently a woman of independent means and remained a spinster all her life. The sale catalogue mentions her as a marquise rather than a comtesse but is appears that she was styled with both courtesy titles which was not unusual, particularly for unmarried women. Intriguingly, despite her illustrious lineage she remained a relatively unknown figure and it is interesting to note that Chistopher Hussey mentions 'd'Alberg' as the provenance for the set - information which was probably supplied to him by the 'curator' 7th Earl but clearly a misspelling (Hussey, op. cit, p. 1188).

The encoignures then re-appear together with the commode in a bill submitted to 'Milord Spencer' by Daguerre et compagnie de Paris' in 1791:
une grande commode en laque
deux coins idem
The same bill also lists 'une idem [commode] avec les tiroirs' as well as 'deux secretaires idem' (quoted in full in Dorothy Stroud, Henry Holland, His life and architecture, London 1966, p. 101). These survive at Althorp: the commode à l'anglaise, with corner sections with open shelves, is stamped by Claude-Charles Saunier, whereas the pair of small, exceptionally elegant secretaires are stamped by Adam Weisweiler (1744-1820; Thornton and Hardy, loc. cit., figs. 15 and 18 and pl. XVII). Clearly Daguerre included the work of more than one of his favoured ébénistes in this large and prestigious commission. Dominique Daguerre (d. 1796) was the foremost Parisian marchand-mercier of the last decades of the Ancien Régime. The famous Simon-Philippe Poirier (c. 1720-1785) had taken him into partnership in 1772, and in 1777 Daguerre took over the sole management of the firm. Both Poirier and Daguerre were particularly well-known for the production of furniture mounted with Sèvres porcelain, Oriental lacquer and, exceptionally, pietre dure panels (see the pair of pietre dure-mounted cabinets attributed to Saunier and certainly made to Daguerre's specifications, sold Christie's London, 10 December 2009, Lot 550). In 1789 Daguerre himself took on a partner, Martin-Eloi Lignereux (1750-1809). Just like Poirier before him, Daguerre was a favourite with English milords visiting Paris - in 1784 the baronne d'Oberkirch commented on the crowds flocking to his shop to admire the sideboard which he was about to dispatch to the Duke of Northumberland. There is a suggestion here that this piece was outstanding precisely because it had been made for, and probably to the specifications of, an English client.

Daguerre's English clientele became an increasingly important part of his business. In 1786, Daguerre had signed an agreement with Josiah Wedgwood for the exclusive rights to sell Wedgwood's Jasperware in France, and in the following year he was invited to come to London to manage the decoration of Carlton House. This in turn led to the establishment of Daguerre's own shop in Piccadilly, just up the hill from Spencer House, and at some point during the Revolution he must have taken up permanent residence in England, although he appears on occasion to have returned to Paris (G. de Bellaigue, The James A. de Rothschild Collection at Waddesdon Manor, Furniture, Clocks and Gilt Bronzes, Fribourg 1974, pp. 858-859; exh. cat. Carlton House, The Past Glories of George IV's Palace, London (The Queen's Gallery, Buckingham Palace), 1991).

HENRY HOLLAND AND DAGUERRE

The lacquer furniture was bought from Daguerre - unusually from the Paris shop in the rue St. Honoré - for the new rooms at Althorp created by Henry Holland (1745-1806), the architect who was also in charge of work at Carlton House for the Prince of Wales and who in 1786 was commissioned by Lord Spencer to substantially remodel Althorp (Stroud, op. cit, pp. 98-103). As at Carlton House, Holland and Daguerre worked closely together on the furnishing of the interiors at Althorp. Indeed the first mention of this group of furniture in England occurs in an estimate of the work still to be done at Althorp submitted by Holland at the end of 1790: 'Articles of Furniture in hand under Mr Dagures estimate consisting of the Japan c'modes fitting up for the drawing room, the commodes chairs &c. For Lady Spencer's dressing room, 300'. Undoubtedly Holland closely supervised the selection and design of these items that were to function as important elements in his newly created rooms. Holland's style is distinguished by a classical purity and refined sense of chastity, in marked contrast to the elegant profusion of small-scale ornaments favoured by Robert Adam and his followers. Early on his work announced the characteristics that were to dominate Regency taste. The commode and corner-cupboards, as well as the other lacquer furniture supplied for Althorp, are remarkable for the boldness of their shapes and for the sophisticated restraint of the gilt-bronze mounts. The geometric panels are made to stand out, uninterrupted by fanciful additions such as floral garlands, draperies or friezes à la grotesque, still very much in fashion in France in the late 1780s. Unmistakably French in design and execution, this furniture was nonetheless doubtless selected especially to harmonize with Holland's architectural shell.

THE COMPOSITION OF THE SET

As Paris was in the height of revolutionary turmoil in 1790-1791, it is questionable whether conditions were favourable for the production of highly luxurious furniture of the kind supplied to Lord Spencer, which necessarily involved many craftsmen working to the precise specifications of the marchand-mercier - presumably Lignereux representing Daguerre. Use must have been made of articles already in the course of production; equally, newly made furniture that was coming back on the market shortly after having first been sold, was also being purchased and adapted by the dealers and their cabinet-makers. The current set is a prime example of this practise during these unsettled years. In this instance Daguerre re-purchased the encoignures in the 1788 d'Albert sale probably formerly supplied by him; he then commissioned the matching commode to form an ensemble, which became the nucleaus of his important commission to Lord Spencer. Although delivered as a unified set, there is evidence that the genesis of the corner-cupboards and commode reflects this situation and slight difference in date of execution. The corner-cupboards, which were probably executed circa 1785, are stamped by Saunier, and his stamp appears to have been deliberately effaced, presumably in an attempt by the dealer to conceal the identity of the maker. Both corner-cupboards bear the inventory number '49' painted in ink on the top of their carcase, a number typical of the French Ancien Régime that appears not to be connected with the Spencer provenance, but perhaps refers to its earlier d'Albert history. By contrast, the commode bears neither an inventory number nor an ébéniste's stamp. The principal feature of the corner-cupboards, the upright oval lacquer panel at the centre of their doors, was repeated - due to the wide shape of the commode, it was now applied horizontally - as was the prominent frieze of upright leaves running below the marble tops, another powerful, classical note in accordance with Holland's preferences. Many of the subsidiary elements, however, are subtly varied in a way that might not be expected in a suite made in a single campaign. The rounded pilaster-like uprights of the corner-cupboards are echoed in free-standing columns on the commode, and the gilt-bronze mouldings on the various pieces form a complementary but noticeably different pattern. Among the constructional differences the most prominent is perhaps the application of the mounts. On the encoignures there are more visible screws fixing the framing mounts and the frieze whereas on the commode various mounts including the framing mounts have pins to the reverse and fewer visible screws.

CLAUDE-CHARLES SAUNIER

Claude-Charles Saunier (1735-1807) was the son of Jean-Charles who also worked as ébéniste. He was received as mâitre as early as 1752 but did not register until 1765, in order to continue the workshop of his father for whom he had worked until then. Established in the Faubourg Saint-Antoine, he appears mainly to have worked for marchands-merciers. For them he produced a considerable number of pieces of lacquer-mounted furniture. A richly mounted lacquer commode was sold together with two corner-cupboards from the Champalimaud Collection, Christie's London, 6 July 2005, Lots 70 and 72. That set, to be dated slightly earlier than the Spencer one, was certainly created in stages. The corner-cupboards were originally made by Martin Carlin (c. 1730-1785) whose obliterated stamp one of them appears to bear; they were raised by the addition of a frieze mounted with an entrelac mount characteristic of the work of Saunier, in order to form a set with the commode which presumably was made at the same time. During preparations for the Champalimaud sale, but after the catalogue had been printed, Thibaut Wolvesperges discovered that the set of three had been seized from the possession of the Comte and Comtesse de Narbonne during the Revolution, being described in an inventory of seized goods stored at Versailles in January 1795. The glamorous and mysterious Louis de Narbonne, Madame de Stael's long-suffering lover, was born in 1755 and married in 1782. A notorious conqueror of hearts, he was famously elegant and spent prodigiously; he presumably acquired the set at some point between his marriage and the outbreak of the Revolution. It provides a fascinating example of the adaptation of existing furniture to create an impressive ensemble for which there was clearly an enhanced appetite during the 1780s, in France as well as in England.

This type of wide tripartite commode inlaid with Japanese lacquer, with a single short and a long hinged door, the central section being the widest, seems initially to have been a speciality of Weisweiler rather than Saunier and several examples stamped by the former are known (Patricia Lemonnier, Weisweiler, Paris 1983, figs. on pp. 30 & 55). Their proportions are markedly different, however, tending towards a somewhat lighter elegance. The powerful and idiosyncratic Spencer commode, with its short, unadorned feet and its bold, original and highly effective play on uncompromising geometric shapes perfectly fits Saunier's original oeuvre and seamlessly complements the corner-cupboards that may have provided its inspiration.

Christie's is grateful to Alexandre Pradère for providing the 1788 d'Albert sale reference.