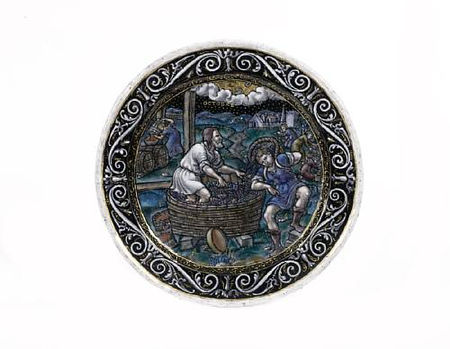 A Limoges enamel and parcel gilt plate depicting 'October' after an engraving by Etienne Delaune of 1568. Attributed to the Workshop of Jean Miette (Active 1563-1568) photo Bonhams
depicting a scene of peasants making wine, with a bearded man crushing the grapes, and another pouring them in to the barrel, with further men in the background picking grapes and a village behind, with a pair of scales to the sky (the Zodiac sign for Libra) and inscribed in gilt lettering 'OCTOBRE', within a border of grisaille scrolls, the reverse with a central roundel depicting a portrait of Mars within a scrolling cartouche with bunches of fruit to each side, 19cm diameter (7"diameter). Sold for £19,200
Notes: Few documents survive relating to the enameller Jean Miette, but we do know that he was apprenticed to Léonard Limosin in the 1550's and by the 1560's was probably working independently with a workshop of his own. The present plate has many stylistic elements that indicate an attribution to Miette. He is known to have initialled his works I.M. and so through studying those works signed by him scholars have been able to identify key stylistic traits. For example the portrait on the reverse of the plate which is painted naturalistically in flesh tones but is flanked by a grisaille border. Compare this roundel to the reverse of the plate by Miette in the Musée des Beaux-Arts, Orleans, or the scrolling cartouche to the reverse of the plate depicting the month of May in the Victoria and Albert Museum. (Figs. 4 and 5. F. Audebrand, New research on Limoges painted enamels). There is also a group of enamels which have now been attributed to Miette in the Musée du Louvre including a comparable plate illustrating the month of April.
The present plate is particularly interesting as it depicts a known engraving after Delaune which was part of a series entitled 'Les Travaux des Mois' of 1568, and so we know that this example of his work was produced after that date.

For a comparable example, also attributed to Miette on stylistic grounds, see Christie's London, 10 July 2008, lot 52, sold for £25,000.

Related Literature: S.Baratte, Les émaux peints de Limoges, Paris, 2000, pp.296-301.
Braunschweig, Herzog Anton Ulrich Museum, 18-20 April 2002, New research on Limoges painted enamels, pp. 22-31.
Bonhams. Fine Continental Furniture, Sculpture and Works of Art, 7 Jul 2010. New Bond Street www.bonhams.com