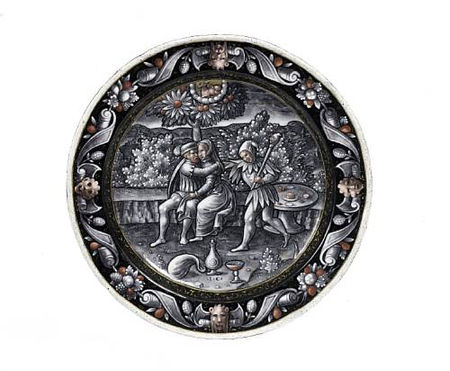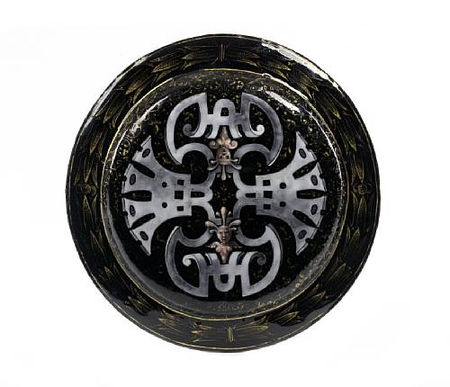 A Limoges grisaille enamel and parcel gilt plate depicting 'Avril' by Jean de Court, called Master I.C (Active 1555-1585). photo Bonhams
decorated with a scene of an amorous couple disturbed by a jester, with a table laid with food to their left and an orange tree behind, with a ram (the zodiac sign for April) depicted at the top, and inscribed in gilt lettering AVRIL, the border with grisaille scrolling strapwork centred by flesh coloured grotesque masks and intersperced with bunches of fruit, the reverse with strapwork and a pair of grotesque caryatid with gilt scrolling foliage and a border of gilt leaves, 20cm diameter, (7.5" diameter).
Sold for £14,400
Notes: This plate is decorated with the same scene as that attributed to the Master IC in the Musée des Beaux-Art de Limoges, with a similar reverse, circa 1560-1570.

Works traditionally attributed to Jean Courteys, Jean Court, I. Curtius, Master I.D.C. and Master I.C. are now generally thought to be by one hand, Jean de Court. This is probably the same Jean de Court who was painter to Mary Queen of Scots from 1562-1567, and as peintre du roi to Charles IX.

For a related example, see Christies Paris, 23 February 2009, lot 522,sold for 37,000 euros. This plate depicts the month of November. The use of grisaille in the majority of the plate with flesh tones to the faces and highlights such as the boar's blood in the November plate and the food depicted in the present lot is apparent in both plates. The decorative border and the depiction of the zodiac sign within clouds are also directly comparable.

Literature: V. Notin, La Rencontre des Héros, Limoges, Musée municipal de l'Évêché, 2002, p. 180-181.
Bonhams. Fine Continental Furniture, Sculpture and Works of Art, 7 Jul 2010. New Bond Street www.bonhams.com