Lucas Cranach the Elder and Studio (Kronach 1472-1553 Weimar) The Ill-Matched Lovers. Oil on panel, 19 x 14 cm
Bernheimer-Colnaghi will bring a superb selection of Old Master Paintings to the XXVth Biennale des Antiquaires which takes place at the Grand Palais, Avenue Winston Churchill, 75008 Paris, from Wednesday 15 to Wednesday 22 September 2010. It is very appropriate that the venerable firm should come to Paris in its 250th anniversary year as its remarkable story began in that city in 1760 when Colnaghi was founded by an enterprising firework manufacturer, Giovanni Battista Torre.
Amongst the fine works on offer will be The Ill-Matched Lovers by Lucas Cranach the Elder and Studio (1472-1553). The subject of this exquisitely painted small panel, which depicts a grotesque old man and a knowing, youthful beauty, was a popular theme in 16th century art. By presenting a rather erotic image in the guise of a morality lesson, the artist was afforded a degree of licentiousness which might otherwise have been unacceptable. The theme of the deadly sins of lust and avarice personified by a lascivious old man and a young, beautiful woman goes back to antiquity and was probably introduced into German painting by Cranach. (above)
Colnaghi has recently acquired a splendid, recently-discovered portrait by Anton Von Maron of James Byres (1733-1817), the Scottish 18th century architect, art dealer and antiquary. Byres played a key role in the Roman art market in the 18th century, supplying antiquities and Old Master paintings to visiting Grand Tourists. Although trained as an architect, he is best known as a dealer whose triumphs included the sale of the Portland Vase, now in the British Museum, to Sir William Hamilton and of Poussin's series of Seven Sacraments, now at Belvoir Castle, which Byres sold to the Duke of Rutland in 1785, both purchased from Roman aristocratic collections. He also owned Poussin's Assumption, now in the National Gallery of Art, Washington. The present portrait, by Anton Von Maron (1733-1808), one of the leading portrait painters in Rome, was probably painted around the time of his election to the Accademia di San Luca in 1768, where he had won 3rd prize for architectural design in 1762, and features one of his drawings prominently in the foreground. Never previously exhibited, the painting comes from a private collection. (below).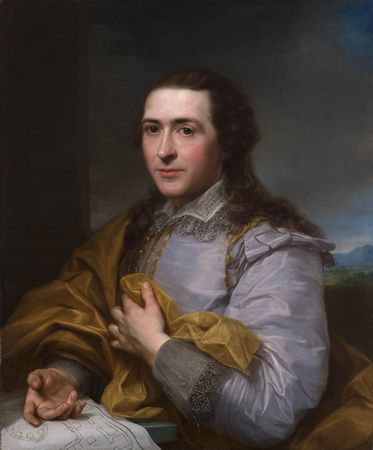 Anton Von Maron (Vienna 1733- 1808 Rome) Portrait of James Byres. Oil on canvas, 73.4 cm. x 60.6 cm.
Other highlights include a magnificent still life by François Habert who was active in France in the mid 17th century. Works by this artist are rare and little is known of his life except for two early references to him in the inventory of the artist Philippe de Champaigne and in the collection of Charles Tardif (d. 1728), private secretary to Maréchal de Bouflers. Habert was active when many Dutch and Flemish still-life artists were living in Paris and the opulence of this work, which depicts a basket of grapes, a bowl of cherries, a silver-gilt columbine cup and a silver vessel with sprays of cherry on a draped table, reflects the sumptuous and decorative style that dominated the genre at that time. (below)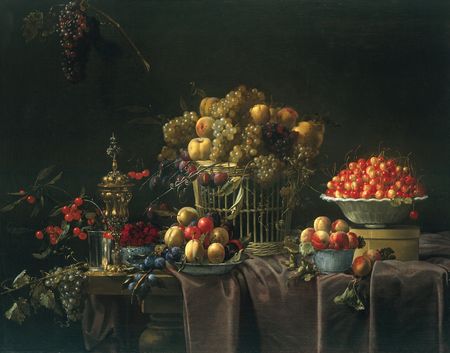 François Habert (active in France c. 1650) A basket of grapes, a bowl of cherries, a silver-gilt columbine cup and a silver vessel with sprays of cherry on a draped table. Oil on canvas, 92 x 115 cm
Another artist about whose life little is known is Henri Stresor (1613?-1679). Said to be of German extraction and to have lived in Paris from 1644, he painted in the style of the Le Nain brothers and executed several portraits of Louis XIV and other high-ranking members of Parisian aristocracy. Colnaghi will be showing The Oyster Eater, a fine painting of a young man seated at a draped table laid with oysters and a flagon of wine, that once belonged to Cardinal Joseph Fesch (1763-1839). Fesch was the half-brother of Napoleon's mother, Letizia Ramolino Bonaparte, and he formed one of the largest private collections of paintings in the early 19th century comprising some 16,000 works, the finest of which were displayed in his Roman residence, the Palazzo Falconieri. (fbelow)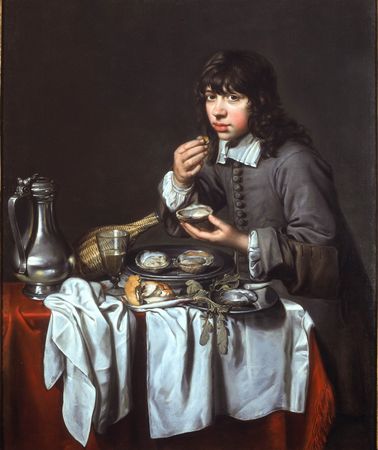 Henri Stresor(Paris 1613?-1679 Paris) The Oyster Eater. Oil on canvas, 107 x 89 cm
These and many more fine works offered by Bernheimer-Colnaghi will provide an important contribution to the Paris Biennale where the finest examples of antiques, fine art and jewellery have attracted connoisseurs and collectors from around the world every two years for 50 years.