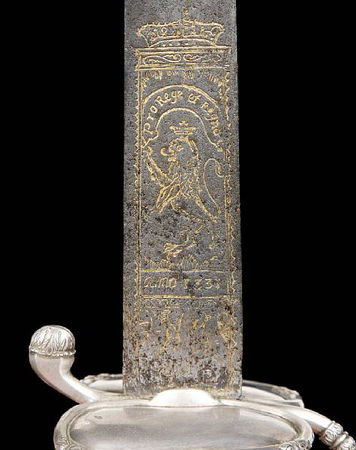 A Fine And Rare English Silver-Hilted Broadsword With Earlier Scottish Blade; London Silver Hallmarks For 1705, Maker's Mark Of Thomas Vicaridge; photo Bonhams
LONDON.- A broadsword dating from 1705, with a much older Scottish blade from the 14th Century, passed down through the Douglas family to Sir Alec Douglas Home of the Hirsel, former British Prime Minister, sold for £10,800 at Bonhams sale of Antique Arms and Armour, on July 28th.

The inscriptions and heart referred to on the sword, hark back to a famous journey of Sir James Douglas to the Holy Land with King Robert the Bruce's heart which ended with Douglas's death fighting the Moors in Spain in 1330. The date of 1331 on the blade is almost certainly commemorative.

The story of this crusade with the heart of Robert the Bruce became part of the Douglas family history and the heart on this sword recalls the actual earlier sword carried by James Douglas on the ill-fated crusade to the Holy Land which ended in Moorish Spain.

Robert the Bruce's body is buried in Dunfermline Abbey, and his heart in Melrose Abbey. His embalmed heart was taken on a crusade to the Holy Land by his lieutenant and friend Sir James Douglas, but only reached Moorish Granada where it became a talisman for the Scottish contingent at the Battle of Teba.

This fine and rare English silver-hilted broadsword from the Douglas family bears the maker's mark of Thomas Vicaridge. It carries an Imperial crown and a crowned lion rampant between the inscription 'Pro Rege Et Regno Anno 1331', and on the other with a similar panel enclosing one of the devices of the Douglas family, a wild man (wodewose) with a heart on his left breast between the inscription 'For Strength In Stier This [the heart] I Bier' (for strength in battle this heart I bear).

From August 17-20 Bonhams will be holding its annual Scottish Sale in Edinburgh at 22 Queen Street, which offers a cross section of all the Scottish fine arts and antiques.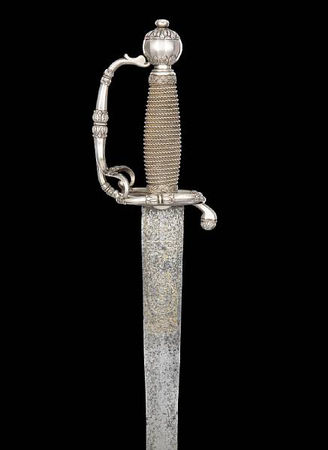 The broadsword dating from 1705 sold for £10,800. Photo: Bonhams.