Doug Aitken, Migration (Empire), 2008 (detail). Courtesy of the artist and 303 Gallery, New York.
PRINCETON, NJ.- Doug Aitken's monumental video installation Migration (Empire) will be on view in front of the Princeton University Art Museum, one of the most visible sites on the historic Princeton campus, from August 28 through November 14. Migration (Empire) was purchased by the Museum for its collections in May 2010, part of an ambitious commitment to collecting, commissioning and exhibiting contemporary art. Its presentation in the plaza in front of the Museum as a highlight of the fall exhibition season signals a renewed focus in placing major works of modern and contemporary art at sites across Princeton's campus, both indoors and out.

Active since the early 1990s, Los Angeles-based Doug Aitken is one of the most prominent video artists working today, and his work is known for its cinematic scale, visual mastery and intriguingly non-linear narratives. Like Migration (Empire), many of Aitken's videos explore the social and psychological aspects of space, both natural and urban, and ponder the changing relationship between human beings, living things and the larger physical environment they inhabit.

"Migration (Empire) is a mesmerizing video that reflects poignantly and poetically on an experience endemic to modern society: displacement," said Kelly Baum, Haskell Curator of Modern and Contemporary Art and the exhibition's curator. "Installing it outdoors on Princeton's beautiful campus during the height of the fall season gives viewers an opportunity to reflect on the work's message in a setting whose mix of the natural and the built accords perfectly with the narrative arc of Aitken's video."

Deeply allegorical, Migration (Empire) pairs footage of industrial and postindustrial landscapes with a series of surreal scenes featuring a host of migratory animals, among them a horse, bison, mountain lion, beaver, and owl. Confined temporarily in banal settings, including nondescript, rather shopworn motel rooms, the animals are clearly out of place, while the motels themselves are paradigmatic non-places. Once associated with escape and adventure, motels have come to convey a particularly American form of isolation and anonymity. "Aitken's video is both touching and visually stunning," notes Museum Director James Steward, "with its solemnity tempered by moments of wit and absurdity." Unfolding at a stately pace, the work was specifically chosen for one of the campus's most ceremonial locations, where it will be projected onto a custom-designed billboard, calling to mind the highways that gave birth to the motel in the first place.

Aitken's videos and installations have been featured in screenings and solo and group installations throughout the world, and his work is included in most major contemporary art collections in the United States and Europe. The exhibition of Migration (Empire) in front of the Museum coincides with two important exhibitions that likewise explore the relationship between nature and culture, power and landscape, human beings and the environment, Nobody's Property: Art, Land, Space, 2000–2010 and Gauguin's Paradise Remembered: The Noa Noa Prints, also on view in Princeton this fall.

Although it will remain in the Museum's collections and ultimately be seen in other formats in the galleries, Migration (Empire) plays an important part in the University's reinvigorated campus art initiative, which seeks to site art in the path of everyday life across the Princeton campus. Aitken's video will thus take a temporary place among recent commissions by Jim Isermann, Odili Donald Odita and Kendall Buster for new buildings on campus.
Doug Aitken (American, born 1968). Migration (Empire), 2008. Single channel video projection with billboard (steel and PVC projection screen); 24 minute loop; billboard: 10'1" (h) x 15'4" (w) x 3'9" (d). Princeton University Art Museum; Museum purchase, Fowler McCormick, Class of 1921, Fund. Courtesy of the artist and 303 Gallery, New York.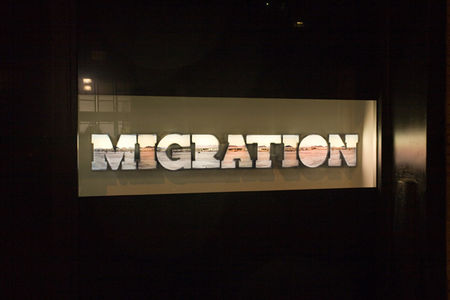 Doug Aitken, Migration, 2008, neon lit lightbox, 10 1/4 x 84 x 7 inches, edition of 4. DA 298.. Courtesy of the artist and 303 Gallery, New York.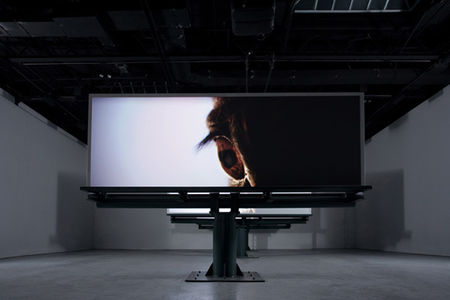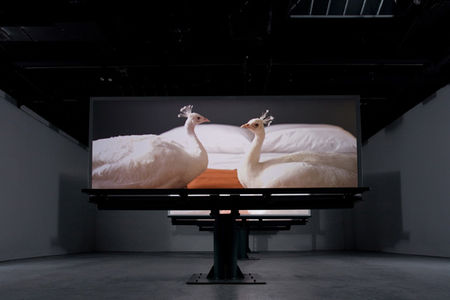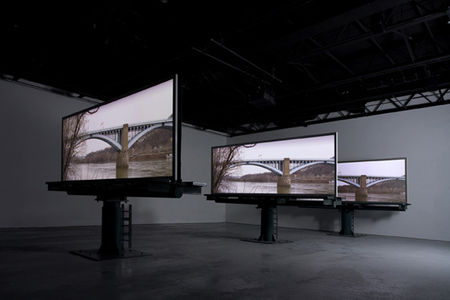 Doug Aitken, migration (empire installation), 2008, installation view at 303 Gallery<br />3 channel video projection, 3 billboards: approx. 120 x 180 x 15 inches each, duration: 24:28, DA 281. Courtesy of the artist and 303 Gallery, New York.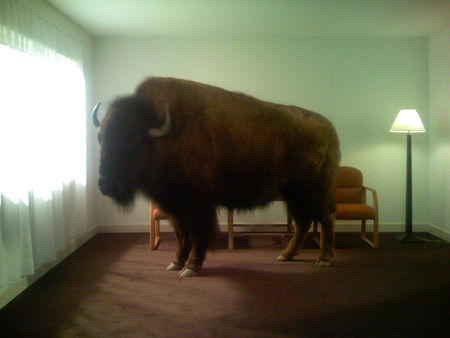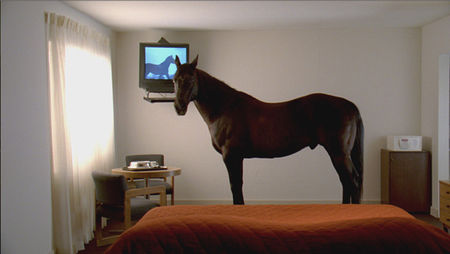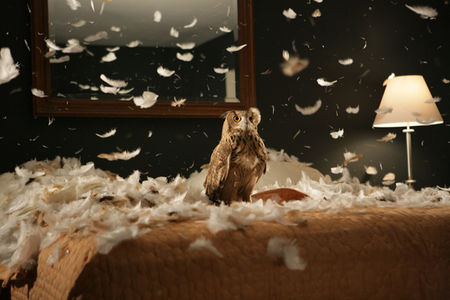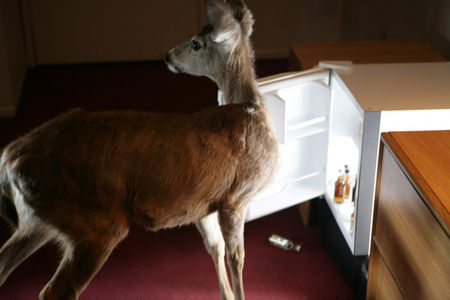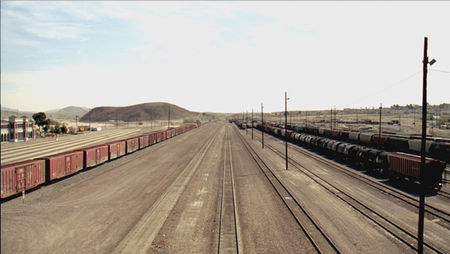 Doug Aitken, migration, 2008, production still. Courtesy of the artist and 303 Gallery, New York.