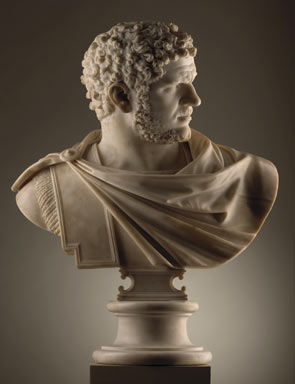 Bust of the Roman emperor Caracalla by Joseph Claus (active 1754-1783). White marble, height: 74 cm.
LONDON.- Major pieces of European sculpture will be presented by Tomasso Brothers Fine Art in their third annual New York exhibition, Scultura III, which will take place at Otto Naumann, 22 East 80th Street , from Thursday 21 to Sunday 31 October 2010. The two previous exhibitions attracted wide critical acclaim from collectors, art historians and museum curators for the quality and rarity of the pieces, and this year's event promises to be as exciting.

A rare and large terracotta model of a black man holding a mixing bowl, probably for paint, by the rare Flemish sculptor Joseph Willems (circa 1705-1766) will be one of the highlights of the exhibition. The statue is signed and dated 1736 and stands 29½ inches (74.9cm) high. A three-dimensional depiction of a black man is highly unusual for the period. Whilst there are numerous representations of black men in paintings, sculptures are particularly rare. This work is especially interesting as it shows him going about an everyday task associated with the arts. It also has an excellent provenance having been in the collection of Gaston Palewski and inherited by his wife, Violette Palewski (nee Talleyrand), Duchesse de Sagan. Palewski was a Free French Colonel and a politician who was a close associate of Charles de Gaulle during and after World War II. He is also remembered for being Nancy Mitford's lover for ten years and appears in a fictionalised form in two of her best-known novels.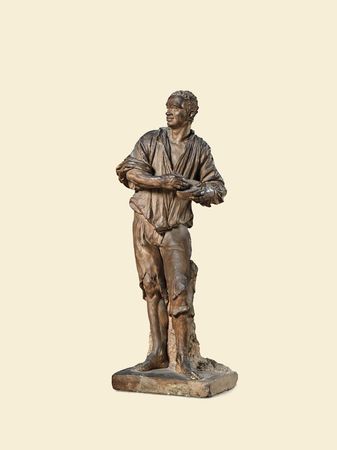 A black man holding a mixing bowl, 1736, Joseph Willems (circa 1705-1766). Terracotta. Height: 74.9 cm
A small bronze head of a cherub by Guglielmo della Porta (active 1534-1577) is a fascinating rediscovery by Tomasso Brothers Fine Art. It is the model for one of the famous cherubs from the volutes that flank the pedestal of the monument to the Farnese Pope Paul III which now stands on the wall of the chancel of the St Peter's Basilica, Rome . It is only occasionally that works by Guglielmo della Porta, the famous Lombard sculptor who trained in Genoa but is famed for his work in Rome , appear on the market.

A tender depiction of the Madonna and Child with the young St John the Baptist by Benedetto da Maiano (1442-1497) is a beautifully preserved stucco relief retaining most of its original polychrome decoration; it is also a rarity in that it retains its original frame. Da Maiano was one of the most accomplished marble carvers of the 15th century and the foremost sculptor in Florence , his reputation surpassing that of his master Antonio Rossellino. His work is known for its technical proficiency, powers of narrative expression and superb portraiture. His plaques, above all, show a clear understanding of the technical achievements by his predecessors such as the great plaques by Donatello (circa 1386-1466) and this example is a particularly beautiful rendition.

A more classical piece is a white marble bust of the Roman emperor Caracalla by Joseph Claus (active 1754-1783), signed J. CLAUS FECIT, dated 1757 and inscribed with the artist's monogram I.C. Claus, a highly talented and skilled marble carver originally from Germany , worked in Rome during the third quarter of the 18th century. He is known to have sculpted several busts, including important commissions from the Pope. He also carved two large statues of Venus and Apollo, signed and dated 1767, which are now part of the collection at Burghley House, Stamford , England . Claus is also famous for owning the studio that was eventually taken over by the illustrious sculptor Antonio Canova (1757-1822).

Other fine works in the exhibition include a marble relief of a woman in profile, circa 1520, by the uncle-nephew team of Vincenzo and Gian Gerolamo Grandi (1493-1577/1578 and 1508-1560 respectively); a delightful gilt bronze figure of Cupid riding a dolphin by Francesco Fanelli (c.1590-1653); and an important and large late 17th century Florentine bronze figure of Laocoön retaining all its original red lacquer.

The three Tomasso brothers, Dino, Giovanni and Raffaello, established their company in 1993 and are based at Bardon Hall, Leeds, in the UK . Their dynamic partnership was forged through their passionate love of art and their education in fine art from an early age. Whilst they have an interest in several fields, including antiquities, Old Master paintings and fine furniture, Tomasso Brothers Fine Art is recognised internationally for specialising in important European sculpture from the Early Renaissance to the Neo-Classical periods with a particular knowledge of European Renaissance bronzes. Tomasso Brothers Fine Art has promoted and supported, through loans and exhibitions, major international institutions such as The Fitzwilliam Museum, Cambridge , The Centro Internazionale, Carrara , The National Gallery, Prague , and The Kunsthistorisches Museum, Vienna . In addition the company has advised a number of American private collectors of European sculpture and made significant sales to some of America 's most prestigious museums.
Madonna and Child with the young St John the Baptist by Benedetto da Maiano (1442-1497). Polychromed stucco relief, in original frame, 83 x 63 cm.