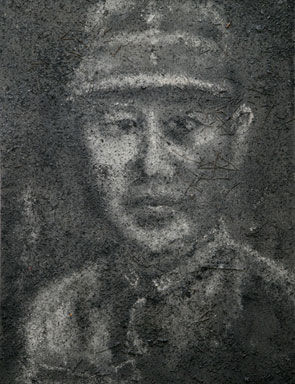 Zhang Huan, The Kuomintang, 2007. Incense ashes and adhesive, 250 x 160 cm. Photo: Courtesy Contrasts Gallery
TAIPEI.- Contrasts Gallery will exhibit works from six prominent international artists for the 17th edition of Art Taipei, August 20 – 24, 2010. The booth will showcase highlights from their 2010 program with works by Zhang Huan, Wang Dongling, Shao Fan, Wang Tiande and David LaChapelle. As a special feature, Contrasts Gallery will unveil new paintings by Li Tianbing in anticipation of his upcoming solo show Childhood Fantasy with the gallery this September.

Contrasts Gallery's exhibition program is designed to create new cultural exchanges by representing artists working in re-invented traditions and multi-disciplines. In this spirit, Contrasts Gallery will bring a wide range of mediums and techniques to Art Taipei. Artists represented by the gallery, while embodying contemporary Chinese culture, reinvent artistic traditions with a unique combination of past and present, Eastern and Western influences and experiences.

'Fantasies' and 'Memories' are recurrent themes in 'Childhood, Li Tianbing's most recent body of work. Rêve sur le ForêtLecture dans L'impasse (2010) reflect on his actual childhood experiences, but also his fantasies of childhood, creating imagined experiences. Li Tianbing, using photographs of himself as a child as a starting point of his self-portraits, illustrates a state of confusion where reality and fiction are intertwined. Growing up under the one child policy, the haunting loneliness revealed in these paintings is palpable. Also present are notions of his struggle to define his identity as an adult and reconcile the values of the East and the West.

Based on his own collection of old photographs and official propaganda publications, Zhang Huan's paintings are composed of incense ash collected from Buddhist temples. His paintings are moving meditations on themes of social history, spiritual aspiration and daily life. Zhang uses this unique and poetic media as an embodiment of the collective spirit and aspirations of the People of China, a spiritual way to transcend history and create a more precise overview of the past. In addition to three ash painting portraits, including The Kuomintang (2007), the gallery will show Fruit Forest (2007) from the Memory Door Series. Made of antique wooden doors collected from the Shanxi Province, Zhang uses the artistic tradition of Chinese silkscreen to create works where memories form a juxtaposition between reality and fiction.

Shao Fan combines theories of modernism and de-constructivism in his examination of China's quest for its modern identity. By mixing traditional elements of Ming Dynasty, such as the method of mortise and tendon joints, he creates objects that reflect contemporary Chinese culture. These works question whether expediency should replace the grace and the traditional beauty of the 'original form.' His continued obsession with Ming furniture inspired him to create works like the Ming Style Turd One (Six Parts) (2007) and Ming Style Eyebrow (2007). These pieces demonstrate his concern for the disappearance of Chinese culture and the West's domineering influence on Chinese contemporary life. Shao's 'Physical Universe of Nature' series takes inspiration from the Ming Dynasty Chinese Horse Shoe Chairs to reflect principles of Daoism, which state that humans and all nature are equal.

David LaChapelle's bizarre and gorgeous photographic images express a singular style, a unique combination of pop and the surreal. Inspired by everything from art history to street culture, LaChapelle creates both a mirror and a critique of popular culture today. His vibrantly colored photographs, often tableaux of many figures, have an over-the-top quality associated with Hollywood movies.

Also exploring China's struggle to define its modern identity are calligraphy artists Wang Tiande and Wang Dongling. Both artists use ink on paper as their primary medium, but also experiment with composition in an effort to deconstruct and reassemble traditional Chinese modes of communication. Wang Tiande's multi-media works are inspired by traditional Chinese landscape painting and calligraphy scrolls, yet these feature modern elements like cigarette burn marks. In Digital-No10-MH88 (2010), with its cultivated yet unconventional style, Wang preserves the aesthetic beauty of Chinese ink painting, while alluding to the loss of tradition in China's rapidly modernizing society. Wang Dongling uses his brush to explore the territory where traditional Chinese calligraphy meets contemporary abstraction. His works unfold in explosive ways in an attempt to make calligraphy relevant in the modern artistic world as seen in No Obstacle (2010).
Wang Dongli, No Obstacle, 2010. Ink on rice paper, 180 x 97 cm. Photo: Courtesy Contrasts GalleryWang Dongli, No Obstacle, 2010. Ink on rice paper, 180 x 97 cm. Photo: Courtesy Contrasts Gallery