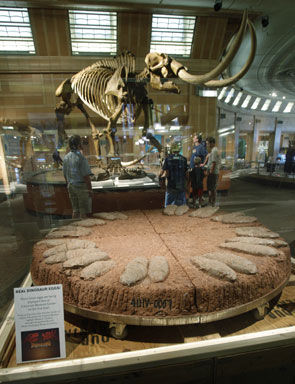 A fossilized nest of 26 dinosaur eggs arranged in pairs and laid by an unknown species of the feathered, beaked oviraptorosaurs is displayed. AP Photo/Al Behrman.
CINCINNATI, OH.- Four authentic fossils recently discovered in the Henan Province of China are now on display at Cincinnati Museum Center through early October.

A rib and two vertebrae comprise the partial remains of a titanosaur sauropod, a prehistoric giant named after the mythological Titans from Ancient Greece, dating to the early Cretaceous Period approximately 144 to 100 million years ago. Paleontologists assigned by the Chinese Academy of Sciences from the Institute of Vertebrate Palentology and Paleoanthropology uncovered the fossils with the help of local residents. The remains were used to identify a new species of sauropod, Huanghetitan ruyangensis, which is unique to the Henan region. The fossils will be on display at Museum Center starting August 27.

A fossilized Macroenlongatoolithus nest is also display. The nest, perhaps the most spectacular fossil of its kind in the world, contains 26 eggs arranged in pairs, likely laid by an unknown species of oviraptorosaur, a feathered dinosaur that inhabited modern day Asia and North America and resembled a primitive, flightless bird. The fossil also was discovered in Henan Province.

The fossils highlight Museum Center's international partnership with Henan Geological Museum. On Friday, August 27, nine Henan dignitaries, including Henan Geological Museum president, Pu Hanyong, will tour Cincinnati Museum Center at Union Terminal and the Geier Collections and Research Center.

"This international partnership represents a new collaboration between the Henan Geological Museum and Cincinnati Museum Center, and highlights the scientific and educational benefit we can derive from sharing specimens," said Glenn Storrs, PhD, assistant vice president of collections & research and the Withrow Farny curator of vertebrate paleontology at Museum Center. "By sharing discoveries and insight with one another, we can both grow as institutions of education and innovation."

The fossils will later be included in Dinosaur Bones: Titans of the Ruyang, a 3,000 square foot traveling exhibition created in partnership with Dinosaurs Unearthed, Corp. The exhibit features 12 large fossils from Ruyang County in Henan Province- a region known for its rich collection of dinosaur fossils.

"Dinosaur Bones: Titans of the Ruyang not only displays unique and recent dinosaur discoveries but also tells the story of the human, economic and cultural aspects of the place where these bones were found," stated DaoPing Bao, president and CEO of Dinosaurs Unearthed. "They [the fossils] represent the fascinating discoveries that are still being unearthed today that teach us about new species and enhance our knowledge about dinosaurs and how they lived."

Cincinnati Museum Center previously collaborated with Dinosaurs Unearthed in 2009 when it featured the Dinosaurs Unearthed exhibit- one of the top selling exhibits in Museum Center history.

"Dinosaurs Unearthed and Cincinnati Museum Center have developed a partnership in promoting, booking, staging and enhancing key exhibits," said Sandy Shipley, chief of staff and vice president exhibits at Cincinnati Museum Center. "Museum Center brings expertise in designing and fabricating interactive exhibits that appeal to children and families and add to the interpretation of the dynamic, animated dinosaurs, the real fossils, and other graphic information."

The Henan fossils will be on display until mid October, when they will then be added to the Titans of the Ruyang traveling exhibition.
Glenn Storrs, right, curator of vertebrate paleontology at the Cincinnati Museum Center, and Stephanie Lowe look at a vertebrae fossil from the tail of a long-necked titanosaur, Thursday, Aug. 26, 2010, on display at the museum in Cincinnati. The fossils were discovered in a province in China and are making their United States debut at the museum center. AP Photo/Al Behrman.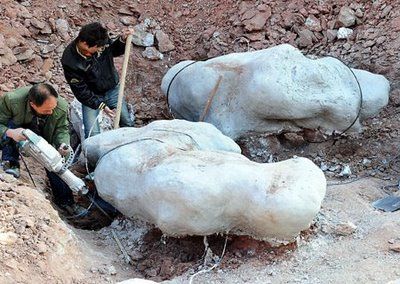 Scientists preserve the fossil of a dinosaur excavated in Liudian township in Ruyang County, central China's Henan Province, Dec. 9, 2008. Extremely large fossils of dinosaurs were discovered recently by scientists in an area in Ruyang County. The biggest fossil measures 3.3 meters long and 2.3 meters wide. According to the fossil of its bones, the dinosaur is supposed to be much bigger than the one found in last July, which was identified as Asia's Heaviest dinosaur. (Xinhua Photo)
Scientists clean up the fossil of a dinosaur excavated in Liudian township in Ruyang County, central China's Henan Province, Dec. 9, 2008. (Xinhua Photo)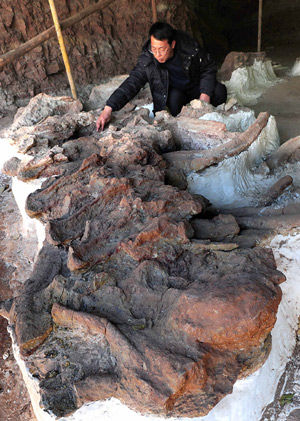 Scientists clean up the fossil of a dinosaur excavated in Liudian township in Ruyang County, central China's Henan Province, Dec. 9, 2008. (Xinhua Photo)