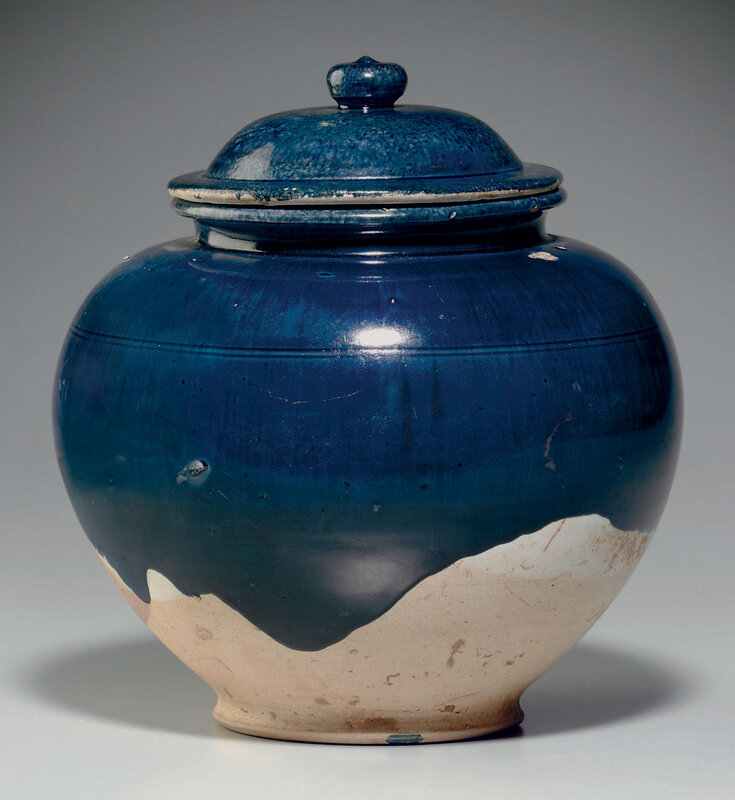 Lot 1302. A blue-glazed pottery jar and cover, Tang dynasty (618-907); 8¾ in. (22.2 cm.) high. Estimate USD 20,000 - USD 30,000. Price realised 25,000 USD. © Christie's Image Ltd 2010.
Covered with a rich dark blue glaze that continues over the lipped rim and falls in an irregular line on the lower body to expose some of the white slip underlayer, the interior covered with a clear glaze wash, raised on a ring foot, the body of buff color, the domed cover similarly glazed
Provenance: Acquired in Hong Kong, 1984.
Note: The result of Oxford Authentication thermoluminescence test no. C208c16 is consistent with the dating of this lot.
Lot 1303. A painted pottery figure of a caparisoned horse, Tang dynasty (618-907); 26 in. (66 cm.) long. Estimate USD 15,000 - USD 18,000. Price realised 27,500 USD. © Christie's Image Ltd 2010.
Modeled standing foursquare on a rectangular base with head turned slightly to the left and ears pricked, the long segmented mane swept over onto one side of the neck, richly arrayed in trappings hung with foliate medallions and with a long fur blanket draped over the saddle, with orange, pink and black pigments.
Property from The Fribourg Family Trust.
Provenance: Acquired in Hong Kong, 1997.
Lot 1306. A massive sancai-glazed pottery figure of a Bactrian camel, Tang dynasty (618-907); 33 7/8 in. (86 cm.) high. Estimate USD 50,000 - USD 70,000. Price realised 188,500 USD. © Christie's Image Ltd 2010.
Realistically modeled, with head arched back in a trumpeting bray, replete with elaborate saddlebags modeled as large grimacing monster masks glazed in green, the camel covered predominantly in cream and amber glaze with the carved details of the fur glazed in brown.
Provenance: Acquired in Hong Kong or China in the 1930s by Henry R. Luce, thence by descent to Henry Luce III in 1967, and thence by descent in 2005 to the consignor.
Note: This massive and exceptionally handsome camel is a particularly fine example of the type of figure that was made to go into the tombs of the Tang elite. Such models, which would have been very expensive to purchase, provided an obvious indication of the wealth of a family who could afford to inter such costly goods with their deceased relative. Not surprisingly, camels have been found among the burial items in a number of the Tang imperial tombs, as well as some of those belonging to other members of the Tang nobility.

The two-humped Bactrian camel was known in China as early as the Han dynasty, having been brought from Central Asia and Eastern Turkestan as tribute. Its amazing ability to survive the hardships of travel across the Asian deserts was soon recognized, and imperial camel herds were established under the administration of a special Bureau. These herds, numbering several thousand, were used for a range of state duties, including the provision of a military courier service for the Northern Frontier. Camels were not only prized as resilient beasts of burden, their hair was also used to produce a cloth, which, then as now, was admired for its lightness and warmth. Even camel meat was regarded as a delicacy, with the hump being noted as particularly flavorsome.

A striding camel of slightly smaller size (84 cm. high), also with head raised and mouth opened in a bray, with brown-glazed tufts of hair, in the British Museum, London, is illustrated in Sekai toji zenshu, vol. 11, Tokyo, 1976, p. 148, no. 136.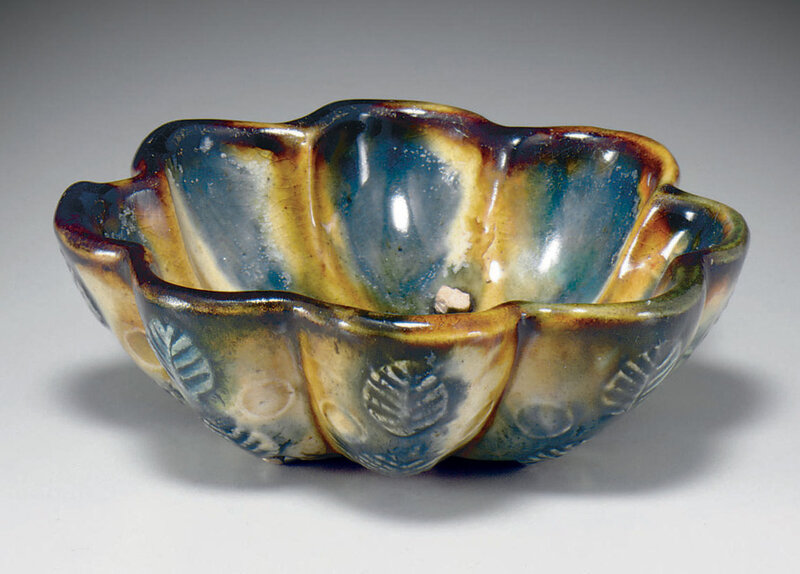 Lot 1307. A small blue, amber and clear-glazed octalobed bowl, Tang dynasty (618-907); 4 1/16 in. (10.3 cm.) across. Estimate USD 7,000 - USD 9,000. Price realised 8,750 USD. © Christie's Image Ltd 2010.
Each lobe relief-decorated on the exterior with two vertically positioned leaves flanked by circles, the applied base formed by eight further leaves radiating from a small circular center, the lobes outlined in amber and striped in blue glaze on the exterior and interior, with three spur marks on the interior and on the base

Provenance: Acquired in Hong Kong, 1990.
Lot 1308. A rare resist-decorated green, cream and amber-glazed pottery quatrefoil footed dish, Tang dynasty (618-907); 8¾ in. (22.2 cm.) across. Estimate USD 12,000 - USD 17,000. Price realised 15,000 USD. © Christie's Image Ltd 2010.
The shallow dish formed as four trefoil-shaped arms, the interior resist-decorated in green and cream glaze in contrast to the pale amber glaze on the exterior, which also covers the tops of the four leaf-shaped loop supports.
Provenance: Acquired in Hong Kong, 1995.
Note: A similarly glazed dish of this form was sold in these rooms, 15 September 2009, lot 315.
Christie's. Fine Chinese Ceramics and Works of Art, New York, 16 - 17 September 2010