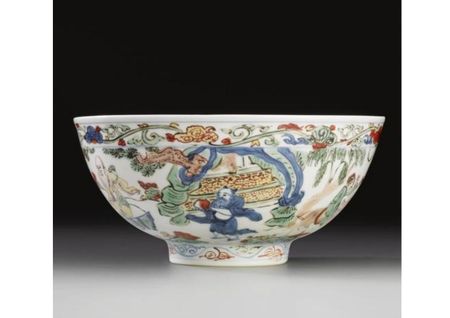 A fine 'Wucai' 'Immortals' bowl. Wanli Mark And Period. Photo: Courtesy Sotheby's
painted on the interior with a ferocious dragon amongst clouds and foliage, within a border of floral sprays on the rim, the exterior well-painted with a continuous scene of the Eight Immortals beneath pine and willow trees, all below a lingzhi scroll at the rim, the base inscribed with a six-character reign mark in underglaze-blue; diameter 6 3/4 in., 17.3 cm - Estimate 60,000 - 80,000 USD
Note: A pair of identical bowls from the Christina Loke Balsara Collection, sold at Christie's Hong Kong, 19th January 1988, lot 263. Another similar bowl with a related subject of Shoulao sold in our London rooms, 9th June 1987, lot 244.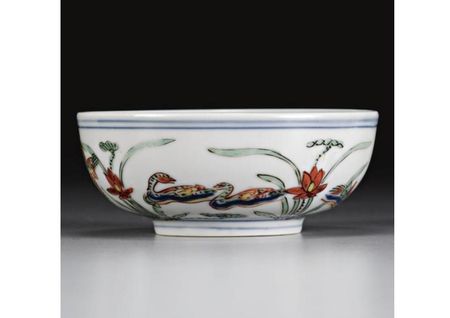 A fine and rare small 'Wucai' bowl. Wanli Mark And Period. Photo: Courtesy Sotheby's
the shallow rounded sides above a short slightly tapered foot, the exterior delicately painted with pairs of ducks between clusters of lotus flowers, the center of the interior further decorated with a medallion of four ruyi-heads encircling a coin motif, the base inscribed with a six-character reign mark in underglaze blue; diameter 3 1/2 in., 9 cm - Estimate 40,000 - 60,000 USD
Note: The image of pairs of ducks swimming amongst lotus flowers is a popular motif in Chinese art as it symbolizes the wish for many sons and a harmonious marriage. The present bowl is rare as this subject is more commonly depicted on dishes or vases. Compare, for instance, two examples in the collection of the Palace Museum, illustrated in Porcelains in Polychrome and Contrasting Colours. The Complete Collection of Treasures of the Palace Museum, Hong Kong, 1999, pp. 24-25, no. 22 and pp. 27-28, nos. 24 and 25.
Sotheby's. Fine Ceramics and works of Art. 15 Sept 2010. New York www.sothebys.com