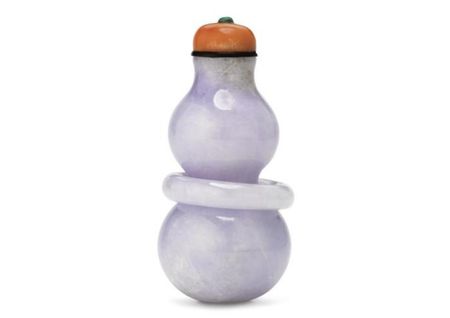 A lavender jadeite ringed double-gourd snuff bottle. Possibly Imperial, Attributed to the Palace workshops, Beijing, 1770-1820. photo courtesy Sotheby's
well hollowed, of double-gourd form resting on a small concave base, the gently flared neck culminating in a slightly concave mouth, the mid-section of the gourd encircled by a loose ring, the stone of pale lavender color with a green inclusion; height 2 1/4 in., 5.7 cm - Estimate 18,000 - 25,000 USD
PROVENANCE: A private American jade collection formed before 1965.
Robert Kleiner.
LITERATURE: Vanessa F. Holden, 'The Joe Grimberg Collection of Chinese Snuff Bottles', Oriental Art, 2002, Vol. 48, No. 4, pp 65-72, fig. 16.
NOTE: .The execution and finesse of the present bottle is a tour-de-force of carving, having required tremendous skill from the craftsman. While the bottle itself is masterfully finished with a smooth polish and displays subtleties of form, such as the gentle concavity of the mouth and base, the loose-ring is the most impressive of features, as it was carved from the same block of material as the bottle.carved from the same block of material as the bottle.
The possible attribution of this bottle to the Palace collection is by comparison white a jade bottle in the Nationa Palace Museum in Taipei, which has a similarly flared neck and is carved with a four-character Qianlong seal mark on the base. See Chang Lin-sheng, Snuff Bottles in the Collection of the National Palace Museum, Taipei, 1991, p.150, fig. 121. Another white jade example, also possibly imperial, was sold in our London rooms, 23rd March 1988, lot 398, and is illustrated in Hugh Moss, Victor Graham and Ka Bo Tsang, A Treasury of Chinese Snuff Bottles. The Mary and George Bloch Collection. Volume 1, JADE. Hong Kong, 1995, pp. 184-185, pl. 74. The combination of the ringed double-gourd design on a lavender jadeite bottle is very rare, and no further examples appear to have been published.
A lavender jadeite snuff bottle. 1780-1850. photo courtesy Sotheby's
very well hollowed, of rectangular form and section resting on a neatly finished footrim, below a slightly flared neck, each face and side carved with a raised panel finished with beveled edges, the stone of an intense lavender color suffused with patches of iridescent white; height 2 1/8 in., 5.4 cm - Estimate 15,000 - 25,000 USD
PROVENANCE: Robert Kleiner
NOTE: The design of the present bottle is similar to a white jade example in The White Wings Collection, which is inscribed on each face and includes a cyclical date that most likely corresponds to 1814. See Robert Kleiner, Chinese Snuff Bottles: The White Wings Collection, Hong Kong, 1997, p. 55, pl. 29.
A lavender jadeite snuff bottle. 1800-1900. photo courtesy Sotheby's
well hollowed, of bulbous form resting on a flat oval base, below a cylindrical neck, the stone of an even pale lilac color with white striations; height 2 3/8 in., 6 cm - Estimate 10,000 - 15,000 USD.
PROVENANCE: Robert Hall
LITERATURE: Patrick K. M. Kwok, 'The Joe Grimberg Collection of Chinese Snuff Bottles', Arts of Asia, November-December 1993, p. 94, no. 20.
NOTE: No records have come to light as yet dating the first import of lavender jadeite into China. Jadeite was known to the Chinese from the late Ming dynasty but did not become a valued material until the last quarter of the Qianlong reign, when it became accepted as a highly valued alternative form of jade. There are one or two blue jadeite examples, which because of their extreme hollowing are very pale in color, and it may be that generally lavender examples, which jade lost its distinctive color when finely hollowed, rendering it rather pointless as a combination of technique and material. It is likely that the material became popular, or was first mined, in the first half of the nineteenth century.
For examples of lavender jadeite snuff bottles in private collections, see Robert Kleiner, Treasures from the Sanctum of Enlightened Respect. Chinese Snuff Bottles from the of Collection Denis Low, Hong Kong, 1999, p. 71, no. 58; and another in The Crane Collection, thecranecollection.com, no. 285. One example was sold in these rooms, 23rd March 1999, lot 203; and in our Hong Kong rooms, 5th May 1994, lot 1459.
Sotheby's. The Joe Grimberg Collection of Chinese Snuff Bottles, New York, 14 Sep 2010