Justine Reyes, Still Life With Agelgel & Lemons. photo courtesy Rosier Gallery
Rosier Gallery is pleased to present the color photographs of Justine Reyes' series "Vanitas" from September 9 - November 30, 2010. This body of work originated in 2008, continues to be developed, and now contains over twenty images. The current exhibition marks the first time Rosier Gallery has presented Ms. Reyes' work.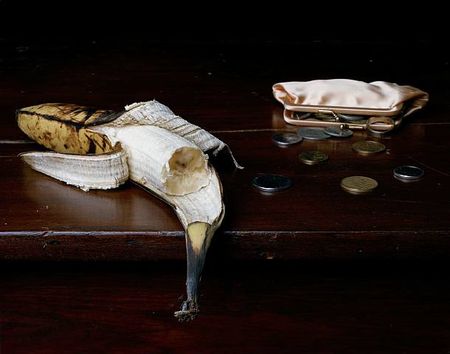 Justine Reyes, Still Life With Banana, Purse & Change. photo courtesy Rosier Gallery
Dutch vanitas paintings flourished during the 16th and 17th centuries. These traditionally dark hued still lifes depicted objects such as timepieces, decaying fruit and skulls. Such images reminded viewers of the inevitable emptiness of pursing earthly delights, the precious nature of one's time on earth and the importance of pursuing a pious life preparing for eternity.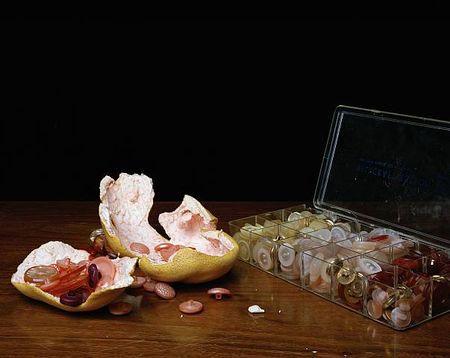 Justine Reyes, Still Life With Buttons & Rind. photo courtesy Rosier Gallery
Justine Reyes creates a contemporary update to this genre with her "Vanitas" series. The current work echoes the "still life" appearance and generally darker palette of traditional vanitas painting. By utilizing the contemporary medium of photography and augmenting signature vanitas objects such as wilting flowers, decaying fruit and skulls with modern items including saran wrap, plastics, photographs and a metal King Kong lunchbox, Ms. Reyes evolves the images into our current era.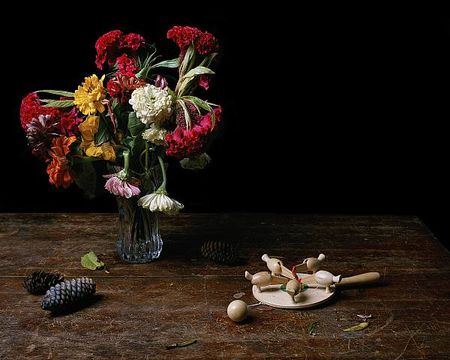 Justine Reyes, Still Life With Chicken Game & Flowers. photo courtesy Rosier Gallery
"Vanitas" not only represents a contemporary rendition of the historical style, but also a deeply personal body of work. The artist has paired her own objects with others belonging to her grandmother. This personalization mutes the religious context embedded in the traditional style and augments the notes of nostalgia, memory and familial legacy heard throughout the series.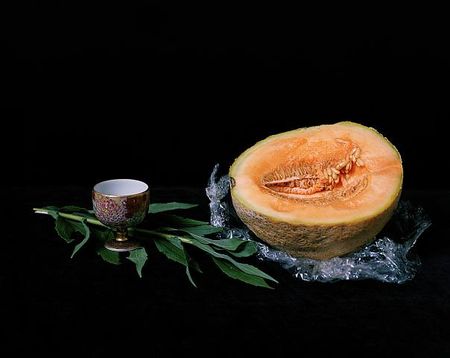 Justine Reyes, Still Life With Cup & Mellon.photo courtesy Rosier Gallery
Justine Reyes' work has been exhibited worldwide, including Proyecto Circo at the 8th Havana Biennial, Cuba; Contemporary Istanbul, Turkey; Queens International 4 at the Queens Museum of Art in 2009; and the Humble Arts Foundation's 31 Women in Art Photography in 2010. She was the artist in residence at the Center for Photography at Woodstock in 2008 and exhibited the series "Vanitas" there in 2010. Reyes was recently awarded the Juror's Choice Award from Center's project competition, a workspace residency from the Lower Manhattan Cultural Council for 2009-2010 and Visiting Scholar status at New York University. Justine Reyes received an MFA from the San Francisco Art Institute in 2004 and a BFA from Syracuse University in 2000. She lives and works in New York City.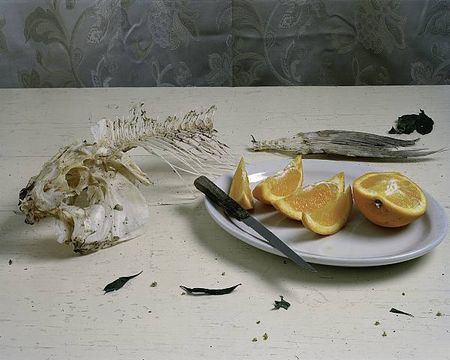 Justine Reyes, Still Life With Fish & Orange Slices. photo courtesy Rosier Gallery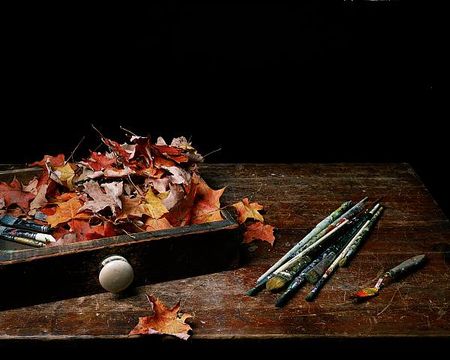 Justine Reyes, Still Life With Paintbrushes & Leaves. photo courtesy Rosier Gallery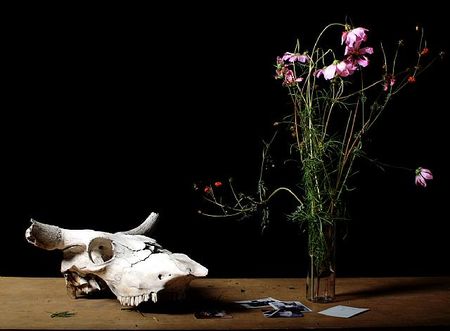 Justine Reyes, Still Life With Photographs & Skull. photo courtesy Rosier Gallery
Justine Reyes, Still Life With Pomegranate & Birds. photo courtesy Rosier Gallery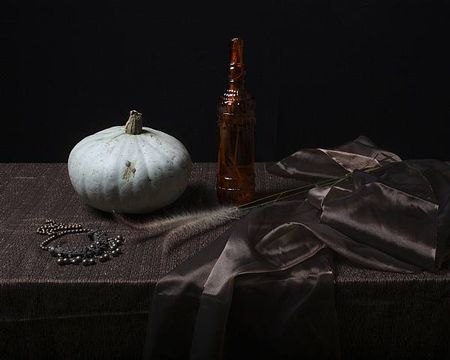 Justine Reyes, Still Life With Pumpkin. photo courtesy Rosier Gallery
Justine Reyes, Still Life With Tea & Grapes. photo courtesy Rosier Gallery