A blue and white and copper-red 'Shou' lotus dish. Kangxi mark and period. photo courtesy Sotheby's
of lotus form, the interior moulded with two rows of petals centering a medallion painted with a shou character and a ruyi head border, the inner ring painted copper red and the outer ring outlined in underglaze-blue, the exterior similarly decorated with outer petals alternately enclosing stylized characters and copper red florets, the base painted with an eight character Kangxi renzi Zhonghe Tang zhi mark ('made for the Zhonghe hall in the renzi year of Kangxi', corresponding to the year 1672)8 1/4 in.; diameter 8 3/8 in., 21.2 cm - Estimate 9,000 - 12,000 USD
PROVENANCE: Sotheby's Hong Kong, 24th November 1981, lot 271.
Ralph M. Chait, New York.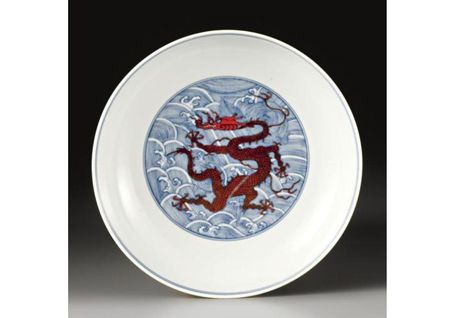 An iron-red and underglaze-blue 'Dragon' dish. Qianlong Mark And Period. photo courtesy Sotheby's
the interior painted with a central medallion featuring an iron-red dragon amidst underglaze-blue rolling waves, the exterior further decorated with a band of nine dragons in various positions against a wave ground below a linked cash border, the base painted with a six character Qianlong seal mark; 6 7/8 in.; diameter 6 7/8 in., 17.5 cm - Estimate 8,000 - 10,000 USD
A blue and white and copper-red decorated bowl. Qing dynasty, 18th century. photo courtesy Sotheby's
the deep rounded sides freely painted with three peach clusters rising to an everted rim, the fruit picked out in copper-red, the interior similarly decorated with a central medallion with a further sprig of peaches, all between double line borders on the rim and the high foot; diameter 7 5/8 in., 19.4 cm - Estimate 7,000 - 9,000 USD
PROVENANCE: Ralph M. Chait, New York.
Sotheby's. Fine Ceramics and works of Art. 15 Sept 2010. New York www.sothebys.com