Encrier et pendule de bureau. Paris - 1752. Maître Orfèvre François-Thomas Germain © Bernard De Leye
Argent, bronze doré et porcelaine de Vincennes, âme en bois.
Dimensions : Le support en bronze:. Longueur : 39,8 cm; Largeur : 25 cm; Hauteur totale : 41 cm - L'encrier-bateau: Hauteur : 37 cm; Longueur : 32 cm
Bibliographie: Objet répertorié dans l'ouvrage : Cedric Jagger - Clocks - Orbis Publishing - London- 1973 - p.38 n°39.
Provenance: Château de Thoiry - Ancienne collection de Jean-Baptiste de Machault d'Arnouville.
Jean-Baptiste de Machault d'Arnouville : Homme de grande influence, il est nommé Contrôleur Général des Finances en 1745 et Garde des Sceaux de Louis XV en 1750. Personnage exceptionnel dont la vie couvrira presque l'entièreté du siècle,sa carrière sera étroitement liée à la Marquise de Pompadour. Elle en fera son protégé et favorisera sa carrière auprès de Louis XV qui le nommera également Secrétaire d'Etat à la Marine en 1754. Jean-Baptiste de Machault d'Arnouville estLouis XV qui considéré comme un des plus grands amateurs d'art de son époque. La plupart des pièces provenant de sa collection sont parmi les plus prestigieuses des arts décoratifs français du XVIIIe siècle.
François-Thomas Germain, né en 1726, devient Maître Orfèvre à Paris en 1748 succédant à son père Thomas Germain. Agé de 22 ans, il hérite à cette date du titre d'orfèvre et de sculpteur du Roi. En 1750, il prend la tête de l'atelier paternel, un des plus prestigieux de Paris, qui fournissait déjà la clientèle la plus brillante d'Europe. Les dix premières années de la carrière de François-Thomas Germain sont chargées de commandes considérables : pour le Garde-Meuble , les Présents du roi et les Cours de Portugal et de Russie.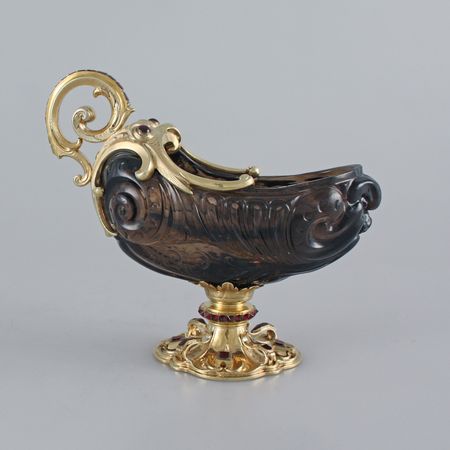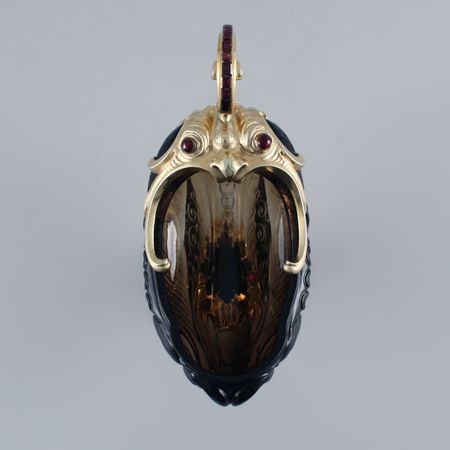 Coupe en quartz enfumé, vermeil et grenats. Monture de Prague - circa 1600. Taille de pierre attribuée à Ottavio Miseroni ou atelier de Miseroni à Milan. © Bernard De Leye
Dimensions: Hauteur : 13,8 cm - Longueur : 15,8 cm - Longueur base : 6,6 cm – Largeur base : 7,2 cm
Ottavio Miseroni travaille pour l'empereur Rodolphe II à Prague à partir de 1588. Il est l'auteur du plus grand vase en jaspe connu faisant partie des trésors de Louis XIV. Ottavio Miseroni a la particularité d'exploiter la pierre dans sa forme naturelle Ses mascarons taillés dans la pierre, créatures monstrueuses ou grotesques sont une signature de l'artiste. La base en vermeil est constituée d'éléments en volutes enchâssant des grenats plats carrés.
La coupe en quartz enfumé est taillé d'un extraordinaire motif composé de godrons, de volutes de chute de piastres, de coquille et se terminant sur le bec par un mufle se détachant de la pierre. La prise, constituée d'une large volute s'enroulant en crosse est sertie de grenats en taille rectangulaire. Il se pose sur la coupe en un masque monstrueux dont la gueule béante se répartit en large volute de par et d'autre de la coupe. L'effet provoqué par cet élément est saisissant et est souligné par deux yeux en grenats circulaires. Cette profusion d'effet se retrouvant sur un seul même objet nous prouve l'extraordinaire talent de Miseroni.
Dans la profession depuis 1977, Bernard De Leye est spécialisé en orfèvrerie ancienne européenne des XVIè, XVIIè, XVIIIè et XIXè siècles.

Bernard De Leye est nommé président de la Chambre Belge des Experts en Œuvres d'Art en 2002 en en deviendra vice-président et président honoraire en 2006. Durant cette même année, il sera nommé Chevalier des Arts et des Lettres au Ministère de la Culture en France. Il est nommé président de la BRAFA (Brussels Antiques and Fine Art Fair) en 2009.

La galerie Bernard De Leye est présente dans des foires internationales telles que la BRAFA, la Biennale de Paris, la Biennale de Monaco, The Moscow World Fine Art Fair, The Shanghaï Fine Jewellery and Art Fair.
Monsieur Bernard DE LEYE. DE LEYE Bernard - Stand S11. XXVe Biennale des Antiquaires. Grand Palais, 15-22 septembre 2010 - bernard.de.leye@skynet.be - www.orfevrerie.be