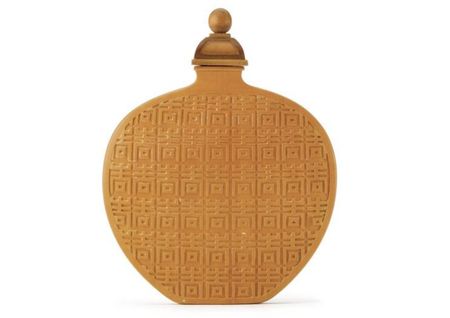 A rare bamboo veneer 'Hundred Shou Character' snuff bottle. 1750-1800. Imperial, Attributed to the Palace workshops, Beijing. photo courtesy Sotheby's
of rounded spade shape, with plain narrow sides tapering towards the flat foot, the slightly flared neck of square section, each main face carved with 50 shou ('longevity') characters, the bamboo stopper outlined with darker veneer surmounted by a ball finial; height 2 1/8 in., 5.4 cm – Estimate 60,000 - 90,000 USD
PROVENANCE : Christie's New York, 1st December 1994, lot 529
.
NOTE: Bamboo veneer, or zhuhuang, was a technique developed in Jiangxi, province in the mid-Qianlong period and taken up by the Palace Workshops thereafter remaining popular in the Court into the 19th century. It required tremendous skill, using the inner layer from the cortex of the bamboo, which contained a hard enamel and was resistant to insects. It was this inner layer that was used to create the veneer, which was decoratively applied to a base form, usually of bamboo, and subsequently carved.
A bottle of the same design is in the collection of the Palace Museum in Beijing, and is illustrated in Masterpieces of Snuff Bottles in the Palace Museum, Beijing, 1995, fig. 186, p. 181. Another identical bottle, from the collection of Denis Low, is illustrated in Robert Kleiner, Treasures from the Sanctum of Enlightened Respect, Hong Kong, fig. 207, 1999, p. 242.
The subject of the present bottle, the 100 shou or longevity characters, is appropriately matched with the bamboo medium as the grass is known for its long life. A bamboo veneer bottle such as this would have been appropriate for a scholar-official in the court as bamboo is also representative of the attributes of a gentleman, being strong, yet flexible, and evergreen (symbolizing constancy).
Sotheby's. The Joe Grimberg Collection of Chinese Snuff Bottles, New York, 14 Sep 2010