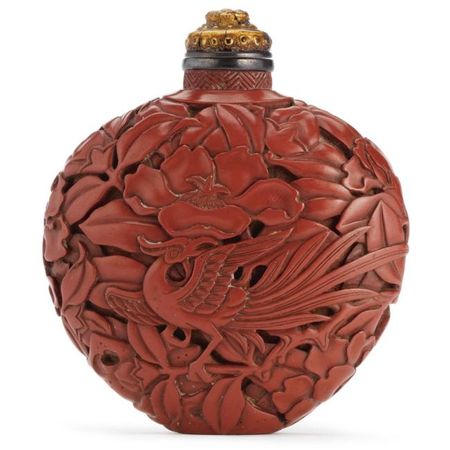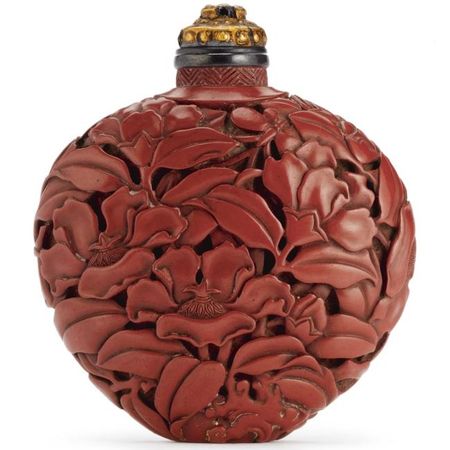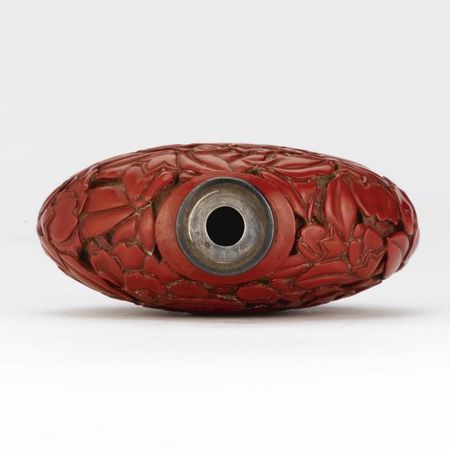 A Japanese cinnabar lacquer on bronze snuff bottle. 1800-1900. photo courtesy Sotheby's
of flattened spade shape below a cylindrical neck and metal-bound mouth, resting on a flat oval base, finely carved with a continuous field of magnolia blossoms and leaves, one face depicting a phoenix elegantly perched on a stem, the gilded bronze base incised with an apocryphal four-character Qianlong nianzhi mark; height 2 3/4 in., 7 cm - Estimate 10,000—15,000 USD. Lot Sold 20,000 USD
PROVENANCE: Sotheby's London, 2nd July 1984, lot 215
LITERATURE AND REFERENCES: Patrick K. M. Kwok, 'The Joe Grimberg Collection of Chinese Snuff Bottles', Arts of Asia, November-December 1993, p. 97, no. 50
NOTE: The present bottle belongs to a group of which only four others have been recorded. Two are illustrated in: Robert Kleiner, Chinese Snuff Bottles: The White Wings Collection, Hong Kong, 1997, p. 214, no. 149; and Hugh Moss, Chinese Snuff Bottles: 5, Feltham, Middlesex, 1969, p. 31, fig. 20. The fourth was sold in our London rooms, 2nd July 1984, lot 215. For an explanation of the group's Japanese origins, see Kleiner, op.cit., pp. 214-215.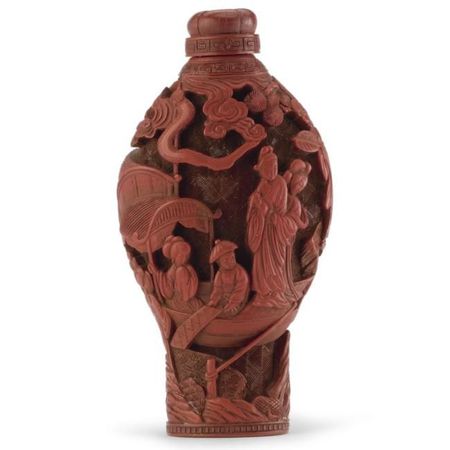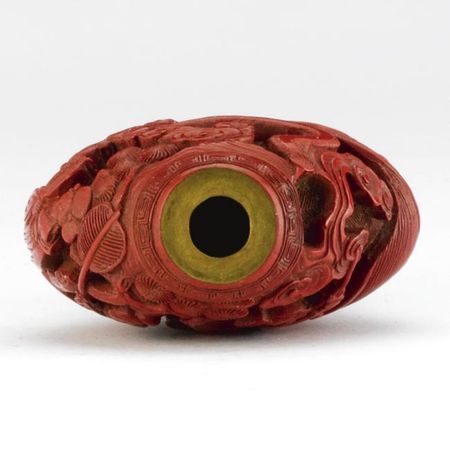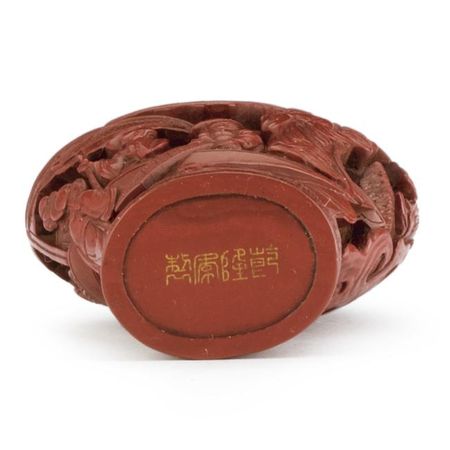 A Japanese cinnabar lacquer on bronze snuff bottle. Meiji period, 1868-1912. photo courtesy Sotheby's
of tall ovoid form on a tall upright foot, deeply carved with a continuous scene of figures on a canopied sampan approaching land, greeted by a lady being fanned by an attendant, while a warrior on his horse waits nearby, with a pine tree and swirling clouds below the keyfret-carved collar, against chevron and floret diaper grounds, the foot of oval section and incised with a four-character apocryphal Qianlong nianzhi seal mark, the original matching stopper carved as a flower bud; height 3 in., 7.6 cm - Estimate 10,000—15,000 USD. Lot Sold 7,500 USD
PROVENANCE: Robert Hall
NOTE: Although the Japanese did grow and smoke tobacco, there is no documentation that they ever took snuff. Therefore, bottles originating in Japan were almost certainly made for the export market.
Sotheby's. The Joe Grimberg Collection of Chinese Snuff Bottles, New York www.sothebys.com