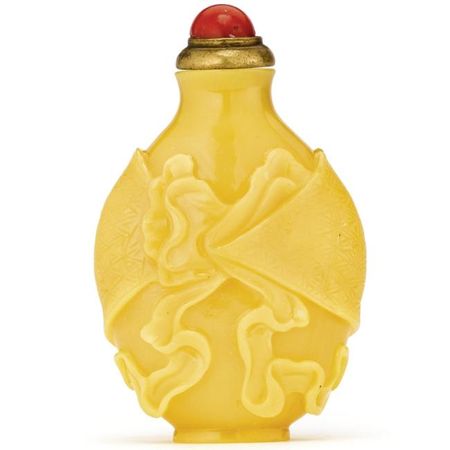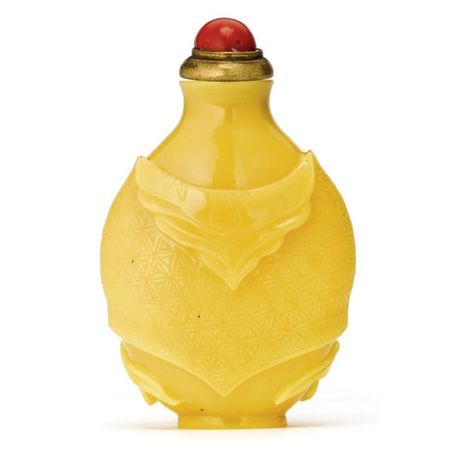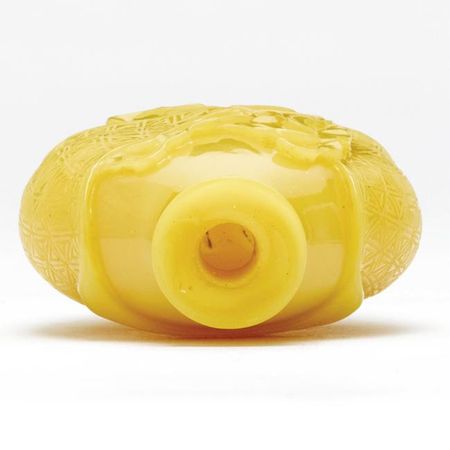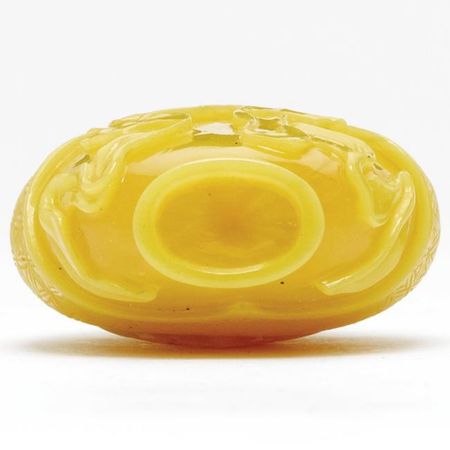 A yellow glass snuff bottle, 1750-1795. Imperial, attributed to the Palace workshops, Beijing. photo courtesy Sotheby's
of slender elongated oval form, with shoulders sloping to a waisted neck with slightly everted mouth, the glass of even rich yellow tone, finely carved in relief as if wrapped with a brocade cloth tied with a trailing ribbon; height 2 1/8 in., 5.4 cm. Estimate 20,000—30,000 USD. Lot Sold 31,250 USD
PROVENANCE: Gerd Lester Collection.
Sotheby's New York, 17th March 1997, lot 21.
LITERATURE AND REFERENCES: Gerd Lester, 'Chinese Snuff Bottles of the Qing Period: Miniature Masterpieces in Glass', Arts and Antiques, July-August 1983, cover and p. 71.
Vanessa F. Holden, 'The Joe Grimberg Collection of Chinese Snuff Bottles', Oriental Art, 2002, Vol. 48, No. 4, pp. 65-72, figs. 10 & 11.
NOTE: The artistic conceit of the faux wrapping of an object in brocade appears in other media in Qing works of art, notably on porcelain and cloisonne, as well as on jade and enamel snuff bottles. Glass snuff bottles carved in this style tend to be finely executed and somewhat rare, the majority of them being of a monochrome color. The Crane Collection has an unusual overlay example in milk-white over pink glass, which is given an Imperial attribution, see www.thecranecollection.com, no. 121. For a celadon-green bottle of this type see Robert Kleiner, Treasures from the Sanctum of Enlightened Respect, Singapore, 1999, p. 89, no. 72, where the author attributes the carving to the Palace Workshops, Beijing, and notes that the brocade diaper is 'a symbol of an Imperial birthday gift.' A similarly carved yellow glass bottle was sold in our London rooms, 2nd May 1985, lot 377.
Sotheby's. The Joe Grimberg Collection of Chinese Snuff Bottles, 14 Sep 10, New York www.sothebys.com