An important and rare bronze wine vessel and cover, Fangyi late Shang dynasty, Anyang, 12th-11th Century BC. Price realized: US$3,330,500. Photo: Christie's Images Ltd 2010
NEW YORK, NY.- In a sign that fine art collectors are growing ever more comfortable with bidding online, Christie's International reports that the top lot in Thursday's sale of The Sze Yuan Tang Archaic Bronzes from the Anthony Hardy Collection sold for $3.3 million to an online bidder, setting a new house record for the most expensive item sold online. The sale price smashed the previous Christie's online sales of $1.27 million, set in April 2008 for a Stradavari violin purchased online using Christie's LIVE™, the company's proprietary online bidding platform.

The new record of $3.3 million was set by an American collector who competed against bidders in the saleroom and on the phone to win the rare Chinese bronze wine vessel Fangyi, from the late Shang dynasty. Widely published and extensively exhibited in museums worldwide, this striking, heavily decorated container and cover is believed to have been a prized ritual vessel at the time of its creation in 12th-11th century BC. Inscriptions on both the vessel and cover record the clan names of the artisans who made the vessel as well as the ancestors to whom the vessel is dedicated.

In total, 22% of the lots sold in Thursday's sale, which totaled over $20 million, were sold to or directly underbid by clients using the Christie's LIVE™ application. Since 2007, every category of fine art, antiques and collectibles sold in Christie's salerooms worldwide have been enabled for online bidding. The most popular collecting categories for online bidding at Christie's include Watches, Fine and Rare Wines, and Interiors. Prior to today's sale, three lots have sold online for over the US$1 million mark, including jewelry and Chinese works of art.

Michael O'Neal, Senior Vice President and Director of Digital Media at Christie's, commented: "Today's new house record is a sign that Christie's clients are as comfortable bidding online as they are with bidding in person in our salerooms, on the phone, or by absentee ballot. We recognize that our clients are increasingly mobile and rely on the Internet and mobile devices to conduct business with us. We are pleased that Christie's LIVE™ has become such a core component of our auction business since its launch in 2007, and we look forward to rolling out more mobile applications and online enhancements to our clients later this fall."

Christie's remains the only international auction house to offer real-time, online bidding in all of its sale categories worldwide. In 2009, $68.4 million (£43.5 million) was bid online including premium and Christie's LIVE™ generated 49,343 accepted bids for the year. 30% of all bids and 14% of all winning bids came in through online channels and the number of winning bidders participating online increased by 40% over 2008. In July 2009, Christie's became the first international auction house to launch a mobile application with the announcement of its free app for the iPhone and iTouch. Earlier this summer, Christie's expanded its mobile application compatibility to include all mobile phones, regardless of platform or device.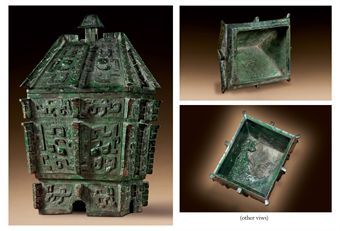 An important and rare bronze wine vessel and cover, Fangyi late Shang dynasty, Anyang, 12th-11th Century BC. Price realized: US$3,330,500. Photo: Christie's Images Ltd 2010.
The tapering body of rectangular section cast in low relief on each side with a taotie mask composed of detached elements cast with leiwen divided by a notched flange, repeated at the corners and in the center of a band of kui dragons below the rim, and addorsed kui dragons on either side of the small arched openings in the foot, all on leiwen grounds, each facet of the roof-shaped cover with an inverted taotie below the knop finial, both the base of the interior and interior of the cover cast with an eight-character inscription within a ya-shaped outline, with heavy malachite encrustation on the interior of the vessel and malachite encrustation on the exterior and interior of the cover; 11¼ in. (28.5 cm.) high, box
Provenance: Burchard Collection, London.
Ernst Gross-Spühler Collection.
Sotheby's, London, 10 December 1985, lot 8.
Eskenazi Ltd., London, 10 December 1985.
Literature: Wu Dacheng, Kezhai ji gu lu, 1918, vol. 1, no. 4.
Karlgren, "New Studies on Chinese Bronzes", BMFEA 9, 1937, pl. XXVII, no. 1268; and pp. 17, 68, and 81.
Barnard and Cheung, Rubbings and Hand Copies of Bronze Inscriptions in Chinese, Japanese, European, American and Australasian Collections, 1978, vol. 8, fig. 1026.
Sun Zhichu, Jinwen zhulu jian mu, 1981, no. 4525.
Hayashi, In Shu jidai seidoki soran ichi, 1984, vol. 1, pl. 252, no. 29.
Wang Tao and Liu Yu, A Selection of Early Chinese Bronzes, 2007, p. 324.
Yin Zhou Jin wen ji cheng, 2007, vol. 6, nos. 9886 and 9887.
Exhibited: On loan: Museum Rietberg, Zurich.
Bronzen aus dem alten China, Museum Rietberg, 1975, cat. no. 24.
Ancient Chinese and Ordos Bronzes, Hong Kong Museum of Art, 1990, no. 16.
The Glorious Traditions of Chinese Bronzes, Singapore, 2000, no. 18.
Metal, Wood, Water, Fire and Earth, Hong Kong Museum of Art, 2002-2006, p. 109.
Notes: The inscriptions cast inside the vessel and cover, each of which consists of eight characters written inside a yaxing, may be interpreted, "Ya Ruo", "Ya Shi", "Ya Shou" and "Ya Xuan", which, according to Li Xueqin, The Glorious Traditions of Chinese Bronzes, p. 72, are clan names of the Yin-Shang period, while "Gui" and the other names are the ancestors to whom sacrifices were offered. The same inscription can be found on a few other bronzes including a very similar fangyi, possibly the pair to the present vessel, formerly in the Avery Brundage Collection, and a yu in the Museum of Fine Arts, Boston, both published by Chen Mengjia, Yin Zhou qingtongqi fenlei tulu, 1977, A641, R137 and A143, R453, respectively.

Fangyi appear to have been one of the most prized of ritual vessels, as they have been found in fewer and more sumptuous tombs then jue and gu. In Ancient Chinese and Ordos Bronzes, p. 92, J. Rawson and E. Bunker, in their discussion of this vessel, note that during the Shang dynasty rare vessels of this type were used in pairs, as seen in the tomb of Fu Hao, Yinxu Fu Hao mu, Beijing, 1980, pls. XVIII (2) and XIX (1 and 2). They are thought to have been used to store wine, and the heavy malachite encrustation in the base of the interior of the present vessel is most likely the remains of some kind of wine made from grain. A distinctive feature of this vessel is the use of leiwen or intaglio decoration on the motifs, which can also be seen on a very similar fangyi included in the Exhibition of Chinese Arts, C.T. Loo & Co., New York, 1 November 1941 - 30 April 1942, no. 32. This feature can also be seen on a related fangyi, illustrated by B. Karlgren, "Bronzes in the Wessén Collection", BMFEA 30, 1958, pls. 1-3.

A fangyi with very similar bands of decoration, but lacking the leiwen ground design and the intaglio decoration on the raised motifs, is in the Palace Museum, Beijing. See, The Complete Collection of Treasures of the Palace Museum - 27 - Bronze Ritual Vessels and Musical Instruments, Hong Kong, 2006, p. 142, no. 91. (Fig. 1)