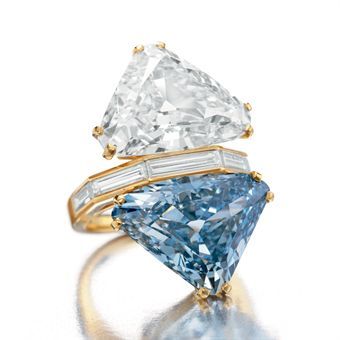 The Bulgari Blue Diamond. Photo: Christie's Images Ltd 2010 .
A two-stone colored diamond and diamond ring, by BulgarI.
Set with a triangular-cut fancy vivid blue diamond, weighing approximately 10.95 carats, and a triangular-cut diamond, weighing approximately 9.87 carats, to the baguette-cut diamond half-hoop, mounted in gold, circa 1972, in an original BVLGARI black silk box. By BVLGARI - Estimate on request
With report 2125168496 dated 19 May 2010 from the Gemological Institute of America stating that the diamond, weighing approximately 10.95 carats, is fancy vivid blue, natural color, VS2 clarity

With report 2125168491 dated 19 May 2010 from the Gemological Institute of America stating that the diamond, weighing approximately 9.87 carats, is G color, VS1 clarity; accompanied by a working diagram indicating that the clarity may be potentially internally flawless

Accompanied by a hardbound two-volume monograph from the Gemological Institute of America, featuring additional photography, data collection charts and gemological research, attesting to the rarity and prestige of The BVLGARI Blue.
This 1970s-era BVLGARI ring from a private European collection features a triangular-shaped, colorless diamond of 9.87 carats paired with a stunning triangular-shaped fancy vivid blue diamond of 10.95 carats – the largest fancy vivid blue diamond of this cut ever to be offered at auction.

The ring is being offered by a collector who has kept the piece in his family for almost 40 years. According to family tradition, the ring was given as a gift from the collector to his wife in celebration of the birth of their first baby boy. Charmed by the ring's bold geometric setting and the symbolism of its rare blue diamond, the collector worked with legendary BVLGARI salesman Carlo Tronconi – a favorite of Europe's most fashionable and discerning clients – at the jeweler's flagship boutique on Via dei Condotti in Rome to acquire this special ring for his wife. The final sale price in 1972 was about $1 million, a fortune at the time.
BVLGARI
At the time of the ring's purchase in the 1970s, BVLGARI's prominence in the fine jewelry trade was rapidly expanding on an international level. The company was established in 1879 by Sotirio Bulgari, who opened his first shop in the Via Sistina in Rome. In 1905, after several decades of steady growth, he opened the company's landmark store on Rome's fashionable Via dei Condotti. Upon his death in 1932, his sons Giorgio and Constantino Bulgari took command of the business and together are credited with developing the distinctive style of BVLGARI with its heavy influences of Greek and Roman classicism. Among the scores of glamorous women who became devoted collectors of BVLGARI gems are Gracy Kelly, Audrey Hepburn, Sophia Loren, and Elizabeth Taylor. Of the latter, Eddie Fisher famously commented, "The only word Elizabeth knows in Italian is Bulgari."
In the 1970s, the period in which The BVLGARI Blue Diamond ring was designed, BVLGARI had begun to incorporate geometric forms, unusual combinations of colored and colorless diamonds, and the widespread use of yellow gold in settings. This distinctive look, reminiscent of Egyptian art in particular, set BVLGARI apart and contributed to the house's huge success in the years following. Today, BVLGARI is led by a third generation of family members, including Paolo Bulgari, the current Chairman of the Bulgari Group, Nicola Bulgari, Vice Chairman, and Francesco Trapani, Chief Executive Officer.

Market Update: Blue Diamonds
In recent years, prices for top-quality colored diamonds have increased rapidly, driven by both collector demand and increasingly limited supply. Blue diamonds form very rarely, when a specific set of natural conditions and trace elements of the mineral boron are present in the earth. Of the natural blue rough that is formed through this process, only a miniscule number of the resulting polished diamonds will weigh more than 10 carats. As a result, large natural blue diamonds - in particular those possessing the coveted Vivid Blue tone and saturation - are amongst the most prized of colored diamonds, earning exceptional prices of well over $1 million per carat at auction. With its even color depth, balanced saturation, and clear sky-blue hue, The BVLGARI Blue Diamond has been graded as Fancy Vivid by the Gemological Institute of America (GIA), a further distinction of its absolute rarity.
Other famous and notable examples of top blue diamonds sold at Christie's over the years include:
The Wittelsbach-Graff Diamond
A 17th century fancy deep grayish blue gem of 35.56 cts sold at Christie's London on 10 December 2008, realizing $24.3 million and setting the world record for any diamond and any jewel sold at auction.
A rectangular fancy intense blue diamond of 13.39 cts sold at Christie's Geneva on 14 May 2008 for $8.9 million
The Begum Blue Diamond
A heart-shaped fancy deep blue diamond of 13.78 cts sold at Christie's Geneva on 13 November 1995, realzing $7.8 million
The Terestchenko Diamond
A fancy blue diamond of 42.92 cts, mounted as a necklace by Cartier sold at Christie's Geneva on 14 November 1984 for $4.5 million
Christi'es. Jewels: The New York Sale Including the JAR Imperial Topaz, Ruby and Diamond Ear Pendants, The Bulgari Blue, Jeweled Elegance & the Vanderbilt Diamond Necklace, 20 October 2010, New York, Rockefeller Plaza www.christies.com