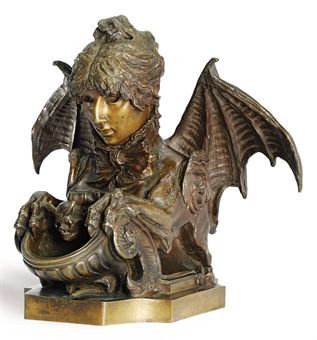 'Encrier Fantastique': A French bronze self-portrait inkwell of Sarah Bernhardt. cast by Thiebaut Frères, Paris, from the model by Sarah Bernhardt, dated 1880. Photo: Christie's Images Ltd 2010 .
Modelled as a recumbent winged sphinx with a spiny reptilian tail and the clawed limbs of a mythical beast, clutching an open bowl with massive ram's horns and set with a devil's head, the inkwell concealed beneath a removable cover in the form of a pile of books, a quill-pen rest cast into her hair, signed and dated 'SARAH-BERNHARDT/1880' and with foundry stamp 'THIEBAUT FRÈRES/FONDEURS/PARIS'; 12 in. (30.5 cm.) high; 7 in. (17.8 cm.) wide: 9 in. (23 cm.) deep. Estimate £15,000 - £25,000 - Price Realized £43,250
Literature: Los Angeles County Museum of Art, The Romantics to Rodin, French Nineteenth-Century Sculpture from North American Collections, exhib. cat., Los Angeles, 1980, pp. 141-143.
Notes: The strong symbolist influence of this sculpture is a departure from Bernhardt's more conventional or Romantic subjects. It reflects not only her certain knowledge of the work of such artists as Auguste Moreau and Gustave Doré, but also more directly her own role at the time. In 1879, Bernhardt was rehearsing for the role of Blanche de Chelles in Octave Feuillet's play Le Sphinx, in which the mysterious and even demonic heroine wore a poison ring in the form of a sphinx, and with whom Bernhardt may well have identified. The inkwell appears to have been conceived on one level as a celebration of her role in Feuillet's play, and on a deeper level as an evocation of what Bernhardt perceived herself to be. The critic Jules Lemaître described her as "...a distant and chimerical creature, both hieratic and serpentine, with a lure both mystical and sensual". In the inkwell Bernhardt has portrayed herself in a potent and dangerous combination which is part woman, part bat, part gryphon and part sphinx; her professional persona is evoked by the masks of Comedy and Tragedy on either side, and a sense of the diabolical is given by the skull at the front. Thus inspired, Bernhardt is thought to have sculpted the model for the inkwell in 1879, for a cast was shown in London that year. In 1880 a cast was exhibited at the Union League Club of New York in an exhibition entitled 'Sarah Bernhardt Souvenir, including the Authorised Catalogue of Her Paintings and Sculptures'. Casts of this size are apparently rare. One is in the permanent collection of the Museum of Fine Arts, Boston, another is recorded as having been in the collection of the late Queen Mary, and one sold Christie's, London, 2 May 1996, lot 145 (£23,000).
Christie's. 500 Years: Decorative Arts Europe, 23 September 2010; London, King Street www.christies.com