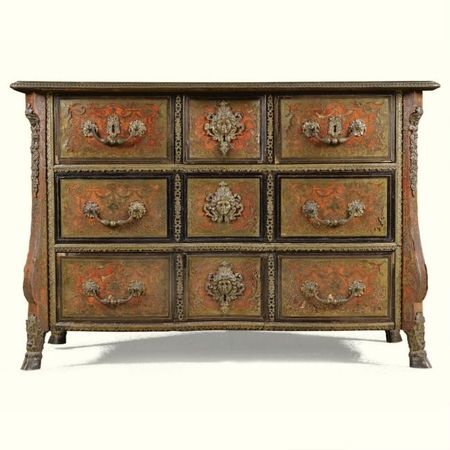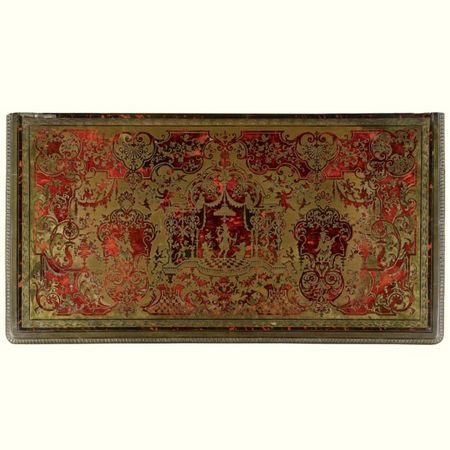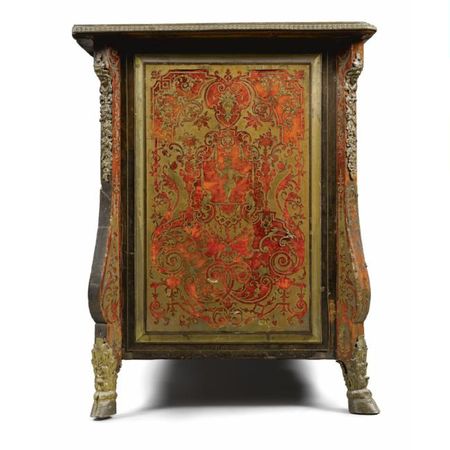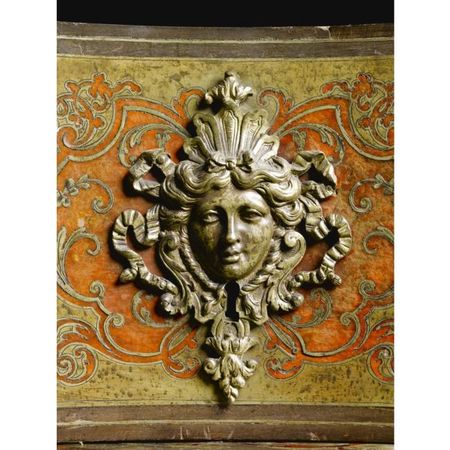 A brass and tortoiseshell inlaid première-and contre-partie boulle marquetry commode attributed to Nicolas Sageot (1666-1731). Louis XIV, circa 1700. photo courtesy Sotheby's
the rectangular top with curved corners above a serpentine front with three short and two long drawers inlaid with Berainesque designs, on hoof feet; two gilt-bronze escutcheons later replacements, rebacked; 82cm. high, 121cm. wide, 63.5cm. deep; 2ft. 8½in., 3ft. 11½in., 2ft. 1in. Estimate 25,000—40,000 GBP. Lot Sold 103,250 GBP
PROVENANCE: Possibly acquired by either William Cavendish, 4th Earl, later 1st Duke, of Devonshire (1648-1707) or his son William Cavendish, 2nd Duke of Devonshire (1672-1729)
LITERATURE AND REFERENCES: Handbook, p. 123
Chatsworth Inventory, 1844, p. 104 in the First State Room;
Chatsworth Inventory, 1859, p. 86 in the same room;
Photographed in the Great Chamber at Chatsworth, circa 1890;
Chatsworth Inventory, 1892, p. 122 in the Great Chamber;
Chatsworth Inventory, 1905, p. 92 in the same room;
Chatsworth Derbyshire, Country Life, June 15 1907, p. 876 in the Great Chamber;
H. Avary Tipping, English Homes, Period IV, Vol. I, Late Stuart, 1694-1714, London, 1920, p. 329;
Francis Thompson, A History of Chatsworth, London, 1949, p. 142, pl. 67.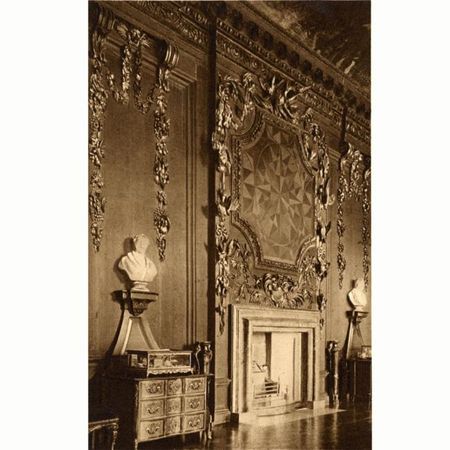 The commode in Chatsworth House. photo courtesy Sotheby's
COMPARATIVE LITERATURE: Peter Hughes, The Wallace Collection, Catalogue of Furniture, Vol. II, 1996, No.137 (F39), p. 639 and No.139 (F408), p.649.
Seymour de Ricci, Louis XIV and Régence, Germany, 1929, p. 122.
There is a group of high quality Louis XIV brass inlaid furniture at Chatsworth, some of which was probably purchased by William Cavendish, 2nd Duke of Devonshire (1672-1729).
It is highly likely that this impressive commode was executed by Nicolas Sageot (1666-1731), received Master in 1706.
This commode bears striking similarities to commodes tentatively attributed to Nicolas Sageot in the Wallace Collection, London, illustrated by Hughes, op. cit., p. 639, No. 137 (F39) and No. 139 ( F408), p. 649. The dating of the Wallace commode, no. 137, (F39), illustrated by Hughes op. cit., p. 639, and the present commode to circa 1700, is suggested by the rectilinear shape and pilaster like legs angled outwards like those of late 17th century bureaux. The commode (F39), in the Wallace collection, is the same shape, with marquetry of the same design on its sides, to one sold Sotheby's, Monaco, June 2nd 1986, lot 461, the marquetry on the top of which is identical to that on a writing-table stamped by Sageot in the Royal Collection, Stockholm. There is a further link between F39 in the Wallace collection and Nicolas Sageot, as the marquetry on the sides of the commode is of virtually the same design, as on the lower halves of the doors of two armoires, the first stamped Nicolas Sageot and the second stamped N.S. The same design also appears on the doors of three other armoires attributed to Sageot.
The top on the Wallace Collection commode and that offered here are almost identical save for the central figures on the former which depict Venus and Cupid and the decoration on the sides is also virtually identical.
The reason that Peter Hughes op. cit., only makes a tentative attribution to Sageot is that he was known to have employed marquetry cutters from outside his workshop such as Toussaint Devoye (active c. 1706-1748), whose marquetry also appears on furniture by other cabinet-makers.
Furthermore, the Wallace commode No.139 (F408) is also comparable to the present commode in many other respects although there are some variations in the overall form and details of the marquetry.
The marquetry of the top and sides of this group of commodes probably derive from drawings by Jean Bérain (1640-1711). Berain who was both a celebrated French architect and ornamental designer was one of the innovators reponsible for the creation of a distinct Louis XIV style. From 1670, he was employed by the French Crown as an engraver and was appointed in 1674 Architecte Dessinateur de la Chambre et du Cabinet du Roi, responsible for providing designs for royal festivities and celebrations. In 1690, he became chief designer with apartments in the Louvre alongside those of his relative André-Charles Boulle. His designs for furniture, boiseries and chimney-pieces were engraved and published and were characterised by grotesques in a whimsical style with canopies held aloft by fantastical term figures and classical gods, with chinamen and monkeys in attendence. His influence on the Louis XIV style furniture cannot be underestimated. A collection of his engraved designs were published in 1711 in Paris, Oeuvre de Jean Bérain, recueillies par les soins du sieur Thuret.
Nicolas Sageot:
First recorded in Paris in 1698, Sageot achieved his maîtrise in 1706 and was based in the Faubourg Saint-Antoine. He evidently rapidly expanded his business, as by 1711 he amassed 12,000 livres, almost all in stock-in-trade.The extensive nature of his business is revealed by the sale in 1720 to Léonard Prieur "Marchand Mercier Grossier Joaillier Privilégié suivant la Cour " of 16,000 livres worth of furniture, consisting of a wide range of armoires, bureaux and commodes.
Sotheby's. Chatsworth: The Attic Sale, 05 Oct 10, London www.sothebys.com