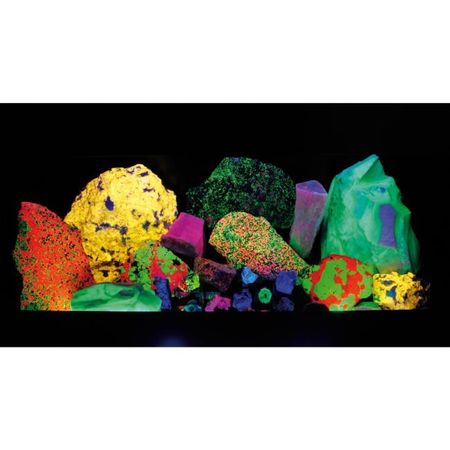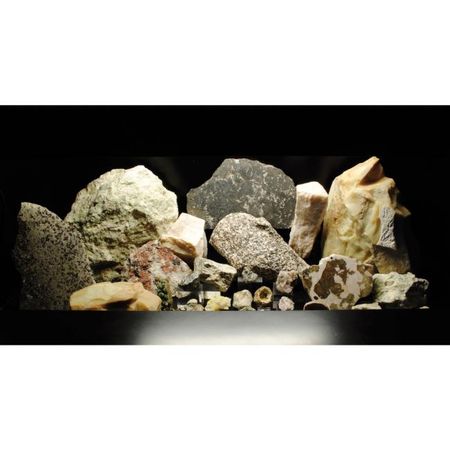 Superbe collection de minéraux fluorescents. photo courtesy Sotheby's
dim. de la boîte : haut. 61 cm ; larg. 105 cm ; prof. 57 cm - Estimate 20,000—25,000 EUR. Lot Sold 24,750 EUR
Toute la beauté des roches fluorescentes réside dans cette collection de roches dont l'intérêt est d'émettre des lumières colorées dans l'obscurité. Ces roches ont de tout temps été des objets de collection et même d'usage dans certains travaux lapidaires. On raconte ainsi qu'aux environs de l'an 1000 existait chez l'Empereur de Chine, un tableau magique sur lequel un boeuf apparaissait chaque soir. Ce fut le premier exemple, dans l'histoire, d'un matériau fabriqué par l'homme, capable d'émettre de la lumière luminescente. En dépit donc de la grande beauté naturelle des minéraux, il y eut une autre sorte de beauté recherchée par les collectionneurs de minéraux et qui réside dans la capacité du minéral à émettre des lumières colorées dans l'obscurité. D'un point de vue scientifique, les minerais fluorescents sont des minerais qui émettent une lumière colorée visible une fois activés par lumière UV, les rayons X et les faisceaux d'électrons invisibles. Certains électrons dans le minerai absorbent l'énergie de ces derniers et accèdent à un état de plus haute énergie encore qui se singularise par l'émission même de ces lumières colorées.
Quelle est la cause de la fluorescence?
Certains minéraux sont donc fluorescents quand ils sont soumis à une source de lumière ultraviolette. Le phénomène est soit une propriété intrinsèque du minéral, soit lié à la présence d'impuretés que l'on nomme des activateurs et des co-activateurs de fluorescence. Dans le premier cas, la fluorescence est pratiquement constante quelque soit la localisation du minéral alors que dans le second cas la fluorescence sera rendue aléatoire puisque liée à la présence ou non de ces substances. Ceci explique pourquoi une Calcite par exemple sera fluorescente en rouge alors qu'une autre sera fluorescente en bleu. Sachez aussi qu'il existe des inactivateurs de fluorescence qui ont quant à eux l'effet inverse. Mais nous rentrons dans des phénomènes complexes, profitons donc plutôt d'admirer l'une des plus singulières et remarquables collection de pièrres fluorescentes avec toute leur installation qui sera livrée avec.
One common fluorescent is calcite. It come in almost every fluorescent colour due to different activators. Red and pink fluorescent calcites are often activated by lead and manganese. Calcite may fluoresce green due to uranyl ion traces. Calcite from the mercury mines at Terlingua, Texas, and just across the border into Muzquiz, Coahuila, Mexico, is a favorite. It fluoresces pink under longwave UV and bright blue under shortwave UV, with a uniquely bright blue phosphorescence after the UV lamp is removed.
Fluorite gave its name to fluorescence, but that does not mean it is always fluorescent. Many fluorites fluoresce a blue-violet color due to traces of europium, which is usually best under longwave UV, and show other fluorescent colors in some cases.
Willemite, a zinc mineral, often fluoresces a bright yellowish-green colour due to traces of manganese.
Scapolite (wernerie) from Ontario and Quebec, Canada, fluoresces a vivid orange-yellow under longwave UV, while shortwave UV creates a long-lasting phosphorescence that can be significantly brightened by holding it under a tap of running hot water, illustrating thermoluminescence. Several other fluorescent minerals come from the same area, including sodalite (hackmanite), cancrinite, diopside, fluorite and nepheline.
Franklin New Jersey is rightly known as the "fluorescent mineral capital of the world". Together with nearby Ogdensburg, it is the source of at least 260 minerals of which at least 56 are fluorescent. Many of these fluorites are found nowhere else in the world. A great number of them are uncommonly bright. Only the Franklin mine provided specimens with 5 or more different colours of equally bright fluorescence from the same number of minerals in one sole specimen
Willemite and calcite specimens glowing yellowish-green and orange-red respectively are not the most common fluorescents from this area: sometimes they combine with hardystonite (which fluoresces deep blue-violet), clinohedrite (which fluoresces orange) and maybe even esperite (which fluoresces yellow), for a truly unforgettable rainbow fluorescence.
List of minerals :
1. Fluorite Mine, Mount Hammam, Meknès, Meknès Prefecture, Morocco
2. Fire Agate, Sierra Madre mountain range, Mexico
3. Tennantite, Oruru, Cercado Province, Bolivia
4. Strontianite, Gabbelino, Tuscany, Italy
5. Sphalerite, Campbell mine, Bisbee, Warren District, Arizona, USA
6. Willemite, Franklin mine, Franklin, New Jersey, USA
7. Wernerite, var, Scapolite, Greenville, Quebec, Canada
8. Sodalite, Poudrette quarry, Mont St-Hilaire, Quebec, Canada
9. Fluorite, Weardale area ("Cumberland"), County Durham, England
10. Fluorite, Greenleaf mine, Fluorite Ridge District, Luna County, New Mexico, USA
11. Native Sulphur on Aragonite, Agrigento, Sicily, Italy
12. Apaptite, Muscovite, Golconda pegmatite, Governador Valadares, Minas Gerais, Brazil
13.Topas on Wolframite,Panasqueira mine, Panasqueira, Covilha, Castelo Branco District, Portugal
14. Agate Geode, Nowy Kosciot, Poland
15. Prehnite,New Jersey, USA
16. Red Corundum, var. Ruby, Froland, Arendal, Aust-Agder Fylke, Norway
17. Calcite, Meggen mine, Lennestadt, North Rhine-Westphalia, Germany
18. Willemite, Calcite, Franklinite, Franklin mine, Franklin, New Jersey, USA
20. Semi-Opalite, Opalite, Virgin Valley, Nevada, USA
Grande chrysocolle, Ray Mine, Pinal Country,Arizona, USA. photo courtesy Sotheby's
33 cm x 47 cm x 21 cm ; 12,87 x 18,33 x 8,19 in - Estimate 10,000—13,000 EUR. Lot Sold 16,250 EUR
Cette rare gemme de Chrysocolle aux reflets bleu vert d'opale et d'une exceptionnelle grande taille produit une forte impression. Véritable oeuvre d'art naturelle au sens où l'entendaient les Surréalistes, elle montre des veines vertes et noires. Elle fut trouvée sous la forme d'une masse botryoïde vitreuse (c'est à dire ayant la forme de grains de raisins) dans une petite poche géologique dans la mine de Ray. Historiquement, cette place était la seconde mine en taille pour l'extraction du cuivre en Arizona tandis que cet état fournissait 65% de la production de l'état fédéral. Il s'agit ici d'une véritable pièce de Cabinet de Curiosités pour de grands Amateurs. Cette grande pièce avec son éclat bleu vert vitreux, captive l'assistance avec ses touches de quartz blanc et ses contrastes créés entre la malachite verte et le bleu azuréen de l'Azurite. Toutes ces nuances retiennent irrésistiblement le regard comme le ferait une composition d'art moderne représentant les flots dansant d'une mer aux vagues mousseuses. Très beau spécimen.
PROVENANCE: Ancienne collection d'un musée privé, Allemagne
Jaspe rouge dit jaspe sanguin, Afrique du Sud. photo courtesy Sotheby's
67 cm x 62 cm ; 26,13 x 24,18 in - Estimate 5,000—6,000 EUR. Lot Sold 7,500 EUR
Cette pierre se dresse comme une oeuvre d'art contemporaine. Elle fait écho à son histoire dans l'art. Les Chrétiens du Moyen-Age en effet, se servirent du jaspe sanguin pour graver des scènes de la crucifixion, ce qui amena l'appellation de "pierre des martyrs". Un superbe spécimen de jaspe sanguin portant le sceau de l'empereur germanique Rodolphe Il. Il est exposé au Musée du Louvre à Paris.
PROVENANCE: Collection d'un amateur
Grand morceau d'ambre, période présumée miocène (23,5-5,3 millions d'années) province de La Boyaca, Colombie. photo courtesy Sotheby's
Cet ambre copal enserre une colonie de termites pris au piège de la résine, il y a maintenant quelques millions d'années la conservant ainsi pour l'éternité; 22 cm x 11,5 cm ; 8,58 x 4,485 in. Estimate 2,000—3,000 EUR. Lot Sold 6,875 EUR
PROVENANCE: Collection d'un amateur
Sotheby's. Natural History, 05 Oct 10, Paris www.sothebys.com