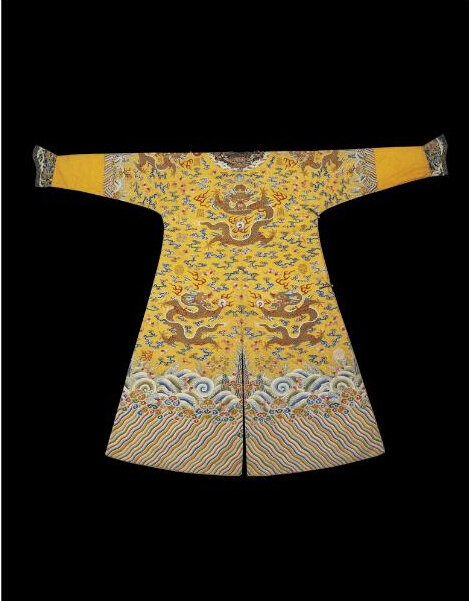 Lot 2626. A rare and finely woven imperial kesi Twelve-Symbol robe, Qing dynasty, Qianlong period (1736-1795); 141 cm., 55 1/2 in. Estimate 2,500,000—3,500,000 HKD. Lot Sold 3,020,000 HKD. Courtesy Sotheby's 2010
the yellow ground worked with eight gold dragons, four in profile clutching 'flaming pearls' amidst five-coloured clouds, and gold shou characters in three different scripts, finely shaded pink and red bats soaring in groups of five at the shoulder blades and the corresponding place in front and others hovering above the foaming and rolling waves, all above an undulating lishui stripe in fine shaded tones of red, green, brown, yellow and blue, the twelve symbols arranged in three groups of four starting with the sun, moon, constellation and rock around the neck; the fu symbol, axe head, pair of small dragons and a golden pheasant around the middle of the robe; and the sacrificial vessels, water plant, flames and grain above the waves
Provenance: Sotheby's Hong Kong, 27th April 2003, lot 61.
Note: Imperial jifu (semi-formal court robe) of this type, richly embroidered with eight dynamic dragons and the Twelve Symbols of Imperial Authority, were exclusively reserved for the use of the Emperor. Jifu were worn at the Qing court for imperial birthday celebrations and on less formal occasions, together with the jifu dai (festive dress belt), the jiguan (festive hat), the court necklace and a surcoat. According to Linda Wigglesworth and Gary Dickinson, in Imperial Wardrobe, Berkeley, 2000, p. 159, the tailoring of the jifu is quite different from the chaopao (official court robe) and was based on the traditional Manchu garment rather than the Ming-style formal dress construction.
A related emperor's robe is illustrated ibid., pl. 612; another is included in Five Thousand Years of Chinese Art. Chinese Costumes, part II, Taipei, 1986, pl. 302; and a third example, but also embroidered with freshwater pearls, was sold in these rooms, 20th April 2006, lot 1540. Compare also Twelve-Symbol dragon robes on a yellow ground, such as one published in John Vollmer, Silks for Thrones and Altars. Chinese Costumes and Textiles, Paris, 2003, pl. 26; and two examples, but with a wan-fret embroidered ground, one included in the exhibition Imperial Robes and Textiles of the Chinese Court, The Minneapolis Institute of Arts, Minneapolis, 1943, cat. no. 20, and the other sold at Christie's Hong Kong, 26th April 2004, lot 1014.
According to the Shujing (Book of Documents) it was the legendary Emperor Shun who stipulated that these symbols ought to appear on court robes, a tradition that was revived by the Qianlong emperor. These symbols were recorded for the first time in the Huangchao liqi tushi (Illustrated Precedents for the Ritual Paraphernalia of the Imperial Court) and robes displaying these symbols were commissioned for the first time by the emperor in 1759. According to the Huangchao liqi tushi, usage of these symbols was restricted to imperial robes produced for the emperor although he could, as a favour, allow a family member to wear them as well. See the illustration of a Twelve-Symbol court robe from the 1766 edition Huangchao liqi tushi, published in Wigglesworth and Dickinson, op. cit., p. 79.
Sotheby's. Fine Chinese Ceramics & Works of Art. 08 Oct 10. Hong Kong