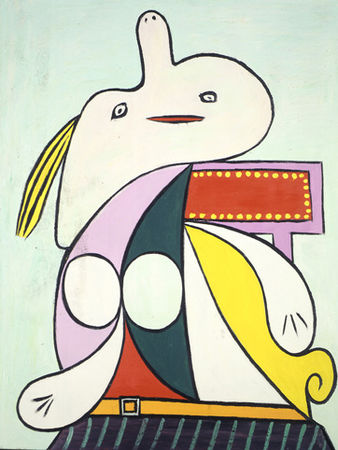 Pablo Picasso,The Yellow Belt: Marie-Thérèse, 1932. Courtesy Nahmad Collection, Switzerland © 2009 ProLitteris, Zurich
ZURICH - La première rétrospective au monde de Pablo Picasso (1881-1973) eut lieu en 1932. Le peintre espagnol avait personnellement arrangé l'exposition qui fut montrée de septembre à novembre au Kunsthaus Zurich. On n'avait encore jamais vu qu'un artiste, et non un directeur, décidât lui-même des oeuvres à montrer dans un musée et cela fut vécu comme une révolution. Le public accueillit avec grand intérêt le regard subjectif que cet avant-gardiste jetait sur son oeuvre peu commune. La presse suivit pas à pas le maître qui était arrivé à Zurich cinq jours avant l'exposition avec sa femme Olga et leur fils Paolo. Cependant, tous n'étaient de loin pas capables de reconnaître le génie de l'artiste quinquagénaire. Dans le quotidien «Die Neue Zürcher Zeitung», le fameux psychologue et psychothérapeute C.G. Jung qualifia sans détour le peintre de schizophrène.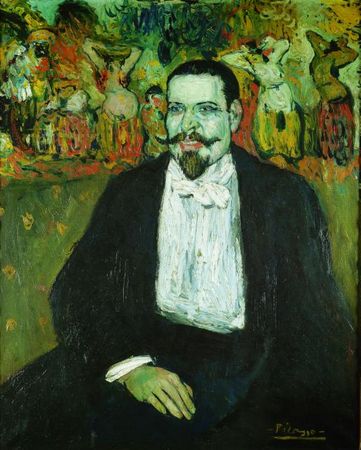 Pablo Picasso, Gustave Coquiot, 1901. Huile sur toile, 100 x 81 cm. Centre Pompidou, Paris, Musée national d'art moderne / Centre de création industrielle, Don de Mme Gustave Coquiot 1938
Pour faire de la place aux plus de deux cents travaux exposés - dont soixante-cinq étaient possédés en propre par Picasso - on dut sortir l'ensemble de la collection permanente du Kunsthaus. Des peintres tels qu'Oskar Schlemmer s'étonnèrent du record atteint en neuf semaines (dont une prolongation de 14 jours) de 34'000 visiteurs. Les dépenses dépassèrent de loin, déjà pour l'époque, les recettes. Le Kunsthaus put toutefois s'offrir l'acquisition d'un tableau à vendre - «Guitare sur un guéridon» (1915).
2010 rappelle la première rétrospective Picasso. Le Kunsthaus Zürich, qui fête au cours de l'année ses cent ans, apparaît comme une institution très tôt ouverte aux courants avant-gardistes. Par cet hommage à l'exposition de 1932, les commissaires Tobia Bezzola et Simonette Fraquelli retracent l'histoire de la naissance de la première exposition internationale de Picasso et montrent son influence sur l'acceptation de l'artiste mondialement reconnu depuis. Soixante-dix des meilleures oeuvres et une trentaine de travaux sur papier sont réunies dans la grande salle d'exposition: des prêts du Museum of Modern Art et du Metropolitan Museum à New York, de la Tate Modern à Londres, du Museo Thyssen-Bornemisza à Madrid, et bien d'autres encore. Sont également promis des tableaux rarement montrés, prêtés par des collectionneurs privés d'Europe et d'outre-mer. Le contexte historique ainsi que le choix des oeuvres exposées font de cette exposition coûteuse tant sur le plan financier que logistique un événement unique. Elle est montrée qu'à Zurich.
Picasso au Kunsthaus Zurich, du 15 octobre 2010 au 30 janvier 2011.
Pablo Picasso, Girl in a Chemise, ca 1905. Oil on canvas, 72.7 x 60 cm. Tate, London, Bequeathed by C. Frank Stoop 1933
Pablo Picasso (1881-1973) had his first-ever museum retrospective in 1932. The Spanish painter had personally assembled the works for the Kunsthaus Zürich exhibition, which lasted from September to November. The exhibition constituted a veritable revolution in the art world, the first time the works for a museum show were selected by the artist himself, and not by the director. The public greeted the avant-garde artist's subjective take on his extraordinary oeuvre with great interest. The press tracked the master's every move from the moment he arrived in Zurich, his wife Olga and son Paulo in tow, five days before the show opened. Not everyone was equally prepared to recognize Picasso's genius, however: in the 'Neue Zürcher Zeitung' the world-famous psychologist and psychotherapist C.G. Jung pronounced the painter, on the eve of his 51st birthday, schizophrenic.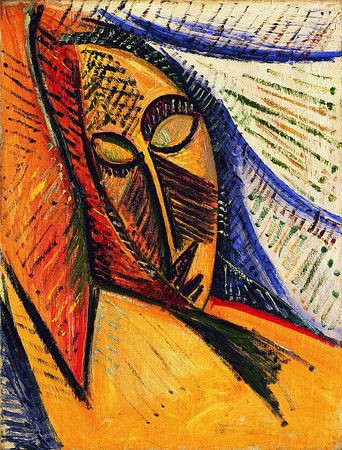 Pablo Picasso,, Head of a Sleeping Woman (Study for Nude with Drapery), 1907. Oil on canvas, 61,4 x 47,6 cm. The Museum of Modern Art, Estate of John Hay Whitney
The entire permanent collection of the Kunsthaus was removed to make way for more than 200 works by Picasso, 56 of them from the artist's own collection. Oskar Schlemmer, among other painters, was amazed at the show's 'record business', which saw it extended for two weeks and visited by 34,000 people during its nine-week run. Although the museum's outlay on the exhibition far exceeded its revenues, a trend that continues to this day, the Kunsthaus was nevertheless able to acquire one of the paintings for sale at the show: 'Guitare sur un guéridon' (Guitar on a Pedestal), 1915.
Pablo Picasso, Man with a Clarinette, 1911/12. Oil on canvas, 106 x 69 cm. Museo Thyssen-Bornemisza, Madrid
In 2010 Picasso's first retrospective will be revived. As it celebrates its centenary in 2010, the Kunsthaus Zürich presents itself as an institution that was open to avant-garde movements early on. With his homage to the 1932 exhibition, curators Tobia Bezzola and Simenotte Fraquelli evoke the background of the world's first comprehensive Picasso museum show, and demonstrate its influence on the reception of the now world-famous artist. Over 70 masterpieces will be assembled in the main exhibition room, works on loan from New York's Museum of Modern Art and Metropolitan Museum, London's Tate Modern, and the Museo Thyssen-Bornemisza in Madrid, among other places, while private collectors in Europe and elsewhere are to lend rarely shown works of their own. The historical significance of this expensive and logistically complex exhibition, together with its selection of individual pieces, makes it a one-of-a-kind event, on show exclusively in Zurich.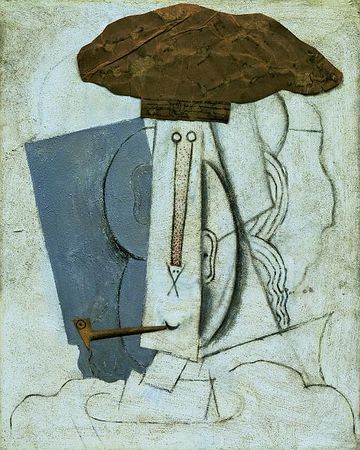 Pablo Picasso, Student with a Pipe, 1914 Plaster, sand, pasted paper, oil and charcoal on canvas, 73 x 58,7 cm The Museum of Modern Art, Nelson A. Rockefeller Bequest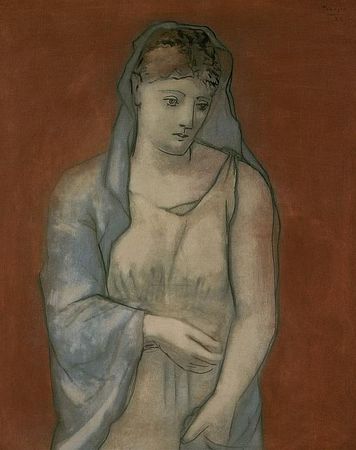 Pablo Picasso, Woman with Blue Veil, 1923Los Angeles County Museum of ArtOil on canvas, 110 x 81 cm
Pablo Picasso,, Harlequin Musician, 1924 Oil on canvas, 113.8 cm x 97.2 cm National Gallery of Art, Washington
Given in loving memory of her husband, Taft Schreiber, by Rita Schreiber
Pablo Picasso, Studio with Plaster Head, 1925Oil on canvas, 97,9 x 131,1 cm The Museum of Modern Art
Pablo Picasso, Bathers with Beach Ball, 1928. Oil on canvas, 16 x 22 cm. Private collection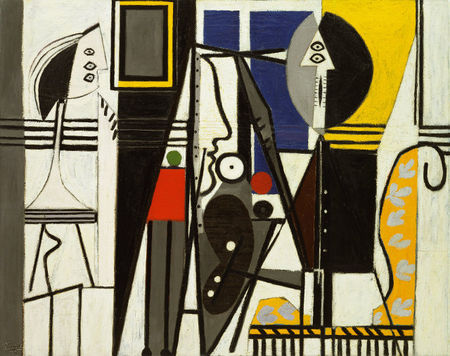 Pablo Picasso,, Painter and Model, 1928. Oil on canvas, 129.8 x 163 cm. The Museum of Modern Art, New York. The Sidney and Harriet Janis Collection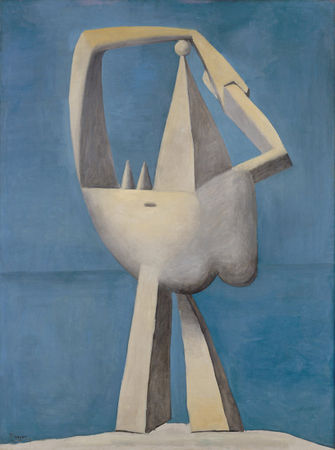 Pablo Picasso, Nude Standing by the Sea, 1929. Oil on canvas, 129.9 x 96.8 cm. Metropolitan Museum of Art, New York. Bequest of Florene M. Schoenborn, 1995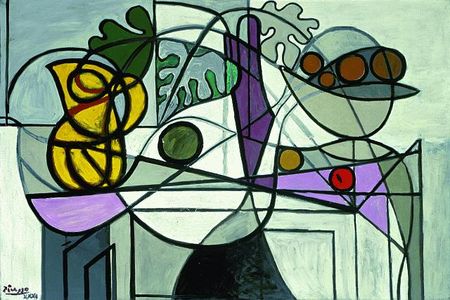 Pablo Picasso, Pitcher and Fruit Bowl, 1931. Oil on canvas, 130,2 x 194,9 cm. Saint Louis Art Museum, Legat Morton D. May
Pablo Picasso, Repose, 1932. Oil on canvas, 161,9 x 130,2 cm. The Steven and Alexandra Cohen Collection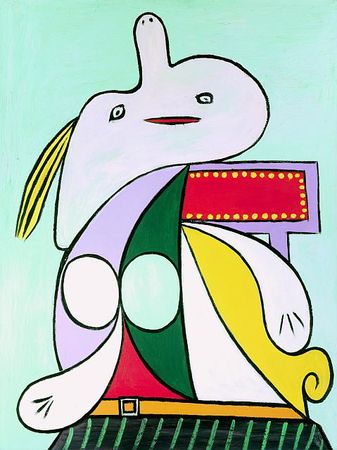 Pablo Picasso, The Yellow Belt: Marie-Thérèse, 1932. Oil on canvas, 131 x 97 cm. Courtesy Nahmad Collection, Switzerland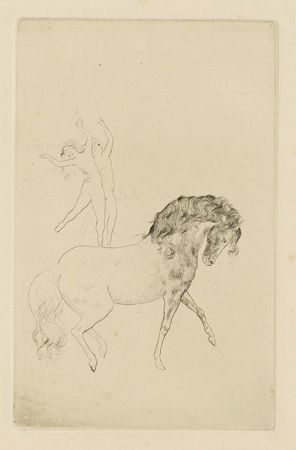 Pablo Picasso, At the Circus, 1905. Drypoint copperplate etching on paper, 22.1 x 14 cm. Kunsthaus Zürich, Collection of Prints and Drawings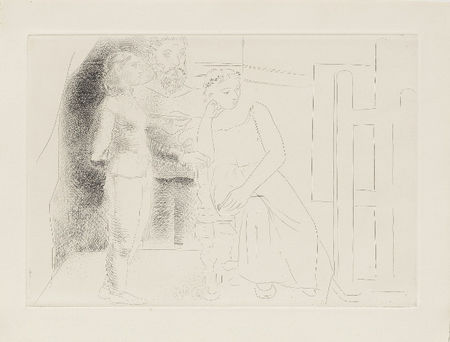 Pablo Picasso, Painter between Two Models, 1927. Colour etching, 19.3 x 27.9 cm. Kunsthaus Zürich, Collection of Prints and Drawings
Vues de l'exposition 1932 © Kunsthaus, Zurich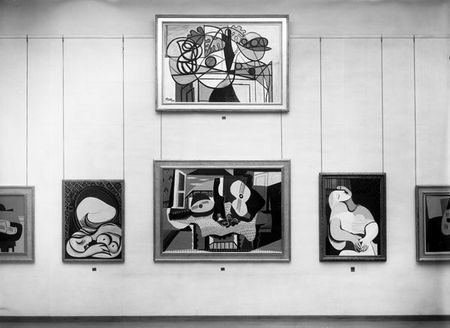 Vue d'exposition 1932 © Kunsthaus, Zurich
Vue d'exposition 1932 © Kunsthaus, Zurich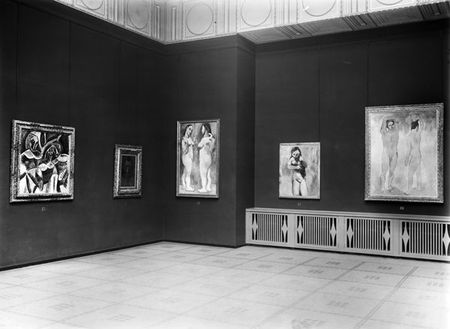 Vue d'exposition 1932 © Kunsthaus, Zurich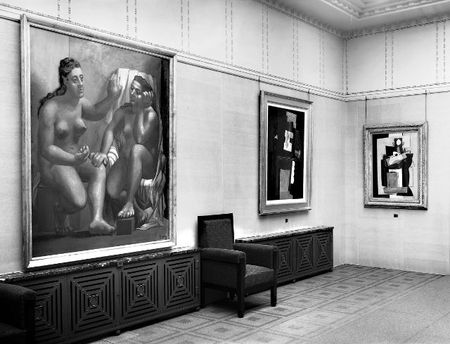 Vue d'exposition 1932 © Kunsthaus, Zurich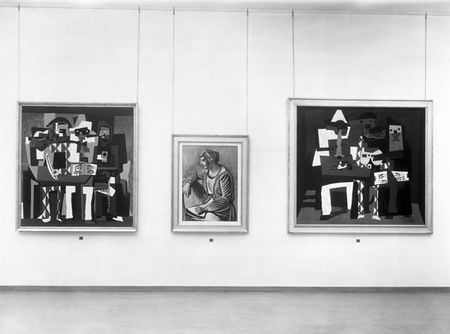 Vue d'exposition 1932 © Kunsthaus, Zurich
Vue d'exposition 1932 © Kunsthaus, Zurich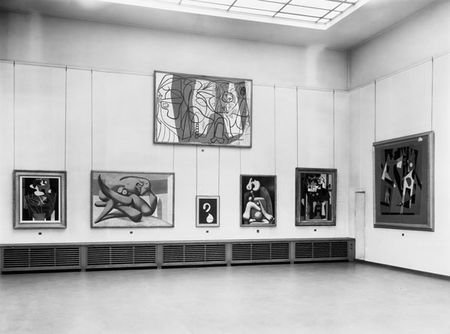 Vue d'exposition 1932 © Kunsthaus, Zurich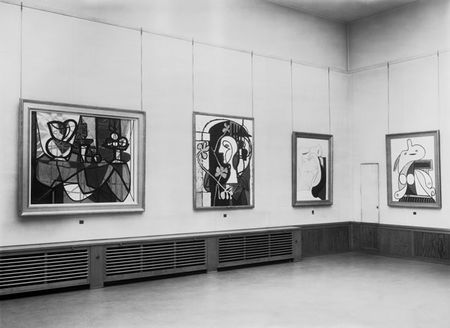 Vue d'exposition 1932 © Kunsthaus, Zurich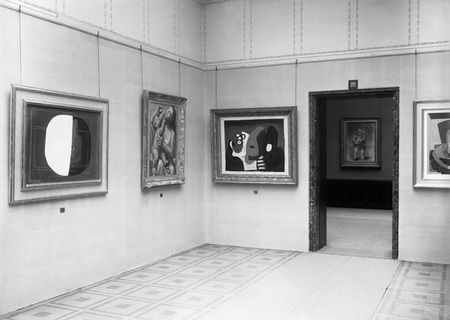 Vue d'exposition 1932 © Kunsthaus, Zurich
Vue d'exposition 1932 © Kunsthaus, Zurich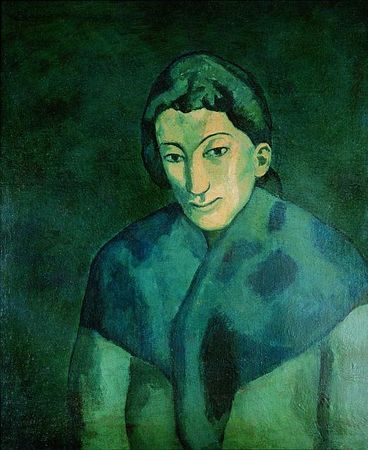 Pablo Picasso, Femme au fichu bleu, 1902. Huile sur toile, 63 x 52,4 cm. Aichi Prefectural Museum of Art, Nagoya