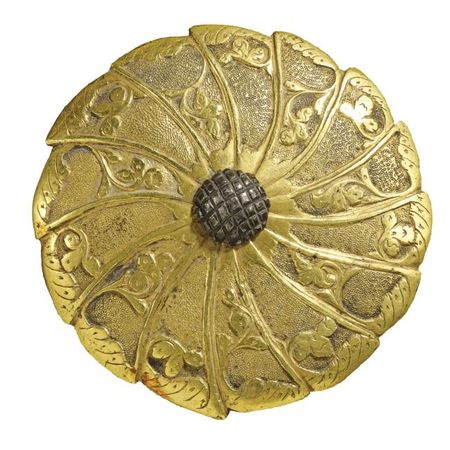 A rare Ottoman Harness Bridle, Turkey, 17th century. photo courtesy Sotheby's
the headstall and breast strap of reddish-brown leather set with minor silver-gilt panels decorated in relief with stylised floral motifs and arabesques, with major plaques in the form of spiralling flowerheads and cusped palmettes, with two larger plaques mounted at key junctions and similar pendants at various places, the headstall with a layer of gilt-metal thread; 150cm. approx. max. length. Estimate 60,000—80,000 GBP. Lot Sold 73,250 GBP
NOTE: Harness bridles of this type are a wonderful display of the intricate and detailed ornaments carried by horses in the Ottoman army. A number of similar examples were reportedly part of the booty taken by the Holy League after their victory over the Ottoman forces of Kara Mustafa at the Battle of Vienna in 1683. Led by King John III Sobieski of Poland, the Austrian, German and Polish armies ended the city's two-month siege, marking the turning point of the Ottoman-Habsburg wars and initiating the retreat of Kara Mustafa's army from Europe.
An insight into the extensive riches left behind by the Ottomans is provided by Alicia Tindal Palmer in her memoirs of John Sobieski. Palmer underlines that "The treasures which had been abandoned by the Ottomans were found to be immense and were duly apportioned according to the several claims of the victors. (...) So valuable was the share allotted to the king of Poland, that he was induced with his accustomed pleasantry to write to the queen that the grand vizier [Kara Mustafa] had left him his residuary legatee" (Alicia T. Palmer, Authentic Memoirs of the Life of John Sobieski, King of Poland, London, 1815, p.225).
Two comparable Ottoman bridles from the late 17th century are now at the Badisches Landesmuseum in Karlsruhe (see David Alexander, Furusiyya, vol. II, Riyadh, 1996, p.90, nos.76-7).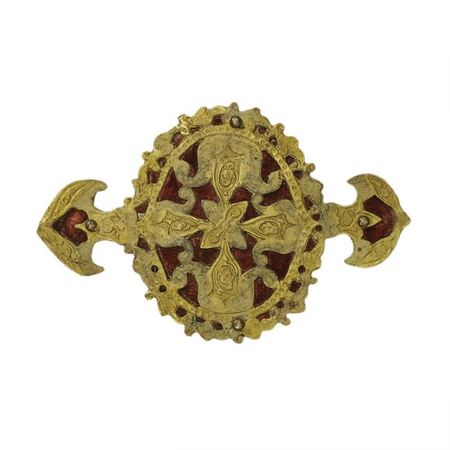 A rare Ottoman bowcase with engraved metal fittings, Turkey, circa 17th century. photo courtesy Sotheby's
the red velvet-covered leather bowcase with various engraved silver-gilt fittings, border of small cusped cartouches and palmettes, larger chandelier-form fittings, replacement central medallion engraved with stylised leaf motif; 54 by 28.3cm. max. Estimate 40,000—60,000 GBP. Lot Sold 49,250 GBP
NOTE: This bowcase is from the same workshop as the quiver and bowcase PI.95 in War and Peace, Istanbul, 1999, from the Schaffgotsch collections in Cieplice now at the National Museum in Poznan, Poland, since 1952, inv. nos. Rw 1137/1 and Rw 1138 respectively.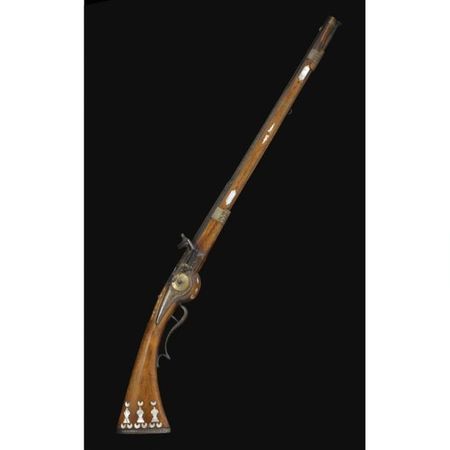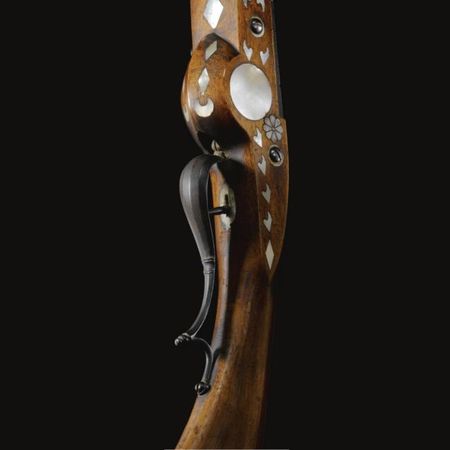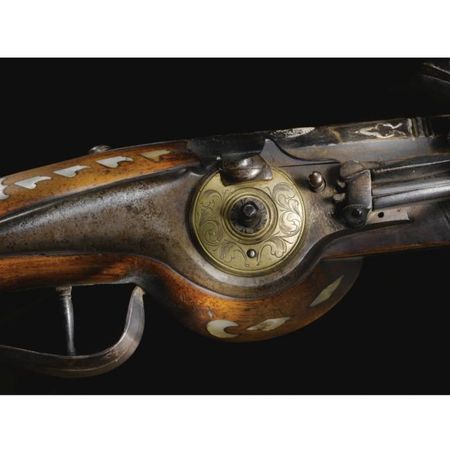 A Rare Ottoman mother-of-pearl, gold and silver-inlaid wheel-lock rifle, Turkey, circa 1650. photo courtesy Sotheby's
the tapering circular watered-steel barrel, octagonal at the breech, with inlaid silver and gold decoration depicting a human figure amongst pointed trefoils and arabesques, the forestock with mother-of-pearl-inlaid cartouches and undulating triangles, the underside of the stock and butt inlaid with mother-of-pearl crescents and diamond shapes, the wheel-lock with finely carved stylised vegetal motifs, with fine wooden ramrod ; 116cm - Estimate 35,000—40,000 GBP. Lot Sold 43,250 GBP
NOTE: inscription Stamp: Undeciphered
A comparable Ottoman wheel-lock rifle dated 1640-50 with almost identical decorative elements was exhibited at Acte-Expo in Paris in May-July 1988 and published in H. Ricketts and P. Missilier, Splendeur des Armes Orientales, Paris, 1988, pp.31-2, no.26.
An Ottoman Ray-Skin powder flask with applied silver mounts, Turkey, 17th century. photo courtesy Sotheby's
of nautilus form, the ray-skin applied onto the body of the wooden flask, silver mounts at each extremity with engraved niello-work comprising stylised lotus leaves; 17cm. max. Estimate 3,000—4,000 GBP. Lot Sold 9,375 GBP
Sotheby's. Arts of the Islamic World, 06 Oct 10, London www.sothebys.com