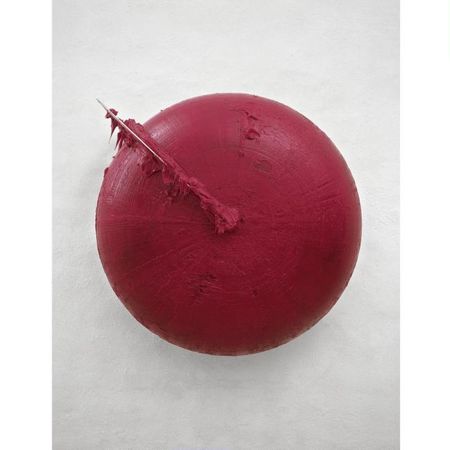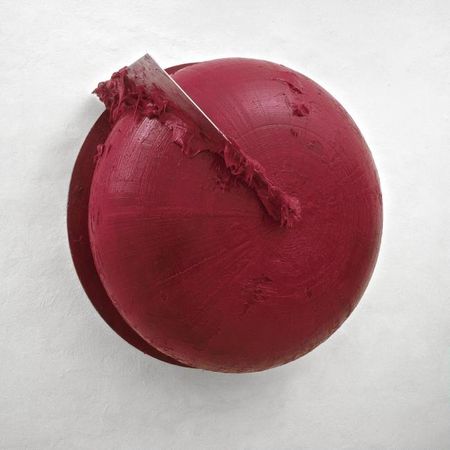 Anish Kapoor (B.1954), Untitled. photo courtesy Sotheby's
fibreglass, rubber and aluminium, signed and dated 2004 on the reverse; 114 by 121.2 by 53cm. Estimate 250,000—350,000 GBP. Lot Sold 301,250 GBP
PROVENANCE: Galleria Continua, San Gimignano/ Beijing/ Le Moulin
Private Collection, Switzerland/ Canada
Cabinet de Curiosités, Switzerland
EXHIBITED: Verbier, Cabinet de Curiosités, Summer Exhibition, 2010
LITERATURE AND REFERENCES: Exhibition Catalogue, Vienna, MAK, Anish Kapoor: Shooting into the Corner, 2009, pp. 32-3, no.33, illustrated in colour
Exhibition Catalogue, Malaga, Centro de Arte Contemporáneo, Anish Kapoor: My Red Homeland, pp. 77, illustrated in colour
NOTE: "In Kapoor's work, the colour has the power to transform, it is like a halo that covers enigmatic shapes which disintegrate into infinite times. There is no trace of the artist's hand on the sculpture, as if the form had manifested itself alone. ...The colour is no longer a predicate or a luminous body that absorbs or reflects another body. The colour is a ready-made"
Ángela Molina, "Anish Kapoor: Coming Home" in: Exhibition Catalogue, Malaga, Centro de Arte Contemporáneo, Anish Kapoor: My Red Homeland, 2006, p. 12

Anish Kapoor's 2004 work Untitled is an extant archetype of his highly celebrated series of recent works involving the use of semi-solid materials infused with deep-red dyes and shaped by the mechanical movement entirely outside the artist's control. Outstanding examples of this series have of course included the monumental My Red Homeland, continually re-formed by a horizontally rotating pendulum at the Kunsthaus Bregenz in 2003 and at the Centro de Arte Contemporáneo, Malaga in 2006; and Svayambh, the vast block of pigment-imbued wax material that moved in barely perceptible silence through the galleries of the Musée des Beaux Arts, Nantes and the Haus der Kunst, Munich in 2007, as well as the Royal Academy in London in 2009. These installations have become iconic of major exhibitions of the past decade, and have been widely celebrated to further Kapoor's exceptional reputation as one of the most significant and influential sculptors working today. Untitled fits exactly into this series, but has been made solid to preserve its form as if sculpted by a mechanical armature into this three-dimensional circular projection. It's blood red, scarlet hue is consistent with these renowned installations, and this a colour that has almost become synonymous with Anish Kapoor's output, also defining the epic feats Marsyas, exhibited in the Turbine Hall of Tate Modern in 2003, and Taratantara mounted in the Baltic Centre for Contemporary Art and the centre of Naples in 2000.

Since his breakthrough pigment pieces of the early 1980s, colour has held singular importance for Kapoor, and in many ways it has become the medium in its own right. Indeed, Fernando Francés has described how "The colour is a commitment to his existential attitude, his way of understanding art and his own life. It stamps his personal character, his mark, his will. The reds, yellows, blues or blacks create a setting of deep sensations and truly sublime and spiritual intensity where order and harmony submit to the dictate of mystery" (Fernando Francés, "Anish Kapoor: The Mystery" in: Exhibition Catalogue, Malaga, Centro de Arte Contemporáneo, Anish Kapoor: My red Homeland, 2006, p. 8). Where Kapoor impregnates wax-like material with oil-based pigment he imbues the entire density of his material with a chromatic abundance that becomes the medium: he sculpts colour itself. Untitled mirrors this and further continues the artist's idea of becoming himself dissociated from determining the form of the work, this being achieved through remote mechanical means beyond his control. In these respects Untitled is a very significant work that testifies the enquiries made by the temporary works of Kapoor's sensational series.
Sotheby's. Contemporary Art Evening Auction, 15 Oct 10, London www.sothebys.com