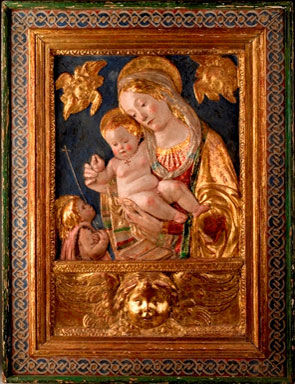 Benedetto da Maiano (1442-1497), Madonna and Child with the young St John the Baptist. Polychromed stucco relief, in original frame, 83 x 63 cm
A tender depiction of the Madonna and Child with the young St John the Baptist by Benedetto da Maiano (1442-1497) is among the major pieces of European sculpture presented by Tomasso Brothers Fine Art in their third annual New York exhibition, Scultura III, at Otto Naumann, 22 East 80th Street, from Thursday 21 to Sunday 31 October 2010. This beautifully preserved stucco relief not only retains most of its original polychrome decoration but is also in its original frame, and has an asking price of $225,000.
Benedetto da Maiano was one of the most accomplished marble sculptors in 15th century Florence, whose work influenced such High Renaissance artists as Andrea Sansovino and Michelangelo. Da Maiano was associated with Antonio Rossellino and continued his tradition of fine marble carving for chapels, tombs, pulpits and portrait-busts. Narrative reliefs were Benedetto's forte, for example those on the pulpit of Santa Croce, Florence, and he produced many charming compositions of the Virgin and Child.
The extremely skilful level of painting on this relief suggests it was by the renowned Neri di Bicci (1418-1492). The Virgin's clothing has stamped ornaments to enliven the gilding, comparable with those used on panel paintings of the period, while other textiles have been painted in the technique known as al estofado, whereby certain areas of gilding were covered with fine lines of wax so that when the red paint was applied over the Virgin's dress, or the greyish white over her veil, the weave of the fabric was revealed as the wax was removed. Elsewhere an alternative technique of delicate scratching was used, for example on the green hem of the Virgin's golden cloak, and the cloth in which she holds the baby Jesus.
Tomasso Brothers Fine Art at Otto Naumann, East 80th Street, New York, NY 10075, USA. www.tomassobrothers.co.uk , tel. +1 212 734 4443 +1 212 734 4443