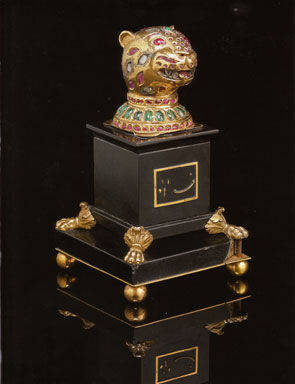 Glagow Museums still need to raise more than £110,000 towards the asking price of £398,600.
LONDON.- The Art Fund has offered a major grant to help save a golden, jewel-encrusted tiger's head from 18th century India for public collections.

The tiger's head is known as the Tipu Sultan's Throne Finial and was created in eighteenth century India for Tipu Sultan, ruler of Mysore. The precious item was brought to the UK by Thomas Wallace, 1st Baron Wallace (1763 – 1844) and has remained in the country ever since.

Alongside the Trustees of Sir William Burrell's Trust, the Art Fund has offered £125,000 towards the purchase, and Glasgow Museums have supplied a further £30,000.

Glagow Museums still need to raise more than £110,000 towards the asking price of £398,600, and the temporary export ban expires on Monday 15 November 2010.
Recognised by the British Government as being of outstanding significance, the tiger-shaped finial is made from Indian gold encrusted with gems. If the total asking price can be raised, Tipu Sultan's Throne Finial would be displayed at The Burrell Collection in Glasgow.

The finial was part of the throne created for the use of Sultan Fatih Ali Khan Tipu, popularly known as Tipu Sahib or Tipu Sultan, who ruled Mysore between 1782 and 1799. The throne was truly unique with its prominent tiger theme. It was adorned with stripes and decorated with a total of eight tiger's heads.

Noorah Al-Gailani, Curator of Islamic Civilisations at The Burrell Collection said: "Sir William Burrell devoted his to life to collecting great works and important items from across the world. In the most selfless of acts, he gifted them to the people of Glasgow. We are now looking for an individual, trust or company who will follow his example and secure this finial for Glasgow and Britain."

Art Fund director Stephen Deuchar said: "This is an outstanding artefact which tells all kinds of stories of a bygone era. This golden tiger captures the wealth and power of the Tipu Sultan, but it also reminds us of the impact of the British Empire on colonised countries. We hope that the final amount will be raised in time to keep this gem in public collections, so that it can illuminate the past for many more visitors, for years to come."

The golden tiger finial represents the life of Tipu Sultan and his battles with the British East India Company army and administration. Four Anglo-Mysore wars were fought and in the last one Tipu finally lost his kingdom and his life. The finial and its stand belonged to Lord Thomas Wallace (1763 – 1844), 1st Baron Wallace of Knarsdale, Northumberland. Lord Wallace was a prominent politician and Member of Parliament. He had a close association with India through a number of senior official posts he held related to the British administration of India.