Ancient Egyptian. Shabti (servant figure) of Henut-wedjebu. Wood with Egyptian blue inlays and black pigment, New Kingdom, Dynasty 18, ca. 1350 BCE. Toledo Museum of Art. Gift of The Apollo Society.
TOLEDO, OH.- Discover an ancient civilization's fascinating approach to life and the afterlife at The Egypt Experience: Secrets of the Tomb, a new exhibition at the Toledo Museum of Art. The installation of more than 150 objects spanning 3,000 years of history are on temporary view in a specially designed Lower Level Egyptian Gallery in the Main Museum.

TMA's popular mummies return to public view for this exploration of ancient Egyptian beliefs about life and the afterlife. Believing that if they lived good lives they would live again in a better world after death, Egyptians spent great effort to ensure the preservation of both body and spirit.

Tombs were built as "houses of eternity," places for living after death with the aid of ritual prayers, food and drink, and all the good things of life. The Egypt Experience: Secrets of the Tomb introduces visitors to the conversations between the living and the dead that formed a fundamental part of life in Egypt for thousands of years. Specially built chapels and tomb-like spaces display artifacts from the funeral ceremonies and final resting places of both royal and non-royal Egyptians.

Visitors meet a series of individual Egyptians and learn about them from the evidence of their tombs, mummies, inscribed biographies and personal possessions. Among them are: court official Akhet-hotep, overseer of the palace of King Sneferu; Raramu, priest of the mortuary cult of King Khufu, and his wife Ankhet; Zezen-nakht, hereditary prince and overseer of the army of the Ninth Nome; the royal physician Amunhotep, chief physician and royal scribe of King Rameses II; Henut-wedjebu, singer in the temple of Amun, and her husband Hatiay, granary overseer of the temple of Aten; and Tamesia, daughter of Tashenanoup, who was buried by her mother.

The Museum's two mummies (gifts in 1906 from the Museum's founders Mr. and Mrs. Edward Drummond Libbey) are on view, along with results of forensic and radiological studies that reveal much about the appearance, ages, gender, lifestyles and deaths of the young priest and the old man.

Elegantly carved and painted sculptures, the coffin of the lady Ankh-Tesh, a boat model, canopic jars, shabtis, and beautiful yet heart-rending grave gifts are displayed in the dramatic series of galleries. Objects from the Museum's own antiquities collection, enhanced by beautiful and significant loans from The Metropolitan Museum of Art, the Indiana University Art Museum, The Field Museum and the Oriental Museum Institute of the University of Chicago, among others, reveal the secrets of the tomb.

Exhibition curator Sandra E. Knudsen, associate curator of ancient art at the Museum, worked closely with Claude Fixler, installation coordinator, in planning construction of gallery spaces specifically for this temporary installation.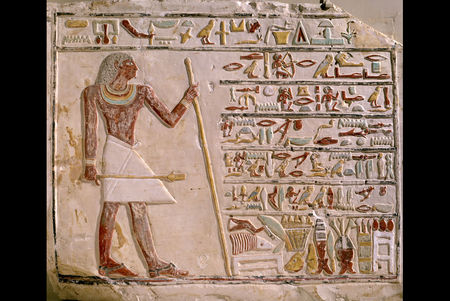 Ancient Egyptian. Funerary Stele of Zezen-nakht. Limestone with stucco and polychrome pigment, Middle Kingdom, Dynasty 11 (2040-1991 BCE), ca. 2000 BCE. Toledo Museum of Art. Purchased with funds from the Libbey Endowment, Gift of Edward Drummond Libbey