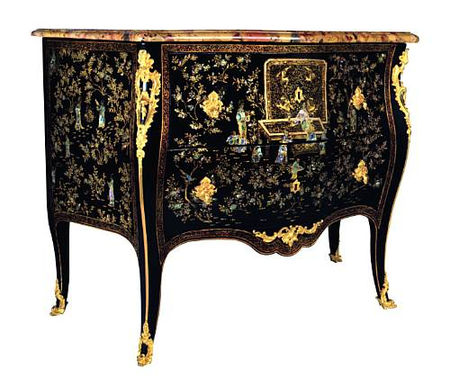 An important French mid-18th century Louis XV ormolu-mounted Chinese lacquer and mother of pearl commode. By Matthieu Criaerd, Paris © 2002-2010 Bonhams 1793 Ltd
The stepped brèche d'Alep marble top above a pair of drawers decorated sans traverses with figures, birds and scrolling foliage, the angles with pierced scrolling foliate clasps, the spreading sides with similar decoration, on cabriole legs and scrolling acanthus cast sabots, signed M.CRIAERD under the marble, the bronze mounts later, 115cm wide, 53cm deep, 87cm high (45" wide, 20.5" deep, 34" high). Estimate AUD 350,000 - 500,000 . Sold for AUD 348,000 inclusive of Buyer's Premium

Note: Matthieu Criaerd, Maître in 1738.

The quality of the structure and the audacity of the shape of the present commode is typical of Matthieu Criaerd's work and more generally of 18th century pieces decorated with lacquer. They were manufactured only by the foremost ébénistes of the time such as Criaerd, BVRB or Joseph Baumhauer and were usually commissioned by the marchands-merciers who could provide such a rare and luxurious material.

Another characteristic of Criaerd is that instead of using gilt bronze frames, he surrounded the lacquer panels with a line of vernis Martin gilded décor on a dark background as can be seen on different examples of commodes by him, previously offered on the market.

The Chinese lacquer decorating the present commode is really unusual as it shows burgau incrustations. In China, the technique of burgau incrustation developed from the Yuan period in the 13th century. The present lacquer panels can be dated around the end of the 17th century/early 18th century and were probably taken from a Chinese Kangxi armoire, similar to the one which can be seen in the Victoria and Albert Museum (inv.W.24-1939).

Mathieu Criaerd (1689-1776) was established on the faubourg Saint Antoine in Paris. His career developed thanks to his collaboration with the marchand-mercier Thomas-Joachim Hébert who commissioned the manufacture of several pieces of furniture (decorated with lacquer, vernis Martin or marquetry) for the French Court, such as the commode and encoignure with blue and white vernis Martin décor delivered for the Comtesse de Mailly in 1742 and now in the Musée du Louvre (inv. OA 11292 and OA 9533). He also worked for Gaudreaux and Gilles Joubert, both "ébénistes de la couronne".

Literature: - Thibaut Wolvesperges, Le Meuble français en laque au XVIIIe siècle, Paris-Bruxelles, 2000.
- Daniel Alcouffe, Le Mobilier du Musée du Louvre, Tome I, Paris, 1993.
Bonhams. The Andre & Cecile Fink Liquidation Sale, 31 Oct 2010. Sydney www.bonhams.com