A pair of A George III Giltwood chairs, attributed to John Linnell, circa 1765-70. Estimate: 70,000 - 110,000 U.S. dollars. Photo: Christie's Images Ltd 2010.
NEW YORK, NY.- On November 23, Christie's 500 Years: Decorative Arts Europe, including Oriental Carpets will include pieces from the historic Stansted Park suite of giltwood seat furniture, comprising three pairs of armchairs and a settee (estimate: $70,000-110,000 per pair of chairs and $50,000-80,000 for the settee). This sale marks the third time that Christie's will have offered the suite in the past 100 years since it left Stansted.

This elegant suite was almost certainly commissioned by the 2nd Earl of Halifax (the statesman for whom Halifax, Nova Scotia is named) for his stately mansion at Stansted Park in Sussex. It remained there until a fire consumed the building in 1900. It was sold at Christie's in 1911 when it entered a glamorous new chapter among America's collecting elite.

Eleven chairs and two settees (including the offered lot) were acquired by Duveen's great client, the financier Edward Stotesbury (d. 1938), a partner to J.P. Morgan and one of Philadelphia's most prominent patrons. He was worth over $100 million at the height of his career. The suite was placed in his palatial mansion Whitemarsh Hall, a monument to American wealth and society in the early 20th century (at Whitemarsh Hall, circa 1922). Known as 'the Versailles of America', Whitemarsh was built by the most outstanding artisans of the day: Horace Trumbauer was the architect, while Duveen orchestrated the interiors together with the Royal decorator Sir Charles Allom and the Parisian firm of Avaloine.

The suite was then acquired by Anna Thomson Dodge, the widow of automobile magnate Horace Dodge and one of the richest women in the world. She used the same team of Trumbauer, Duveen, and Alavoine to create an equally impressive Rose Terrace on Lake St. Clair in Grosse Pointe Farms, which was primarily furnished with French 18th century furniture, much of it Royal. The suite was sold at Christie's as part of the celebrated series of sales in 1970 and 1971. It was then placed on long-term loan at the Huntington Library in San Marino, California where it sat beneath Britain's most famous portraits including Gainsborough's Blue Boy.

Five further chairs and a settee from the Stansted suite have been used by Prime Ministers and visiting dignitaries at 10 Downing Street in London since acquired in 1946. There are various wonderful depictions of world leaders seated in the chairs and Margaret Thatcher's painted portrait at the Carlton Club shows her seated in a Stansted chair.

The refined design is produced during a prime moment of classicism in England as promoted by the architect Robert Adam for his most sophisticated patrons. Each piece is capped by a ribbon-wrapped portrait medallion. The suite is attributed to preeminent London maker and designer John Linnell, known among today's connoisseurs, particularly for his extensive commission at Osterley Park.

Auction: 500 Years: Decorative Arts Europe, including Oriental Carpets November 23
Viewing: Christie's Rockefeller Galleries November 19-22
STANSTED PARK

Stansted Park, for which this suite was almost certainly commissioned, has a history both ancient and romantic. Situated in the forests near the harbour of Portsmouth in West Sussex, Stansted (meaning 'stone place'), was owned for 500 years by the Earls of Arundel (until the end of the 16th century) and by the Lumley family for the next 200 years. Close associations to the Court over the centuries resulted in numerous Royal visits including King Henry II (in 1177), Queen Elizabeth, William III and George III. Among the more interesting Royal connections: Henry, the last Fitzalan Earl of Arundel (d. 1579), was one of Queen Elizabeth's disappointed suitors in 1564, while Lord Scarborough was one of seven signatories who invited William of Orange to 'secure the infringed liberties' of England (Earl of Bessborough, Enchanted Forest: The Story of Stansted in Sussex, London, 1984, p. 38). It was Lord Scarborough who fashioned a new estate in 1684, virtually identical in design to neighboring Uppark Park. Both houses were illustrated in Johannes Kip's Britannia Illustrata (circa 1710).

In 1766, James Lumley ('Jemmy') left Stansted to his nephew George Montagu-Dunk, 2nd Earl of Halifax (d. 1771), who came into a considerable fortune through his marriage to an heiress. Halifax, called 'the Father of the Colonies,' was President of the Board of Trade in 1748 (the capital of Nova Scotia is named after him). Influential as part of Lord Bute's inner cabinet and as Viceroy of Ireland and First Lord of the Admiralty, his power waned with Pitt's administration, and a well-publicized affair with a Drury Lane singer, Mrs. William Donaldson. Regardless, in the five years that he owned Stansted, he made ambitious improvements to the property. Lord Halifax likely commissioned the suite of furniture as part of his refurbishment which included the building of the follies Lumley Seat and Racton Tower.

Ten years after his death, Stansted was sold by Lord Halifax's natural (but illegitimate) daughter in 1781 to the wealthy Indian nabob, Richard Barwell. Intriguing is a reference in that same year to a set of 'gold and embroidered chairs' offered to Queen Charlotte but declined due to their prohibitive price. Those same chairs, possibly a contemporary reference to the suite on offer, were at the house after it next sold to Lewis Way, thus clearly furnishings were passed along to progressive owners of the house (Earl of Bessborough, op. cit., p. 57). Barwell himself set about rebuilding the house at great expense, employing James Wyatt and Joseph Bonomi who encased the house in white brick and added porticos similar to Wyatt's Goodwood House nearby. It is tempting to consider the classicist Wyatt as author of the suite but it would appear that alterations to the interior were minimal. As Walpole observed, 'several of the very handsome apartments have undergone no change' (C. Aslet, 'Stansted Park, Sussex-II', Country Life, 17 February 1982, p. 412).

The house passed on to various owners. In 1900, it was razed to the ground by a devastating fire which also consumed all the archives. At that time Stansted belonged to George Wilder who rebuilt the house and sold it on two years later. On 13 May 1911, Wilder sold the suite at Christie's among other property 'removed from Stansted Park, Sussex.' The description reads:

Lot 96 A SUITE OF OLD ENGLISH FURNITURE, with giltwood frameworks carved with acanthus and laurel foliage, honeysuckle ornament, Classical vases festooned with drapery, and medallion heads surmounted by knots of riband, the seats and backs covered with applique embroidery with bouquets of flower in coloured silks on white satin - English , late 18th century - consisting of
A PAIR OF SETTEES - 88 in. long
A SETTEE - 82 in. long
SEVENTEEN ARMCHAIRS
A FIRE SCREEN - 43 in. high

A set of three side tables with painted satinwood tops and a set of four torcheres were sold 'en suite' as the two following lots. The seventeen armchairs and two of the settees, plus an additional armchair, can be accounted for today. The fire screen has yet to be identified. Stansted has been owned by the Earls of Bessborough since 1924.

EDWARD T. STOTESBURY AT WHITEMARSH HALL: 'THE VERSAILLES OF AMERICA'

The Stansted suite reappears in circa 1922 when the settee and some of the armchairs can be glimpsed in a photograph of Whitemarsh Hall, the extraordinary mansion build by financier Edward T. Stotesbury outside of Philadelphia. Stotesbury was chief executive of Drexel and Company and co-partner to J. P. Morgan in New York. At the peak of his wealth, he was worth in excess of $100 million. He and his second wife, the great society hostess Eva Cromwell (whom he married in 1912), immediately set about building the 147-room Palladian mansion working with the most illustrious talents of the day. The famous classicist Horace Trumbauer was the architect, while Eva Stotesbury orchestrated the interiors together with her artistic muse, the legendary art dealer Sir Joseph Duveen. Duveen introduced Eva to pre-eminent decorators Lucien Alavoine from Paris and Sir Charles Allom (White Allom & Co.) from London but correspondence reveals his prevailing influence among 'our little artistic circle,' as he writes in a letter of 1923. Under Duveen's supervision, the Stotesburys acquired one of the most important collections of English portraiture, as well as extraordinary eighteenth century furniture and objects.

The Stotesburys went on several buying trips in Paris and London as early as 1913, but the house did not break ground until 1916 and was essentially completed by 1918. The gala reception on 8 October 1921 officially marked its opening to 800 members of Philadelphia's high society. The suite appears in a 1922 photo of the Upper Gallery Hall when the house was being photographed for private publication. Transactions occur (both buying and selling) for many years following. The Duveen records preserved at the Getty Museum fail to mention the suite, which may indicate an early purchase (shortly following the 1911 sale) or an acquisition through White Allom, who were not only retailers but also exclusive advisors to the Royal family during the first quarter of the 20th century. The present embroidered covers were probably produced by the Parisian firm of Avaloine, whose label appears beneath one chair, in an effort to reproduce the floral silk embroidery that was described in the 1911 sale (and perhaps the same referenced in Queen Charlotte's potential purchase). Each piece displays a different pattern of floral sprays. The Stotesburys were not spared from the stock market crash of 1929 after which time many objects were offered for sale. In 1932, they retreated to Europe for a year, lending much of the collection to the Pennsylvania Museum (now Philadelphia Museum). The eleven chairs, two settees (and interestingly) three screens were included in this loan which was returned on 23 May 1933. The once glorious era at Stotesbury was brought to a close with Edward Stotesbury's death in 1938, when Eva put the house up for sale. Following Eva's death in 1946, the local auctioneers Samuel T. Freeman & Co. sold the contents of Whitemarsh Hall (25-27 November 1946), although the suite had already apparently been removed as it does not appear in the catalogue. Whitemarsh Hall, an extraordinary monument to American wealth and society was finally demolished in 1980.

ANNA THOMSON DODGE AT ROSE TERRACE: ONE OF THE RICHEST WOMEN IN THE WORLD

It is not known how or when the suite left Whitemarsh and entered the equally splendid collection of Anna Thomson Dodge. Anna Dodge certainly viewed Eva Stotesbury as an inspiration. The two grand dames were extremely friendly through Palm Beach society, but more importantly, Anna's daughter, Delphine Dodge, married Eva's son, James Cromwell in a spectacular wedding in 1920. The marriage was short-lived (only three years) which probably precludes the suite having been gifted to the couple given its presence at Whitemarsh as late as 1922. (Jimmy Cromwell went on to marry tobacco heiress Doris Duke, the first of several more wives).

Anna, a child immigrant from Dundee, Scotland, married Horace Dodge - who would later make his fortune, primarily as an early investor in Ford Motor Company stock. When he died prematurely in 1920, Anna reportedly became the richest woman in America. She remarried the actor Hugh Dillman in 1926. And in 1931 - in the midst of a crippling Depression - the unbeatable team of Trumbauer, Duveen and Alavoine was reunited to create Rose Terrace, a limestone mansion on the shores of Lake St. Clair in Grosse Pointe Farms, Michigan and modeled after Miramar, the Newport home of George Widener (also by Trumbauer). Similar to Whitemarsh, Rose Terrace was primarily furnished with French 18th century furniture, much of it Royal, accompanied by the finest English portraiture. No expense was spared. Trumbauer wrote to Mrs. Dodge in 1932: 'I know of no house in America where better taste has been displayed' (T. Dell, 'Anna Thomson Dodge and the building of Rose Terrace', The Dodge Collection of Eighteenth-Century French and English Art in the Detroit Institute of Arts, 1996, p. 30). While the archives are incomplete, the Duveen papers do not list the suite. Following Anna's death in 1970, the suite was sold as part of Christie's famous series of sales in 1970 and 1971. The best of the French furniture was purchased by J. Paul Getty, while the Music Room from the house is a centerpiece of the Detroit Institute's collections. Rose Terrace, suffering the same fate as Whitemarsh, was leveled in 1976.

THE HUNTINGTON LIBRARY: THE SUITE ON PUBLIC VIEW FOR THIRTY YEARS

The eleven chairs and settee owned by Mrs. Dodge were shortly thereafter placed on public view in the Huntington's famous Portrait Gallery in San Marino, California. For the next thirty years (until 2005), the suite was prominently placed beneath some of Britain's most famous 18th century portraits including Gainsborough's Blue Boy and Lawrence's Pinkie. The Huntington, founded in 1919 by the railway baron Henry E. Huntington, represented his devotion to beauty in the arts, fine books and gardens as well as his dedication to research and education. This latest chapter in the history of the suite links it indirectly to yet another of the Gilded Age greats, Duveen and immeasurable wealth and status.

THE SUITE AT 10 DOWNING STREET: SEATS FOR PRIME MINISTERS AND DIGNITARIES

Number 10 Downing Street is one of the most recognizable addresses in the world. The house has been a working office and home to many of Britain's Prime Ministers and their families since Sir Horace Walpole first took up residence in 1735. Winston Churchill used it for working and eating after his family and cabinet were moved to the Annex following the bombing raids of 1940 which inflicted damage to the building. From 1945-50 - under the new leadership of Prime Minister Clement Attlee - Downing Street was completely gutted and renovated, preserving its historical features. It was during this time that six of the Stansted armchairs and a settee were bought by the Ministry of Works - five chairs are at Downing Street while the sixth chair was gifted to the Victoria and Albert Museum in London s a superb example of English neo-classical design. The chairs have since furnished the White Drawing Room, whose impressive architectural backdrop was part of William Kent's refurbishment of the earlier 17th century house. The White Drawing Room has been the Prime Minister's private family room since its incarnation as Lady Walpole's Sitting Room. Significantly, it is often chosen as the backdrop for state meetings and interviews. In addition to the post-war Prime Ministers, numerous heads of state and foreign dignitaries have been photographed seated in the Stansted chairs. Baroness Margaret Thatcher, who recognized the considerable importance of the suite, was painted seated in one of the chairs; this portrait hangs in the Carlton Club, the former gentleman's club who made her the first female honorary member in 1975. The Downing Street chairs were recovered and gilded under the direction of The Rt. Hon. and Mrs. Tony Blair. The chairs can be seen in a virtual tour of the White Drawing Room on the Prime Minister's official website (www.number10.gov.uk/tour).

THE LINNELL ATTRIBUTION

This elegant suite, marked by its sophisticated classicism, is attributed to pre-eminent London cabinet-maker, carver and designer John Linnell (d. 1796) as it closely relates to a drawing preserved in the Victoria and Albert Museum, reproduced here. Linnell was a serious student of French ornament at the St. Martin's Lane Academy before working for his celebrated father, William. He eventually inherited his cabinet-making and upholstery workshops in fashionable Berkeley Square in 1763, employing some forty to fifty people. By the mid-1760s, Linnell displayed a growing interest in neo-classical form and ornament. His designs from this time reveal his interest in French design as well as the influence of the architect designer Robert Adam, who worked on many of the same houses as Linnell such as Robert Child's Osterley Park, William Drake's Shardeloes, and Lord Scarsdale's Kedleston Hall. Portrait medallions feature on a number of notable Linnell designs for various forms including seat furniture, tables and mirrors. Works with this feature include the magnificent giltwood sofas supplied for the Drawing Room at Kedleston Hall in circa 1765 (H. Hayward and P. Kirkham, William and John Linnell, London, 1980, vol. II, fig. 241-247) and a set of eight lyre-back armchairs for the Library at Osterley Park, circa 1768-69 (op. cit., fig. 71).

From 1768-1771, at the time the suite would have been ordered, the 2nd Earl of Halifax lived in No. 7 Grosvenor Square, near the Berkeley Square workshops of John Linnell.
A pair of A George III Giltwood chairs, attributed to John Linnell, circa 1765-70. Photo: Christie's Images Ltd 2010.
Each cartouche form back carved with leaftips and trailing foliage and centered with a ribbon-tied portrait medallion and flanked by curved arms and an over-upholstered seat covered in applied floral wool needlework on silk over a leaf-carved apron centered with a swag-draped urn on husk-carved square tapering legs, one frame inscribed '3' (2) - Estimate: $70,000 - $110,000
Provenance: These six chairs and settee formed of a larger suite comprising at least eighteen armchairs, a pair of settees, a smaller settee and a matching fire screen almost certainly supplied to George Montagu-Dunk, 2nd Earl of Halifax (d. 1771) for Stansted Park, Sussex.
Thence by descent to his daughter, Anna Donaldson (d. 1805), and remaining at Stansted among various owners until 1902 when the house was sold by George Wilder.
George Wilder, Esq. and removed from Stansted Park, Sussex, Christie's, London, 13 May 1911, lot 96 (£ 609 = 580 gns. to Wills & Co [?]) (the lot with seventeen chairs).
Edward T. Stotesbury (d. 1938), Whitemarsh Hall, Wyndmoor, Pennsylvania, probably acquired through Joseph Duveen (eleven armchairs and two settees).
Anna Thomson Dodge, Rose Terrace, Grosse Pointe Farm, Michigan, possibly acquired through Duveen.
The Late Mrs. Anna Thomson Dodge, The Remaining Contents of Rose Terrace, Grosse Pointe Farms, Michigan, Christie's on the Premises, 27-29 September 1971, lot 119 (eleven armchairs and the settee) [catalogued as Franco-Flemish] (bought by the present owner's family).
THE REMAINDER OF THE SUITE

The remaining pieces from the suite have been dispersed as follows:
-six chairs and a settee: with Crowther of Syon Lodge, Middlesex and sold in 1946 to the Ministry of Works; five of these chairs and the settee are presently at the residence of the Prime Minister, 10 Downing Street, London; the remaining chair was gifted to the Victoria and Albert Museum, London.
-a further chair: Colonel H. H. Mulliner, sold Christie's, London, 18 July 1924, lot 62.
-Five chairs from the Dodge sale remain in a private collection.

Literature: H. H. Mulliner, The Decorative Arts in England, London, 1928, fig. 27.
D. Fitz-Gerald, Georgian Furniture, London, 1969, fig. 96.
Victoria and Albert Museum, English Chairs, London, 1970, no. 90.
H. Hayward and P. Kirkham, William and John Linnell, London, 1980, vol. II, figs. 84 and 85.
M. Tomlin, Catalogue of Adam Period Furniture, London, 1982, pp. 112-113, no. N/9.
G. Beard and J. Goodison, English Furniture 1500-1840, Oxford, 1987, p. 176, fig. 2.
J. Charlton, No. 10 Downing Street, London, 1990, p. 16-17.
M. C. Kathrens, American Splendor: The Residential Architecture of Horace Trumbauer, New York, 2002, p. 145 (shown in situ in the Gallery Hall at Whitemarsh Hall).
C. G. and E. C. Zwicker, Whitemarsh Hall: The Estate of Edward T. Stotesbury, Charleston, 2004, p. 56 (shown in situ at Whitemarsh).
Exhibited
Pennsylvania Museum (now the Philadelphia Museum of Art), Philadelphia, The Stotesbury Collection, 1932 (accession number 149-1932-1a-k).
The Huntington Library and Art Collections, San Marino, California, on public view in the Portrait Gallery, 1975-2005.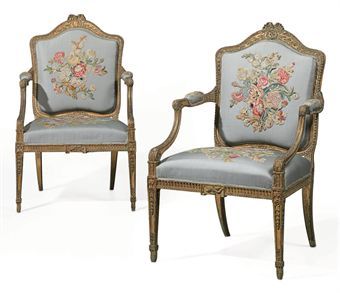 A pair of A George III Giltwood chairs, attributed to John Linnell, circa 1765-70. Photo: Christie's Images Ltd 2010.
En suite with the previous lot, the seat frames inscribed '5' and '9' respectively (2) - Estimate: $70,000 - $110,000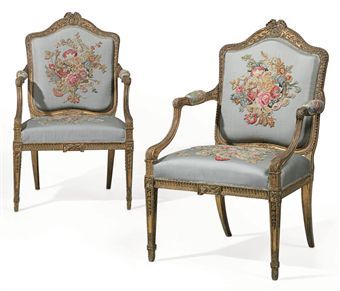 A pair of A George III Giltwood chairs, attributed to John Linnell, circa 1765-70. Photo: Christie's Images Ltd 2010.
En suite with the previous lot, the seatframes inscribed '3' and '9' respectively (2) - Estimate: $70,000 - $110,000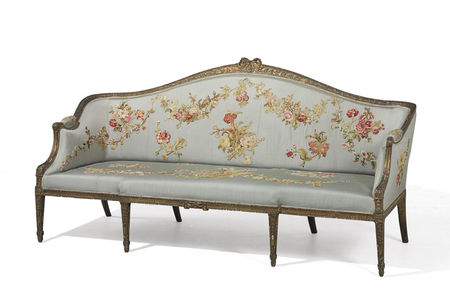 A George III Giltwood Settee, attributed to John Linnell, circa 1765-70. Photo: Christie's Images Ltd 2010.
En suite with the previous lots, with paper label and ink inscription '836...' 87 in. (221 cm.) long - Estimate: $50,000 - 80,000