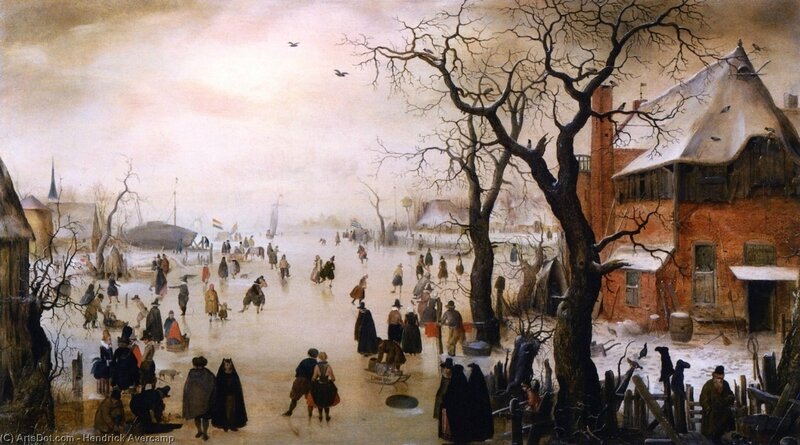 Hendrick Avercamp (1585-1634), Winter Landscape with Skaters, c.1610-1615. Panel, 53 x 95 cm. The Hague, Royal Picture Gallery Mauritshuis
THE HAGUE.- A selection of highlights from the remarkable art collection of Eijk and Rose-Marie de Mol van Otterloo will be on display at the Mauritshuis in The Hague this autumn. The exhibition Made in Holland: Old Masters from a private collection in America features 44 masterpieces produced by Dutch masters during the Golden Age. Not only are these works of outstanding quality, their subject matter is often intriguing. The selection includes works by Rembrandt, Frans Hals, Paulus Potter, Jan Steen and Hendrick Avercamp. One floor of the Mauritshuis will be transformed into the home of Van Otterloos for a period of three months. This will offer a unique opportunity to view these works, which are rarely exhibited in public. Made in Holland opens to the public on 4 November 2010 and will be on view until 30 January 2011 in The Hague. The Dutch showing of this exhibition has been made possible thanks to financial support from the Turing Foundation, NIBC and the Friends of the Mauritshuis.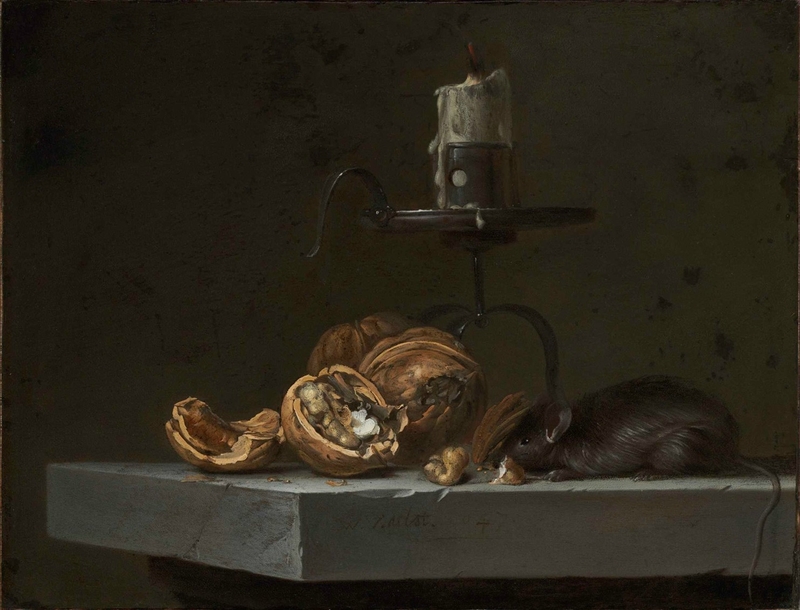 Willem van Aelst (1627-c.1683), Still Life with a Candle, Walnuts and a Mouse, 1647. Copper, 19 x 25 cm. The Hague, Royal Picture Gallery Mauritshuis
History of a Collection
Dutch collectors Eijk and Rose-Marie de Mol van Otterloo, started collecting after their marriage in 1974, initially acquiring antique carriages and English sporting prints. Peter Sutton, current director of the Bruce Museum in Greenwich, Connecticut, suggested that they collect works by seventeenth-century Dutch masters. Simon Levie (advisor from 1995), former director of the Rijksmuseum in Amsterdam, and Frits Duparc, former director of the Mauritshuis (who took over from Levie in 2009), were closely involved in shaping this exceptionally beautiful collection. Paintings of extraordinarily high quality continue to be added, such as Rembrandt's Portrait of Aeltje Uylenburgh (1632) in 2005, which the couple themselves describe as 'the jewel in our collection's crown', and Gerrit Dou's Still Life with Sleeping Dog (1650): 'love at first sight'. Masterpieces by Aert van der Neer, Esaias van de Velde, Gabriel Metsu, Salomon de Bray and Pieter Claesz were acquired in 2008 and 2009.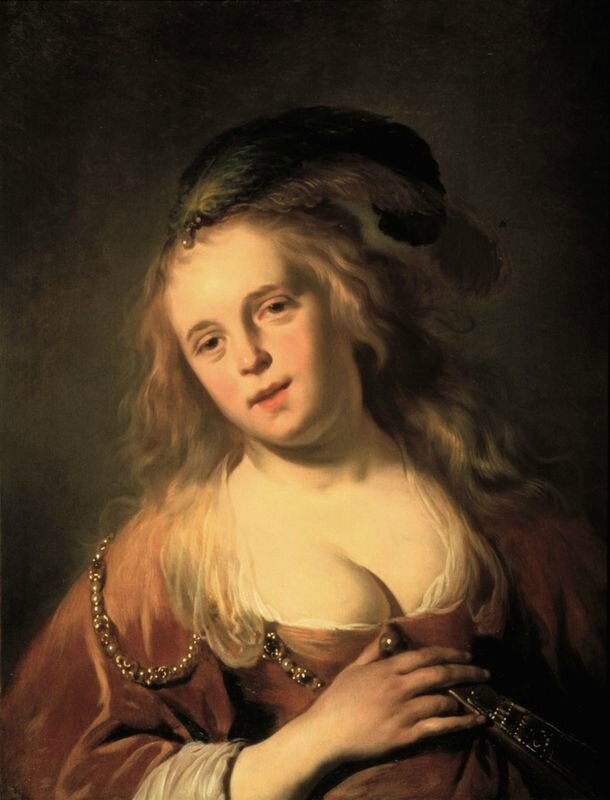 Jacob Backer (1608/9-1651), Young Woman Holding a Fan, c.1644-1645. Panel, 69 x 57 cm. The Hague, Royal Picture Gallery Mauritshuis
All Genres Represented
A pretty, yet insolent young girl, a dog sleeping peacefully, winter landscapes or a summer scene with shepherds and picturesque mountains: the pictures in Made in Holland illustrate the versatility of seventeenth-century Dutch painting. In the exhibition, first-rate paintings will be grouped in ensembles, with an emphasis on still lifes, landscapes, genre paintings and portraits.

Among the still lifes, a number of rare works by painters from Middelburg, including Balthasar van der Ast, Ambrosius Bosschaert and Adrian Coorte, are of particular interest. These will be shown alongside works by famous still-life painters such as Jan Davidsz de Heem and Willem Heda.

The Dutch landscape is well represented with, among others, three works by the leading landscape artist of the Golden Age, Jacob van Ruisdael. The work of Nicolaes Berchem, Jan Both, Karel du Jardin and Adam Pijnacker focuses on the Italian landscape.

Father and son Willem van de Velde the Elder and Willem van de Velde the Younger depict the Dutch Republic as a seafaring nation. Admirers of seascapes like this will also enjoy Jan van de Cappelle and Simon de Vlieger's beautiful paintings.
In the portraits section, masterpieces by Rembrandt and Frans Hals stand out, while everyday life takes centre stage in the work of painters such as Jan Steen, Nicolaes Maes, Adriaen van Ostade and Frans van Mieris the Elder. An unexpected highlight is the history painting Orpheus Charming the Animals (c. 1640), an early work by Aelbert Cuyp.

In 2011, the complete collection of paintings, together with a smaller collection of antique furniture and objets d'art, will go on display in the Peabody Essex Museum in Salem, Massachusetts. The exhibition will then move to the Fine Arts Museums of San Francisco and finally to the Museum of Fine Arts in Houston.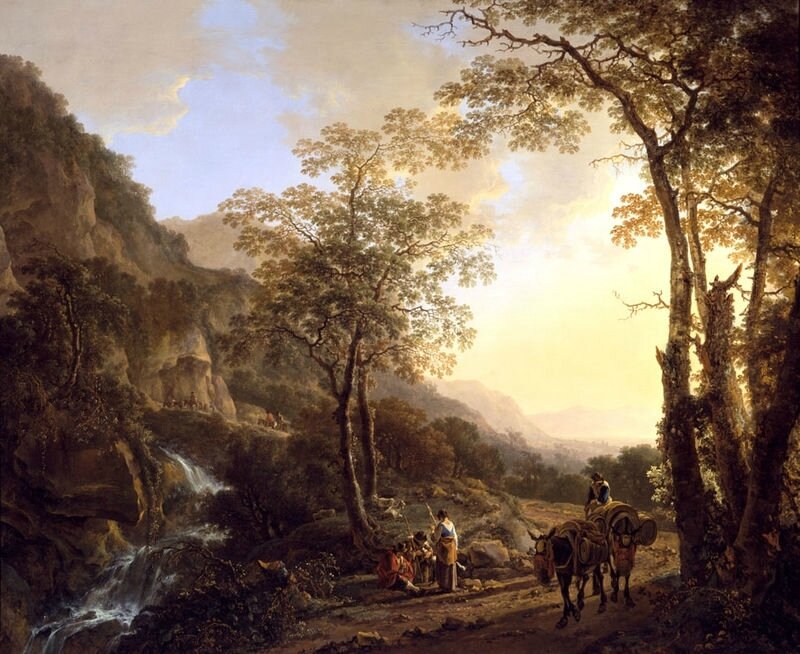 Jan Both (c.1615-1652), Italianate Landscape with Travellers, c.1645-1650. Canvas, 138 x 168 cm. The Hague, Royal Picture Gallery Mauritshuis
Private Collectors and the Mauritshuis
Private collectors have always played an important role at the Mauritshuis. The core of the holdings is made up of the royal collections of the Princes of Orange-Nassau, Willem IV (1711-1751) and Willem V (1748-1806), but since 1822, a large part of the museum's collection -– has been acquired via gifts and bequests. Additionally, long and short-term loans made by individuals over the years have boosted the museum's permanent display. Loans from private individuals also form an essential part of many exhibitions at the Mauritshuis. The Van Otterloos belong to this group of private lenders, which always supports exhibitions both at home and abroad, including those at the Mauritshuis, with great generosity. Since many of the works in the Van Otterloo's collection were intended for private homes, the exhibition Made in Holland lends itself perfectly to the intimate galleries of the Mauritshuis, itself built in the seventeenth century as a private residence for Count Johan Maurits of Nassau Siegen (1604-1679).
Salomon de Bray (1597-1664), Bust of a Young Woman in Profile, 1636. Panel (oval), 27 x 21 cm; The Hague, Royal Picture Gallery Mauritshuis
Jan van de Cappelle (1626-1679), Boats in a calm sea, 1651. Canvas, 48 x 53 cm. The Hague, Royal Picture Gallery Mauritshuis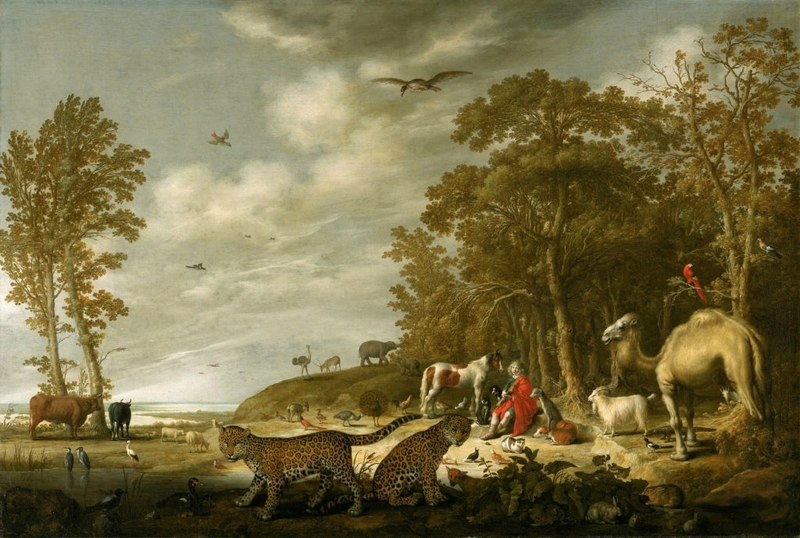 Aelbert Cuyp (1620-1691), Orpheus Charming the Animals, c.1640. Canvas, 113 x 167 cm. The Hague, Royal Picture Gallery Mauritshuis
Gerrit Dou (1613-1675), A Resting Dog, 1650. Panel, 17 x 22 cm. The Hague, Royal Picture Gallery Mauritshuis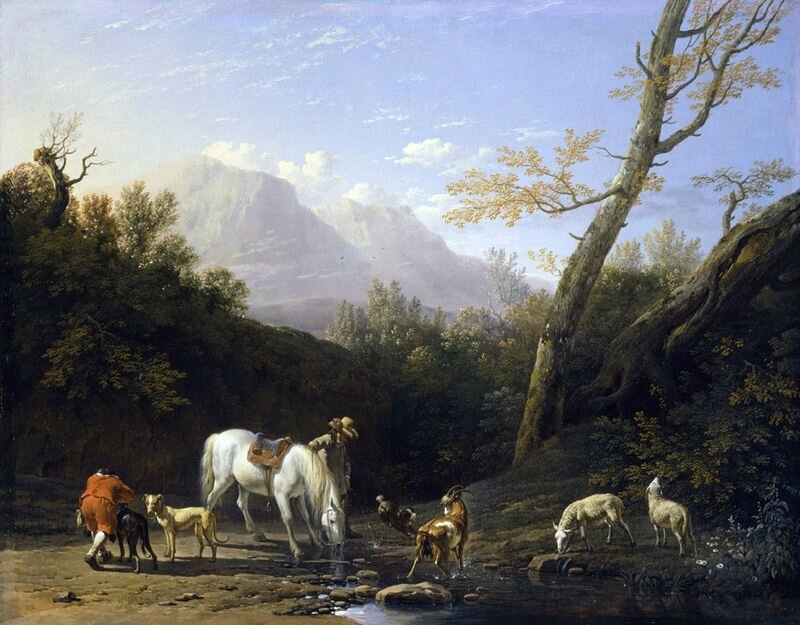 Karel du Jardin (1626-1678), A Horseman at a River, 1660. Canvas, 36 x 46 cm. The Hague, Royal Picture Gallery Mauritshuis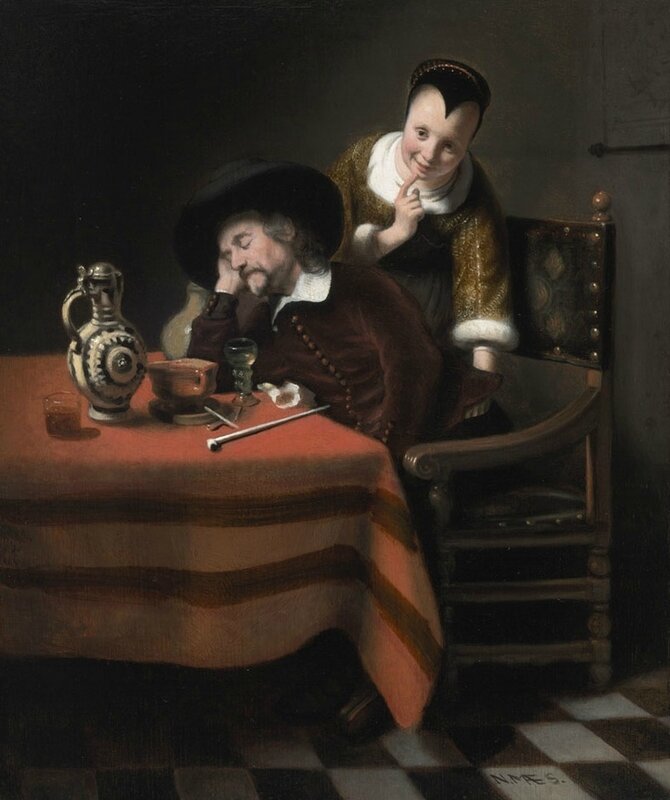 Nicolaes Maes (1634-1693, A Young Woman Picking the Pocket of a Sleeping Man, c.1655. Panel, 36 x 30 cm. The Hague, Royal Picture Gallery Mauritshuis
Aert van der Neer (1603/4-1677), Figures in a Snowstorm, c.1655-1660. Canvas, 61 x 76 cm. The Hague, Royal Picture Gallery Mauritshuis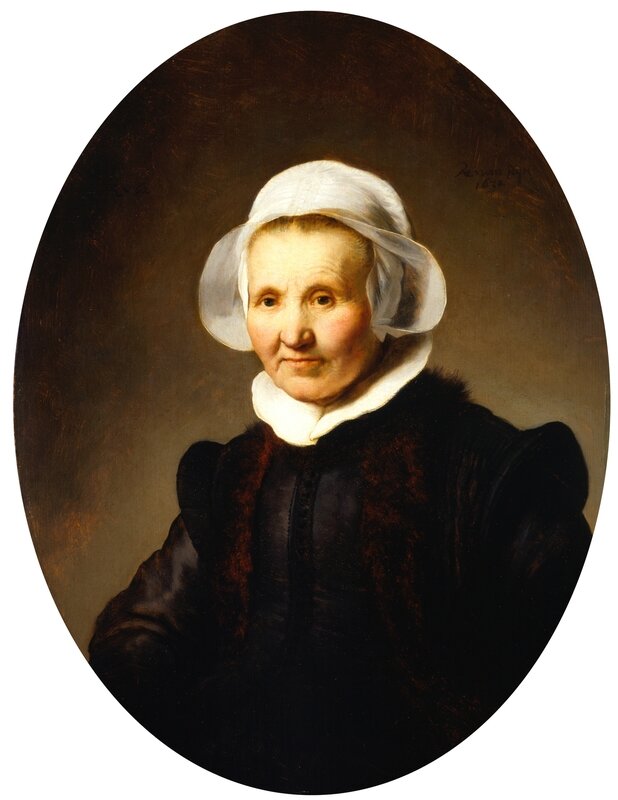 Rembrandt (1606-1669), Portrait of Aeltje Uylenburgh, 1632. Panel (oval), 74 x 56 cm. The Hague, Royal Picture Gallery Mauritshuis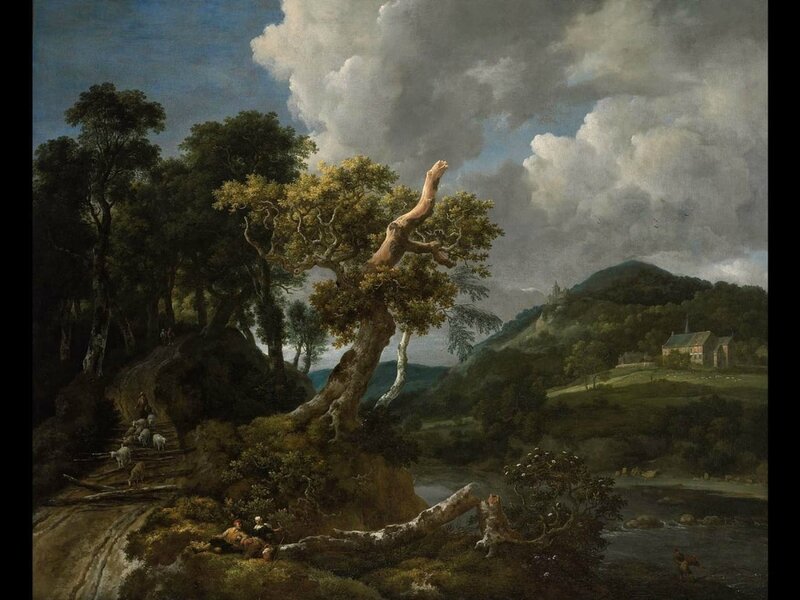 Jacob van Ruisdael (1628-1682), Wooded Landscape, c.1655-1660. Canvas, 109 x 142 cm. The Hague, Royal Picture Gallery Mauritshuis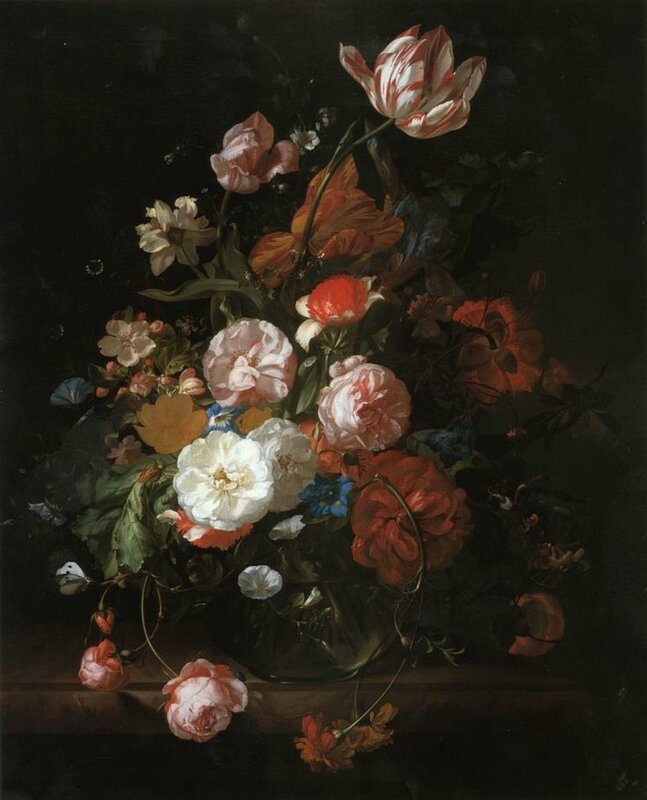 Rachel Ruysch (1664-1750), Still Life with Flowers, 1709. Canvas, 78 x 64 cm. The Hague, Royal Picture Gallery Mauritshuis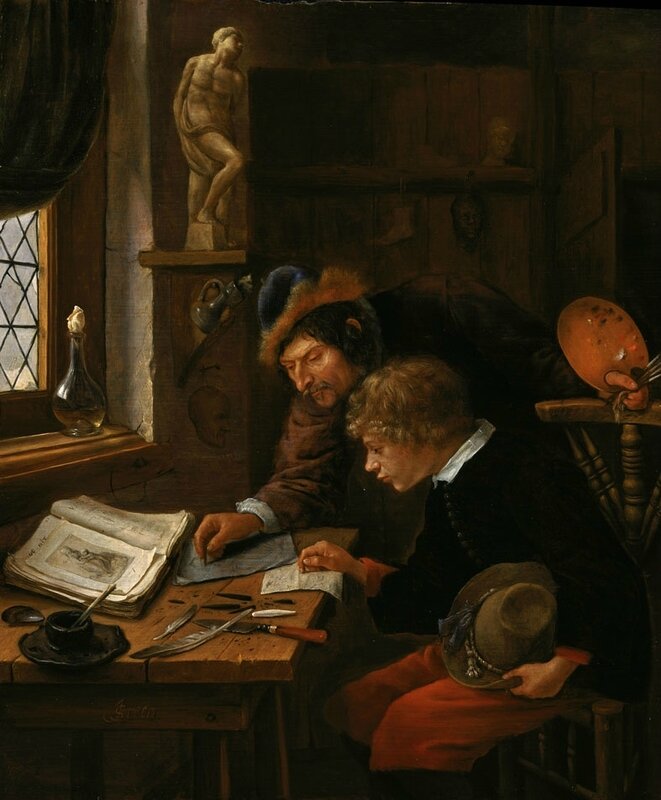 Jan Steen (1626-1679), The Drawing Lesson, c.1660-1665.. Panel, 24 x 21 cm. The Hague, Royal Picture Gallery Mauritshuis