MADRID.- The Museum's Rubens galleries are temporarily closed for re-modelling as part of the Prado's "Second Extension" plan. As a result, and over the course of more than two months, the Museum is inviting the public to enter into the vibrant artistic universe of this great and highly prolific Flemish painter through an innovative type of display of its important holdings of autograph works by Rubens and works by his studio. In addition, it is the first time for a decade that all these paintings, which constitute one of the core groups within the Museum's collections, can all be seen on display together at one time. The Prado houses the largest and one of the world's finest collections of works by Rubens, an artist whose extremely extensive oeuvre is now divided between numerous different institutions.

In order to help the visitor to become truly immersed in the world of Rubens and to grasp his remarkable creative powers, the exhibition's curator has devised an unusual type of display in which the 90 works are presented in chronological order in the manner of linked sequences within a single, panoramic "take", in cinematographic terms.

The arrangement of the exhibition, which is displayed in two large galleries, allows for a clear appreciation of the evolution of Rubens' style and his manner of approaching large-scale works. In the first room (A) the visitor can see early works by the artist which are notably "Michelangelesque" in style. Here Rubens appears as a great classical sculptor whose aim was to convey the power of forms and their expressive force. Saint George and the Dragon is a perfect example of the monumental style typical of this early period with its strong, solid figures.

Also notable in this room is the great Apostle Series. It includes various canvases that have not been on display in recent years, including Saint Matthew (ca.1610-1612). Another major series is that of the Torre de la Parada, which occupies part of the second gallery (B). For the first time in over a decade visitors can see the complete series, which was commissioned by Philip IV for a hunting pavilion at El Pardo in the mountains near Madrid. This room also includes works from the last years of Rubens' career in which he focused on the narrative potential of his compositions and on a desire to convey their poetic content. The landscape of Atalanta and Meleager hunting the Calydonean Boar (ca.1635) is displayed next to Diana and her Nymphs surprised by Satyrs (1638-1640), revealing Rubens' love of the countryside and his profound empathy with the vitality of nature.

The Prado's collection of Rubens reflects the thematic diversity to be found in the artist's work and includes mythological, religious and historical compositions as well as portraits and landscapes. Among these works are some of his greatest masterpieces, such as Saint George and the Dragon (ca.1607), The Adoration of the Magi (1609), Saint Paul (ca.1611), The Garden of Love (ca.1633), The Three Graces (ca.1635), Nymphs and Satyrs (ca.1635), Hercules and Cerberus (ca.1636), Village Dance (1636-1640), Diana and her Nymphs surprised by Satyrs (1638-1640), and Diana and Callisto (1638-1640); ten examples from the astonishing and unique creative universe of the artist who remained Philip IV's preferred painter until his death and who can be considered one of the greatest painters of all times.
Rubens, Philip IV's favourite painter
Peter Paul Rubens (1577-1640) was the most celebrated and renowned artist of his day in Europe. His art is the result of his astonishing creative powers and is characterised by its rhetorical expressivity and powerful forms. Rubens aimed to convey an exalted vision of life and one that helps us to grasp an ideal of human excellence. The artist was also employed as a diplomat in the service of the Spanish monarchy and was an important and active connoisseur of classical culture; different facets of his activities that suggest something of his remarkable intellectual and artistic stature.

As a native of the Southern Low Countries (modern-day Belgium), Rubens was closely linked to the Spanish royal family, which governed this region. Philip II's daughter, the Infanta Clara Eugenia Isabel, used his political services and supported his artistic career. During his lifetime Rubens was the preferred artist of Philip IV, who commissioned dozens of paintings from him to decorate his Madrid palaces.

On Rubens' death in 1640 Philip IV acquired a significant number of paintings that had belonged to the artist himself and which were offered at auction after his death. They include some of the most important examples of his work now in the Prado, including The Three Graces, The Garden of Love, Village Dance and Nymphs and Satyrs. Philip's particular preference for Rubens largely explains why the Prado now houses the world's largest collection of his works.
Documentary
In conjunction with the exhibition, the Museo del Prado is presenting a documentary entitled Rubens. The Spectacle of Life. Made over the past few years, it takes de form of an approach to the artistic career and pictorial work of Rubens. It is co-produced by the Centro de Estudios Europa Hispánica and Angular Producciones, carried out by Miguel Ángel Trujillo under the scientific direction of Alejandro Vergara, Senior Curator of Flemish Painting and Northern Schools of the Prado. In order to locate Rubens in a broader context, the documentary includes the participation of creative figures not involved in the art world, such as Israel Galván, a choreographer, dancer and winner of the Spanish National Dance Prize in 2005; the British-born, Spanish-based costume designer Yvonne Blake, an Oscar winner in 1971 and a recipient of four Goya prizes. These participants convey their passion for their respective professions in a way comparable to that of Rubens with regard to his creative activities. Galván's dancing makes the viewer appreciate the way in which the human body was Rubens' principal instrument, while Yvonne Blake was inspired by paintings by the artist for the creation of some of her costume designs for films. Accompanying Galván and Blake are the sculptor Juan Bordes and the essayist and philosopher Javier Gomá, who also contribute to this assessment of the figure of Rubens, helping to bring him closer to the contemporary public.
Rubens, Peter Paul, The Three Graces, Ca. 1635, Oil, on Wooden Pane, 221 cm x 181 cm. P01670. Royal Collection © 2010 Museo Nacional del Prado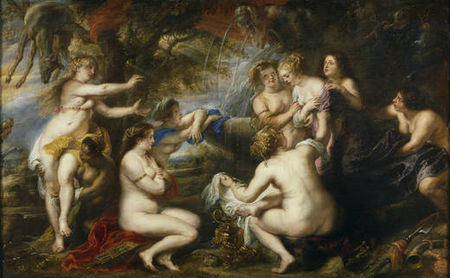 Rubens, Peter Paul (Flemish), Diana and Calisto, 202 cm x 323 cm x 4 cm, 1638-1640. P01671. Royal Collection © 2010 Museo Nacional del Prado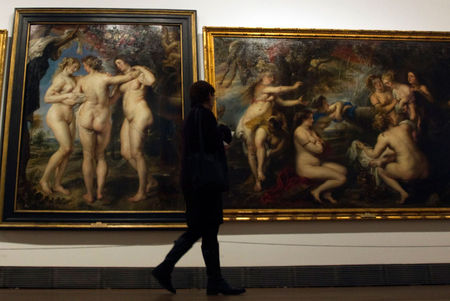 A journalist looks at paintings (L-R) "Las Tres Gracias" ("The Three Graces") and "Diana y Calisto" by artist Peter Paul Rubens during the presentation of the upcoming exhibition "Rubens" at Madrid's El Prado museum November 4, 2010. The exhibition will be opened from November 5, 2010 to next January 23, 2011. REUTERS/Sergio Perez.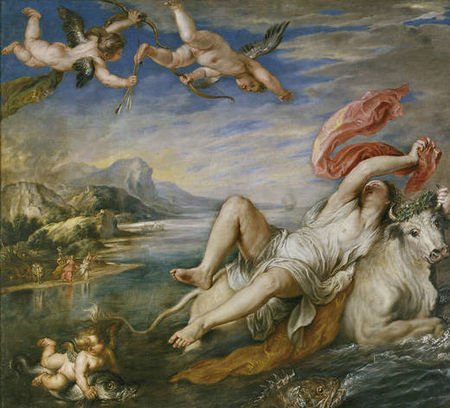 Rubens, Peter Paul (Flemish), The Rape of Europe, 181 cm x 200 cm, 1628-1629. P01693. Royal Collection © 2010 Museo Nacional del Prado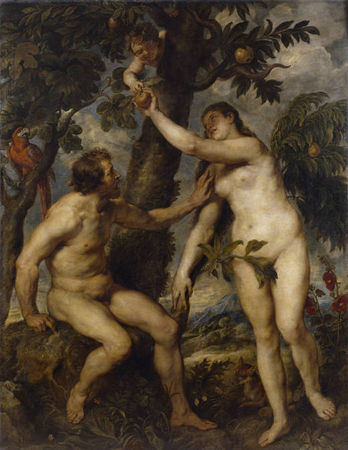 Rubens, Peter Paul (Flemish), Adam and Eve, 237 cm x 184 cm, 1628-1629. P01692. Royal Collection © 2010 Museo Nacional del Prado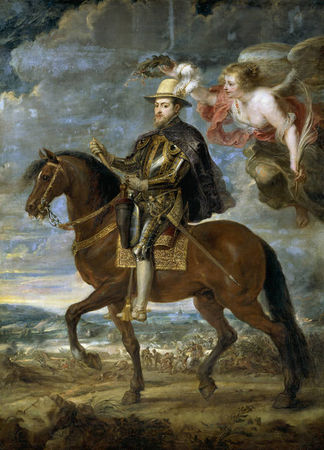 Rubens, Peter Paul (Flemish), Felipe II on Horseback, 247 cm x 223 cm, 1628. P01686. Royal Collection © 2010 Museo Nacional del Prado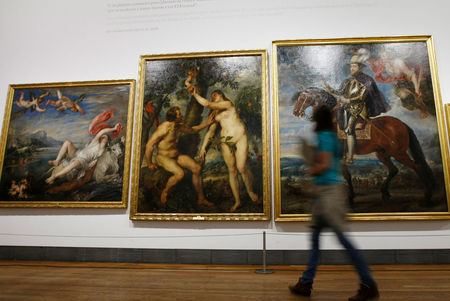 A woman walks past in front of Flemish painter Peter Paul Rubens's artworks 'The Rape of Europe' (L), 'Adam and Eve' (C) and 'Equestrian portrait of king Phillip II' (R) during the presentation of the exhibition 'Rubens' at Prado Museum in Madrid, Spain, 04 November 2010. The exhibition, running from 05 November 2010 until 23 January 2011 and features 90 Rubens' artworks belonging to Prado Museum. EPA/FERNANDO ALVARADO.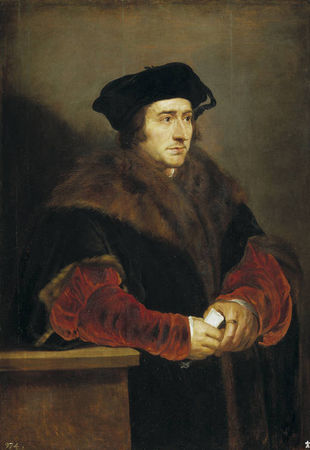 Rubens, Peter Paul (Flemish), Sir Thomas More, 105 cm x 73 cm, 1625-1630. P01688. Royal Collection © 2010 Museo Nacional del Prado
Rubens, Peter Paul (Flemish), Achilles discovered by Ulysses among the daughters of Lycomedes, 107 cm x 142 cm, 1625-1630. P02455. Donation by the Duchess widow of Pastrana, 1889 © 2010 Museo Nacional del Prado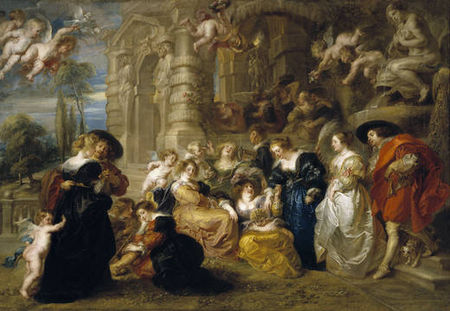 Rubens, Peter Paul (Flemish), The Garden of Love, 198 cm x 283 cm, Ca. 1633. P01690. Royal Collection © 2010 Museo Nacional del Prado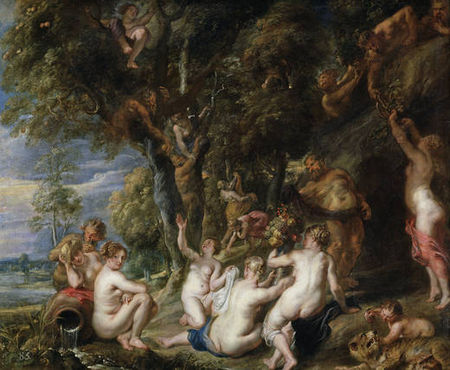 Rubens, Peter Paul (Flemish), Nymphs and Satyrs, 136 cm x 165 cm, Ca. 1666. P01690. Royal Collection © 2010 Museo Nacional del Prado
Rubens, Peter Paul (Flemish), Rest on the Flight from Egypt, with Saints, 87 cm x 125 cm, Ca. 1635. P01640. Royal Collection © 2010 Museo Nacional del Prado
Rubens, Peter Paul (Flemish), Promethius, 25,5 cm x 16,2 cm, Ca. 1636. P024042 Donation by the Duchess widow of Pastrana, 1889 © 2010 Museo Nacional del Prado