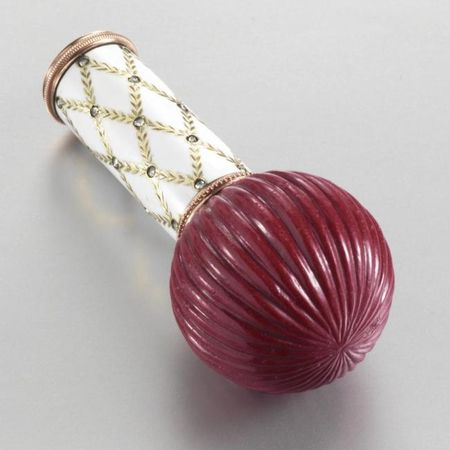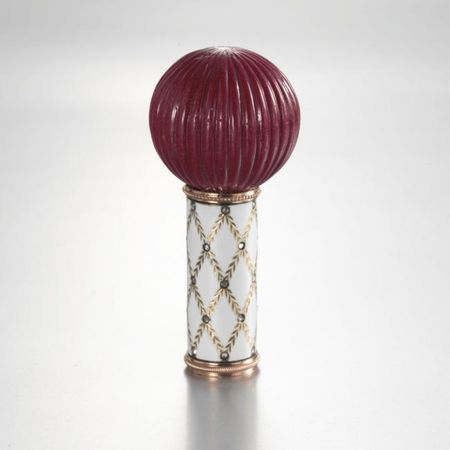 A Fabergé Imperial Purpurine, Gold and Enamel Parasol Handle, Workmaster Michael Perchin, St. Petersburg, circa 1895. photo courtesy Sotheby's
the ribbed purpurine ball finial mounted with a collar enameled in opaque white enamel relieved by a latticework of green gold leaves with rose diamonds set at the crossing points, the upper and lower bands of red gold patterned with beads or ribs; height 2 3/4 in. (7 cm). - Estimate 18,000—22,000 USD Lot Sold 134,500 USD
PROVENANCE: Empress Alexandra Feodorovna, purchased November 22, 1896 for 110 rubles.
EXHIBITED: A la Vieille Russie, New York, "Fabergé: A Loan Exhibition for the Benefit of the Cooper-Hewitt Museum," 1983, no. 277.
LITERATURE AND REFERENCES: Archival records indicate that Empress Alexandra Fedorovna purchased this lovely parasol handle in November 1896, paying the not insignificant sum of 110 rubles. She found the piece charming, undoubtedly, because of the finial made of a rare and unusual material: purpurine. Purpurine, a vivid opaque matt red glass, has long been considered a mysterious and alluring material not only because of its intense color that seems to be a hardstone rather than glass but also because it was extremely difficult to make and production was limited. In Russia, purpurine was first made at the Imperial Glassworks by Leopoldo Bonafede (1833-1878), a chemist, mosaicist and student of Michelangelo Barberi, who had been hired in 1851 together with his older brother Giustiniano (1825-1866) to create a new range of colors for both glass and mosaics at the Imperial Glassworks. He worked out a formula for purpurine that brought great acclaim to the Russian manufactory when tazzas and other large objects made from it were exhibited at the 1867 Paris international exposition (see Judy Rudoe, Decorative Arts, 1850-1950. A Catalogue of the British Museum Collection, London, 1994, 104 for a purpurine tazza acquired by Felix Slade in 1867 now in the British Museum). It has often been suggested that Sergei Petrovich Petukhov, another factory chemist who was particularly talented at the creation of colored glass, either supplied the formula to Fabergé or that Fabergé's workmasters mounted pieces of purpurine made at the Imperial Glassworks. Chemical analysis of Fabergé's purpurine, first made circa 1880, demonstrates that it is a soda glass and differs substantially from the lead-potash purpurine manufactured at the Imperial Glassworks in the 1860s (see R.R. Harding, et al, "The Composition of an Opaque Red Glass used by Fabergé," The Journal of Gemmology 1989, vol. 21, no. 5: 275-287). It is possible that Petukhov, who retired from the Imperial Glassworks in 1878, may have done some work for Fabergé since H.C. Bainbridge, Fabergé's English agent, names him as the inventor of the material (see H.C. Bainbridge, Peter Carl Fabergé: His Life and Work, London, 1949, 54). The offered lot is also illustrated in A la Vieille Russie, Fabergé: A Loan Exhibition for the Benefit of the Cooper-Hewitt Museum, New York, 1983, no. 277 (illustrated mounted as a paper knife). Grateful to Svetlana Chestnykh for assistance in researching this lot.
Sotheby's. Important Russian Enamels and Fabergé from a New York Private Collection. 04 Nov 10 New York www.sothebys.com