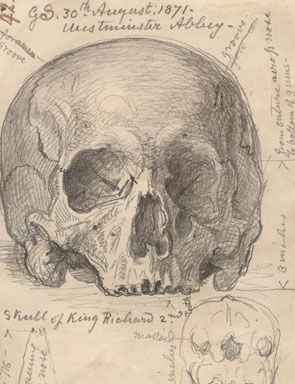 Sketch of the skull of Richard II, 1871. © National Portrait Gallery, London.
LONDON.- An archivist at the National Portrait Gallery has found relics from the tomb of King Richard II while cataloguing the papers of its first Director Sir George Scharf (1820-1895). Among the hundreds of diaries and notebooks left behind in boxes not opened for years were contents from the coffin of a medieval English king, and sketches of his skull and bones.

The contents of a cigarette box dated 31 August 1871 were only identified as relics from a royal tomb following cataloguing, when it became possible to cross-reference the date on the front of the box with diary entries and sketches made on the same day. The box contained fragments of wood, possibly from the coffin itself, and some fabric. Records from this date reveal that Scharf was present at an opening of the royal graves at Westminster Abbey. A piece of leather corresponds particularly with Scharf's sketch of a glove contained in the coffin. A full account of the event was recorded by the Very Reverend Arthur Stanley, Dean of Westminster and published in Archaeologia in 1879.

The Gallery's founding Director also made careful sketches of the skull and bones of the king, including detailed measurements. The sketches are so faithfully drawn that they could possibly be used to reconstruct the king's true appearance.

While cataloguing the papers, as part of a six-month online project funded by the National Cataloguing Grants Programme for Archives, it became clear that the nineteenth-century gallery director's analytical approach to record-keeping extended well beyond art and contemporary society. He frequently attended the opening of graves and witnessed those of Richard II, Edward VI, Henry VII, James I and Elizabeth of York.

Krzysztof Adamiec, National Portrait Gallery Assistant Archivist (Scharf Project), says: 'It was a very exciting discovery and one that reveals the hidden potential of Scharf's papers. By matching diary entries, with sketches, notes and other material in the collection a unique record is revealed. Scharf meticulously recorded almost everything he saw and experienced. In reading his papers, one is able to reconstruct in minute detail 'a day in the life' of this remarkable Victorian gentleman.'

The Scharf papers held in the National Portrait Gallery's Heinz Archive & Library comprise business, personal and family records which reflect not only the history of the Gallery, but also the wider social history of Victorian England.

Scharf was a careful observer of life in his own times and his diaries, notebooks and sketches provide a detailed record of a changing London, everyday Victorian life, and important historic events of the era. They are also an exceptional resource for the study of portraits and portraiture. Alongside his responsibility, as Director, for building-up the National Portrait Gallery's collection, Scharf also worked in a private capacity on various external projects. He was directly involved in some of the most significant exhibitions of the Victorian period, including Crystal Palace (after its relocation to Sydenham) in 1854 and the Manchester Art Treasures exhibition in 1857.

The papers include 230 notebooks and sketchbooks, in which Scharf made detailed notes and meticulous drawings of portraits, people and places including Winston Churchill as a baby, Coventry before it was bombed and Wellington's funeral. They also include Scharf's observations on British private and public art collections.

Sir George Scharf was appointed in 1857, shortly after the Gallery was founded. His papers cover the first 38 years of the institution's existence. They document its formative years, during which period there was a growing interest in national identity and awareness of the role that portraiture might play in representing British history.

The National Portrait Gallery has launched its archive catalogue on the web http://archivecatalogue.npg.org.uk/, revealing to a wider audience fascinating stories about the Gallery's activities since it was founded in 1856. The online archive comprises over 15,000 file-level descriptions containing information about all types of records, including letters, x-rays, videos, posters, press-cuttings, minutes and reports as well as photographs. It includes records on acquiring, conserving and displaying portraits, organising and staging exhibitions and constructing, managing and developing the building. Descriptions of Sir George Scharf's papers have been added, following an award of £17,909 from the National Cataloguing Grants Programme for Archives to catalogue the material.

The papers will join those of other former Gallery Directors, such as Sir Lionel Cust and Sir Roy Strong, already available. While the new online facility is a catalogue of the Archive and not its entire contents, visitors can make an appointment to see any of the documents listed at the Gallery's Heinz Archive and Library.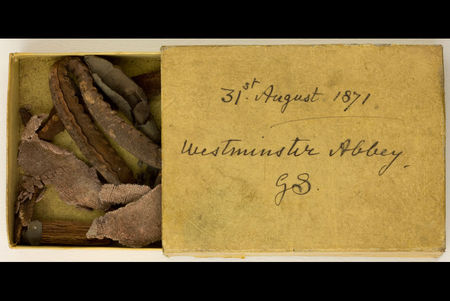 Box containing objects taken from the grave of Richard II during Scharf's visit to Westminster Abbey, 30 Aug 1871. © National Portrait Gallery, London.