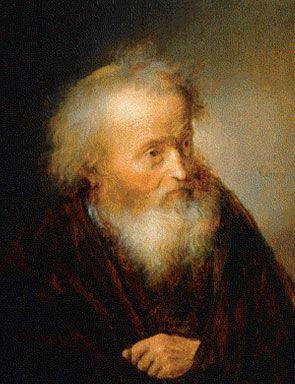 Gerard Dou, An old bearded man, 14.9 by 11.6 cm. Estimate €150,000 – 200,000. Photo: Sotheby's
AMSTERDAM.- Sotheby's Amsterdam Old Master Paintings sale on 30th November 2010 will feature An old bearded man by the Leiden fijnschilder Gerard Dou (1613 – 1675). This recently discovered and hitherto unrecorded little panel was part of a private collection for over 70 years and perfectly illustrates the artist's talent for portraying a certain archetype of person in a highly finished style. Gerard Dou, the first and most famous pupil of Rembrandt van Rijn was, after his Master, the most acclaimed and best paid artist in the Dutch Golden Age. An old bearded man, circa 1660, is estimated to realise €150,000 – 200,000.

Gerard Dou painted meticulous detailed genre scenes, tronies, and, occasionally, portraits. His works were built up with many thin layers and painted with fine, thin brushes, allowing for maximum accuracy that made his works so famous in his own day and beyond. Paintings by Gerard Dou are in renowned collections such as the Rijksmuseum in Amsterdam, the Louvre in Paris and the Hermitage in Saint Petersburg.

'This painting shows Gerard Dou's detailed fijnschilder technique', says Martine Lambrechtsen, Head of the Old Master Paintings Department at Sotheby's Amsterdam. 'In particular, the wrinkled texture of the forehead, the furrowed brows and the subtle strokes of the beard are meticulously rendered. The old man shown as a tronie here must have been a favourite model of the artist, since he appears in a number of works, often as a hermit or a monk. In the present work, Dou depicts the figure more simply and has stripped the old man from all his accoutrements and iconographic references.'

Mark Grol, Managing Director of Sotheby's Amsterdam, commented: 'We are delighted that a painting of such a great Dutch Master will be offered at Sotheby's Amsterdam. The Old Master market in the Netherlands is clearly one of international importance which was demonstrated in our previous December sale when two newly discovered paintings by Adriaen Coorte were sold for a record price.'

Another highlight in the sale is the pair of 'singeries' by Antwerp born Sebastiaan Vrancx. For these two scenes Vrancx has chosen not to depict human figures, but has given monkeys and cats the centre stage. These scenes, with monkeys (and other animals) acting as humans are often referred to as 'singeries', the French word for monkey-trick (na-apen in Dutch). It is probable that both scenes were intended as satire or commentary on society. Together as a pair the paintings are estimated at €100,000 – 150,000.

The sale also features a selection of early Netherlandish and Flemish works including an exquisite Adoration of the Magi from the Studio of the Master of the Von Groote Adoration and a joyful Wedding Dance from the Circle of Marten van Cleve I (illustrated on the right). Other highlights include a poetic daylight Village landscape with a drawbridge over a river by Aert van de Neer and a colourful River landscape with figures by a ferry by Théobald Michau.

The sale comprises 110 lots which cover a wide range of Dutch Baroque Paintings. The exhibition for the sale will run daily at Sotheby's Amsterdam from November 26-29, 10am until 5pm. During the viewing days highlights from the important Old Master Paintings sale in New York and London will also be shown.