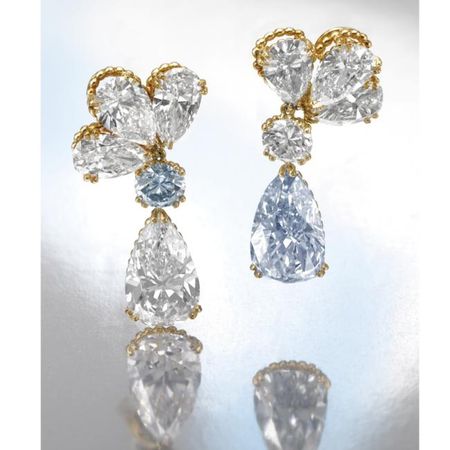 Important Pair of Fancy blue diamond and diamond pendent ear clips, Alexandre Reza. photo courtesy Sotheby's
Each surmount designed as a cluster of three pear-shaped diamonds weighing 0.93, 1.07, 1.10, 1.10, 1.26 and 1.48 carats, suspending a brilliant-cut stone weighing 0.86 carat and a similarly cut fancy blue diamond weighing 0.85 carat, respectively suspending a fancy blue pear-shaped diamond weighing 5.01 carats and a similarly shaped stone weighing 5.61 carats, mounted in yellow gold, unsigned, French assay and maker's marks. Est. 600,000—1,200,000 CHF. Lot Sold 1,762,500 CHF
Accompanied by ten reports; four GIA and one SPCD report stating that the diamonds weighing from 1.07 to 1.48 carats are D Colour, Internally Flawless; one SPCD report stating that the stone weighing 0.93 carat is D Colour, VVS1 Clarity; one GIA report stating that the diamond weighing 0.86 carat is F Colour, VVS2 Clarity; one GIA report stating that the diamond weighing 0.85 carat is Fancy Blue, Natural Colour, VS1 Clarity; one GIA report stating that the stone weighing 5.61 carats is F Colour, VS1 Clarity; and one GIA report stating that the diamond weighing 5.01 carats is Fancy Blue, Natural Colour, Internally Flawless
Fine Diamond necklace and bracelet, Alexandre Reza. photo courtesy Sotheby's
The front set with sixteen cut-cornered square step-cut diamonds, spaced by clusters of brilliant-cut stones, length approximately 380mm, together with a bracelet en suite, length approximately 175mm, both signed A. Reza, French assay and maker's marks. Est. 250,000—400,000 CHF. Lot Sold 566,500 CHF
Attractive Sapphire and diamond ring, Alexandre Reza. photo courtesy Sotheby's
The oval sapphire weighing 28.63 carats, to a frame of similarly cut diamonds, mounted in platinum, size 53, signed A. Reza, French assay and maker's marks. Est. 150,000—250,000 CHF. Lot Sold 182,500 CHF
Accompanied by Gübelin report no. 1009259 stating that the sapphire is of Burmese origin, with no indications of heating.
NOTE: Alexandre Reza, the celebrated Paris-based jeweller, was born in Moscow in 1922. During his career, that began after the Second World War and which spans four decades, he assembled one of the largest, most diverse and precious collections of gems in the world.
He travelled widely to select each stone individually, and then transformed them with his vision, and the skill of his virtuoso craftsmen, into miniature works of art that are the exquisite suites of necklaces, bracelets, earrings and rings for which Alexandre Reza is justly renowned. The creative process was unhurried and uncompromising.
He first supplied gems to, and manufactured for some of the greatest jewellers of the 60s and 70s such as Cartier, Chaumet, Gerard, Harry Winston, Van Cleef & Arpels, Bvlgari and Boucheron. He then decided to found his own brand and established his own retail operations 30 years ago on the Place Vendôme in Paris, in Geneva and in the South of France, offering some of the greatest Haute Joaillerie of the day.
The jeweller's art begins with an understanding that jewels are the most personal of decoration and are meant to be worn to reflect and enhance a woman's beauty. Reza was inspired in his designs both by historical jewels of royal provenance that he recreated to appeal to a contemporary audience, as well as by a modern classicism of his own creation. He framed sumptuous colours in three dimensional diamond-set mountings that defy the hardness of metal and are like fabric, soft and supple, nestling on the ear and settling around the neck or wrist in the most flattering way. Movement, lightness, composition and harmony are the key words of his designs.
Each of Alexandre Reza's creations is imbued with his special understanding of and appreciation for both the physical beauty and the metaphysical properties of the precious gems with which it is set. His is a unique interpretation – respectful of the past, celebratory of the present and enduring in the future.
Sotheby's. Magnificent Jewels, 16 Nov 10, Geneva www.sothebys.com