LONDON.- Sotheby's sale of 19th Century European Paintings in London today (which included works by Spanish, Orientalist, German, Austrian, Scandinavian and Symbolist artists) brought a total of £11,166,050 (€13,168,101), a figure comfortably within pre-sale expectations of £8.6-12.8 million.
Spanish Painting: The top-selling lots of the sale overall were two outstanding beach scenes by the Spanish master, Joaquín Sorolla. Depicting children by the sea, both works were painted over the summer of 1904 on Cabañal beach, Valencia , a favourite location of the painter. El Pescador sold for £3,065,250 (against an estimate of £2-3 million) while Niños en la playa brought £1,945,250 (above the estimate of £1-1.5 million). Seven works by the Spanish artist were presented in total and all sold very well.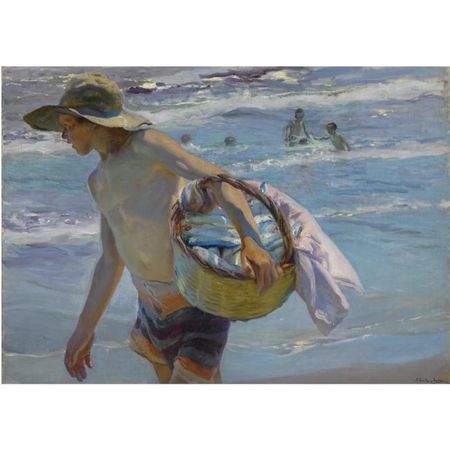 Joaquín Sorolla (1863 - 1923), Pescador, Valencia (Young Fisherman, Valencia). photo Sotheby's
signed and dated J Sorolla y Bastida 1904 lower right; oil on canvas; 76 by 106cm., 30 by 41¾in. Est. 2,000,000—3,000,000 GBP
Lot Sold 3,065,250 GBP
The authenticity of this work has been confirmed by Blanca Pons Sorolla, who will be including it in her catalogue raisonné on the artist.
PROVENANCE: Calixto Rodríguez (1905)
María Lorente de Rodríguez (widow of the above)
Jose María Lorente Sorolla
Purchased from the above by the present owner in 1969
EXHIBITED: Paris, Galerie Georges Petit, Exposition Joaquín Sorolla y Bastida, 1906
Mexico, Mexico City, Exposición Española de Arte e Industrias Decorativas, 1910
Madrid, Galería Theo, Joaquín Sorolla y Bastida, 1968, no. 5
Madrid, Banco de Bilbao, Adelantados de la Modernidad, 1979 no. 8
Lièges, Salle Saint-Georges, Musée d'Art Moderne, Sorolla-Solana. Europalia 85 - Espagne, 1985, no. 10, illustrated in colour in the catalogue
LITERATURE AND REFERENCES: Bernardino Pantorba, La Vida y la obra de Joaquín Sorolla, Madrid, 1970, p. 187, catalogued; p. 56, no. 1540, illustrated
Blanca Pons-Sorolla, Joaquín Sorolla, Vida y Obra, Madrid, 2001, p. 222, mentioned; p. 221, no. 113, illustrated in colour
Blanca Pons-Sorolla, Joaquín Sorolla, London, 2005, p. 146, mentioned; no. 61, illustrated in colour
NOTE: Painted in 1904 on Valencia's Cabañal beach, El Pescador celebrates with characteristic panache and consummate elegance the two principal themes that define Sorolla's oeuvre between the mid-1890s and 1910: work, as characterised by the daily rituals of the Valencian fishing community; and play, as evinced by children playing innocently in the sea.

The composition is dominated by the striking three-quarter length profile of a boy carrying a basket of fish as he walks purposefully along the Valencian shore. His vertical stance is contrasted by the whites of the breaking waves behind him that run horizontally across the composition. In the distance a group of younger children cavort in the water. Suffusing the whole composition is the hot Valencian sun which glints on the boy's skin, reflects off the scales of the fish in the basket, dances off the foam of the waves and illuminates the children in the water.

But it is not just the Mediterranean light that unites the two distinct parts of the painting. The slight backward turn of the fisher boy's head, and his wistful gaze also draw foreground and background together. His glance intimates the future of the children gambolling in the water: that in a few years time one or more of them may well be tasked - like him - with the responsibility of bringing in the catch. Sorolla's celebration of the precious gift of youth and his contemplation of the passing of time in the present work was a subject that was especially important to him. At the time of painting El Pescador his own children were already fourteen, twelve and nine; his middle child Joaquín was approximately the same age as the fisher boy. What did the future hold for his offspring, for his wife Clotilde and indeed himself?

Thus far Sorolla's international reputation had been formed largely through his depiction of the Valencian fishing community. This had been triggered by his success at the Paris Salon of 1894 when La vuelta de la pesca (Bringing Home the Catch) (fig. 1) had been awarded a medal and acquired by the French State to hang in the Luxembourg Palace. Over the next ten years Sorolla recorded with increasing verve and realism the local fishermens' working lives, be they striving against the elements to land their haul, mending their nets on the beach or relaxing on board their boats. Sorolla realised the apogee of this genre in 1903 when he completed the large scale canvas Sol de la tarde (Afternoon Sun) (fig. 2). Similar in size to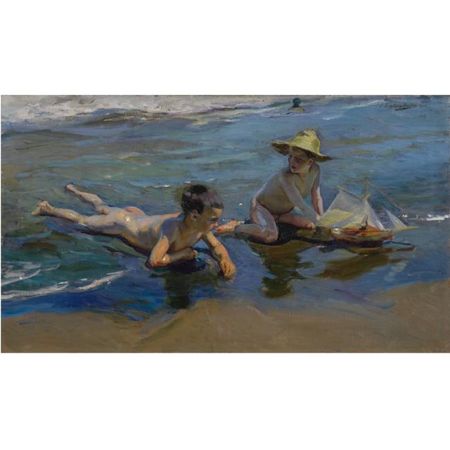 Joaquín Sorolla (1863 - 1923), Niños en la playa (Children Playing on the Beach). photo Sotheby's
signed and dated J Sorolla y Bastida 1904 upper right; oil on canvas; 55 by 96.5cm., 21¾ by 38in. Estimate 1,000,000—1,500,000 GBP. Lot Sold 1,945,250 GBP
The authenticity of this work has been confirmed by Blanca Pons Sorolla, who will be including it in her catalogue raisonné on the artist.
PROVENANCE: Conde de Heeren, Paris (purchased at Galerie Georges Petit in 1906). Born in Hamburg, Conde Christian Arturo Juan Antonio de Heeren (1844-1920) married Virginia González de Candamo e Iriarte (1849-1929). Together they assembled a remarkable art collection which featured a number of outstanding Spanish paintings, including excellent examples by Mariano Fortuny and Raimundo de Madrazo (see lot. 95). Especially attracted to the work of Sorolla, at the same time as they acquired the present painting at Galerie Georges Petit in 1906, they also purchased El bote blanco (The White Boat), fig. 2).
Thence by descent to the present owners
EXHIBITED: Paris, Galerie Georges Petit, Joaquín Sorolla, 1906
LITERATURE AND REFERENCES: La Ilustracion Artística, Madrid, 1906, a photograph of Sorolla in his studio with the present work illustrated
Bernardino de Pantorba, La vida y la obra de Joaquín Sorolla, Madrid, 1970, p. 186, no. 1520
Blanca Pons-Sorolla, Joaquín Sorolla. Vida y obra, Madrid, 2001, p. 568, a photograph of the interior of Galerie Georges Petit at the time of Sorolla's exhibition in 1906 showing the present work hanging on the lower row second from the left illustrated
Joaquín Sorolla, Museo Nacional del Prado, exh. cat., Madrid, 2009, p. 337, fig. 238, the photograph from La ilustración artistica of 1906, of Sorolla in his studio with the present work illustrated
NOTE: Painted on Cabañal beach, Valencia in the summer of 1904, in Niños en la playa Sorolla evokes the innocence of childhood in his deftly observed and brilliantly executed depiction of two boys playing with a toy sailing boat by the edge of the sea. Omitting the horizon, and with only the glimpse of the head and shoulders of a single bather in the background the composition focuses firmly on the pleasure of leisure, the boys' carefree existence and the privilege of being able to wile away time by the sea. The identity of the two boys is not known, but the presence of the toy yacht in the composition suggests that they were not from the local community. Very likely they were spending time in Valencia as tourists, visiting with their families, the boat suggesting their more elevated status, a signpost pointing towards a privileged future. Such symbolism was surely not lost on the painting's first owner – the Conde de Heeren, who acquired the painting at Sorolla's exhibition of his work at the Galerie Georges Petit in Paris in 1906 (fig. 1).

One of a series of increasingly spontaneous and ever more luminous scenes of children on the beach at Valencia, the freedom of execution and liveliness of spirit that the work exhibits are qualities that go to the heart of Sorolla's aesthetic and account for the artist's enduring popularity. Sorolla's inclusion of children into his compositions in the early 1900s tended to make their presence subservient to the main social realist message. As the decade wore on, however, children came to play an ever-more central role, as Sorolla reduced or excluded other elements, in particular the fishermen and oxen that had been the dominant feature of his work during the 1890s.

Sorolla's use of children as subject matter was inspired by his growing family and the importance that he attached to domestic life, not least as a response to his own upbringing: he had been orphaned as a child and raised by relatives. His children María, Joaquín and Elena were born in 1890, 1892 and 1895 respectively, and although other than in family portraits they did not necessarily model for him for specific canvases,
The Scandinavian Sale: This session of the sale was led by Gerhard Munthe's masterpiece, Idyll, which sold for £361,250, establishing a new record for the Norwegian artist at auction by a considerable margin. Never before offered at auction, Idyll is a seminal work by the artist, won by the grandfather of the consignor, in a lottery organised by the Kunstforeningen in Bergen in December 1886, the year in which it was painted. It depicts Munthe's then 17-year-old fiancée, Sigrun Sandberg, sitting in profile next to Bacchus, her dog, in a Nordic summer landscape.

In the same sale, a landscape by the Danish artist Vilhelm Hammershøi entitled Unge Egetræer (Young Oak Trees), soared above its estimate of £120,000-180,000, to sell for £247,250 to a private Scandinavian buyer.
Gerhard Munthe (1849 - 1929), Idyll. photo Sotheby's
signed and dated Gerh. Münthe / 1886. lower left; l on canvas; 80 by 100cm., 31½ by 39½in. Est. 300,000—500,000 GBP. Lot Sold 361,250 GBP
PROVENANCE: Bergen, Kunstforeningen
Won by the grandfather of the present owner in a lottery organised by the Kunstforeningen in December 1886
EXHIBITED: Bergen, Kunstforeningen, Høstutstillingen, 1886
Oslo, Kunstforeningen, Fleskum malerne, 1965, no. 17
Modum, Stiftelsen Modums Blaafarveværk, Gerhard Munthe, 1988, no. 41, illustrated
Frederikstad, Balaclava Gallery, Summer Exhibition, 1994
Budapest, Museum of Fine Arts, Oslo, Royal Norwegian Ministry of Foreign Affairs, Norvég tájak hangulata / Tunes in a landscape, 2002, no. 22, illustrated in the catalogue
LITERATURE AND REFERENCES: Robert Kloster, Jubileumsskrift, Bergen Kunstforening 100 år, 1938
Hilmar Bakken, Gerhard Munthe, Oslo, 1952, p. 116, discussed, p. 131, illustrated
NOTE: In Idyll, Munthe painted his then 17-year-old fiancée, Sigrun Sandberg, sitting in profile next to Bacchus, her dog, in a Nordic summer landscape. Her pure white dress serves at once a purely aesthetic function, echoing the daisies in the foreground and providing a potent contrast to Munthe's palette of rich greens, but also a deeply symbolic one. It was later in 1886, the year of the work's execution, that Munthe would marry Sigrun, and one may see in her dress a foreshadowing of their betrothal.
Munthe painted the present work while living at Fleskum, an important artists' colony in Bærum, Norway. The colony had been established on an old farm in 1886 by Maggie and Christian Skredsvig, himself an important Norwegian artist, taking their cue from celebrated French examples, particularly that of the Barbizon painters. In 1886, Munthe and the Skredsvigs were joined by the artists Harriet Backer, Kitty Lange Kielland, Eilif Peterssen and Erik Werenskiold at Fleskum. The painting of the so-called Fleskum artists would have an important effect on Norwegian 'mood painting', an attempt to convey with expressive force the distinctive qualities of the Norwegian landscape.
The influence of French painting could already be seen in Munthe's Oktoberaften (fig. 1), which recalled the Barbizon painters, but also Millet and Courbet. Painted later in the 1880s, Idyll again demonstrates the influence of French painting, but this time belongs to the Naturalist current then sweeping through European painting. In composition and tones the work is particularly reminiscent of the doyen of the Naturalist movement, Jules Bastien-Lepage.
A contemporary columnist remarked that the work 'has completely conquered the public in Bergen. This painting attracted the visitors from the very first moment and they went back again and again... It all unites in an emotion so strong and beautiful that it communicates to everyone. The viewers were spellbound. They rejoiced at the sheer poetry Gerhard Munthe had coaxed from the region around Sandviken' (IH in Dagbladet, 12 September 1886)
Fig. 1, Gerhard Munthe, Oktoberaften (An October evening), before 1881, Det Kongelige Slott, Oslo
We are grateful to Vidar Poulsson for providing additional literature references for this work.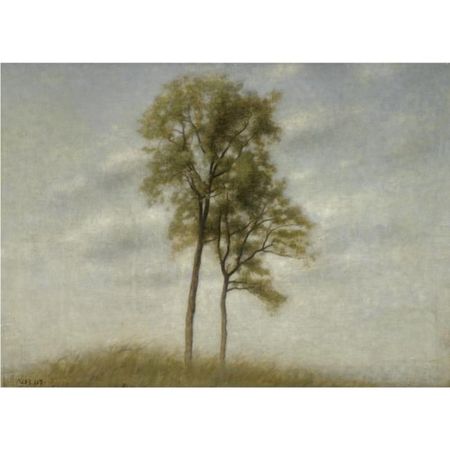 Vilhelm Hammershøi (1864 - 1916), Unge Ege (Young Oak Trees) . photo Sotheby's
signed and dated VH 07 lower left; oil on canvas; 55.5cm by 77cm., 22 by 30 1/4in. Est. 120,000—180,000 GBP. Lot Sold 247,250 GBP
PROVENANCE: Dr Alfred Bramsen (by 1918)
Gustav Falck (Keeper of Prints and Drawings, Statens Museum for Kunst, Copenhagen)
Axel Henriques
Sale, Winkel & Magnussen, Copenhagen, 26 November 1935, lot 92
Valerius Ragoczy (purchased at the above sale)
Emma Svendsen
Sale, Sotheby's London, 28 June 1999, lot 10
Purchased at the above sale by the present owner
EXHIBITED: Copenhagen, Den frie Udstilling, 1908, no. 85
Copenhagen, Kunstforeningen, Arbejder af Vilhelm Hammershøi, 1916, lot 74
Copenhagen, Forum, Det danske Kunstævne, 1929, no. 131
Copenhagen, Kunstforeningen, Udvalg af Vilhelm Hammershøis arbejder, 1930, no. 32
Stockholm, Sveriges Allmänna Konstförening, Vilhelm Hammershøi, Theodor Philipsen, L.A. Ring, 1930, no. 29
Stockholm, Prins Eugens Waldemarsudde, Vilhelm Hammershøi, 1976, no. 32
Ordrupgaard, Vilhelm Hammershøi, en retropektiv udstilling, 1981, no. 115
Ordrupgaard; Paris, Musée d'Orsay; New York, Solomon R. Guggenheim Museum: L'Univers poétique de Vilhelm Hammershøi, 1997-98, no. 54
London, Royal Academy of Arts; Tokyo, National Museum of Western Art: Hammershøi, 2008-09, no. 54
LITERATURE AND REFERENCES: V. Jastrau, ed., Vilhelm Hammershøi, Smaa Kunstbøger, Copenhagen, 1916, no. 13
Alfred Bramsen and Sophus Michaëlis, Vilhelm Hammershøi. Kunstneren og hans værk, Copenhagen and Christiania, 1918, p. 106, no. 296
Poul Vad, Vilhelm Hammershøi, Copenhagen, 1957, p. 20, catalogued, pl. 39, illustrated
Poul Vad, Hammershøi, Værk og liv, Copenhagen, 1988, pp. 327, 330, 456, illustrated
NOTE: 'Hammershøi has finally breathed his soul and its melancholy into boldly painted landscapes beneath large grey skies...Their stillness, like the stillness of his art, is a silent protest against all the gaudy and gaping tastelessness of our time,' Hammershøi biographer Emil Hannover wrote in 1907.
Like his room interiors and eerily quiet street scenes, so too Hammershøi's landscapes convey the same haunting mystery that pervades his work. Two young oaks emerge from a a tiny fringe of grass into a cloudy sky, the wider landscape cropped away, a context denied. The composition is its own delimited world. As Torsten Gunnarson has noted, 'while silent rooms were his real domain, but sometimes he discovered the same type of mood in nature' (Nordic Landscape Painting, Newhaven & London, 1998, p. 227).
And yet the painting does have an art historical frame of reference, with a pictorial lineage that can be traced back to the landscape sketches of the German Romantic painters Friedrich and Carus. While the simplicity of the composition and limited palette range reveals the characteristics of Chinese and Japanese drawing and print making popular at the time.
The Orientalist Sale: The Orientalist works were led by an evocative view of The Galata Bridge in Constantinople by the German Orientalist artist, Hermann Corrodi. The atmospheric view of the Ottoman capital, with the imposing New Mosque dominating the skyline, comfortably exceeded its pre-sale estimate of £80,000-120,000 to sell for £187,250.
Hermann Corrodi, The Galata Bridge, Constantinople. Photo: Sotheby's.
signed and inscribed H. Corrodi. Roma lower left; oil on canvas; 101.5 by 66cm., 40 by 26in. Estimate: £80,000 - 120,000. Sold for: £187,250 (€220,824).
PROVENANCE: Acquired by the great grandparents of the present owners circa 1900
NOTE: In this atmospheric view west across the old Galata Bridge, with the imposing New Mosque dominating the skyline, Corrodi evokes the evening bustle of Constantinople, as traders, merchants and shoppers make their way home from the busy port area.
The Galata bridge spans the Golden Horn, the river estuary flowing into the Bosphorus that is often described as the world's greatest natural harbour. The Golden Horn attracted settlers to its shores in the seventh century BC and later enabled Constantinople to become a rich and powerful port. According to legend, the Byzantines threw so many valuables into it during the Ottoman conquest that the waters glistened with gold.
For hundreds of years the city's trade was conducted by ships that off-loaded their goods into warehouses lining the Golden Horn, which Corrodi depicts in the middle ground of this painting.
German & Austrian Works: Notable highlights of this section of the sale were Arnold Böcklin's exquisite Moonlit Landscape, which was the subject of much competition and sold for £139,250 against an estimate of £60,000-80,000, and Wilhelm Leibl's recently restituted Peasant Girl, which brought £97,250, within the pre-sale estimate.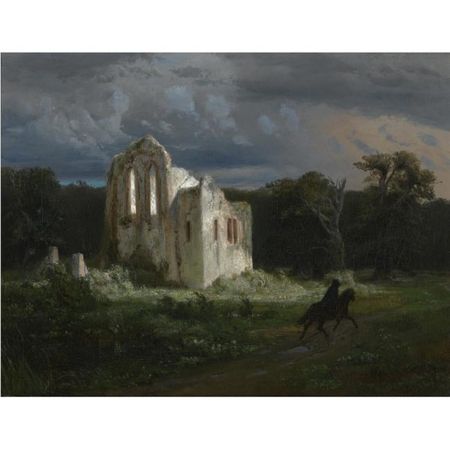 Arnold Böcklin (1827 - 1901), Mondscheinlandschaft mit Ruine (Moonlit Landscape) .
signed and dated A. Böcklin 1849 lower right; oil on canvas; 24.5 by 32.5cm., 9½ by 12¾in. Est. 60,000—80,000 GBP. Lot Sold 139,250 GBP
PROVENANCE: E. Jung, Wintherthur (by 1898)
Hans Reinhart, Wintherthur (brother of Oskar Reinhart); thence by descent to the present owner
EXHIBITED: Basel, Kunsthalle, Basler Kunstverein, Böcklin-Jubiläums-Ausstellung, 1897, no. 13
Winterthur, Kunstmuseum, Der Wintherthurer Privatbesitz, 1942
Basel, Kunstmuseum, Basler Kunstverein, Arnold Böcklin. Gemälde, Plastiken. Ausstellung zum 150. Geburtstag, 1977, no. 25
Zürich, Kunsthaus; Munich, Haus der Kunst; Berlin, Nationalgalerie: Arnold Böcklin, Giorgio de Chirico, Max Ernst; Eine Reise ins Ungewisse, 1997-98, no. 7
Basel, Kunstmuseum; Paris, Musée d'Orsay; Munich, Neue Pinakothek: Arnold Böcklin, 2001-02, no. 5
LITERATURE AND REFERENCES: Karl Woermann, 'Zur Baseler Böcklin-Ausstellung 1897', in Von Apelles zu Böcklin und weiter. Gesammelte kunstgeschichtliche Aufsätze, Vorträge und Besprechungen, Esslingen am Neckar, 1912, vol. 2, p. 157
Henriette Mendelsohn, Böcklin, Berlin, 1901, pp. 32-4, 78, 107
Heinrich Alfred Schmid, Verzeichnis der Werke Arnold Böcklins, Munich, 1903, no. 40
Richard Hamann, Die deutsche Malerei im 19. Jahrhundert, Leipzig and Berlin, 1914, pp. 188-89 (titled Reiter im Mondschein)
Günther Kleineberg, Die Entwicklung der Naturpersonifizierung im Werk Arnold Böcklins (1827-1901). Studien zur Ikonographie und Motivik in der Kunst des 19. Jahrhunderts, Dissertation, Göttingen, 1971, pp. 41, 42, 44 & 185
Rolf Andree, Arnold Böcklin, Basel and Munich, 1977, p. 202, no. 55, catalogued and illustrated
NOTE: This charged early landscape was painted when Böcklin was just twenty-two. With its distinctly Romatic overtones, the painting reflects Böcklin's most formative artistic influences, from his teachers at the Düsseldorf Academy, Johann Wilhelm Schirmer and Carl Friedrich Lessing; the Romantic painters more generally, but in particular Carus, Blechen, and Friedrich; to the seventeenth-century Dutch masters Ruysdael and Hobbema.
From as early as the Renaissance, during the Dutch Golden Age, and throughout the work of the German Romantics, the ruin is a metaphor for the passing of time and the inevitable fall of all things terrestrial and of all human endeavour. Sublime nature reigns supreme. The passing rider and drifting clouds in the stormy moonlit sky add to the mood of transience.
In the case of the present work, the ruin and the sombre, stormy landscape may have a more temporal and self-referential meaning. The violent 1848 Revolution in Paris, which Böcklin witnessed at first hand, left a deep impression on the young Swiss artist, who is reputed to have watched prisoners being herded by soldiers past his apartment near the Jardin du Luxembourg. As an expression of a driven young man, the present work epitomises the Sturm und Drang which ran through his work as a young painter.
The present work can be seen as a prototype for a subject to which Böcklin returned time and again over his long career, and which culminated in such famous works as The Island of the Dead, of a ruined temple hewn from a rocky outcrop in the sea.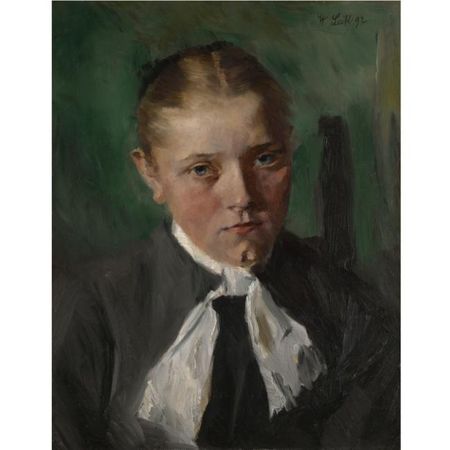 Wilhelm Leibl (1844 - 1900), Bauernmädchen (Peasant Girl).
signed and dated W. Leibl 97 upper right; oil on panel; 37 by 29cm., 14½ by 11½in. Est. 80,000—120,000 GBP. Lot Sold 97,250 GBP
PROVENANCE: Deutscher Kunst-Verein (1898)
Oscar Rothschild (acquired in the Deutscher Kunst-Verein tombola on 29 November 1898)
Dr Alexander Lewin, Berlin and Guben (co-owner and director of the Berlin-Gubener Hutfabrik AG)
Expropriated from the above under the National Socialist regime
Deutsches Reich for the planned Hitler museum in Linz (by 1938)
Central Collecting Point, Munich (by 1945)
Bundesrepublik Deutschland (on loan to the Kunsthalle Bremen since 1966)
Restituted to the heirs of Alexander Lewin (2009)
EXHIBITED: Bremen, Kunsthalle (on permanent exhibition until 2009)
Munich, Städtische Galerie im Lenbachhaus: Leibl und sein Kreis, 1974, No. 38
Munich, Neue Pinakothek; Cologne, Wallraf-Richartz-Museum: Wilhelm Leibl zum 150. Geburtstag, 1994, no. 162, illustrated in the catalogue
LITERATURE AND REFERENCES: Jahresbericht des Deutschen Kunst-Vereins 1898, Berlin, 1899
Georg Gronau, 'Leibl', Künstlermonographien, vol. 50, Bielefeld and Leipzig 1901, p. 64
Emil Waldmann, Wilhelm Leibl. Eine Darstellung seiner Kunst. Gesamtverzeichnis seiner Gemälde, Berlin, 1930, no. 242
Gerhard Gerkens and Ursula Heiderich, Katalog der Gemälde des 19. und 20. Jahrhunderts in der Kunsthalle Bremen, Bremen, 1973, p. 178
Eberhard Ruhmer, Der Leibl-Kreis und die Reine Malerei, Rosenheim, 1984, p. 401, no. 175
Birgit Schwarz, Hitlers Museum. Die Fotoalben Gemäldegalerie Linz, 2004 (no. 35 in lost vol. XII of the photo albums made for Hitler)
NOTE: In this both striking and deeply sympathetic portrait, Leibl depicts his young cook, Theresia Haltmaier (whom he affectionately referred to as his 'Malresl'), not in her formal best as in the painting in the Hamburger Kunsthalle (fig.1), but in her everyday work clothes wearing a white scarf tied in a bow. Her expression is calm and even dreamy, and while she faces the viewer, her gaze is into space. Characteristically, Leibl imbues the finely modelled face with intense focus, setting it into relief by means of the much more loosely painted background.
Theresia Halmaier became Leibl's favourite model in his paintings and drawings of the late 1890s. In addition to the Hamburg painting of 1897, she is the subject of In Erwartung (Anticipation) of 1898 (Museum der bildenden Künste Leipzig), as well as appearing in the two versions of In der Küche (In the Kitchen) (Staatsgalerie Stuttgart and Wallraf-Richartz-Museum, Cologne), also of 1898. Compositionally, the present work can be compared to a charcoal drawing of Theresia in the Albertina, Vienna (fig. 2).
In 1873, after studying at the Munich Academy and a spell in Paris, Leibl moved to Bavaria where he was to spend the rest of his life. Though from the Rhineland, Leibl felt a tremendous affinity towards the humble people of the Bavarian countryside, drawn by their friendliness and down-to-earthness which appealed to his deeply human temperament. By his own account, he preferred painting peasant girls, because 'ladies always want to be entertained while sitting', while the girls of the villages let him get on with his work and were less vain.
Leibl's entire oeuvre is about the human face, at times concentrated, devoted, contemplative, but always richly expressive and painted with an unashamed straightforwardness. Whether in his earlier, more painterly works, in which composition is subordinate to a highly finished paint surface, or in his later, more reduced pictures showing the workings underlying his draughtsmanship, a simplicity and almost Düreresque clarity always remains, lifting his subjects out of their modest circumstances to a higher plane.
Fig. 1: Wilhelm Leibl, Bayerisches Mädchen
Symbolist: The stars of the Symbolist session were Lucien Lévy-Dhurmer's dream-like depiction of Venise, which sold for £58,850 against an estimate of £25,000-35,000, and Léon Spilliaert's Self Portrait, which made £79,250 (est. £40,000-60,000).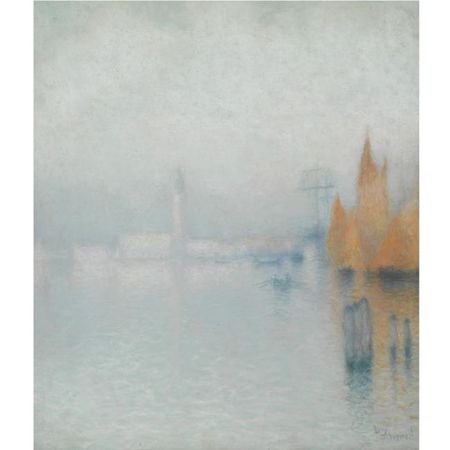 Lucien Lévy-Dhurmer (1865-1953), Venise.
signed Levy / Dhurmer lower right; pastel on paper; 59 by 51cm., 23¼ by 20in. Est. 25,000—35,000 GBP. Lot Sold 58,850 GBP
PROVENANCE: Galerie Mona Lisa, Paris (by 1930)
Crane Kalman Gallery, London
Purchased from the above by the present owner in the 1970s
NOTE: Lucien Lévy-Dhurmer trained at the Ecole Supérieure de Dessin et Sculpture in Paris. After a trip to Venice in 1895, he returned to Paris and had his first one-man show at the Galerie Georges Petit in 1896.
It was around this time that Lévy-Dhurmer started to work primarily with pastels, a medium which gave his compositions an ethereal, velvety texture and soft tonal contrasts which heighten their dream-like qualities. His talent was discovered by the Belgian Symbolist writer Georges Rodenbach, a popular poet in Paris, for his book Bruges-la-Morte of 1892, who helped to popularise the artist's work both in France and Belgium.
As Jean Cassou has pointed out: '[Lévy-Dhurmer's] pastels reveal an artist who can reconcile a technique of academic precision with an Impressionist vision of the world, and can thus treat his Symbolist subjects loaded with mystery.' (Concise Encyclopaedia of Symbolism, Ware, 1984, p. 99). The present work bears clear parallels to the work of Henri Le Sidaner and Claude Monet, both of whom evoked the grandeur and mystery of Venice in their work, and also, like Lévy-Dhurmer, exhibited at Galerie Georges Petit.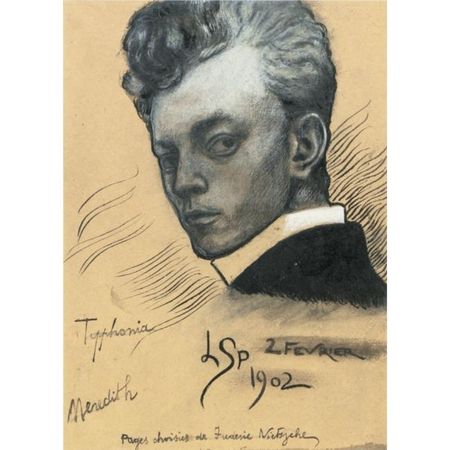 Léon Spilliaert (1881 - 1946), Autoportrait.
signed with initials LSP and dated 2 février 1902 lower right; inscribed Typhonia / Meredith lower left and Pages choisies de Frederic Nietzsche along the lower edge; pencil, ink wash, pen and ink and gouache on paper; 19.8 by 14.2cm., 7¾ by 5½in. (image size). Est. 40,000—60,000 GBP. Lot Sold 79,250 GBP
PROVENANCE: Acquired from the artist by the grandfather of the present owner
EXHIBITED: Tokyo, Bridgestone Museum of Art; Himeji, City Museum of Art; Nagoya, Aichi Prefectural Museum of Art: Léon Spilliaert, 2003
Brussels, Royal Museums of Fine Arts of Belgium, Léon Spilliaert, 2006-2007
LITERATURE AND REFERENCES: Anne Adriaens-Pannier, Spilliaert le regard de l'åme, pp. 36-37, no. 44, illustrated
Yesterday's auction follows the previous day's Greek Sale, which realised a total of £3,970,600 (€4,644,408), and established six new artists records, including Nicos Hadjikiriakos-Ghika's Mistras, which made £445,250 against an estimate of £150,000-200,000, and Yiannis Tsarouchis' Soldier Dancing Zeimbekiko, which made £349,250 against an estimate of £300,000-500,000.
This brings the total for the two days to £15,136,650 (€17,812,509).