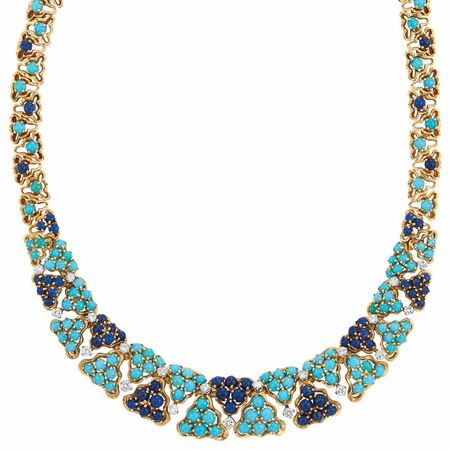 Gold, Turquoise, Lapis and Diamond Necklace, Cartier. photo Doyles New York
18 kt., the openwork tapering necklace composed of interlocking triangle-shaped clusters of round cabochon turquoise spaced by clusters of round cabochon lapis, all edged by scalloped gold borders, tipped by 21 round diamonds approximately 1.90 cts., signed Cartier Inc., Made in France, no. 31064, approximately 64.2 dwt. Length 17 inches. Estimate $20,000-30,000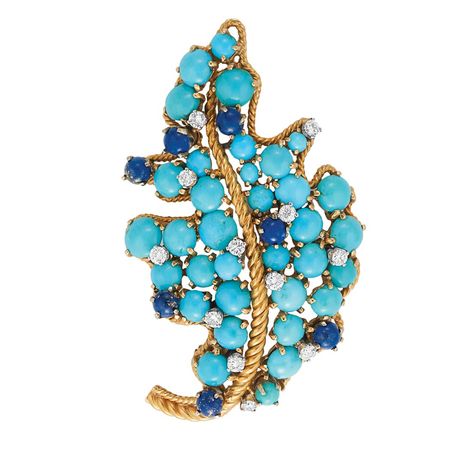 Gold, Turquoise, Lapis and Diamond Leaf Brooch. photo Doyles New York
18 kt., the stylized leaf embellished with 34 round cabochon turquoise, accented by 12 round diamonds approximately .60 ct. and 7 round cabochon lapis, edged by undulating twisted gold, spaced by a rope-twist gold stem, signed Tibor, approximately 15.2 dwt. Estimate $1,800-2,400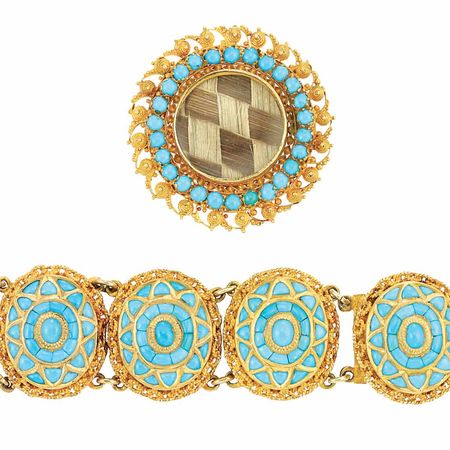 Antique Gold and Turquoise Bracelet and Mourning Brooch. photo Doyles New York
The bracelet composed of nine oval panels of stylized flower motif centering oval cabochon turquoise surrounded by buff-topped cabochon turquoise, outlined in gold, within rope-twist oval links, the brooch centering a circular compartment of woven hair, framed by round cabochon turquoise, edged by granulated turrets, the reverse with a hinged glazed compartment, approximately 46.2 dwt. Length 6 3/4 inches. With original fitted box. Estimate $3,500-4,500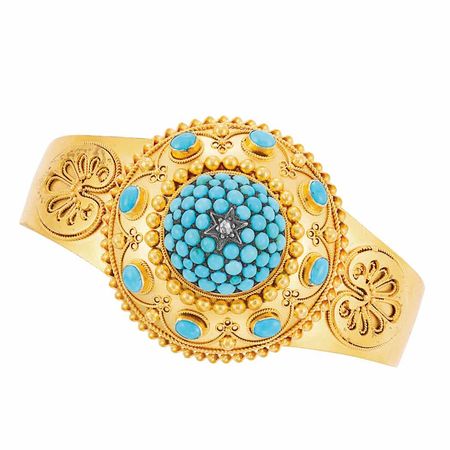 Antique Gold, Turquoise and Diamond Bangle Bracelet. photo Doyles New York
Centering a dome encrusted with round cabochon turquoise and one rose-cut diamond set in a silver star, encircled by gold balls, within a circular plaque surmounted by 8 oval cabochon turquoise and delicate gold rope-twist wire and trefoil design, encircled by twisted gold, flanked by a twisted gold wire looped ribbon motif, completed by a tapered bangle, approximately 18.3 dwt. Inner circle 6 1/4 inches. Estimate $2,500-3,500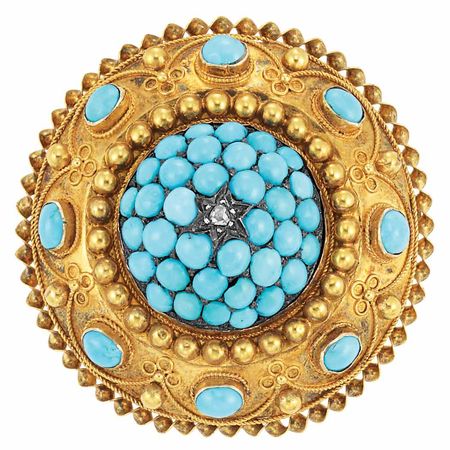 Antique Gold, Turquoise and Diamond Brooch. photo Doyles New York
Centering a dome encrusted with round cabochon turquoise and one rose-cut diamond set within a silver star, encircled by small gold balls, further framed by 8 oval cabochon turquoise and gold rope-twist wire, a trefoil pattern and small gold balls, the whole edged by twisted gold, the reverse with a glazed compartment, approximately 9 dwt. Estimate $700-900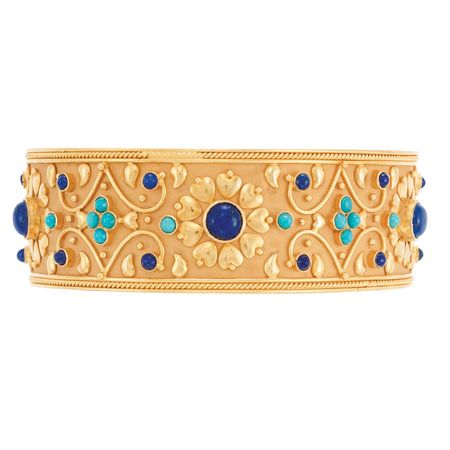 Gold, Lapis and Turquoise Cuff Bangle Bracelet. photo Doyles New York
Ap. 38.4 dwt. Inner cir. 6 1/2 inches. Estimate $1,000-1,500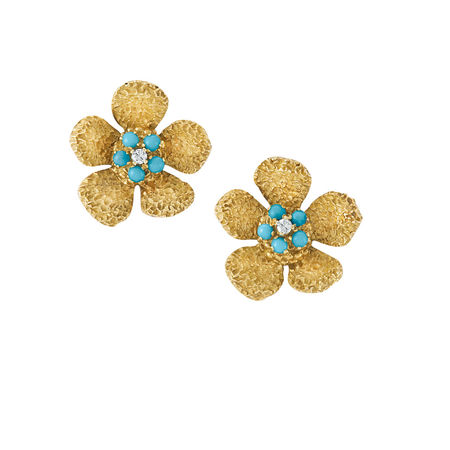 Pair of Gold, Turquoise and Diamond Flower Earclips, Van Cleef & Arpels. photo Doyles New York
18 kt., signed VCA, Italy, no. 5V337-13, ap. 11.6 dwt. Estimate $1,200-1,800

Turquoise: medium to deep turquoise blue.
Good condition. Clip-backs. Diameter 7/8".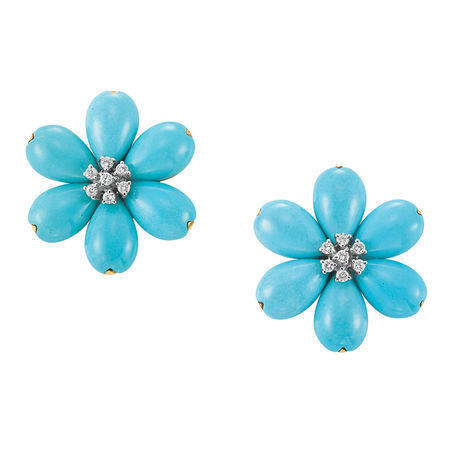 Pair of Gold, Turquoise and Diamond Flower Earrings. photo Doyles New York
Estimate $800-1,200

Turquosie: medium turquoise blue, not as deep as photo.
Diamonds: I-J-VS-SI.
Good condition. Posts & clip-backs. Diameter 1 1/4".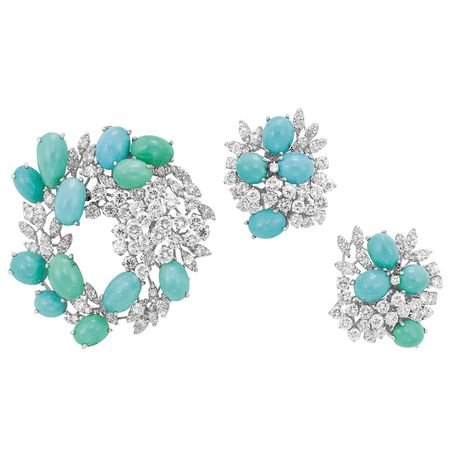 Platinum, Diamond and Turquoise Cluster Clip-Brooch and Pair of Earrings. photo Doyles New York
The stylized wreath brooch composed of a cluster of round diamonds, accented by 12 oval cabochon turquoise, the diamond cluster earrings set with 8 oval cabochon turqouise, totaling 204 round diamonds approximately 14.80 cts., approximately 50 dwt. Estimate $10,000-15,000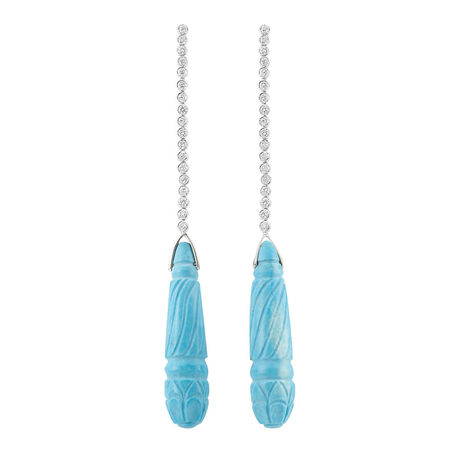 Pair of Diamond and Carved Turquoise Pendant-Earrings. photo Doyles New York
White gold, 36 diamonds ap. .70 ct., 2 turquoise drops ap. 36.0 x 9.0 mm. Estimate $1,200-1,800

Diamonds: J-K-VS-SI, several Imp.
Turquoise: good turquoise blue with some white mottling, one pendant has dark matrix patch on reverse, dull luster.
Hooks. Length 3 1/16".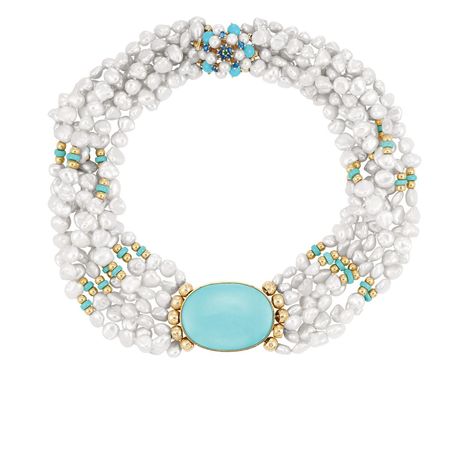 Seven Strand Freshwater Pearl, Turquoise and Turquoise and Gold Bead Torsade Necklace. photo Doyles New York
14 kt., one oval turquoise ap. 35.0 x 26.0 mm. Length 14 inches. Estimate $1,500-2,000

Turquoise clasp: even turquoise blue, good polish, some rock matrix and
rough rock indentation on reverse.
Turquoise beads: slightly deeper turquoise blue.
Pearls: white, good luster.
Clasp: turquoise, cultured pearl and sapphire flower clasp
Group of Gold, Turquoise and Cultured Pearl Jewelry. photo Doyles New York
Two clip-brooches & pair of earclips, pearl pendants detachable, ap. 38.2 dwt. Estimate $2,500-3,500
Turquoise: medium to deep blue, several faded green on earclips.
Pearls: slightly rose to slightly creamy, good luster.
Clip-brooches 2" & 2 3/8". Length with pearl pendant 3 1/2".
Clip-backs. 1 1/4 x 3/4". Length with pendants 2 1/2".
Doyles New York. Important Estate Jewelry. Wednesday, December 8, 2010 at 10am www.doylenewyork.com