A fine and rare carved agate 'birthday' pendant. Suzhou, mid Qing dynasty. photo Bonhams
The exquisitely carved pendant of rectangular section, intricately carved on both sides, the pictorial side carved through the chocolate-brown layer to the translucent pale ground with a lively scene of two monkeys picking lingzhi, the inscribed side with a ten-character stanza in kaishu script concluding with a two-character seal, both framed under gently incised ruyi-shaped clouds. 4.8cm x 3.8cm. Sold for HK$396,000

清中期 蘇作瑪瑙巧雕靈猴賀壽珮

The stanza reads: "The lingzhi in the garden is delicate; the cypresses along the paving tile are luxuriant"
.
元圃靈芝秀。仙階柏葉榮。

The two-character seal reads "wen wan" (文玩)

The lingzhi in the garden can be seen as symbolic of blessing a woman's birthday; the cypresses can be seen as blessing a man's birthday. For another Suzhou agate pendant of similar high quality, see the pendant from the Zhirouzhai collection, sold Sotheby's Hong Kong, 8 October 2008, lot 2344.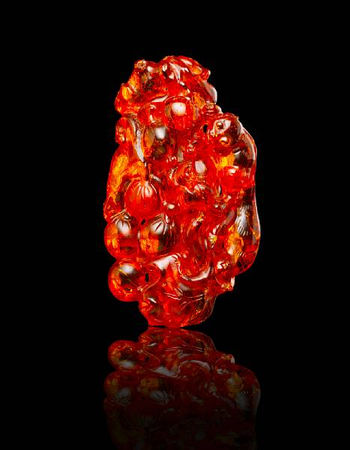 An amber 'squirrel and grapes' pendant. Mid Qing dynasty. photo Bonhams
The rich orange-brown material naturalistically carved in the form of a squirrel clambering amidst vines teeming with ripe grapes; 6cm long. Sold for HK$36,000
清中期 琥珀捷報豐收擺件
An agate 'monkeys and lingzhi' carving. Suzhou, mid Qing dynasty.. photo Bonhams
Finely carved through the chocolate-brown layer to the transulcent pale ground, portraying two monkeys amidst a profusion of luxuriant lingzhi; 5cm long. Sold for HK$24,000
清中期 蘇作瑪瑙靈猴獻壽擺件
A white and russet jade pendant. Mid Qing dynasty. photo Bonhams
The white and russet stone worked in relief with a leaf on which a squirrel is depicted clambering in pursuit of grapes, the underside with intricate detailing of the leaf's veins; 5.8cm long. Sold for HK$13,200
清中期 白玉捷報豐收擺件
A white jade pendant. Mid Qing dynasty. photo Bonhams
The white stone naturalistically worked in the form of two bitter melons, one large, the other smaller, issuing from coiling vines; 6cm long. Estimate: HK$30,000 - 50,000, USD 3,900 - 6,400. Unsold
清中期 白玉苦瓜形擺件
Bonhams. Bloch Collection; Wine and Whisky; Chinese Ceramics, Works of Art & Paintings; Jewellery, Jadeite and Wristwatches and Writing Instruments, 23 Nov 2010 to 24 Nov 2010. Hong Kong. www.bonhams.com